The following post details the Nowhere Men's journey from January 23 – February 7:
Story Highlights:
Our expedition through the mountainous northern highlands of Peru piqued our interest into the rich pre-Colombian history that remains alive and well in the consciousness of Peru. Kuelap was a special place and equally fascinating was the significance of Cajamarca, the crucial conquest of the Incas by Spanish conquistadors. But it wasn't until we stopped over at Hatun Machay on our way from Huaráz to Lima that the mystique to of the ancients grasped our imagination. We met Miguel, a semi-famous published archeologist who had his hand in the excavation of hundreds of sites throughout Peru.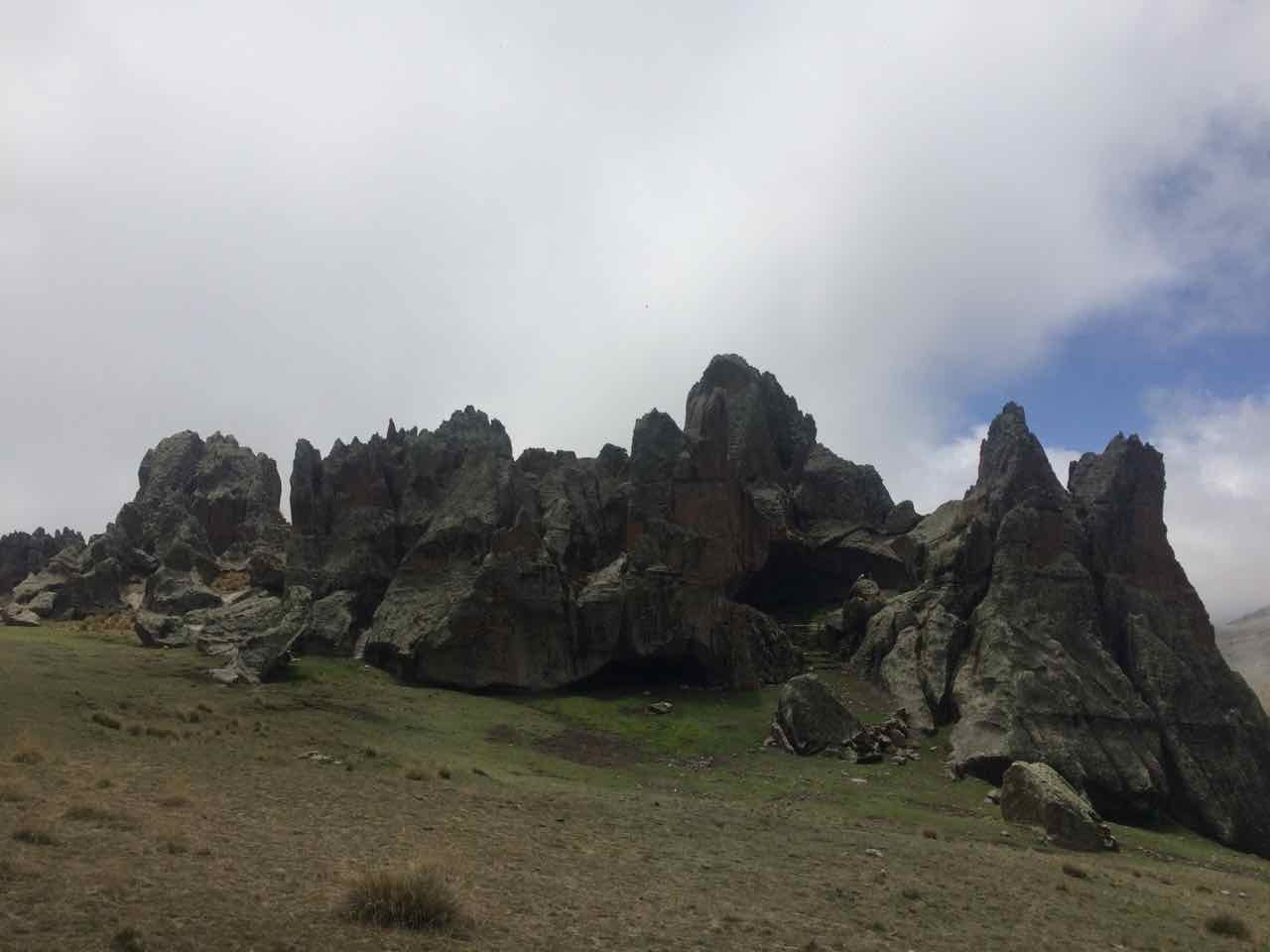 Self-assured and dripping with historical facts, Miguel had turned a corner in his life in recent years. He was a loving father and proud husband of the woman of his dreams. He basked in his career's success and offered our camera a plethora of golden factual nuggets that may even fool a viewer into thinking our show has some actual legitimate informational value. In exchange for driving Miguel and his daughter to Lima, he let us sleep in his home one night and showed off Peru's renowned cuisine, including pollo a la brasa and ceviche.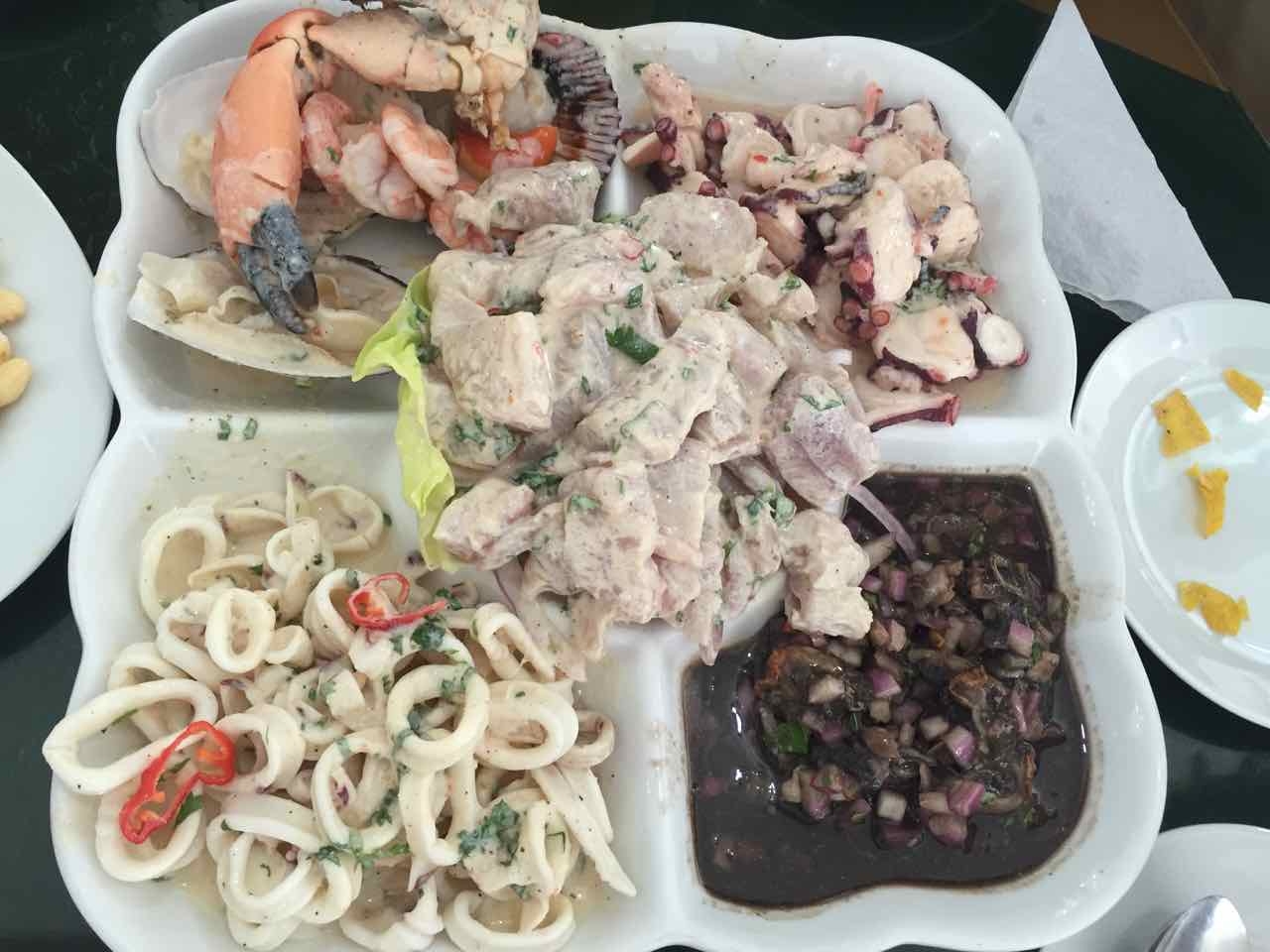 We laid low in Lima and gave ourselves a much needed break after weeks on the road. Our only activity was a deeply personal sojourn in Punta Negra, a 3 day exploration of the mind and self at a beach just south of Peru's capital. When it was over, we packed our bags and loaded up Velita for the next journey.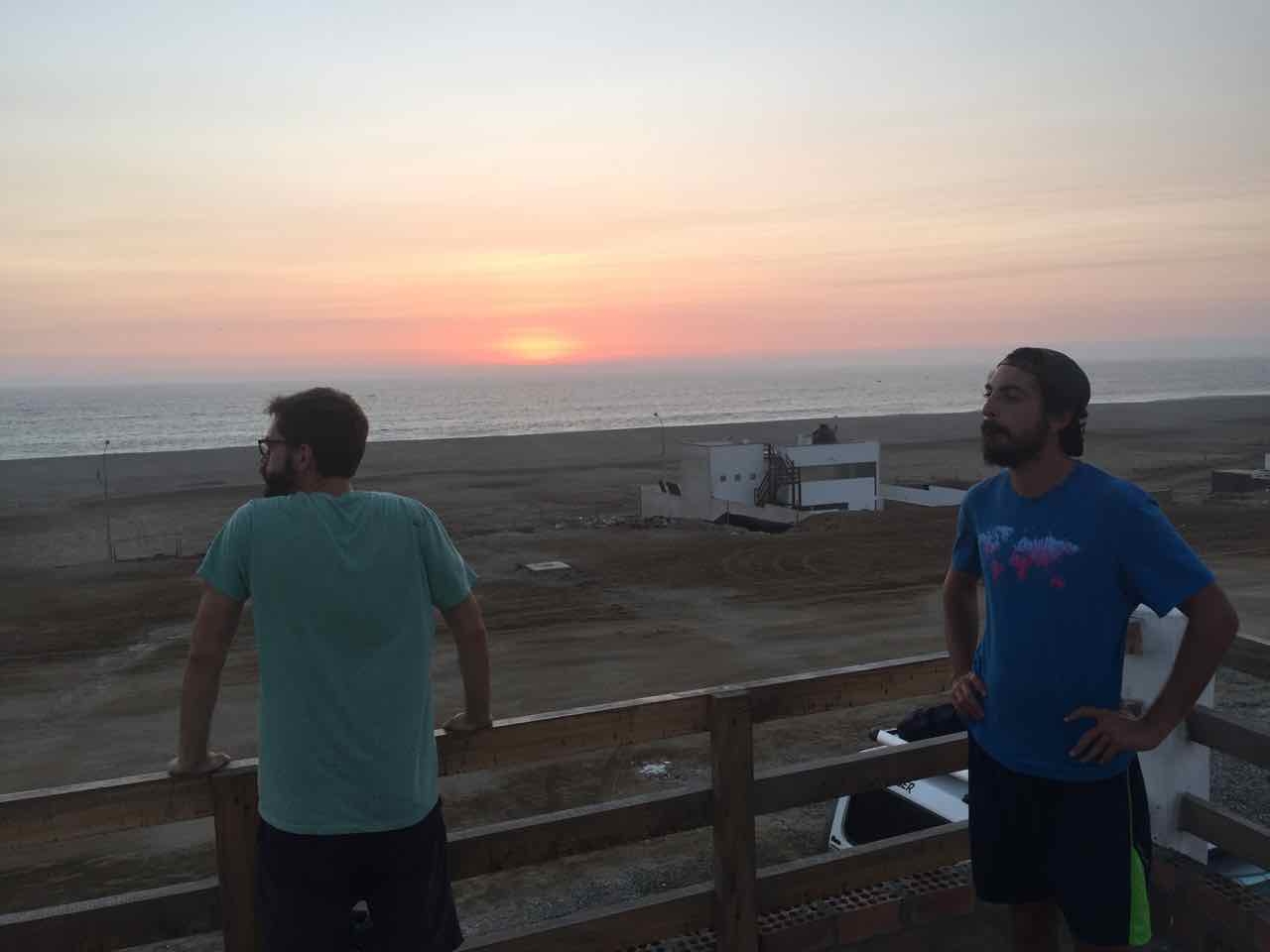 It took us 4 days to drive from Lima to Cuzco. On the way we stopped at the poor man's Galapagos, checked out the ancient and mysterious Nasca lines just off the panamerican highway, and listened to a hefty helping of podcasts. Nights were spent at various off-road makeshift campsites.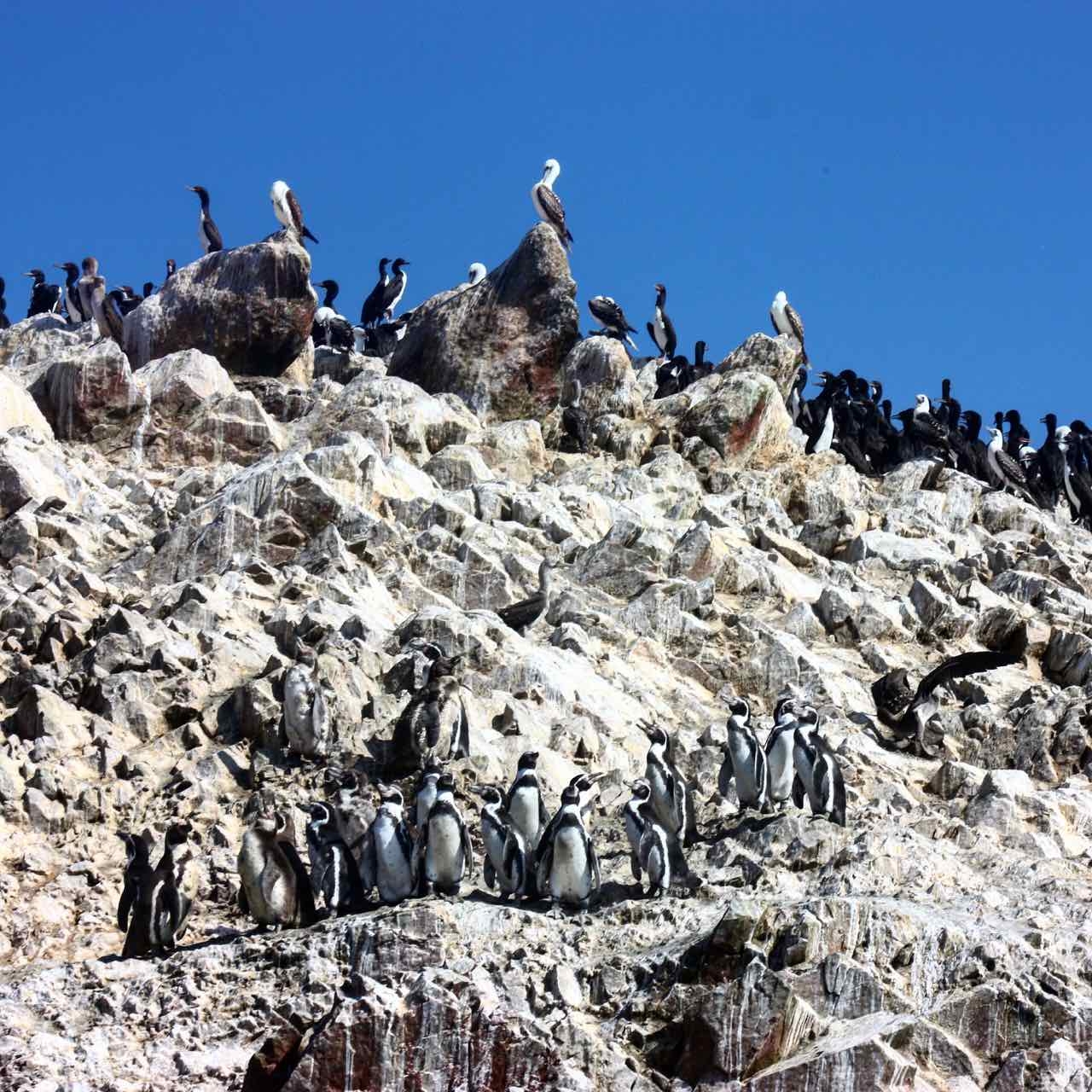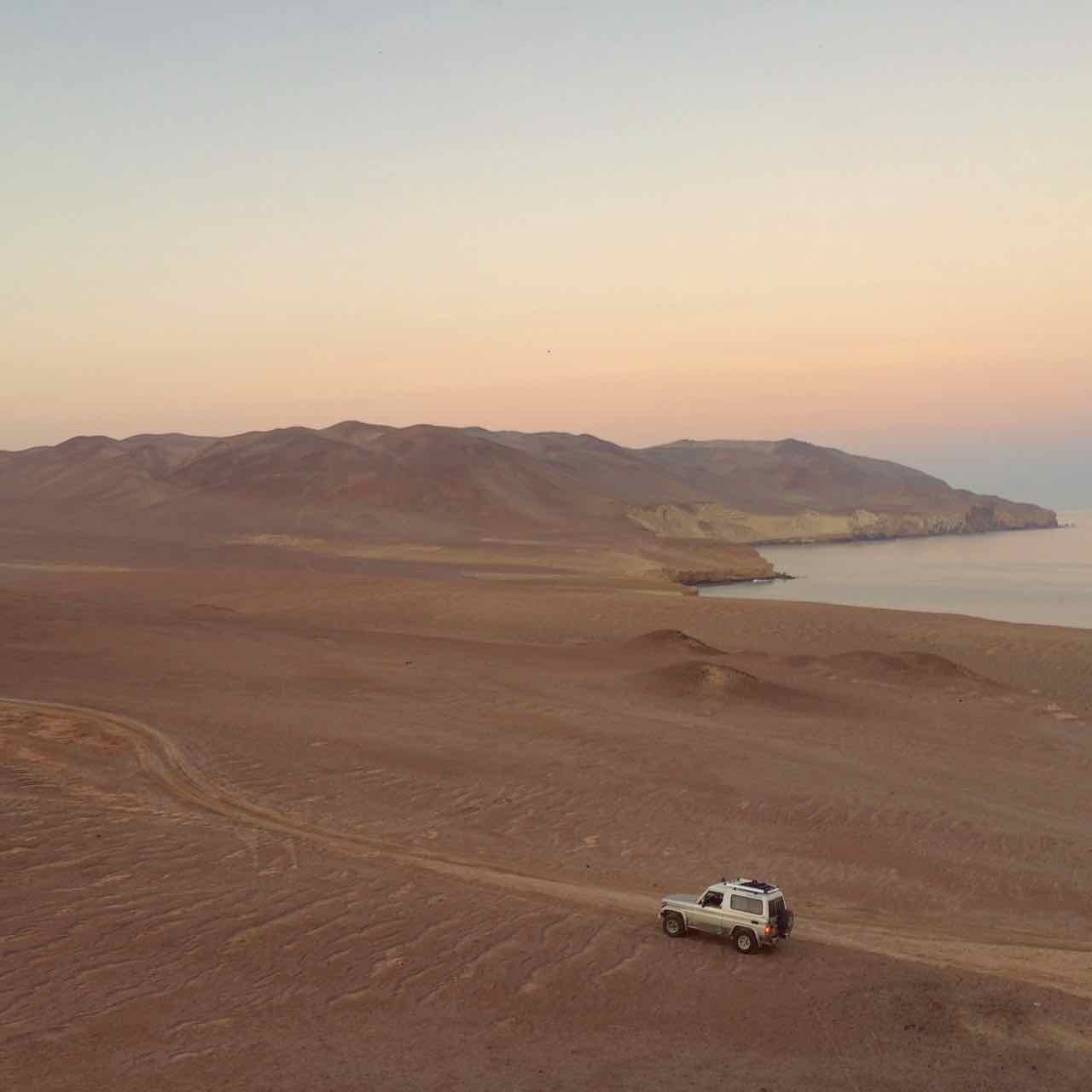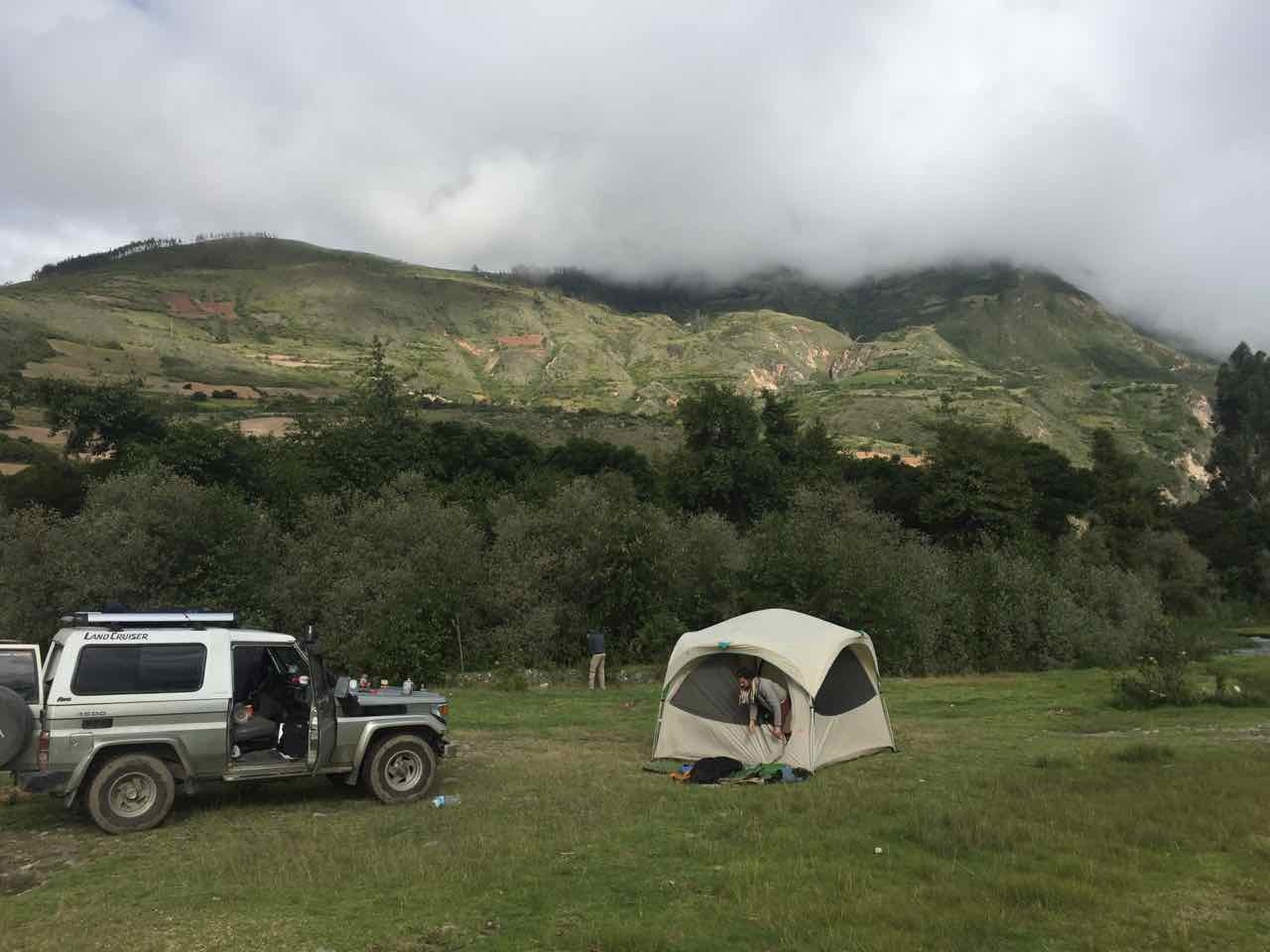 When we made it to Cuzco, the extinct Inca capital city, the objective was clear: find a way to get to Machu Picchu.
We'd kicked around whether to go to Machu Picchu at all. Was there enough money in the budget? If not, could we find a cheap way to do it? Would it be worth doing at all if we couldn't build up anticipation for it through a multi-day trek through the countryside? The questions were weighty, but considering our on-the-go decision-making philosophy, they could only be answered once we'd made it to Cuzco, the natural launching spot for any visit to the grand Inca sanctuary.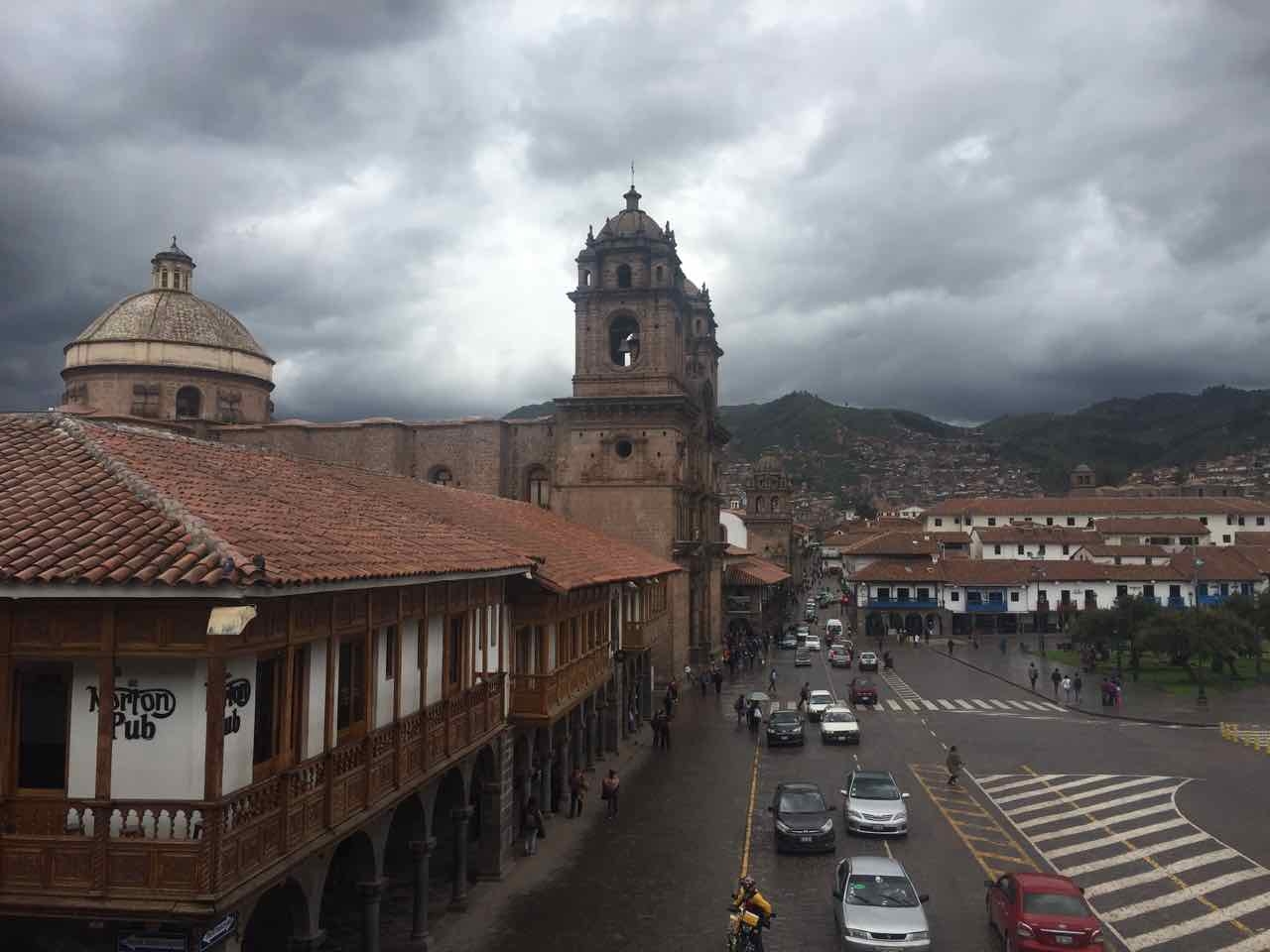 For what it was worth, a theme of indigenous and Incan influence continued to creep into our journey. From meeting Miguel, visiting the ancient archaelogical site Pachacámac near Lima, followed by our aforementioned deeply personal reflective experience by the beach, the stopover at the perplexing Nazca lines, hiking to Machu Picchu seemed to not only fulfill our wonderment of Peruvian history, but of our linear loop through this historically and culturally prideful nation. It had to be done.
And just like that, we connected with the tour agency Salkantay Trekking. This partnership not only guaranteed our visit to Machu Picchu, it made sure we'd make it there the right way: a five day hike through the phenomenal mountains and valleys known as the Salkantay Trek.
The morning broke angrily for us. In classic fashion, learning only about 10 hours prior that we'd be undertaking this 5 day hike, we had a stack of tasks to perform before we could get on the bus and begin our journey: prepare our day bags, find a safe place to leave the rest of our stuff, find a garage for the car, back up our footage and charge all equipment. It led to a dreary-eyed 3 hours of sleep. It would all inevitably prove worthwhile.
We'd be remiss to ignore the planning by the Salkantay Trekking Team required to fully prepare our 5-day hike. As much as we'd scramble to get all of our things in order, on their end it was an even bigger and tougher time-crunch of an operation. Diego was called to the Salkantay main office and told he'd be heading out the next morning on this massive hike. What's more, our soon to be chef and horseman received even shorter notices. Elio, our chef, had to gather all the ingredients and tools needed to cook 3 meals a day for 4 days for us plus Diego. Cornelio, our horseman, had to rangle up his horses and equip them with harnesses ready to carry the load all the way to Aguas Calientes, at the foothill of Machu Picchu.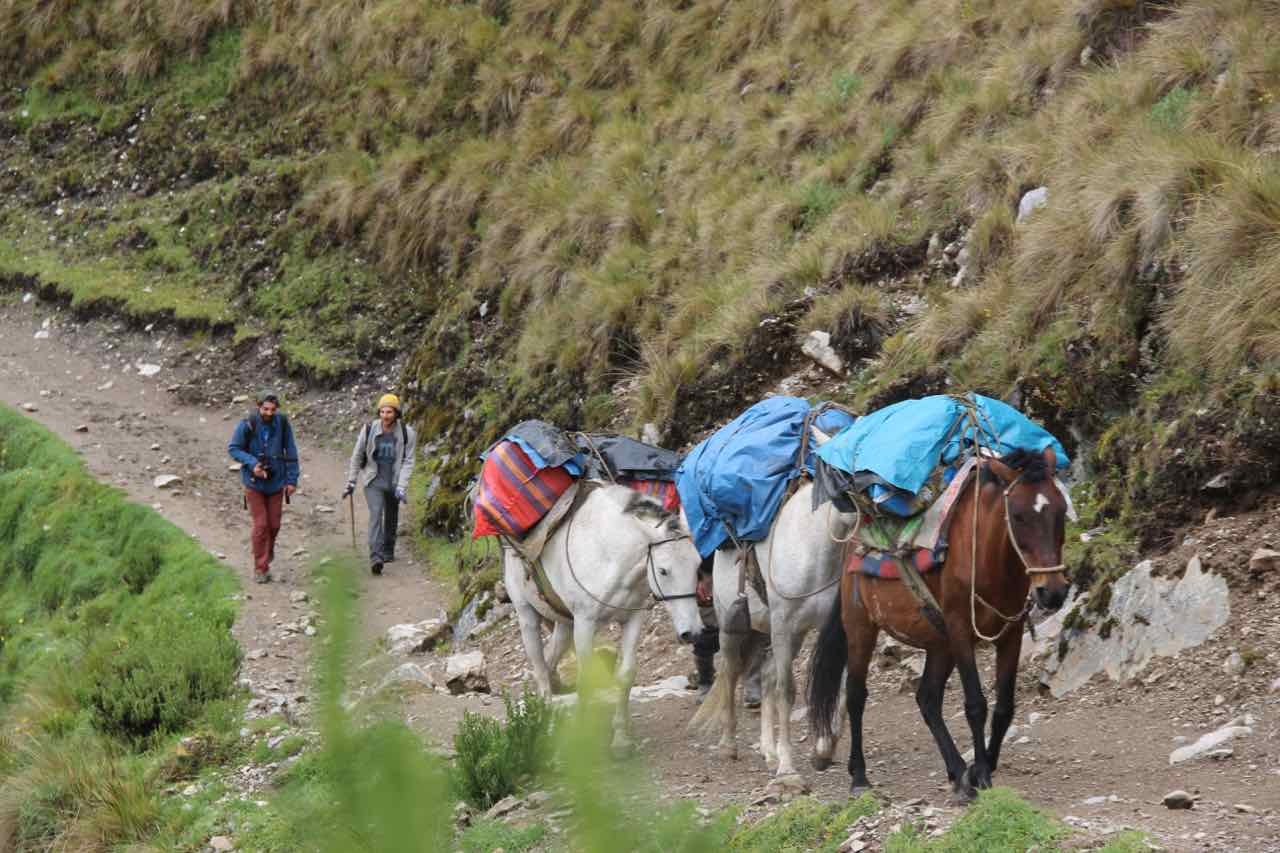 We purchased some alpaca-made warm weather gear at our breakfast spot and rumbled onward to the launching spot of our hike.
In the dead of rainy season, on what is already very much a lesser known trail, our path to the day 1 lunch point and subsequent camp site carried on without any sighting of another gringo. Along an ancient Inca canal we made small talk with Diego, our guide, a man with whom we would spend hours and miles of experience.
Lunch was gourmet quality, with the touch of presentation only created by classically trained chefs. We learned quickly that not only would this trek add weight to our meager bellies rather than further deplete us, we could look forward to 3  quality, satisfying meals each day, which would leave us perfectly at peace with whatever upcoming stretch lay ahead.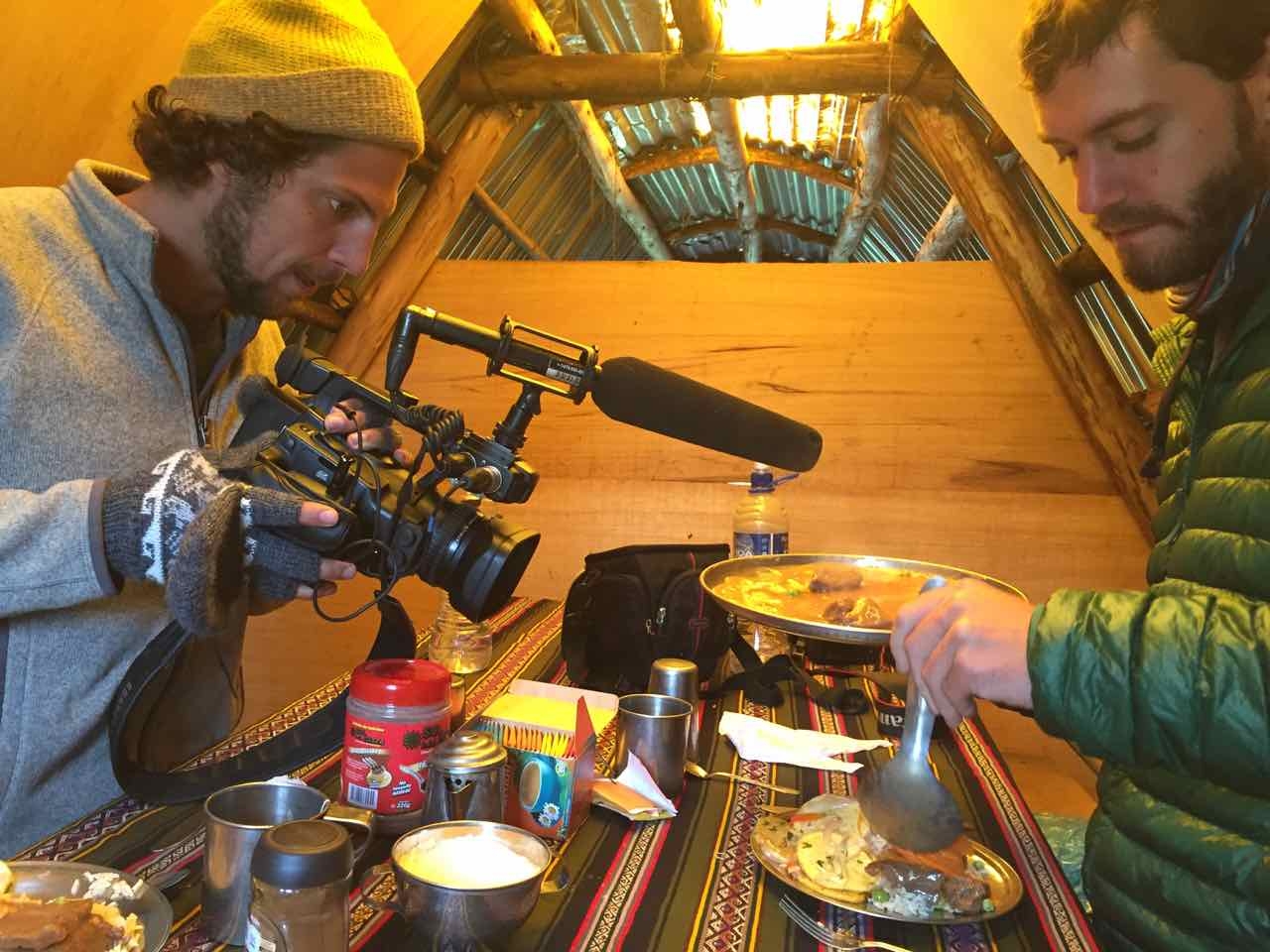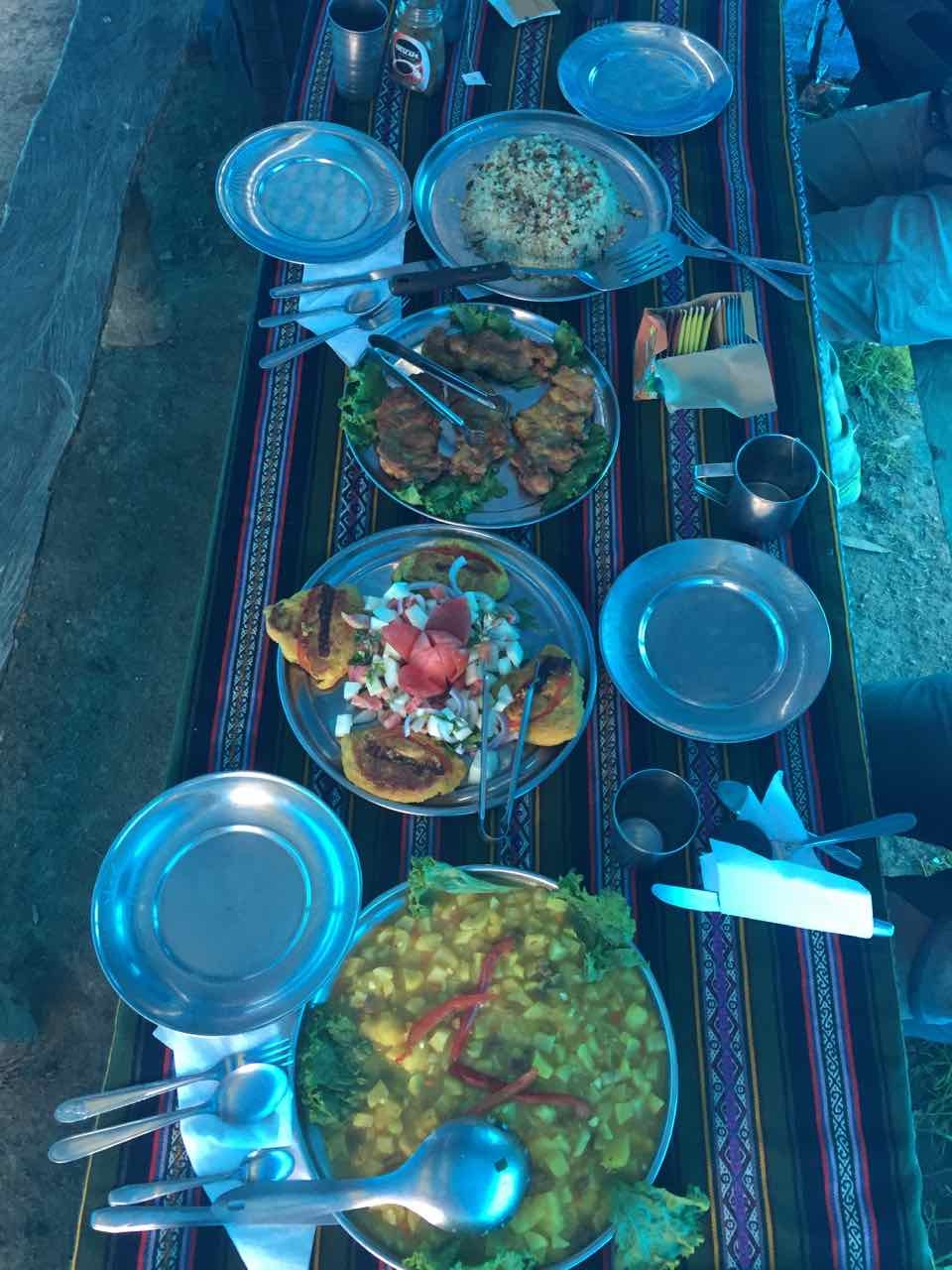 "Are we glamping?? Is this glamping?!" Brian considered, a reference to the often scoffed-at-by-backpackers "glorified camping" way of doing a multi-day outdoors excursion. "It is," he resigned himself to it, as he reclined comfortably on our dining room bench. And it was, but it was well worth it.
The afternoon was cloudy and stormy. Dreams of hiking to the nearby laguna seemed to dissipate in the passing clouds. Diego himself wavered on the idea time and again, bringing up the idea and subsequently dismissing it as he looked into the air. Further complicating matters was the disappearance of Alex's beloved scarf, a simple piece of fabric sewn together over time with the irreplaceable memories of his travels. He'd go to the ends of the earth to recover it, but luckily a little boy walking home from school picked it up and helped it find its way home.
With light fleeting like the sand of an hourglass, the clouds took a brief break from the scene, opening up the landscape as well as our opportunity to hike to the laguna.
A filling dinner was followed by a magnificent night of sleep, each of us warmly hidden in our sleeping bags in our tents under a naturally-made hut.
Elio, our chef, a kind yet quiet man, gently greeted us at 5am with a hot cup of coca tea. His outstretched hand met our weary bones and delivered steaming energy into our stomachs, the start of our longest day on the trail.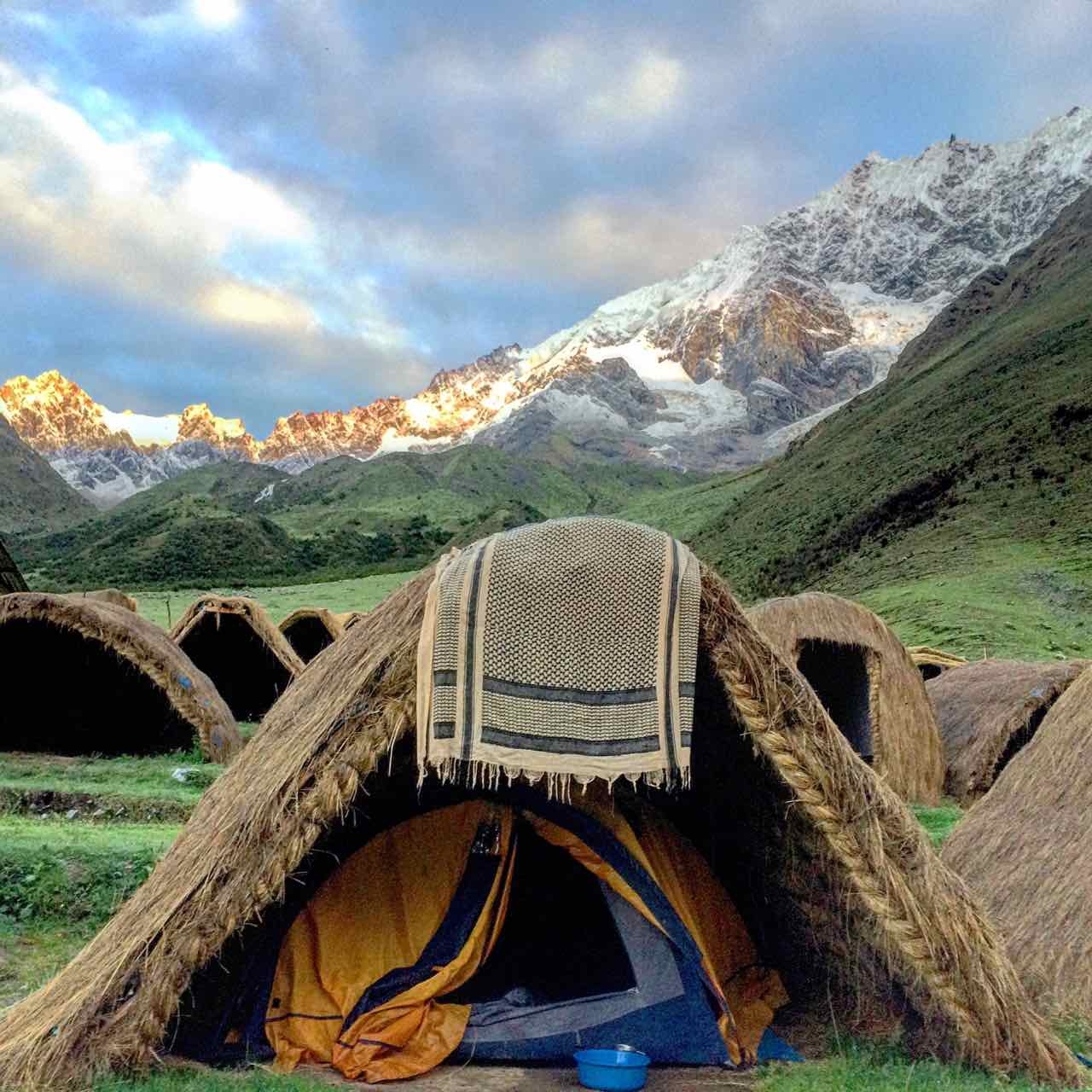 This day was all about glaciers. Diego did his best tv show host impression, adorning the radio mic and presenting well-rehearsed information about the trail and fantastical descriptions of the Incans who once populated the region. "My friends," Diego would annunciate, "this sacred mountain pass was the home of the most holy of Incan sacrifices." Diego's deeply descriptive recount brought to life the once powerful reign of this proud people.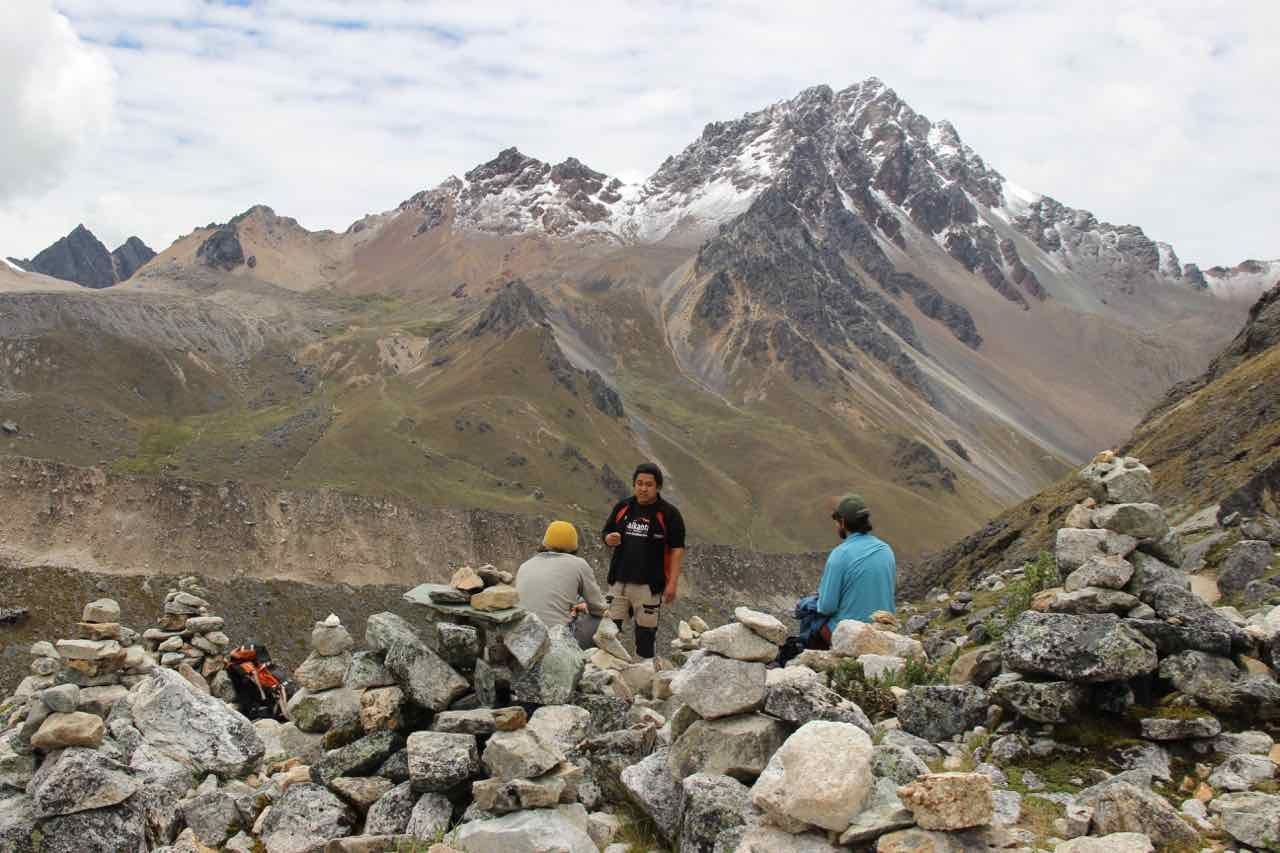 The scenery was incredible. Enormous snow-glazed glaciers triumphed at this peak altitude. Rock pyramids dedicated to Pachamama (Mother Earth) dotted the pass, an ancient tradition of gratitude passed down to all those who hike through this holy space.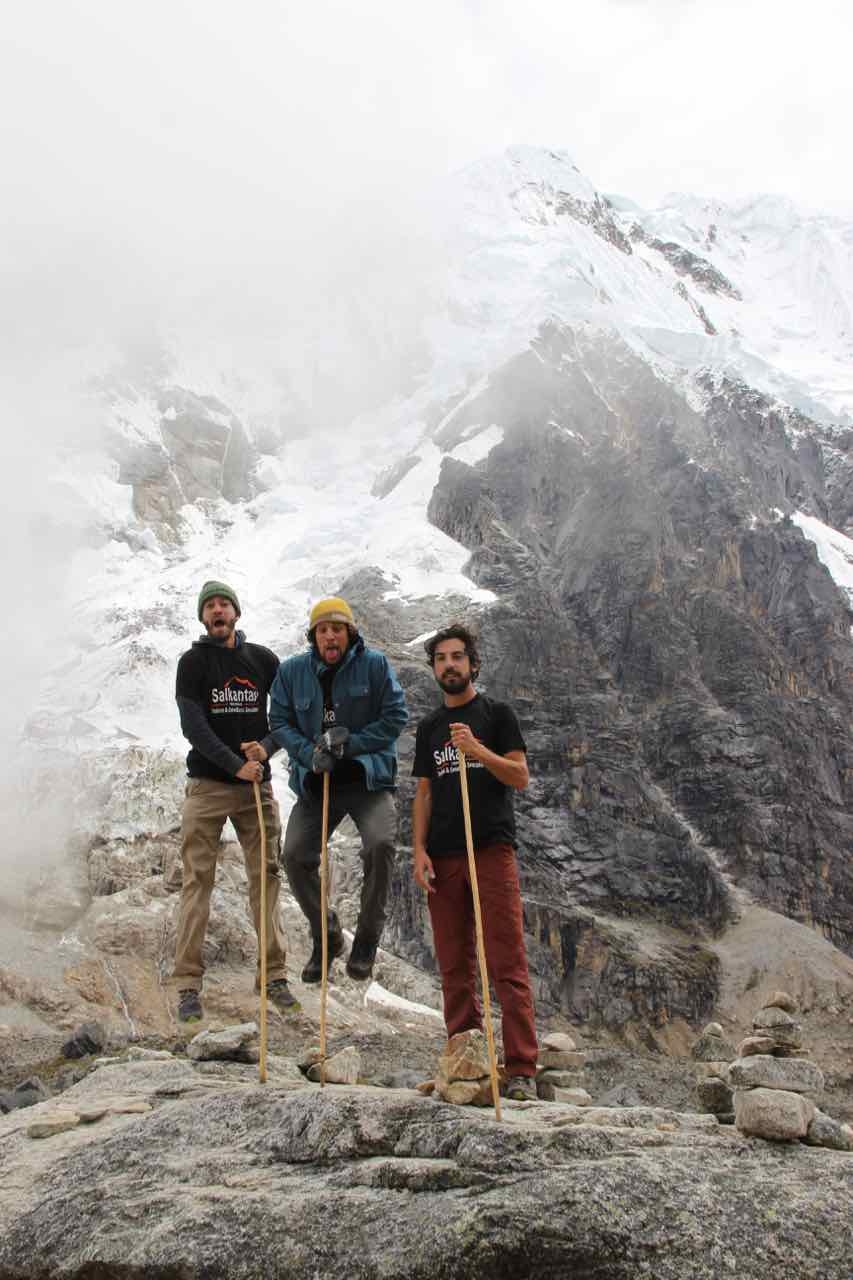 Two hours flew by, the three of us getting lost in another of our ongoing discussions on life. We arrived at our lunch spot, the grandest of all our meals to match the arduousness of our day's travel. In the small makeshift kitchen separated from our dining room by a basic blue tarp, chef Elio, rocking out his chef hat and complete outfit, was accompanied by sous chef Cornelio. They bantered back and forth in quechua, preparing fine dining level cuisine from a kitchen that had been a dirt floor with an empty table just an hour or so before.
Diego fraternized with Elio and Cornelio, eliciting laughter that we could never hope to evoke with our distinctly Americanized sense of humor. You could see the camaraderie that had been built amongst these guys, a combination of time spent together through tour after tour, a sea of tourist faces with just each other and the trail as a sense of consistency. On our side of the tarp, Diego tricked us into thinking we were about to take a 3 hour break before moving on. "Ahh, no my friends, it's a joke!"
We left the white marble glacier tops of the highlands behind and descended into the rain forest, the next leg of our expedition. Diego described this leg as "Jurassic Park," and it was fitting. Vegetation and green flora flourished in the valley around us, enough greenery to feed hundred-foot-tall prehistoric dinosaurs.
We slept in a town called Chaullay, where a local farmer has huts in his property set up for the arrival of resting Salkantay trekkers. A restful night passed uneventfully, each of us retreating into the nooks of our tents to read while the Salkantay Team cracked jokes and kept things light in the kitchen, aka Elio's dorm room. These guys had a tremendous ability to stay upbeat despite the endless nature of their responsibilities.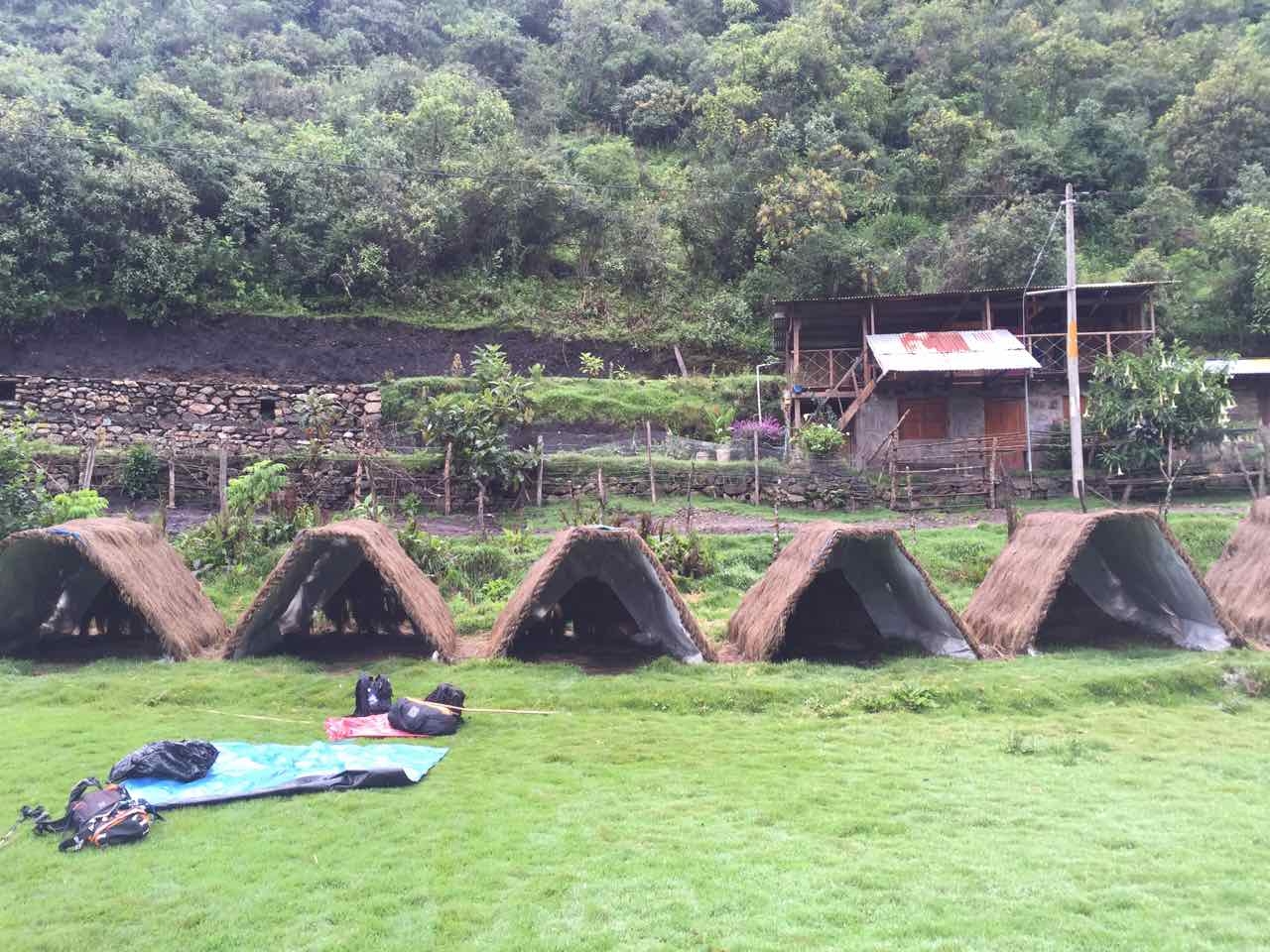 Walking along a stream in the jungle on day 3, Diego's excitement was profound. He'd stop and enthusiastically explain the qualities of every unique plant, flower, fruit and rock. This was his home, his domain, and he knew it well. He had an understated expertise that comes only with a career and life dedication to the area and its sprawling qualities.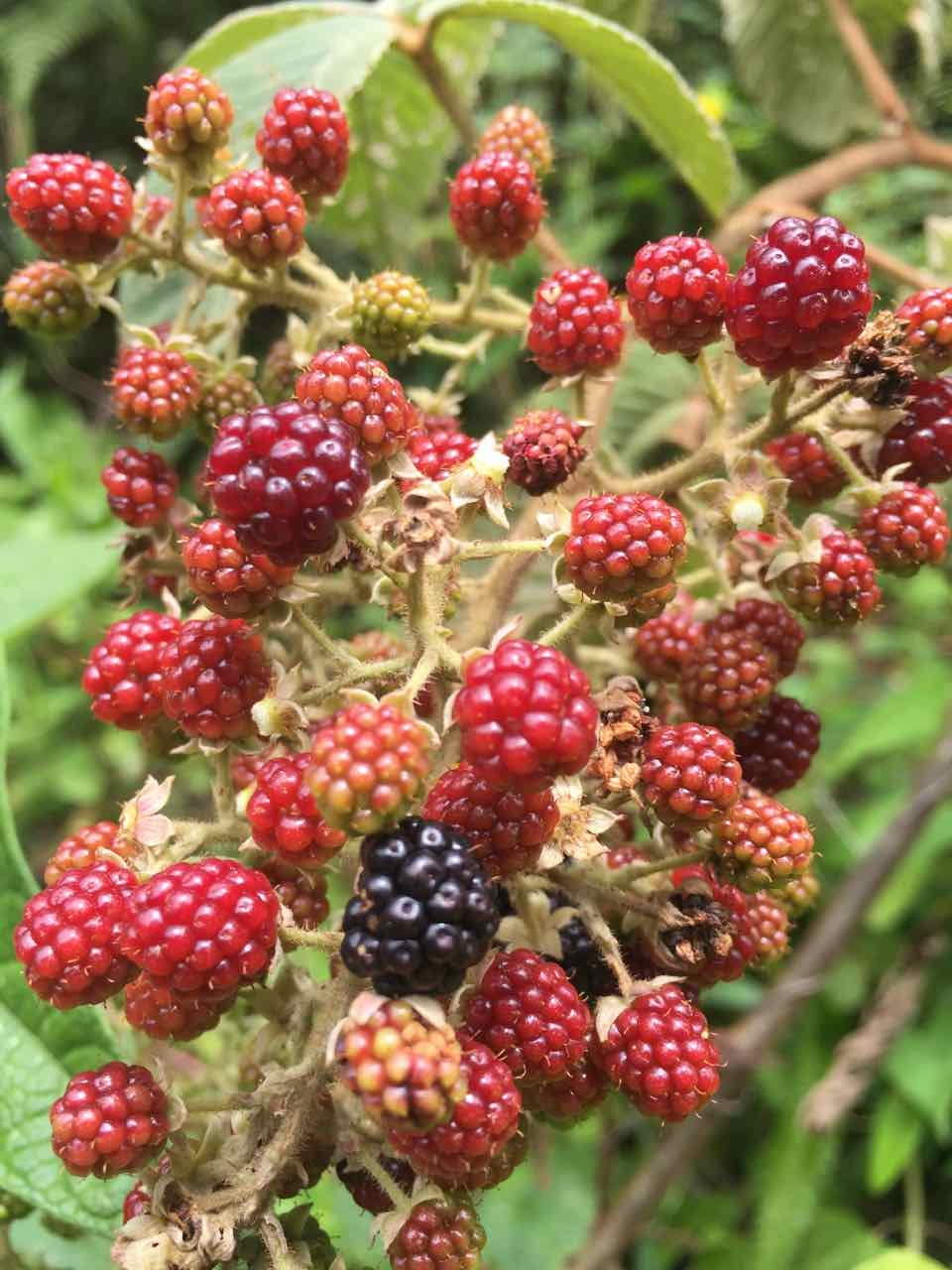 We hit our stride. Another 14 kilometers we hiked through the buggy, lively jungle, stopping when nature's inspiration struck Diego. When we arrived at our camping spot for the rest of the day, Elio was already hard at work, as good-spirited as ever in the warm refreshing environment. Along side an under construction platform, Elio whistled his way to another masterpiece of a meal.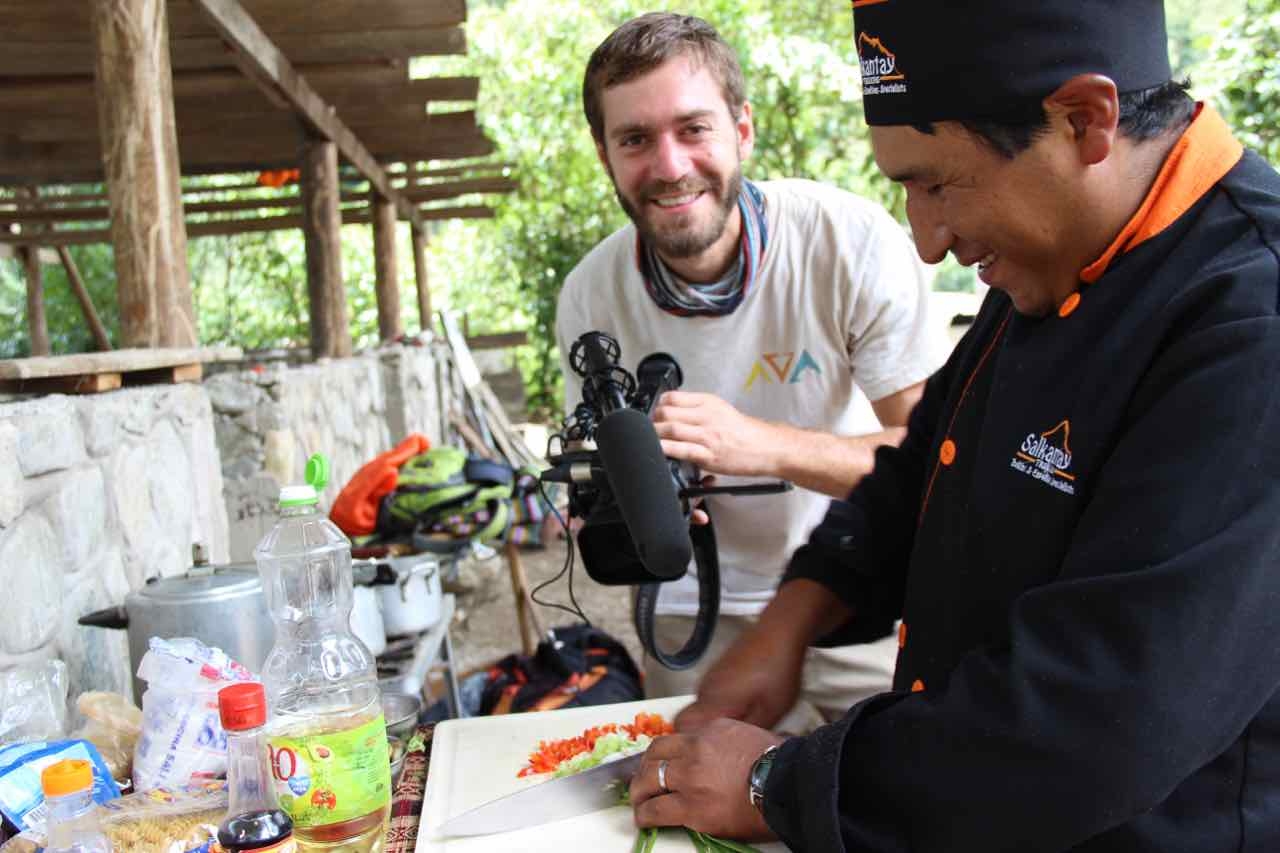 The mosquitos were ruthless that night. They attacked us under layers of deet, an unending wave of Incan anger. We were feeling a brutal retribution to compensate for the lavish treatment we weren't sure we deserved, but had been resigned to accept.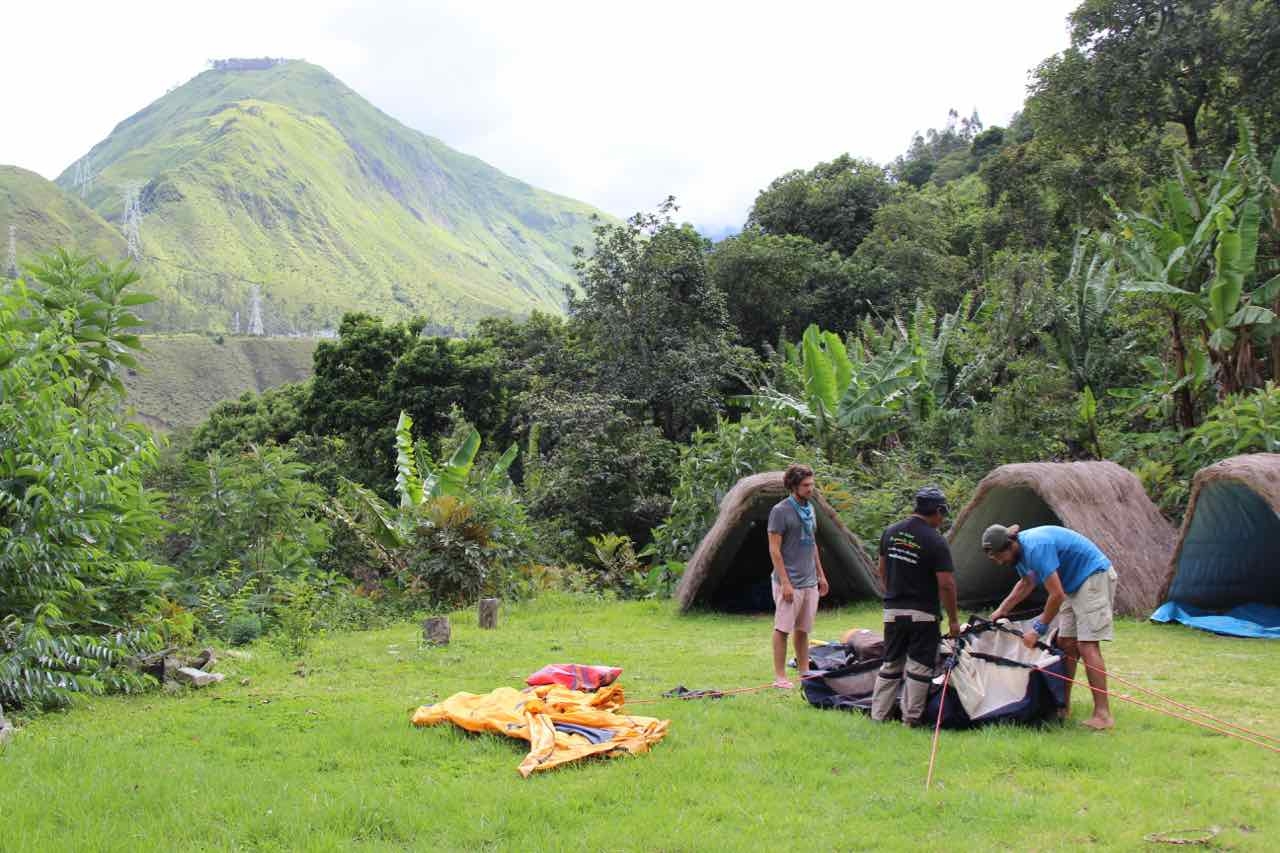 It was day 4 when the soreness began to catch up to us. Aching knees and hips. A sort of lingering soreness that made our hike just a bit rougher than it would have been otherwise. "Vamos, my friends!" Diego declared.
The clouds swam up towards the mountain tops, adorning peaks with Incan mysticism. We trudged alongside the whitening sky, allowing the elements to direct us towards Machu Picchu. We felt so alive, so refreshed and whole. Although we couldn't see her yet, every inch of the atmosphere whispered to us that the ultimate Indian palace was waiting within our reach.
She refused to be seen on this day, taunting us behind a thick opaque midday fog. We would have to work harder to earn the view that so many hundreds of thousands of people seek annually.
We scurried down the mountain at various paces, sliding carefully and quickly all at the same time.
After not interacting with other tourists for days through the remote and rarely traversed Salkantay Trail, the sight of swarms of gringos was quite bizarre. Whether we were prepared to see them or not, it didn't matter. Hundreds of excitable sightseers scattered about, having taken a series of buses to Hydro Electrico. In our weary state, it felt like these tattered tourists marching on the train tracks alongside us were straight out of an dystopian sci-fi film. We ate a farewell to Elio meal and then walked the ultimate three hours to Aguas Calientes.
That walk on the train tracks was meant to be a sort of victory lap. Flat as could be, it was a severe departure from the paths we'd been taking the previous several days. And then the rain started.
We walked for 2 cold and wet hours in torrential storms, peering up at Machu Picchu perched on the towering mountains next to us. When darkness converged, the rain didn't stop. When we poured into our hotel for the night, we were sobbing wet and weary wanderers ready to soak up what little sleep we could absorb.
It was a 4am wakeup. Diego insisted upon it, that the only way to really beat the crowds would be to make it to the park entrance when it opened, first thing in the morning, at 6am. We obliged, though our bodies screamed back at us for more sleep.
We hiked up with the sun's own ascent on an unending spiral of stairs from Aguas Calientes to Machu Picchu. Hoards of trekkers took to the steps too, but our conditioning enabled us to lap past them all. It was an exhausting hour, but something we were prepared to endure. Especially considering the light at the end of the tunnel, we couldn't complain.
Right there, at the gate to the park, just after 6am, Diego awaited. He was smiley as ever and our friendship with him had culminated into something more relaxed and well-humored. We complained together about the morning fog. He insisted it'd pass. He was right.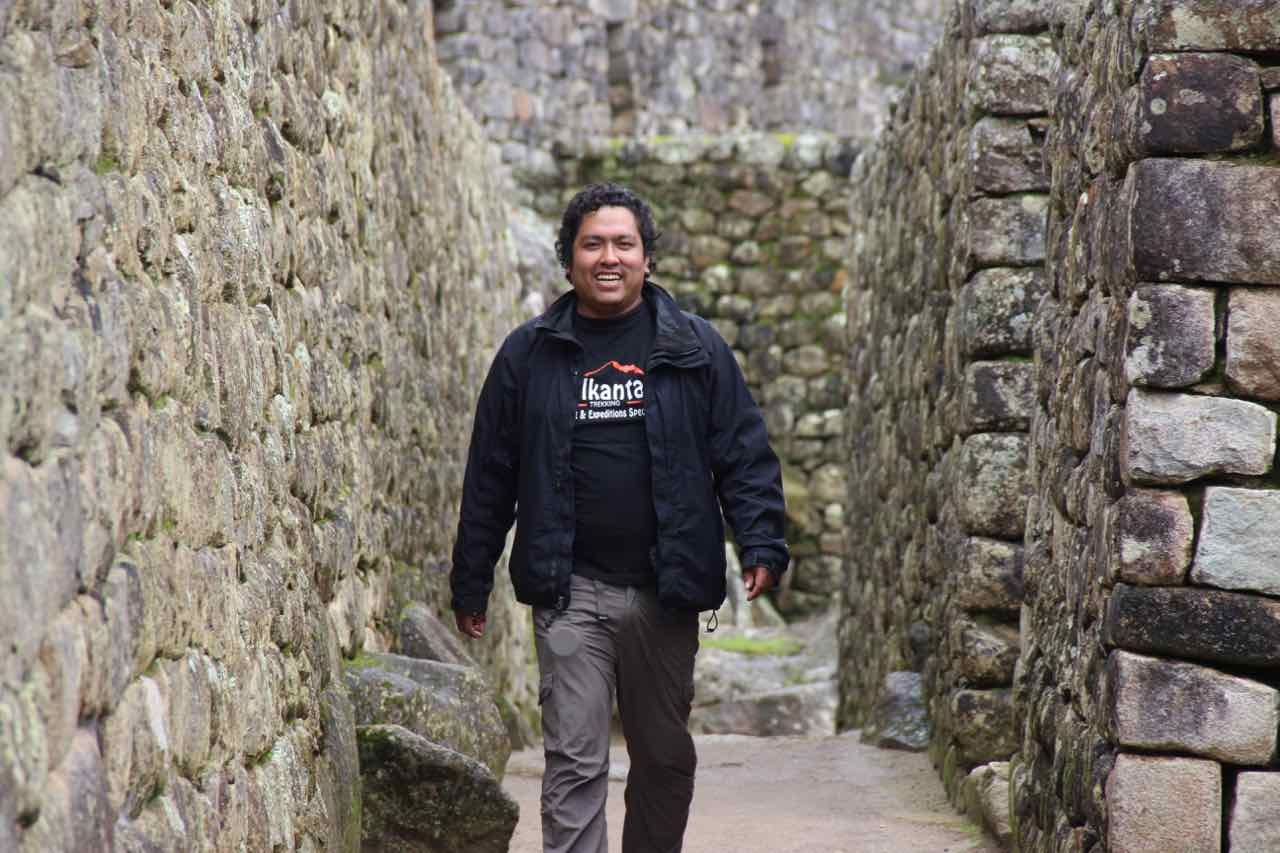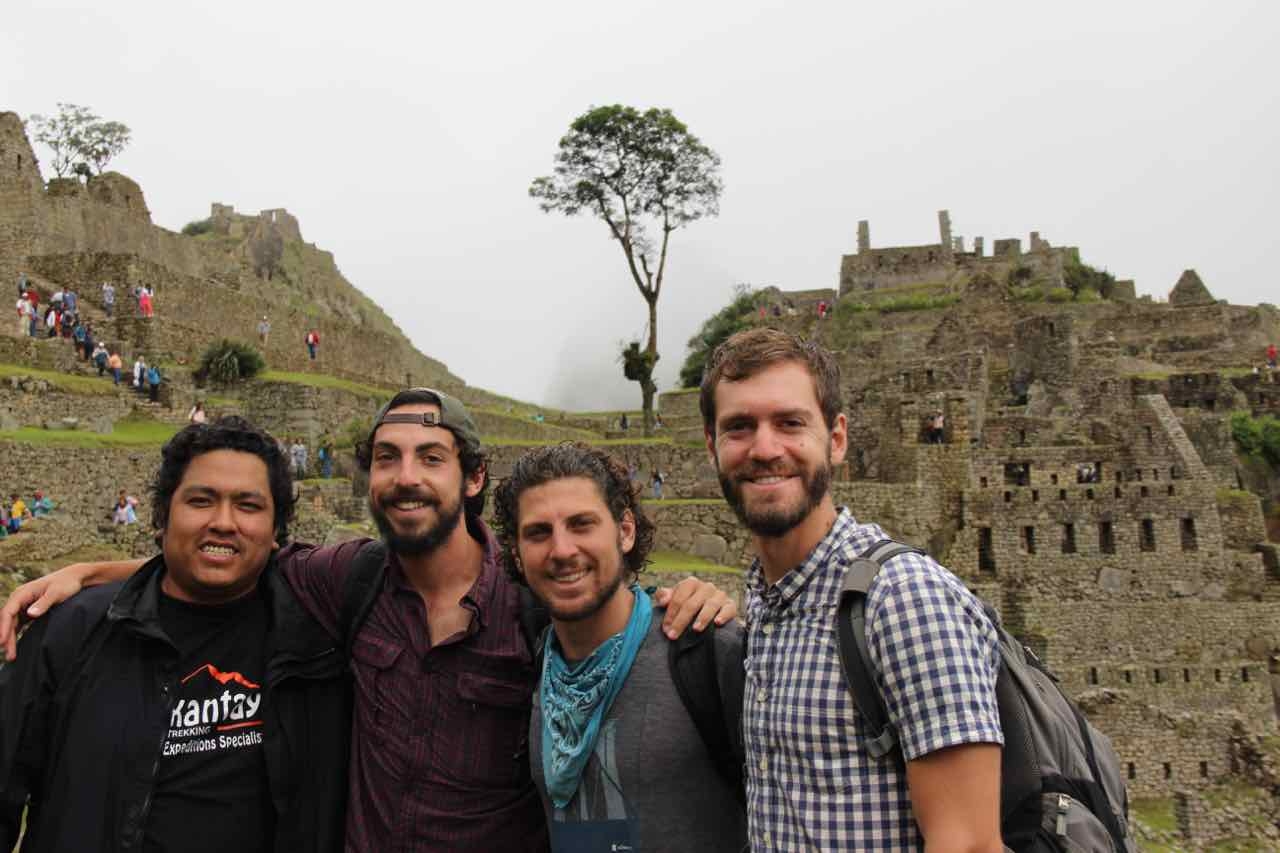 The calm whiteness swirling in our immediate surroundings early on stood only as a cinematic unveiling of what magic lay hidden underneath. We hiked to the top of Machu Picchu Mountain, towering high above the citadel. But even there, the midday clouds hung obstructively, frustrating our eyes the way one might grumble on a plane 35,000 feet over the Grand Canyon on a cloudy day. We had peanut butter sandwiches. It was then the the scene changed.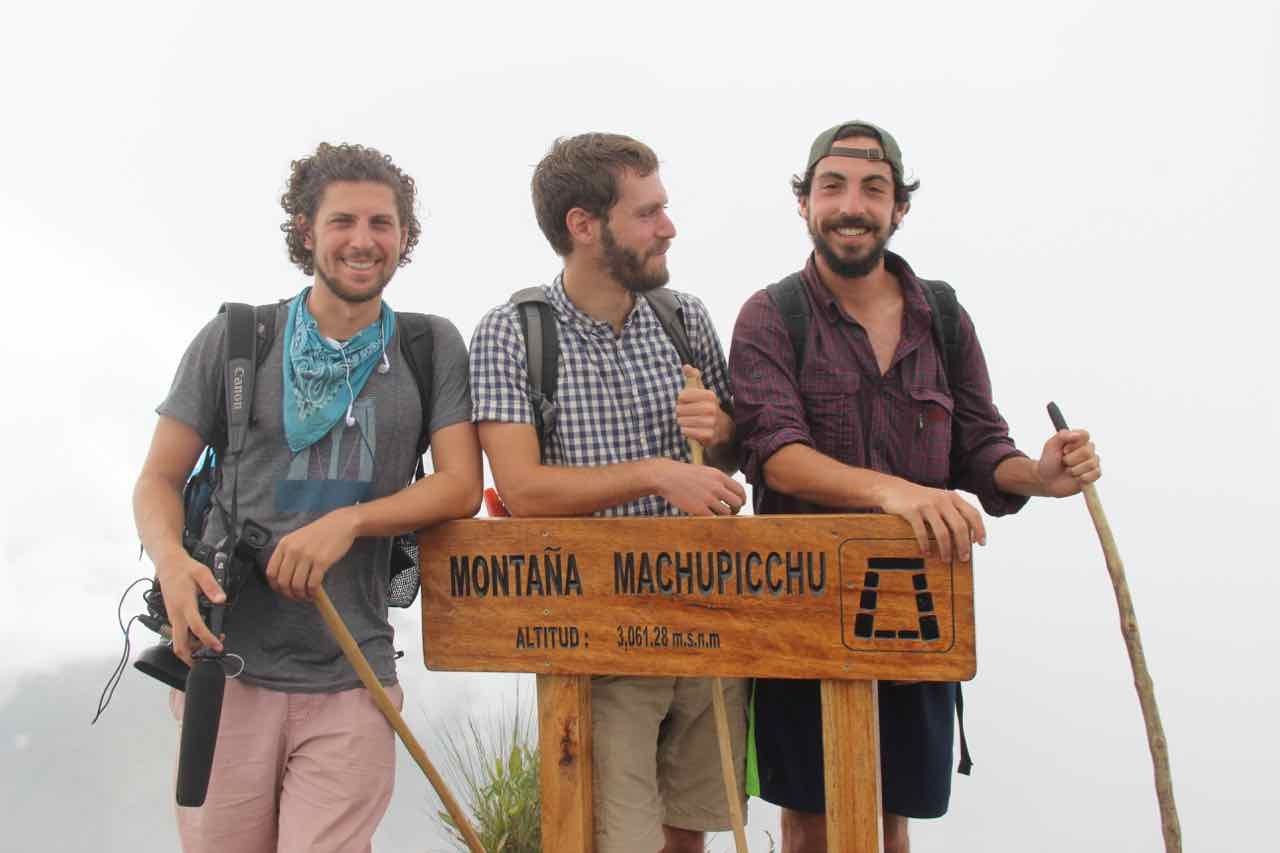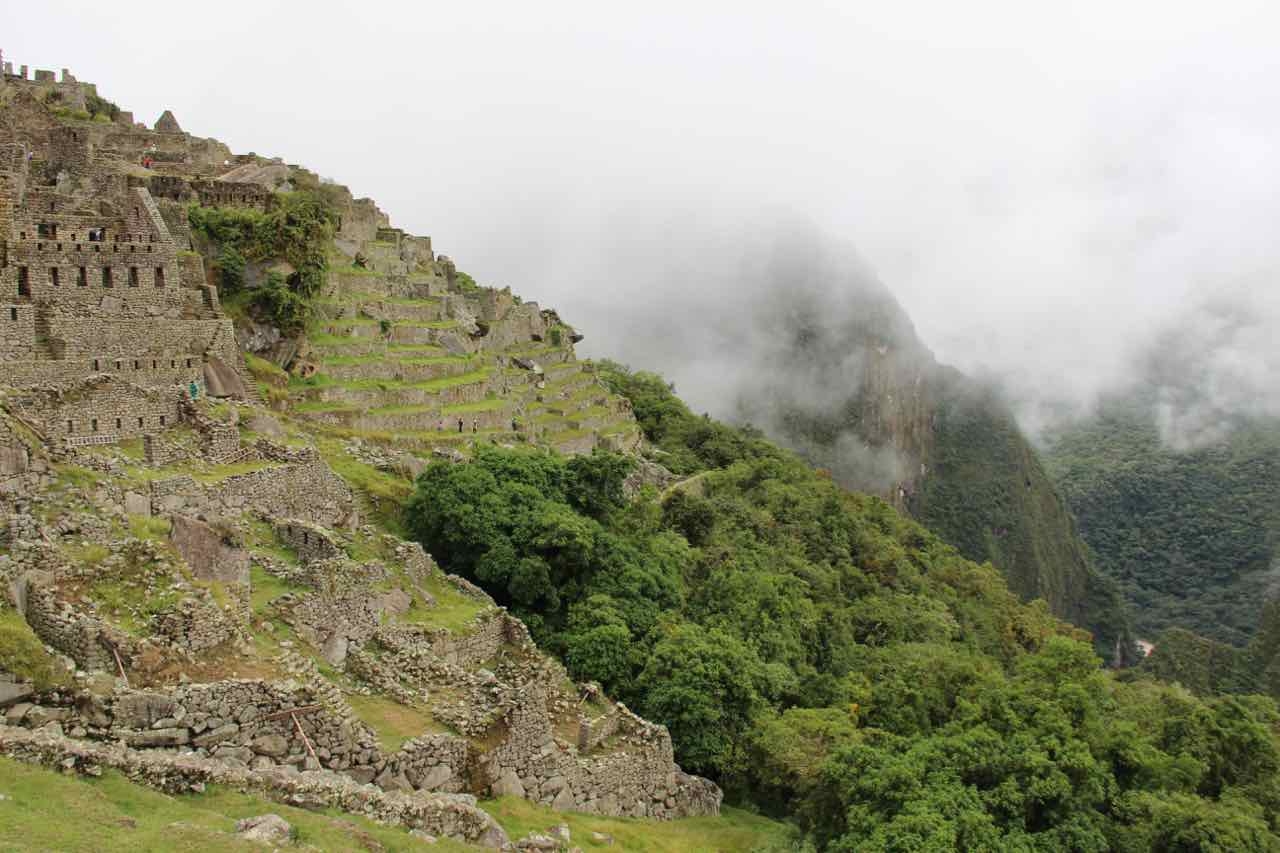 The day's glory crescendoed. As Diego had promised, the mountain air lightened and cleared, paving the way for the full display before us.
Let's call this hike to Machu Picchu really what it's been – or as we've randomly been saying, "let's call a spade a spade." It's all become a grand exercise in seeing how much time you can conceivably spend with someone else – or 2 others, and not go mad. We've defied all odds. En route to Machu Picchu we found a way to play off one another, to get lost in constructive conversation, to somehow still enjoy each other and learn from one another. One thought leads to the next, builds to the next. And there we stood, atop one of mankind's most mind-boggling feats of engineering, finding ourselves proud of what we've created along the way.