Your vacation is awesome.
And you probably want to capture that awesomeness, and make a lifelong souvenir out of that awesomeness, that you'll watch and cherish and show your kids for years.
But if you've ever tried to film your vacation, you might've realized by now that you've never actually watched any of those videos.
Most people's travel videos are complete garbage.
Have you ever been in a museum and seen someone walking panel to panel, exhibit to exhibit, dutifully filming every plaque and display with a video camera? We unfortunately have.
Who's watching that stuff? Will the person filming that ever even look at it again? No way. The only thing duller than a dull museum is watching someone walk through a dull museum on camera (even if you were the one to film it — trust us).
These days a good amount of other travelers we meet on the road have GoPros and are documenting their trips in some way (your smartphone can shoot quality video, too). But sometimes we cringe, knowing the person filming will never have the time of day to sift through all that footage and come up with something they'd ever be able to share with friends and family.
Great, compelling travel vids that you'll treasure forever are surprisingly easy to make. With just a couple hours on any free editing software, you'll create a lifelong souvenir that will also show your friends how much of a badass you really are.
Let's explain.
Make your travel video about YOU and the people around you
Only about 50% of your travel video should focus on the amazing scene around you — the other half (yes, HALF) should focus on your face and those of your travel mates.
The awe-inspiring sights around you mean nothing if we don't see your reaction to them in the moment.
People respond to YOUR reactions.
Otherwise, we're just looking at a slideshow of beautiful things, and if we wanted that, we could just flip on Planet Earth. To spare the Freudian essay, your viewer is identifying and reacting with you — you are their vessel for experiencing the awe of an amazing (or terrible) travel experience.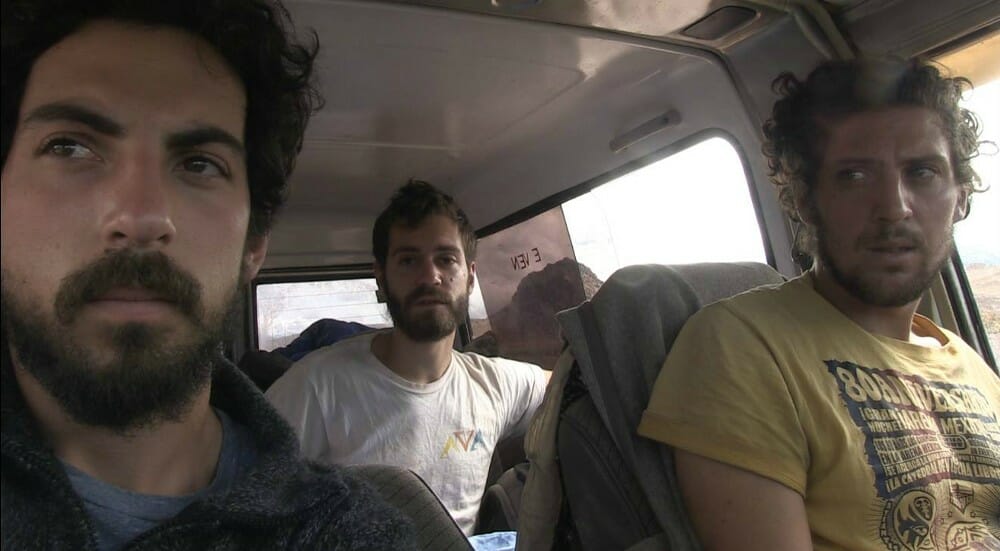 Don't be afraid of CLOSE-UPS. GoPros are generally designed for wide angle shots, but make sure to get uncomfortably close on the people and things around you — faces, hands, feet, the tiny bracket holding up your bungee jump, the dirt kicking up from the motorcycle below you. These will bring a much more personal, identifiable element into your videos and are well worth it.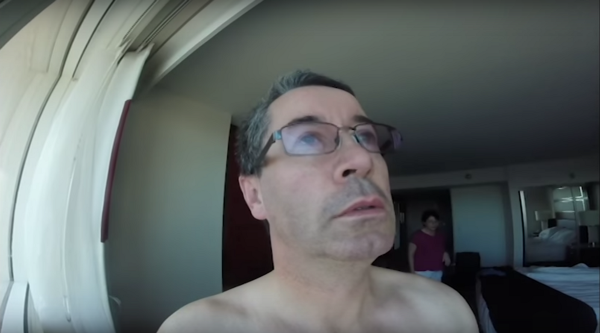 Here's proof: a tech-challenged Irish father filmed his whole Vegas vacation on his GoPro facing backwards. We never actually see what he's looking at, just his authentic reactions to things, but this man incidentally created a legendary piece of ground-breaking video journalism.
Tell a story
The inherent joy of travel is you never quite know exactly what you're getting yourself into, but you should at least have some idea what you've signed up for. Creating a basic story in your head beforehand — a start, middle and end to your day — will provide the rough backbone you need to drive your video along.
For example, if your day is looking like it's going to involve hopping in the back of a pickup truck, getting a bit drunk, and then releasing baby sea turtles into the ocean, make sure to get shots in the truck, shots with the beers, shots of the gorgeous beach, and then shots of the sea turtles being released as the final climax to your day. If you'll be hiking a massive volcano through the night and reaching the crater at sunrise, use that sunrise as the climax to your story and build around it.
Importantly, make sure to film before and after the main event. For extreme events (like bungee jumping, skydiving, etc.), this is a great way to capture emotion before, during, and after everything goes down — the true anxiety before it happens, the thrill of the experience, and the relief when it's all over.

Build up your story by asking locals or your guide some questions about what's to come, or for more insight into the stuff around you. They're the experts and information will always sound better coming from them.
Any basic editing software has voiceover functionality. Voiceovers are great for building the story, telling us where we are, what's going on, and why we should care. Use them!
Trim the fat
The more superfluous footage you get, the less likely you are to ever want to sit and edit through it. Redundant video will bore your audience and, worse yet, will make your job way harder on the back end. Compelling travel videos are generally no longer than 2–3 minutes — keep it short!
Discipline yourself to not film every second of your drive in the pickup truck, or each round of beers, or every single jump from the rope swing into the water — just get the important transitions and key moments throughout your day.
Trust us – at some point, you're no longer enhancing your video.
Plus, your first priority is to enjoy the moment, not just film it, right?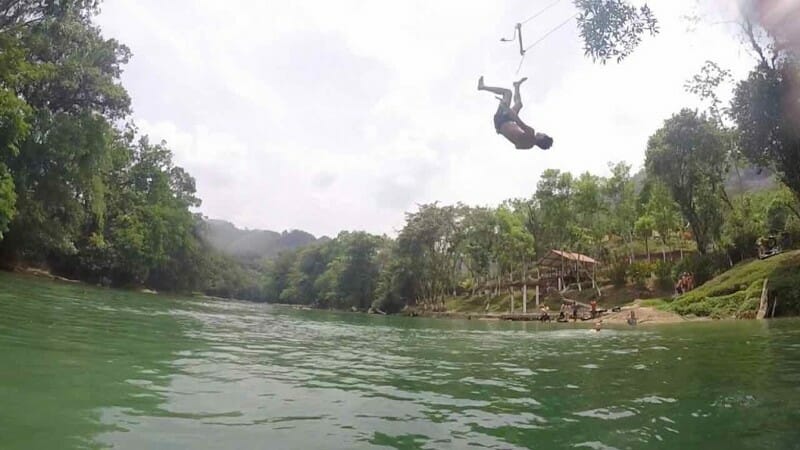 —
Remember, the video is only your lasting souvenir. You've done the hard work of getting yourself to an amazing destination and setting yourself up for adventure. Enjoy your reward. Live the experience, soak in every minute. Your video will be that much greater as a memento of an amazing time you had.