During our journey through Latin America from NYC to Argentina, street food was king. Not just because we were broke (although, yes, we were broke). Street food truly offers tourists the best and quickest way to enjoy a taste of local cuisine. Here's a countdown of our top street food experiences on the road. 
7. Empanadas – Chile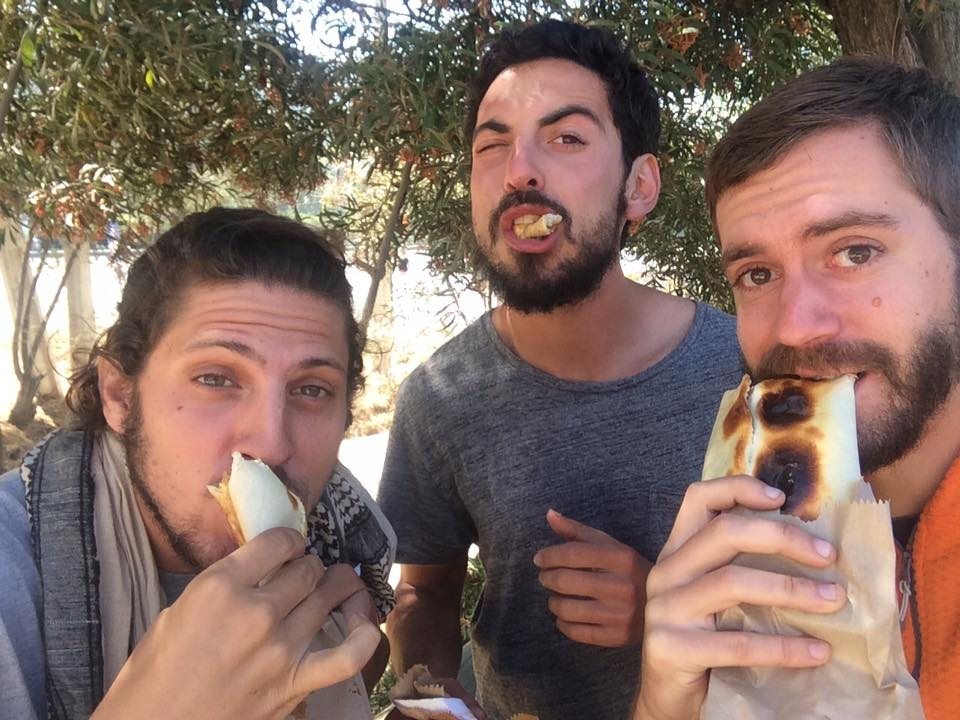 Empanadas are the ubiquitous staple street food of Chile. But buyer beware – they vary mightily in quality. The very best of the best can be found at celebrated institutions in distinct locations, like the one we went to on the side of the highway between Valparaiso and Santiago.
But if you're looking for a quick bite while you pick up groceries from the local corner store, you might end up with a much different experience. These are tough to enjoy, even when you are as hungry as we often were during our time in Chile. The classic Chilean empanada is pino, which is made up of ground beef, onions and raisins in a baked flour dough. Oh, and watch out for the hidden olive!
6. Pupusas – El Salvador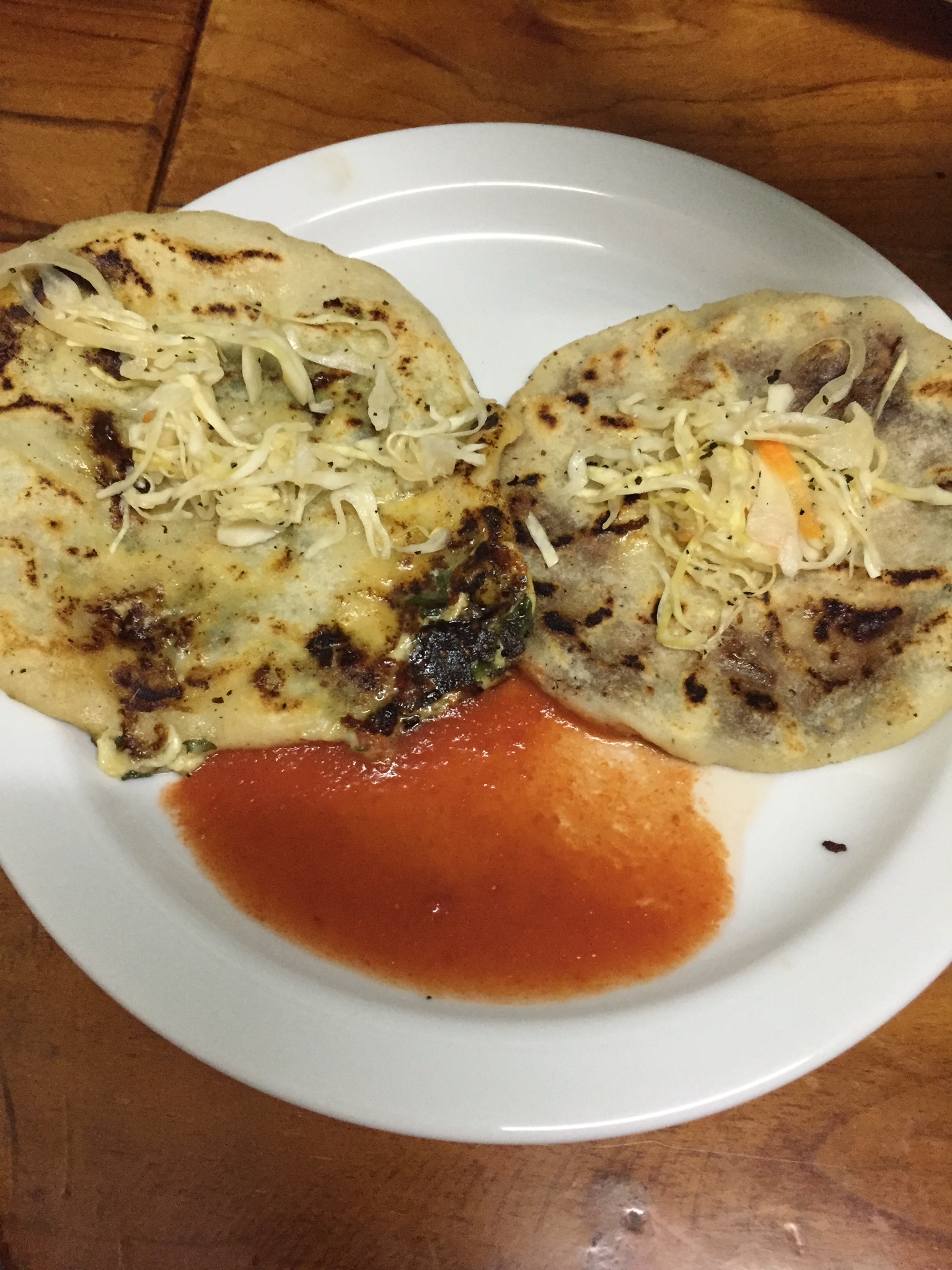 It seemed to us that the people of El Salvador eat pupusas 3 meals a day. Basically, they are a kind of fried and stuffed pancake. To a Salvadoran, the typical varieties include revueltos (cheese, chicharrón, and refried beans), quesillo (just a stringy cheese common across Central America), and loroco (a veggie option made from a vine flower).
Pupusas were a consistent hit whenever we tried them during our short two-week stay in El Salvador. Our favorite pupusa meal was without a doubt the night we went out with our host Arcangel after an exhausting week volunteering on his farm. Come to think of it, the deliciousness of these pupusas may very well have derived from our excitement for finishing up our time as campesinos.
5. Street Meat and Salchipapas – Plaza Trinidad, Cartagena, Colombia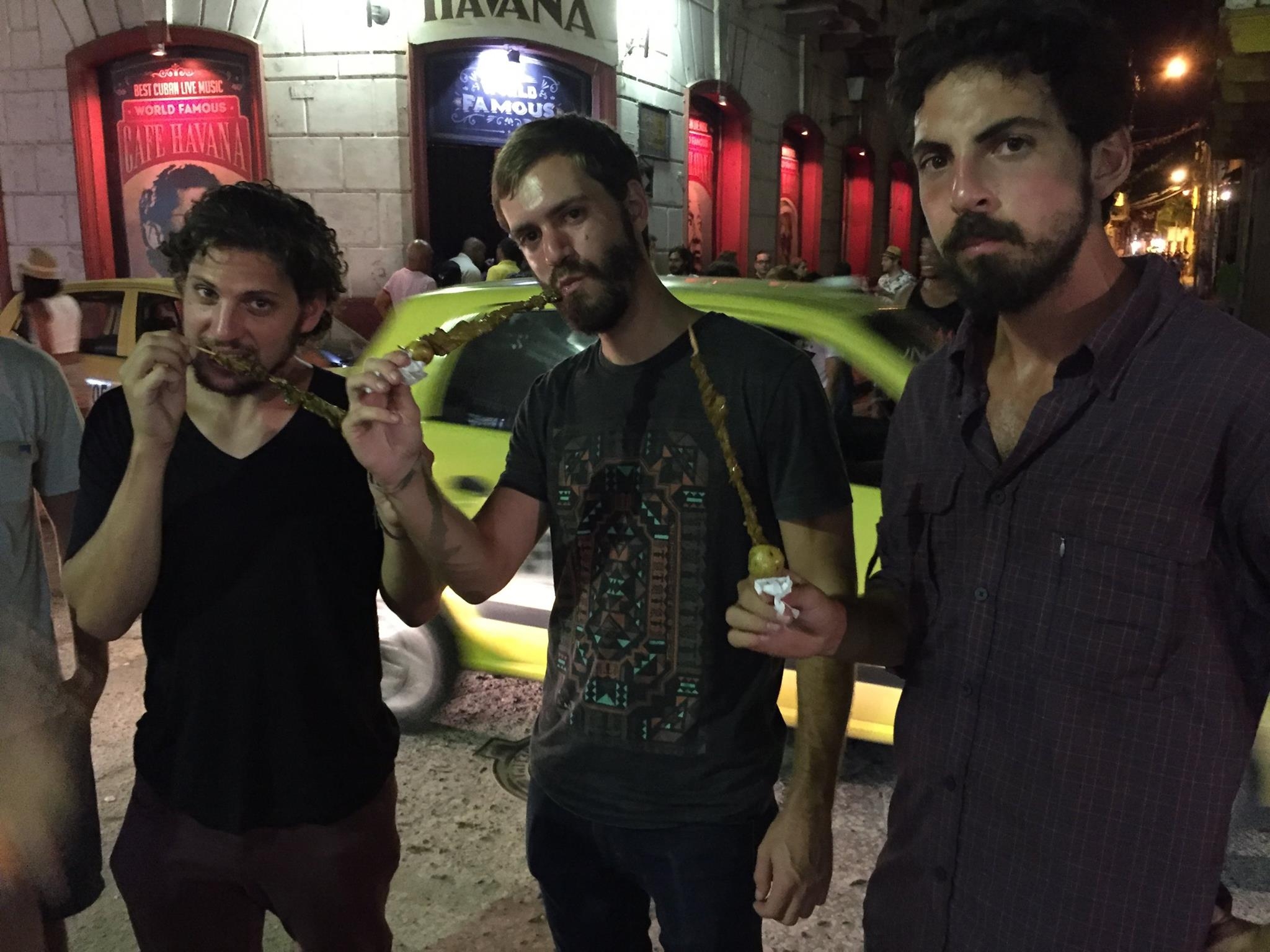 The Caribbean heat keeps the party cookin' at all hours in the coastal city of Cartagena. But after the sun goes down, something else serves to fire up both locals and tourists alike. That 'something' is the daily street food frenzy in Plaza Trinidad. A dozen vendors set up shop in the plaza around sundown and wait for the night life to come alive. This was an ideally cheap place to "pregame" during our time in Cartagena. We'd have a few beers, meet locals… and, oh yeah, have dinner.
Kebabs were a popular choice. We also went all out once or twice and chowed down on salchipapas. These are basically french fries topped with a medley of meats and every sauce under the sun. Watch out, because Zumba classes are known to break out in the middle of the square at a moment's notice.
4. Baleadas – Honduras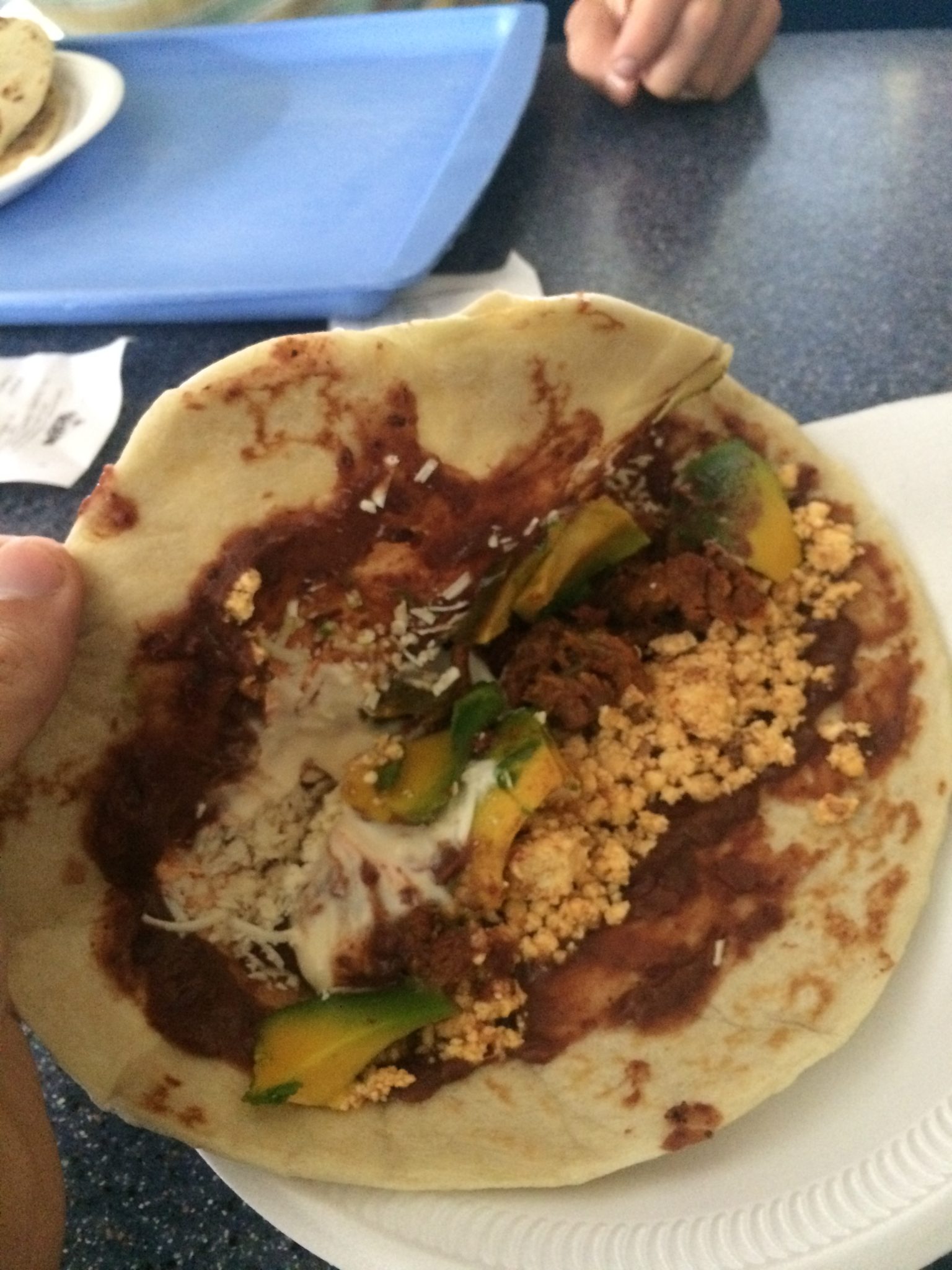 We really do love baleadas. After dealing with corn as the shell of most of our meals from Mexico to Guatemala to El Salvador, the shift towards flour tortillas was a refreshing change of pace for us in Honduras. The most typical form of baleadas are sencillos (simple), which includes just queso, crema, y frijoles refritos (cheese, cream, and refried beans).
From there, other options increase in complexity. Scrambled eggs are a classic addition, but if you really want a hearty meal, you can ask for avocados, a selection of meats, sauces and veggies. If you're feeling extra loco, give the "Baleada Challenge" a try and see how many baleadas you can eat in one sitting. You'll find out how quickly they disappear from your plate when you've relegated yourself to peanut butter for every other meal, like we always did. 
3. Tacos – Non-tourist side of Túnel Santa Fe, Guanajuato, Mexico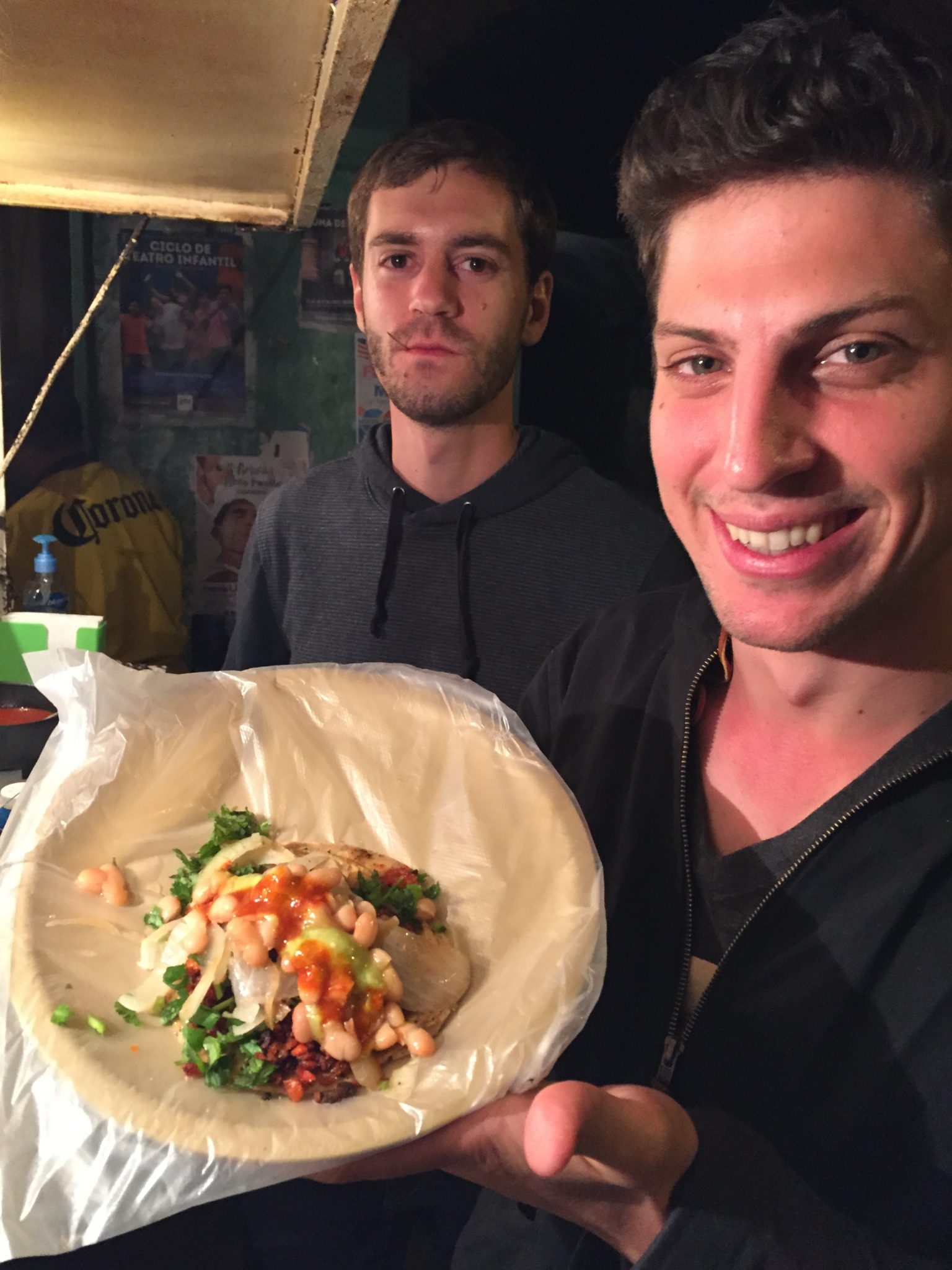 Right before entering the dark tunnel to explore Guanajuato's nightlife, an intoxicating aroma arrested our attention. An hombre manning a modest street stand was sizzling up tacos like no one else you've seen in your life. We ordered one to split. Holy lord. Immediately we ordered 3 more. At about 60 cents a taco, we just couldn't order too many. So how about 2 more after that? Yeah, let's do it.
The explosive tastes we were experiencing were enough to make us believe in a God. When we told him they were the best tacos in all of Mexico, he seemed unsurprised. "Claro," he proudly acknowledged. What we were really learning was practically all food in Mexico, especially straight from the streets, was unfairly delicious; so good, in fact, that you'll never feel the same about your favorite Mexican restaurant in New York.
2. Tortas – Mexico City, Mexico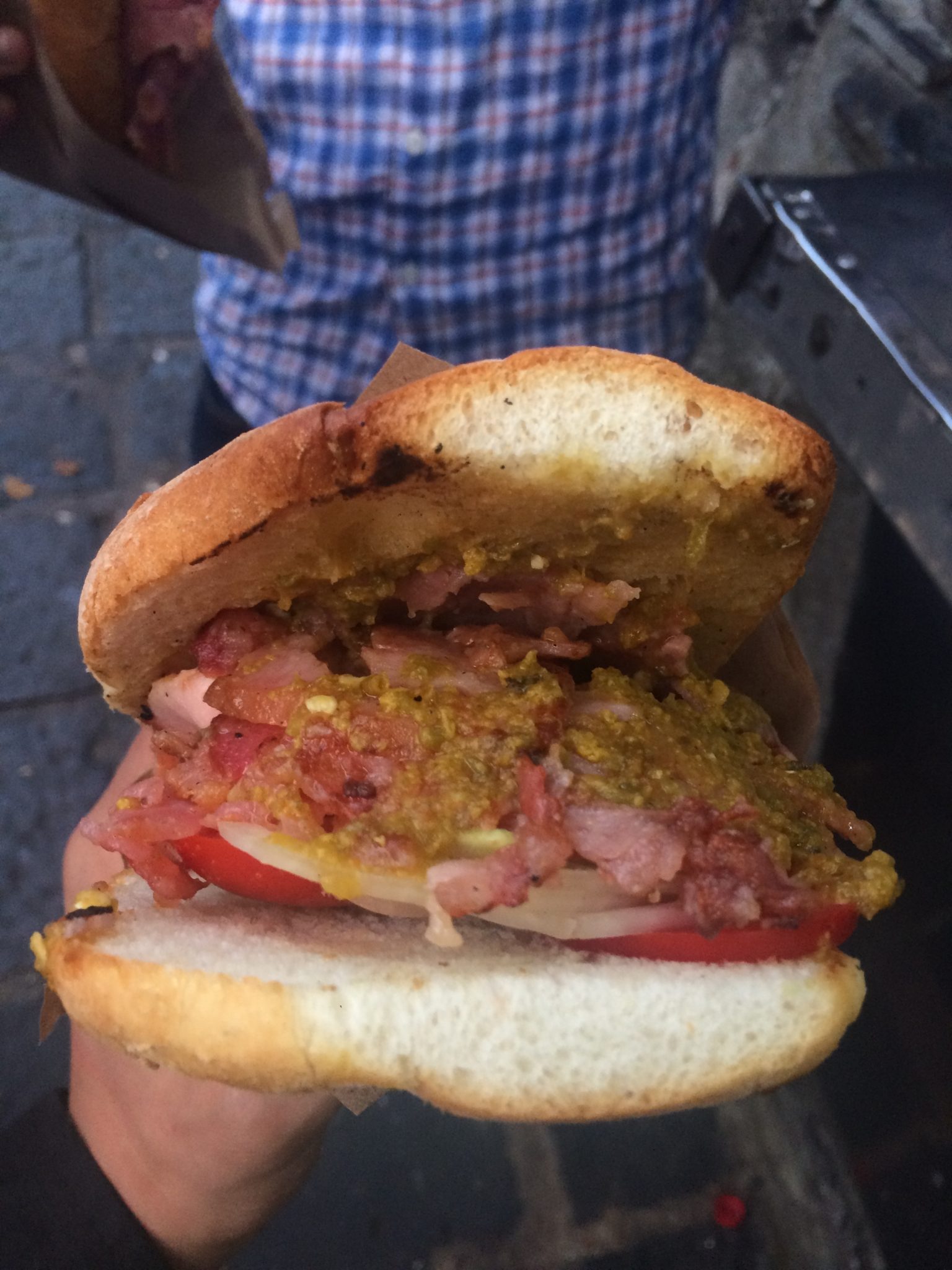 We know it's not fair that Mexico gets two spots on this list, but it's only because they have the best street food in the Western Hemisphere. For under a dollar (somewhere between 10 and 15 pesos), you can have yourself an enormous torta (Mexican sandwich). But here's the real kicker: literally every street food vendor in Mexico City delivers incredible dishes to their customers.
Ordering street food is a great way to improve your Spanish skills. It was here in Mexico City that our Spanish took a major leap. There's something about mouth-watering tacos and tortas that brings out the best in one's second-language speaking abilities.
1. Steak Sandwiches – Side of the Highway, Mendoza, Argentina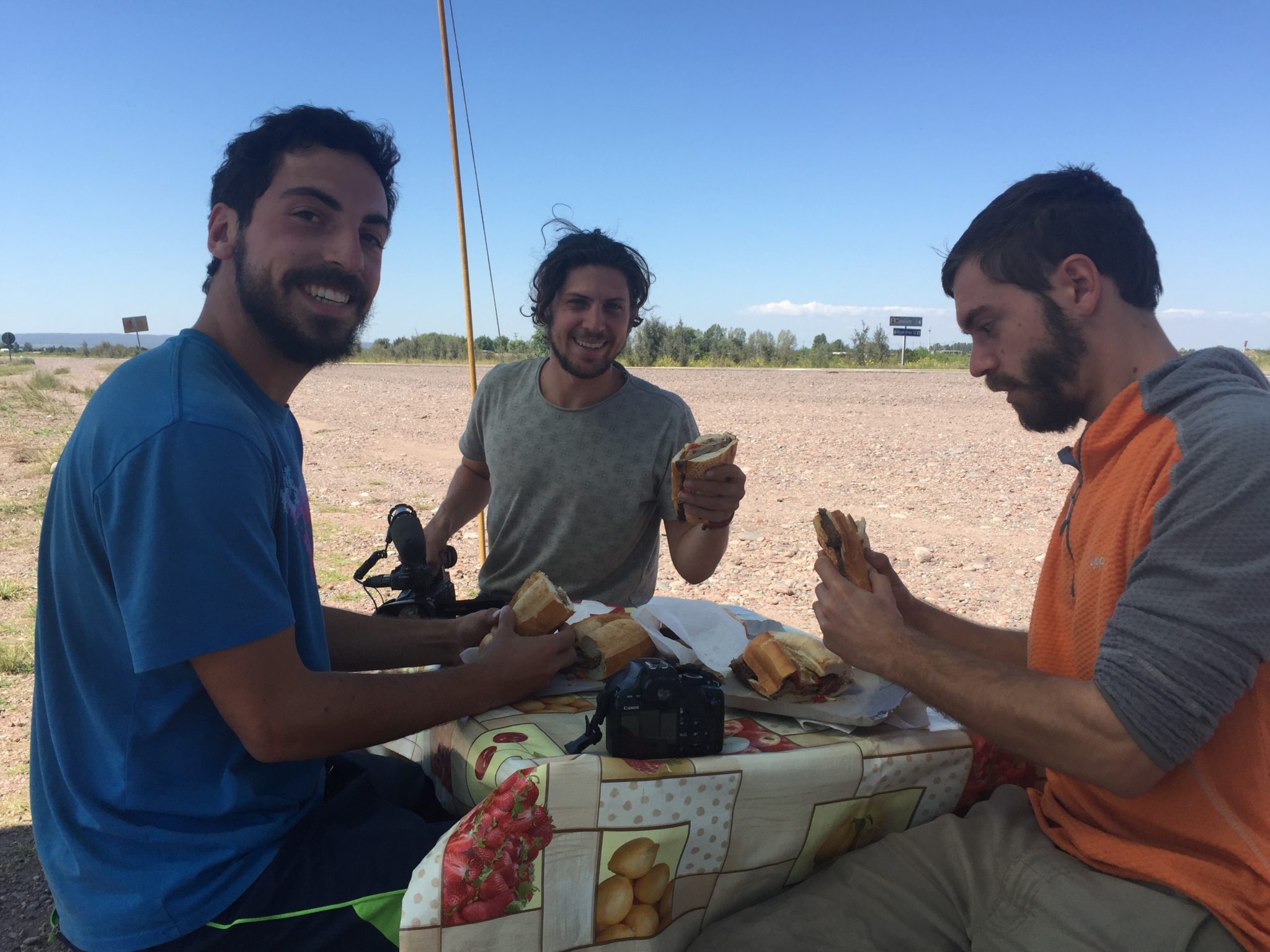 The holy grail. In the late morning we neared Mendoza, the epicenter of Argentine wine country. A small roadside grille with a modest tent cover and a couple of pulled over trucks caught our eye. It was a parrilla, the staple of Argentinean cuisine. Here you'll find drool-inducing slabs of meat are fired up over a giant flaming grille. We hadn't yet eaten a thing on the day, so we gave each other a glance and without further conversation u-turned back to give it a look over.
The pair of men manning the stand were finishing up preparation for a trucker's steak sandwich when we walked on over, stomachs-a-growlin'. With only a few pesos and a couple of American dollars in hand, we nearly scrounged together the plata needed for three heaping sirloin sandies. Short a couple of pesos, the amiable man behind the prep stand let it slide as he whipped up the meaty beasts we so severely craved.
To call this meal satisfying, succulent, or simply delicious would strip it of its symbolic significance for us. We'd pointed to Argentine meat as something to look forward to for so long, a way to rationalize rice and fried or dried meat dishes that had sufficed to sustain us since we'd left Mexico. This sandwich was a long awaited source of pleasure for which we'd patiently pursued for so very long. Above all, it was a rich way to begin this short sojourn into Argentina's lively wine region.