The following post details the Global Goulets' journey from January 7 – 15:
Sometimes road trips take a little longer than anticipated. Usually it's a few hours longer, at times even a full day. But by some inconceivable stretch of the imagination, our expedition from Quito, Ecuador to the mountainous ruins of Kuelap, Peru, planned to take about 48 hours, unraveled into a mind-boggling five day voyage. Sit back and allow for this rambling tale to unfold quite like a fruit-by-the-foot extended into a fruit-by-the-mile.
We were positively exhausted after the beatdown Quilotoa delivered upon our weary minds and bodies. So, we took a brief hiatus from filming and adventuring, if just for the weekend in Quito. Unfortunately, an unwelcomed car breakdown on the side of the highway was brought on by a stray rock that bent the drive-shaft under Velita's navel. This required a laborious day with yet another mechanic, but aside from that our second stay in Ecuador's capital was entirely uneventful. In the blink of an eye, we were ready to play chutes and ladders with the annals of the Andes Mountains.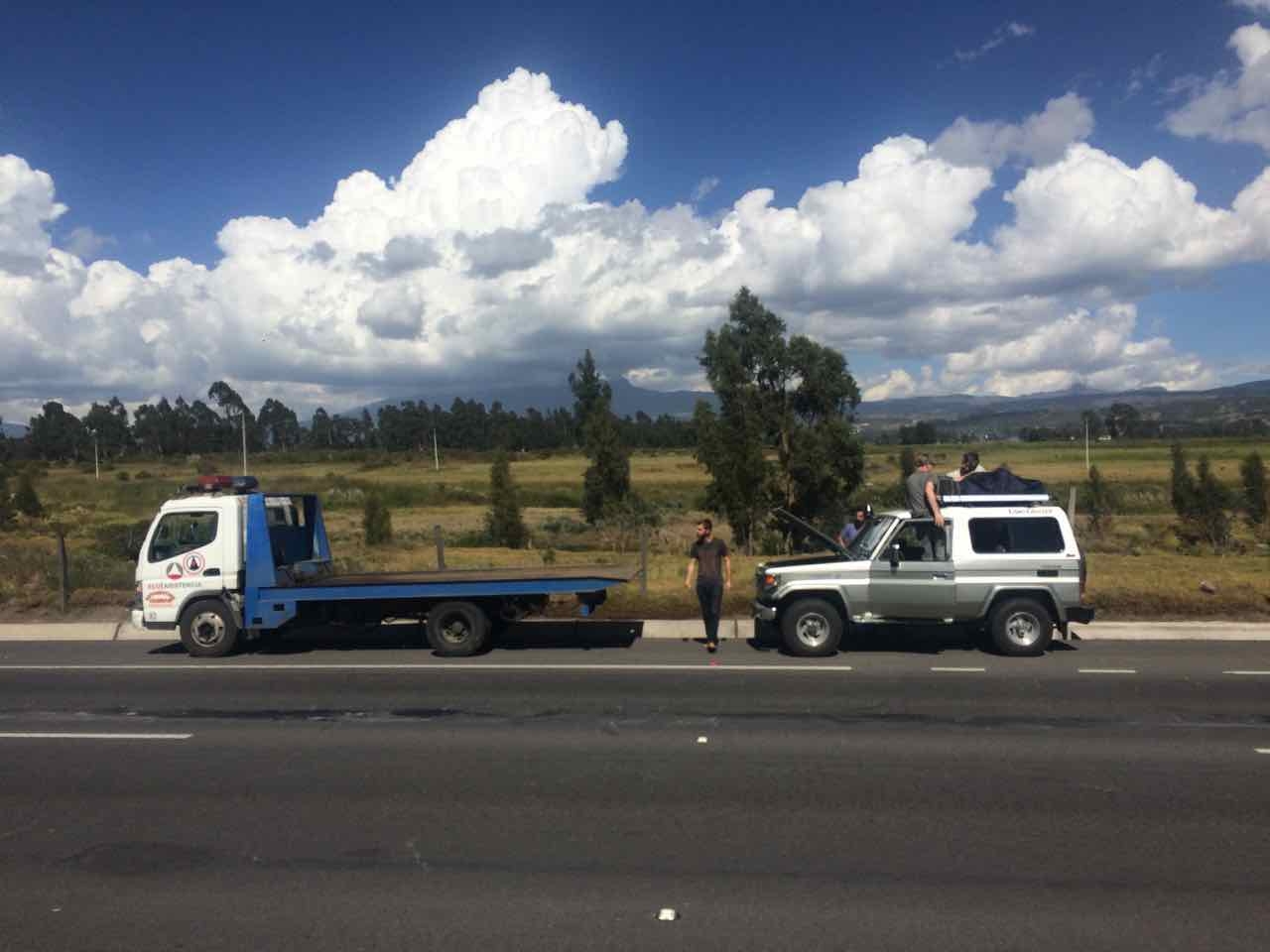 It all seemed to go according to plan, at first. A complete day of driving led us to the brink of sundown, matters made more grave by the full onslaught of fog. We'd arrived at a crossroads all to familiar to us: the legitimate fear of driving on sinister roads under even worse conditions without the friendly face of the sun. As Alex sternly articulated, "the only thing more dense than the atmosphere outside is the mood within the car."
We were ready to end our movement at any moment. It wouldn't take the site of a roadside hotel for us to call it a night; in truth, even the faintest sight of someone's home – be it clothes on a clothesline or little kids clowning around on a stoop – would be enough. But there was nothing. We stayed alert as the menace of darkness crept unabashedly.
Fate smiled upon us without a second to spare. We arrived at a town, just about a block long, with a small school, a couple of modest tiendas, a large concrete court below a giant protective roof, and most importantly a police station. We knocked at what seemed like the front door of the building and ensured our presence was heard by adding a friendly "Hola, buenas!" to whomever might be around. Edison and Luis were the officers on duty, who did not hesitate to welcome us to town and work with us in brainstorming a thoughtful place to set up our tent. No, in fact, they one-upped that idea. Luis led us to a small room around the back of the police station and presented it as an alternative place for us to rest our heads. We unflinchingly accepted his offer. A two-course dinner of ramen noodles and tuna sandwiches satisfied our bellies and sent us into dreamland in the concrete quarters we called home that night.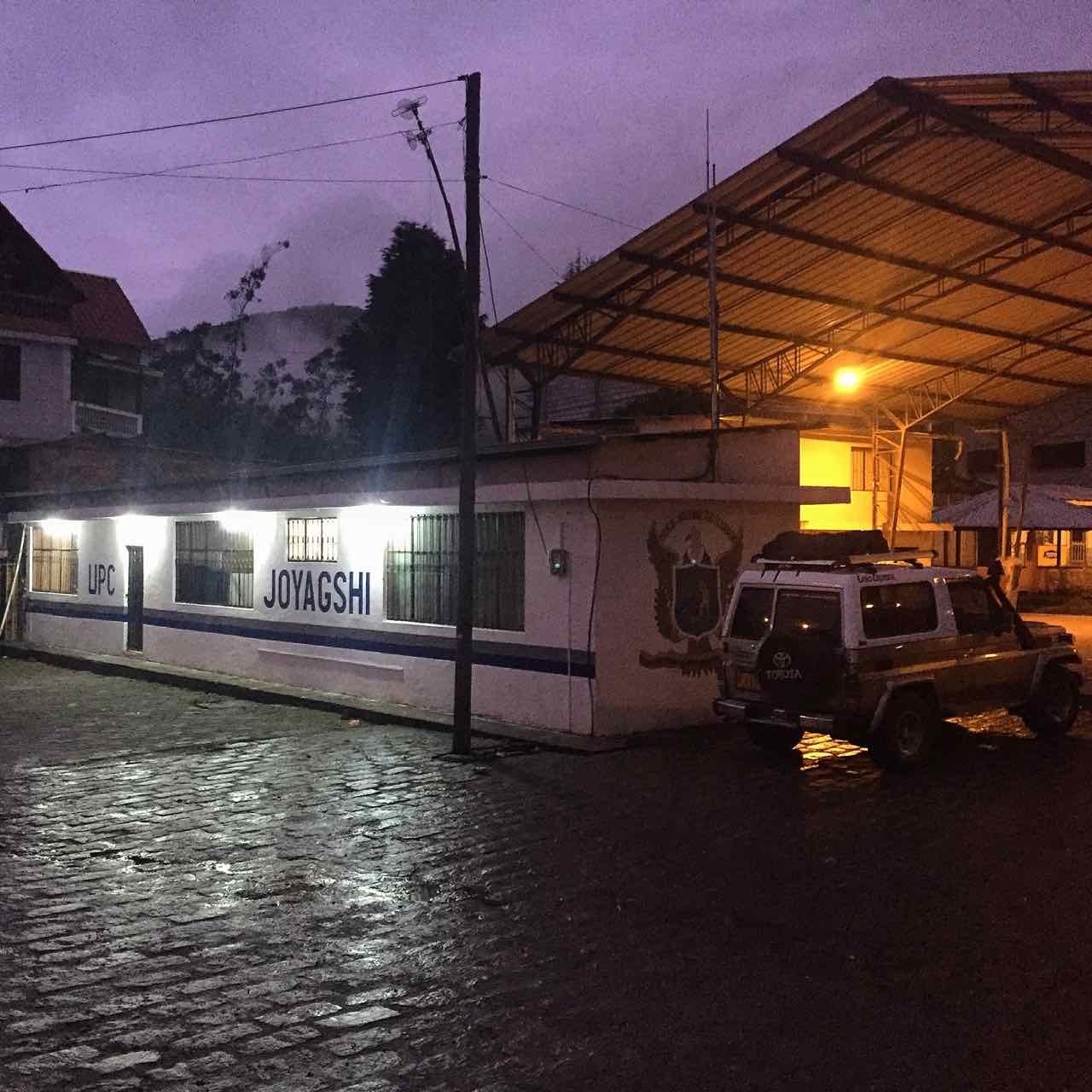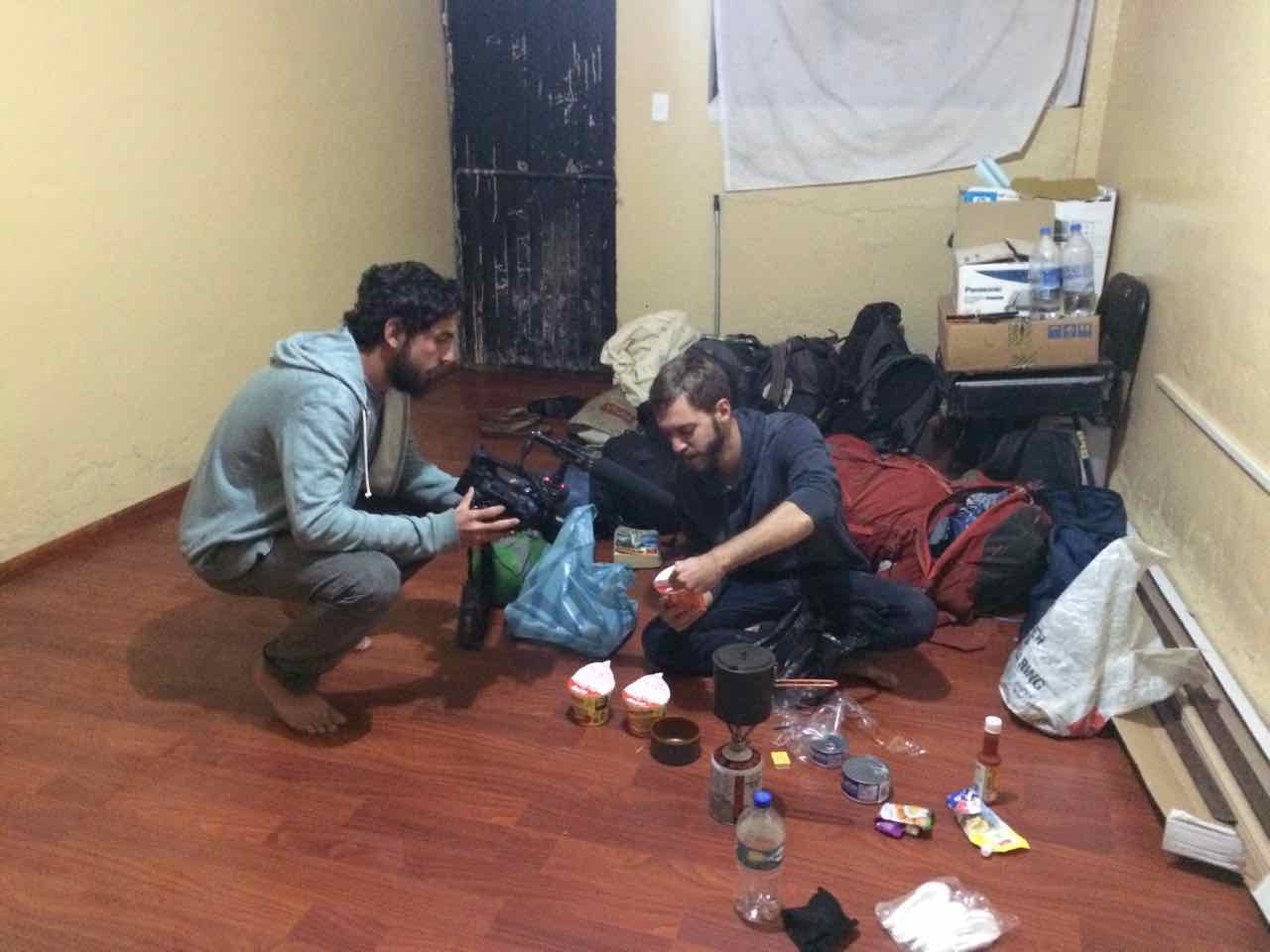 Another day, another day of driving. On our second day out of Quito, we made it to the charming colonial city of Cuenca around lunchtime. We sacrificed a couple of hours of what otherwise would have been driving time to explore the old town. Our time was thus spent successfully: we sucked down some wifi and coffee, purchased much needed batteries for our GPS tracker, acquired a new "jump bag" (our endearing nickname for the camera bag the rotating cameraman wears around with him during filming sessions), and even spent a couple of bucks on some superb ice cream. Cuenca was really wonderful, it turned out, and we were slightly bummed out not to have a little more time to enjoy the town.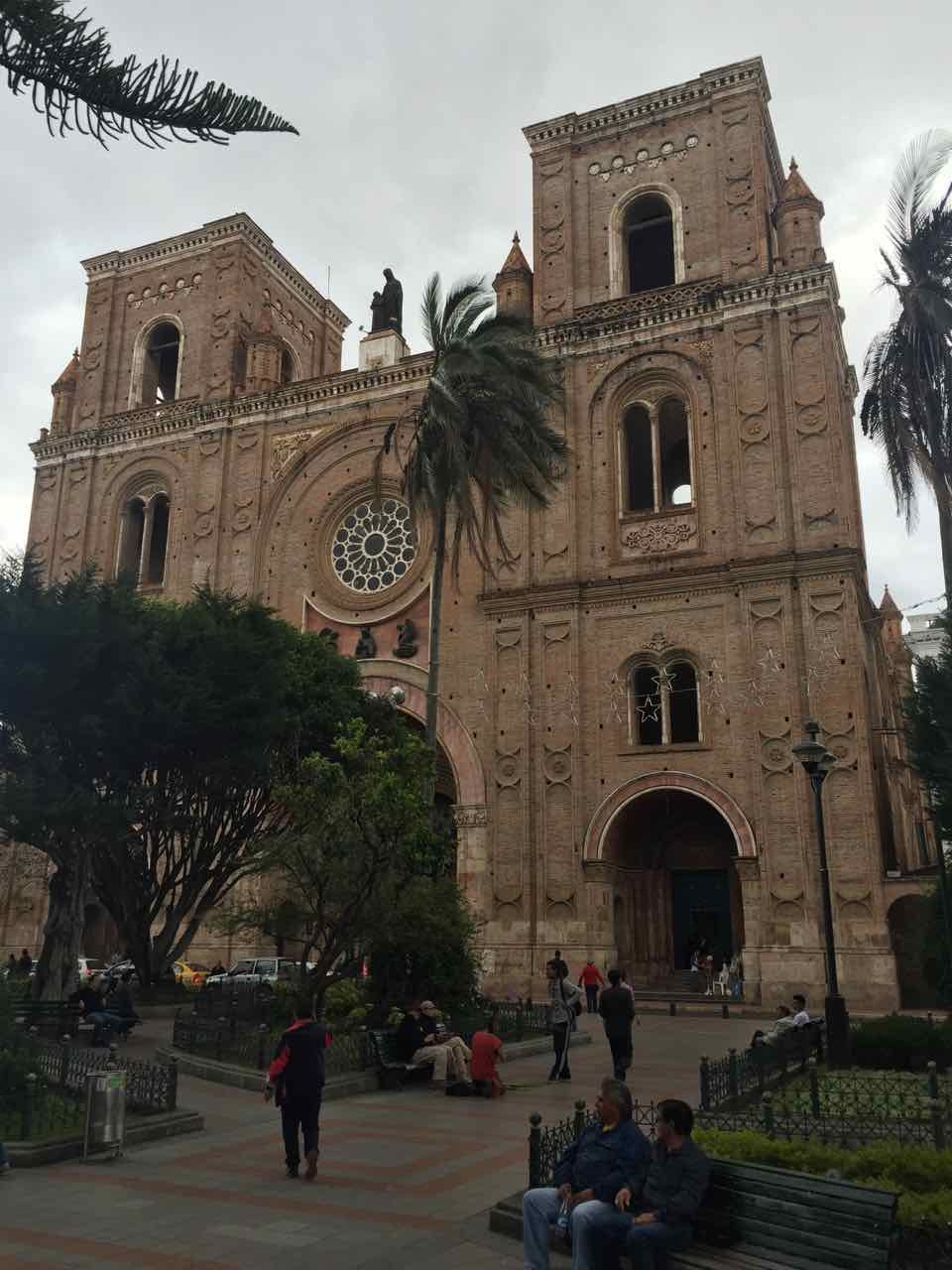 We thought we might get near to the border by day's end, allowing an early passage the next day. We were very wrong. Instead, in the late afternoon we were again faced with a heavy fog that screamed at us to pull over and make camp for the night. We did, at last, in the wet back enclave to a gas station at the entrance of a village called La Paz.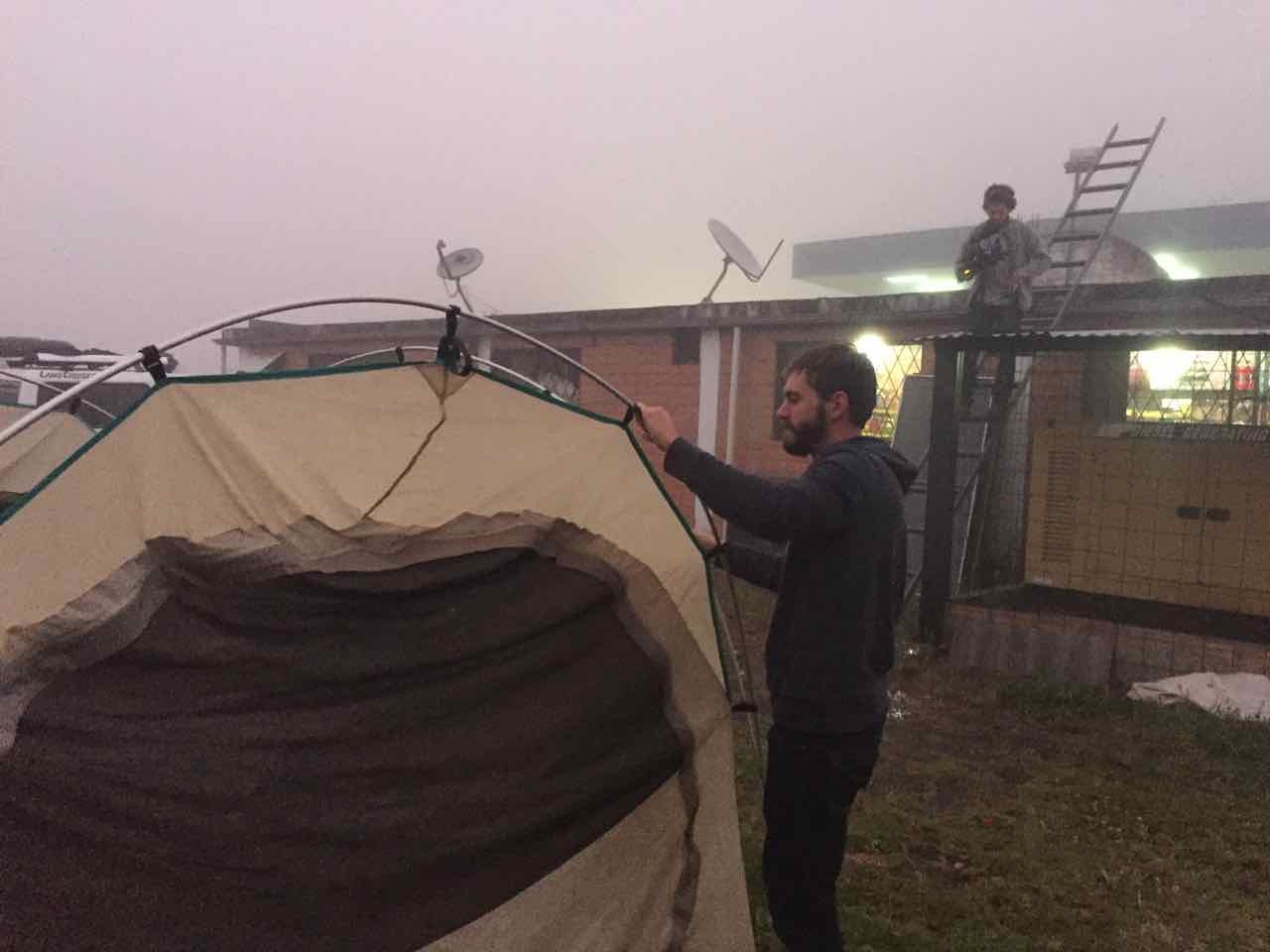 In the morning we broke our fast by munching on the carcass of a freshly butchered pig on a skillet. In fact, with a bit of questioning, we learned the pig had been purchased the previous Thursday in the market in Cuenca and butchered just that morning, at 5am. Great footage overall. We supplemented the pork with egg sandwiches from the restaurant across the street. Back on the road we rumbled.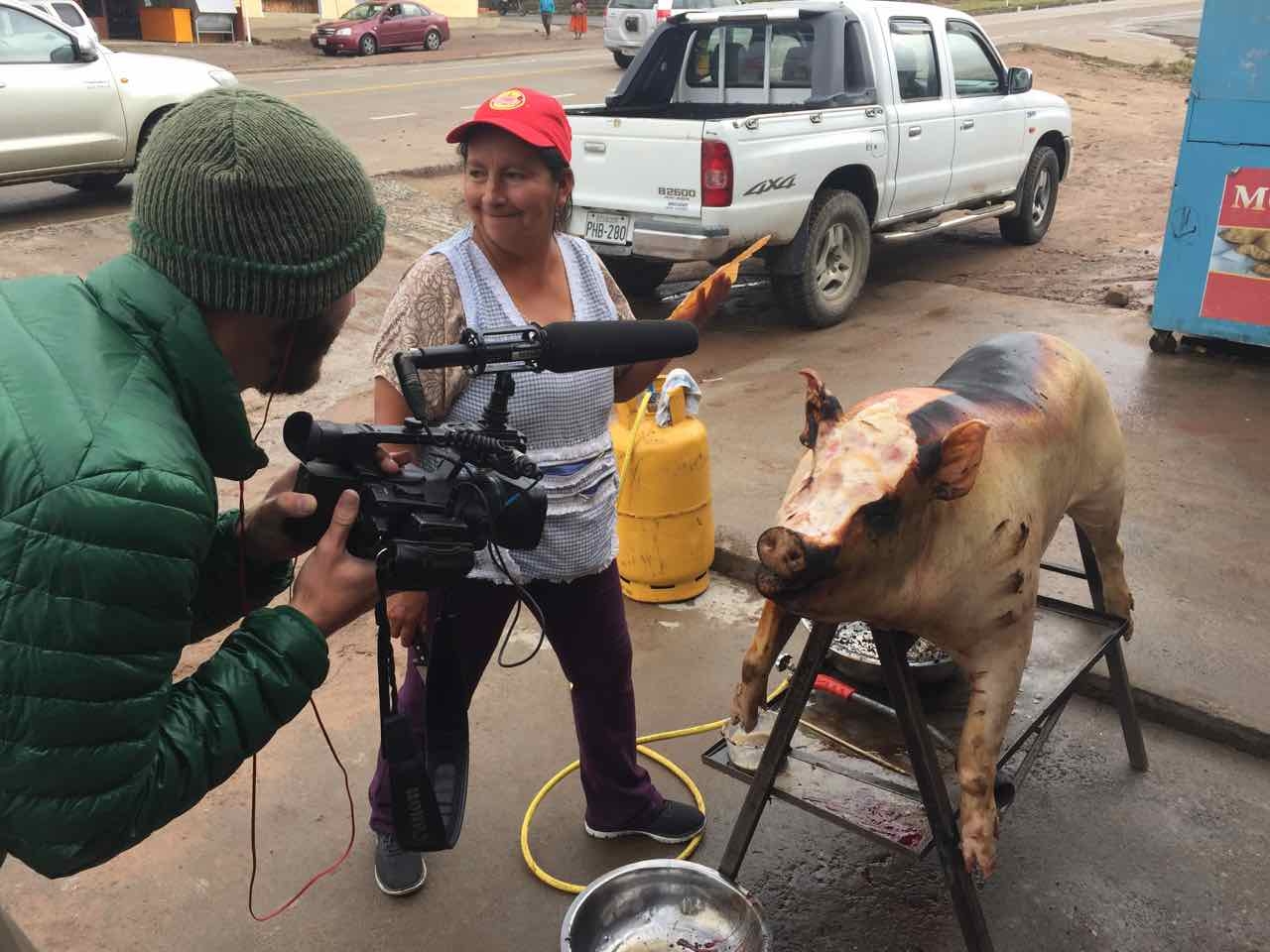 The day labored on and the roads deteriorated mightily. Nonetheless, we sat agape at the dense thickets of jungle that lay above and below us at every turn. With such gravelly, twisty roads, our pace slowed to a crawl. Again, no hope at making it to the border.
Instead, at the last little town in Ecuador through which we drove, we prepared for another night of camping. We had this routine down by now. Buy some bread, flavorless peanut butter, and a couple of bottles of water. Next up, solicit the locals for a safe, flat ground to set up our tent. It was then that we met an incredibly hospitable man named Pedro.
Don Pedro led us on a motorbike to his property, just outside of the center of town. His jovial wife waved warmly to us, as did six-year-old Pedro junior. Pedro toured us through his awesome greenhouse, where he collects flora that is vanishing from the local landscapes. Before the orange hew of sunset, we parked Velita on his volleyball court and set up our tent. We spent the brief few minutes before peacefully dozing off staring at unadulterated stars. We were hundreds of miles from the nearest pollution of city lights.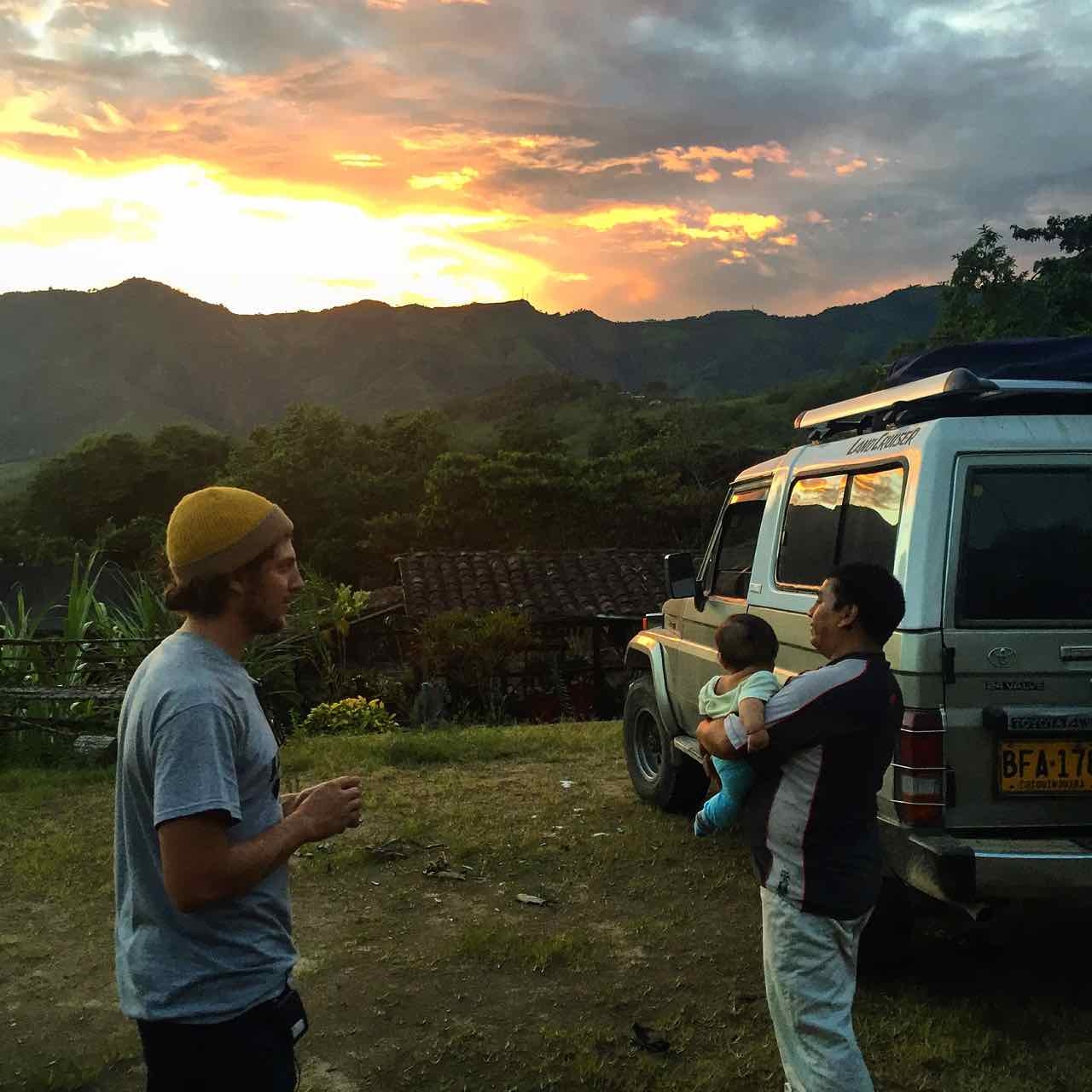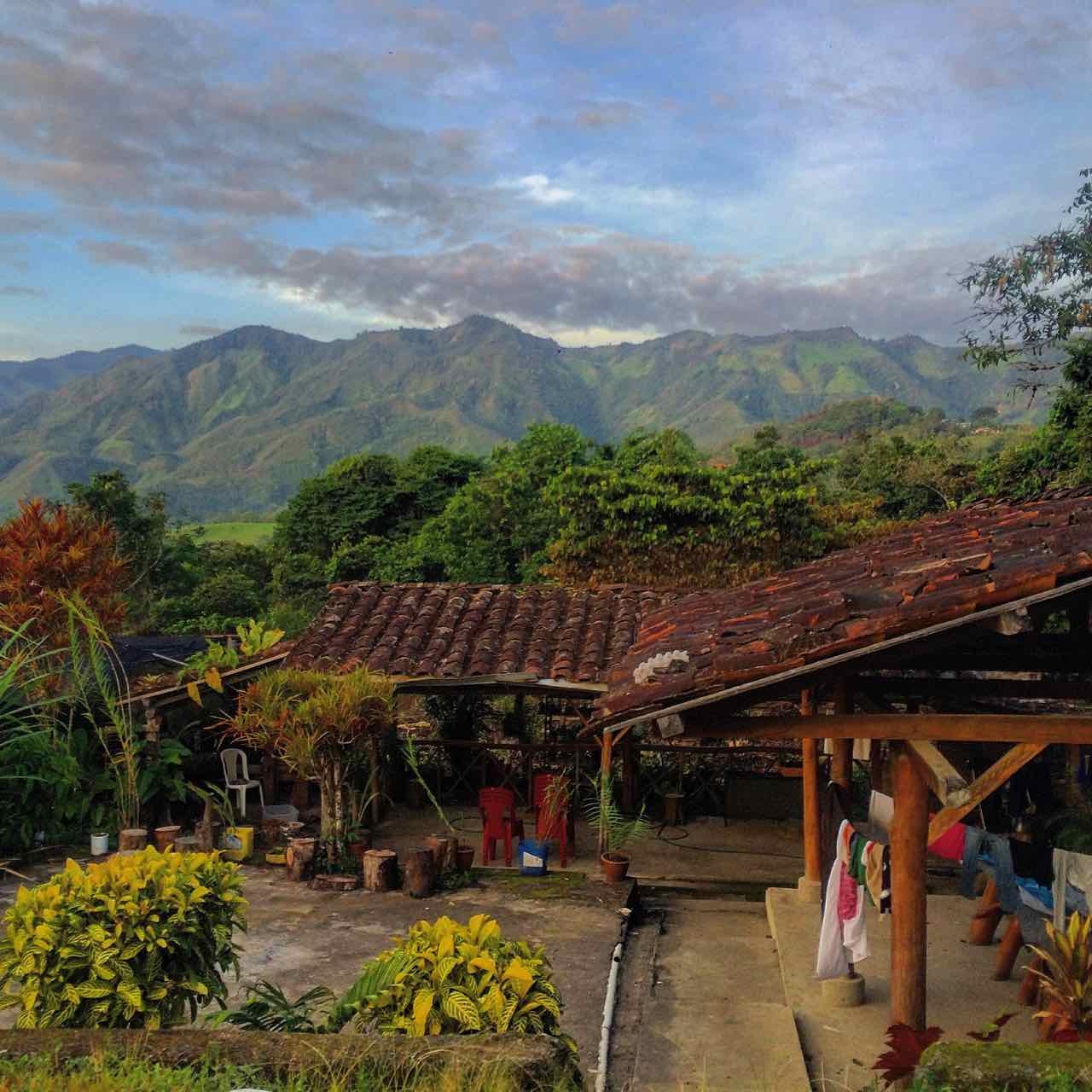 New Country Day was upon us. Entering Peru also signified our arrival upon the final four countries of our journey to the End of the World. Although we only have a quarter of our trip left, we know this will become the heart of it all. And Peru is where it starts. We buckled up and braced for the ride ahead to stop number one: the remote ruins of Kuelap.
The day of driving labored on. While things had started off somewhat briskly in the high altitude arena near Don Pedro's house, we ultimately descended into the fiery pits of Peru's northern deserts. The discomfort of our being, multiplied by our non-functioning A/C and our misguided delay to change from jeans to shorts, hit its peak by our inability to find a campsite. Unlike every other night on this long haul of a road trip, nowhere in our vicinity seemed appropriate to consider as a place for our tent to rest. With the sun on the precipice of its daily disappearance, we admitted defeat and asked the only hotel in sight if we could make camp on their turf. Speakers a' blarin' poolside despite the low volume of guests, we begrudgingly hit the hay amidst the buggy, furnace-like conditions at this unmemorable hotel from hell.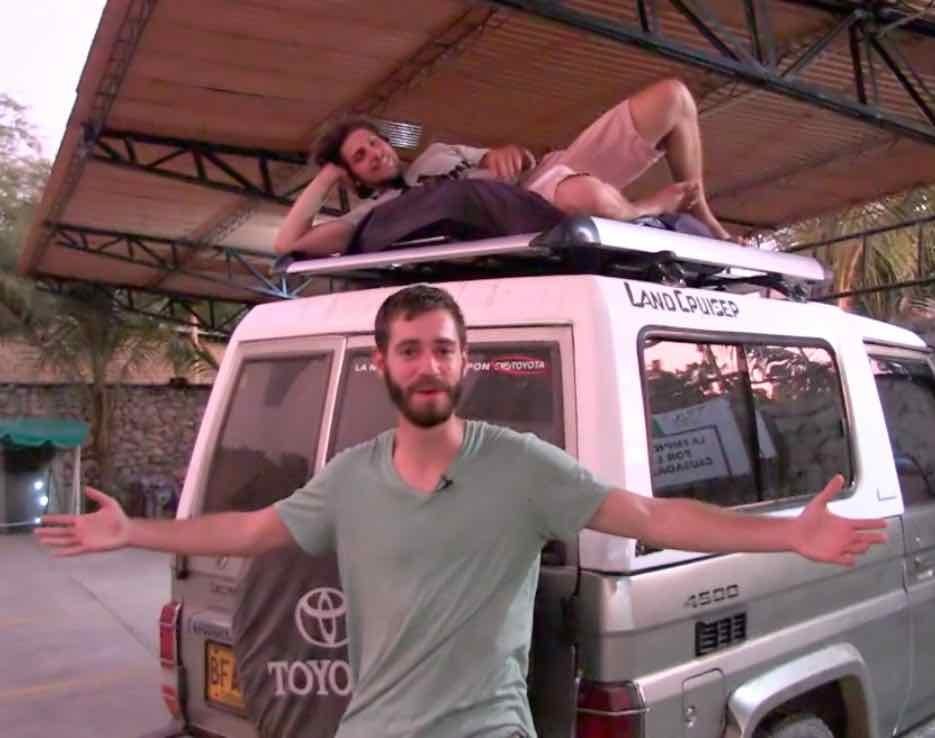 The next day would be better. Out of the desert we dashed and back into the mountains, at last en route to our destination, Kuelap. Prospects of a midday arrival were likewise ill conceived. Surely we should have learned from our experiences that 150 kilometers in the mountains, which would take no more than 2 hours on I-95, requires a nerve-testing full day to cover. And then, at just about 4pm in the late afternoon, we pulled up to the emptying Kuelap entrance parking lot.
Why was it emptying? Because even the few dozen sight-seers ascending upon Kuelap each day intelligently plan ahead and make sure to arrive by midday, ensuring ample time to see the grounds and preventing the possibility of getting caught in the rain. But we are no normal, well-planned tour group. Our late entrance meant we were coming up on the 6pm closing time and were playing risk with the rain gods, especially during the rainy off-season.
As it turned out, these factors worked miraculously in our favor. Rigoberto, our guide, seemed just as surprised as us that the rains sidestepped Kuelap during our visit, offering only the friendly glow of a rainbow over the nearby valley. Further, filling the final tour slot of the day meant no other visitor was in the vicinity, delivering these remarkable ruins to us and us alone.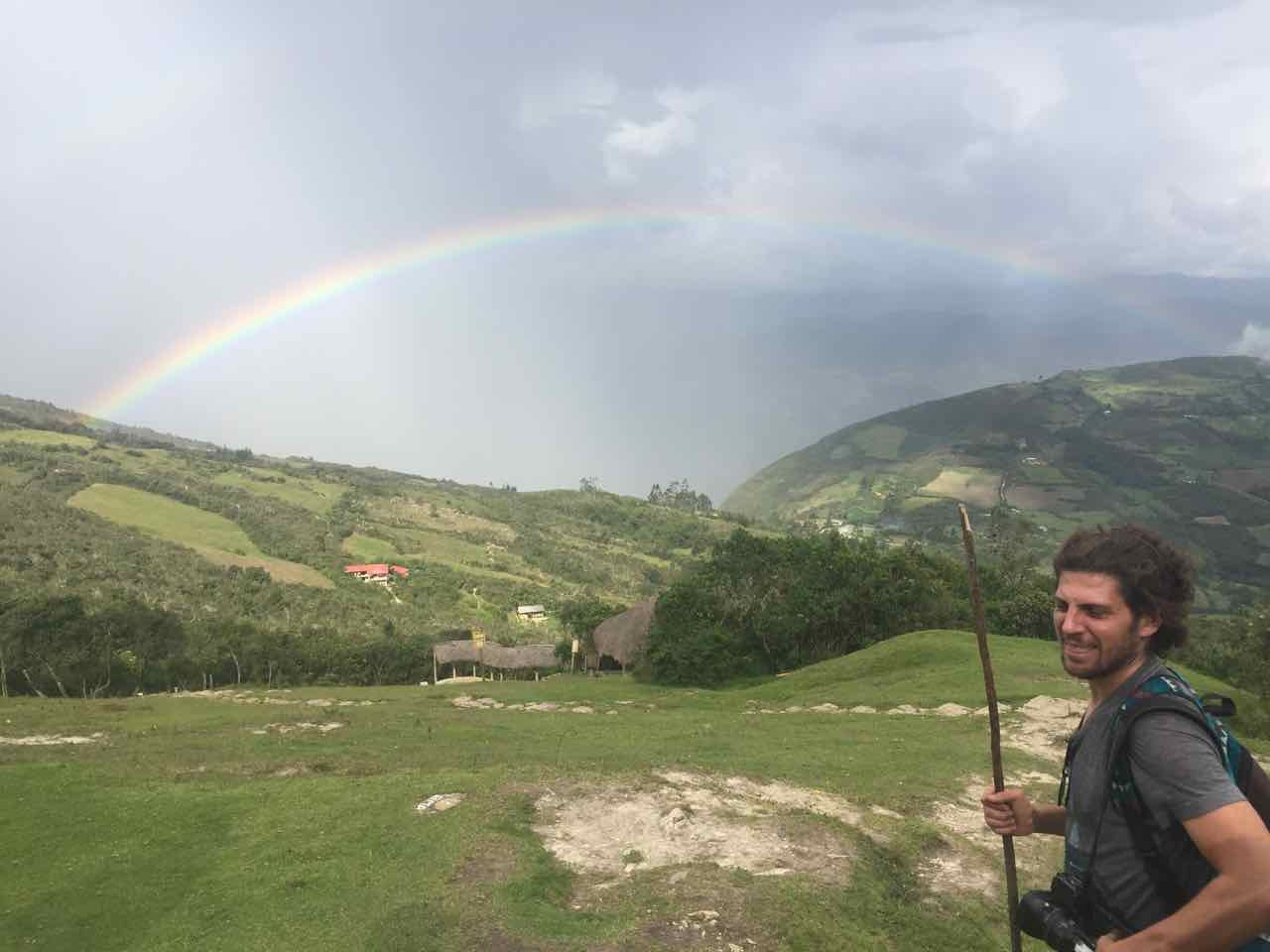 And how remarkable they were. Built 1500 year ago, far before the birth of the Incan Empire, when the incursion of Imperial Spain was but a twinkle in the eye of South America, Kuelap stood as the sacred home of the indigenous Chachapoyas people. The spirit of this holy legacy came alive in our minds during Rigoberto's enchanting tour. From the foundations of the homes that once covered this elevated sanctuary to the still visible bones of those buried, our visit, surrounded by not another tourist soul, magnified itself in the calm mountain air. Besides us and our tour guide, the only living beings in sight were llamas – hilariously, harmless llamas – grazing peacefully about us. We sauntered around in awe, gawking at the limitless nature of our Amazonian setting.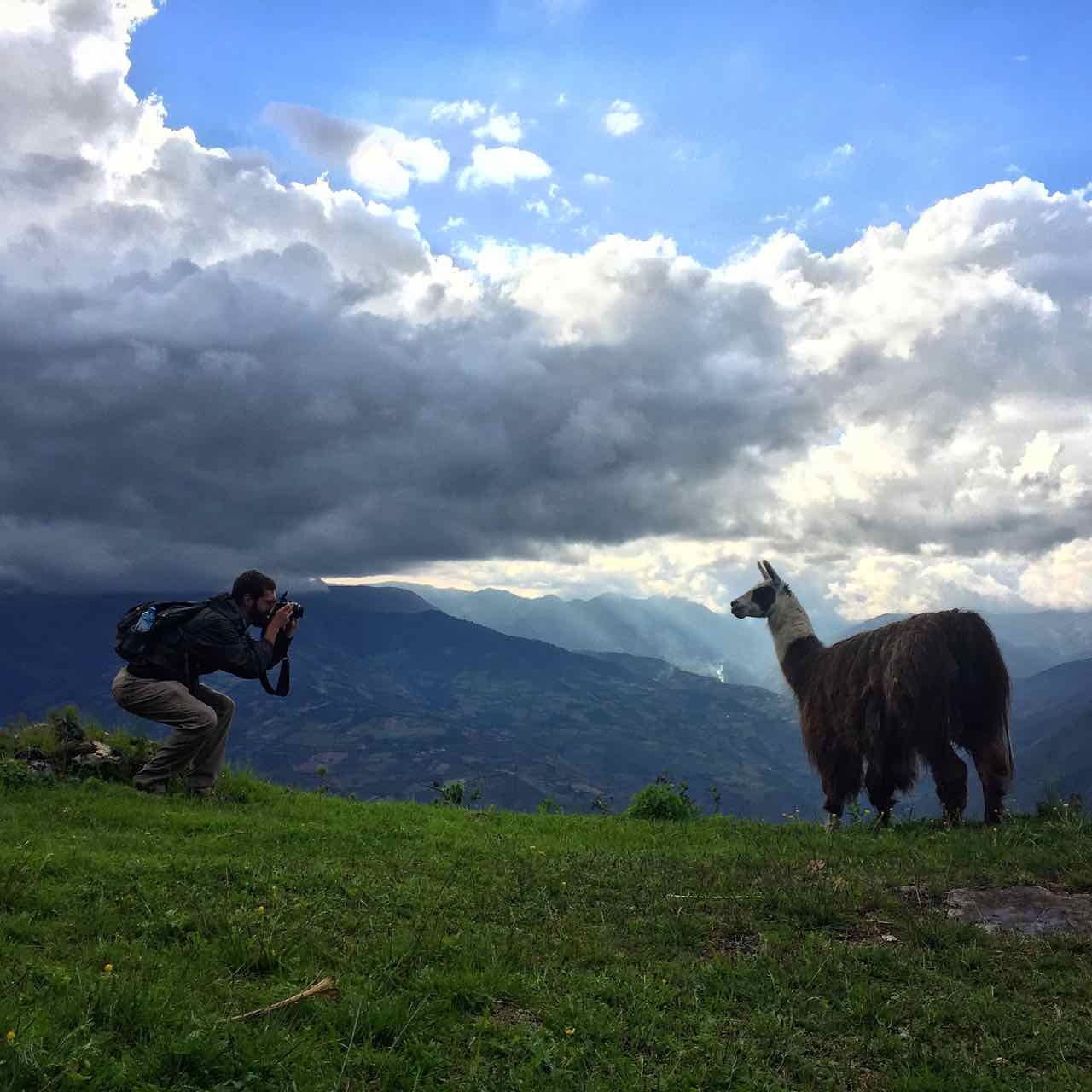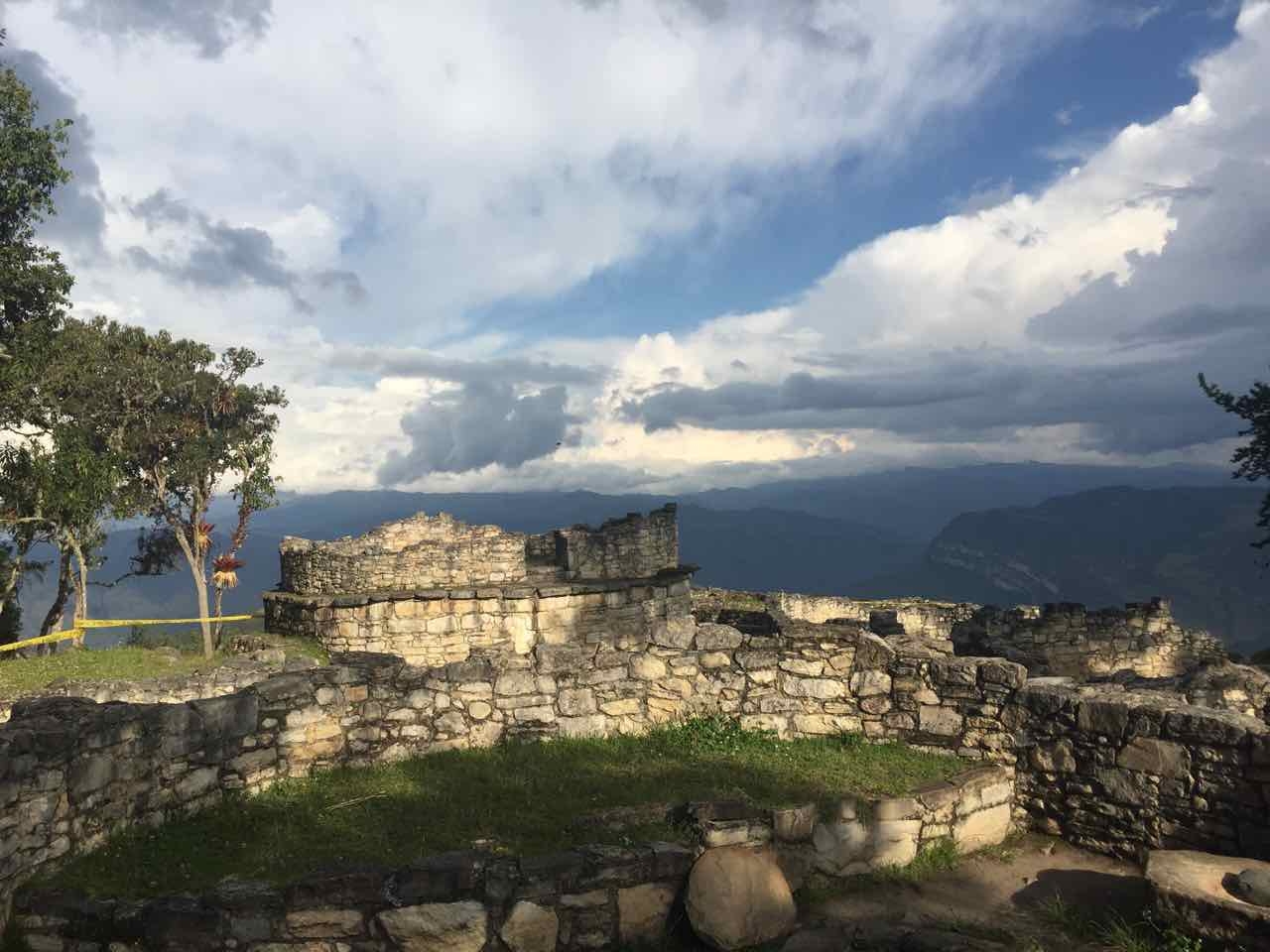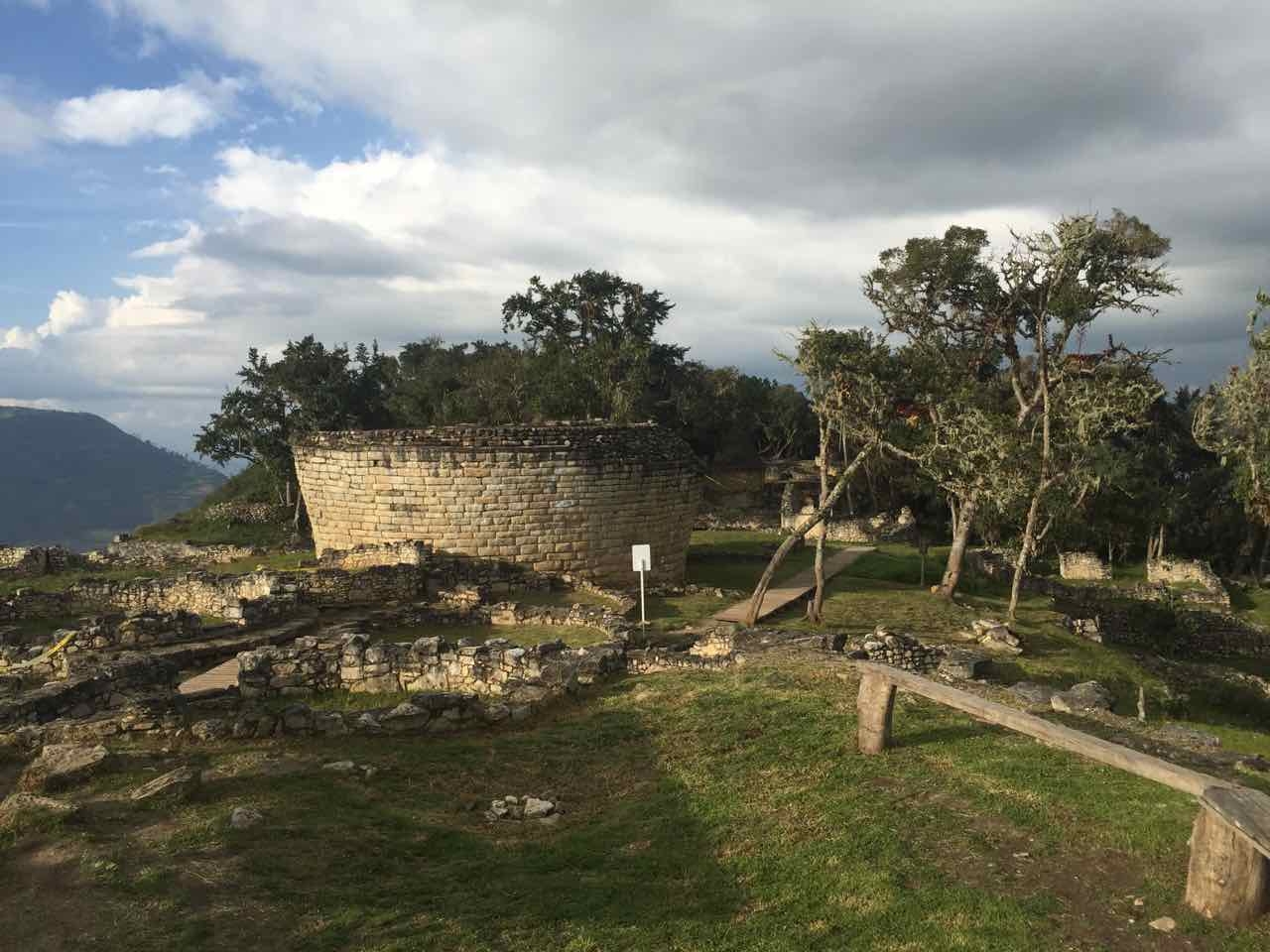 When we first arrived at the ticket office and paid our entrance fee, doubt had enveloped our minds. Why had we gone so many days out of the way for something as average as this? Surely there had to be a reason so few tourists set their sights on Kuelap. We had fallen into a trap and now had to suffer the growing regret we imagined we'd face during what we expected to be an underwhelming walk around some old rocks. Thankfully, we were wrong. Instead, we learned that this place was special. Even more, its location so far removed from the gringo trail's primary track and the painstaking journey required made the spoils of its glory all the more rewarding.