In the morning we awoke to wonderfully warming sunlight, nestled in the Mongolian mountainside along a charmingly fresh flowing stream, beside a family of peacefully grazing yaks. Just your typical start to a Mongol Rally day. After our unconventional contribution to the Ice Bucket Challenge phenomenon, we packed up the tent, changed our torn tires with our remaining spares and started the Auto Goulet's engine – but wait, the car wouldn't start. Oh boy, big problem. We tried again, still no luck. Here we go again! We gave it a few minutes and tried once more and…. Phew! This time she grumbled awake as we delivered a collective sigh of relief after crisis aversion number one million of our adventure.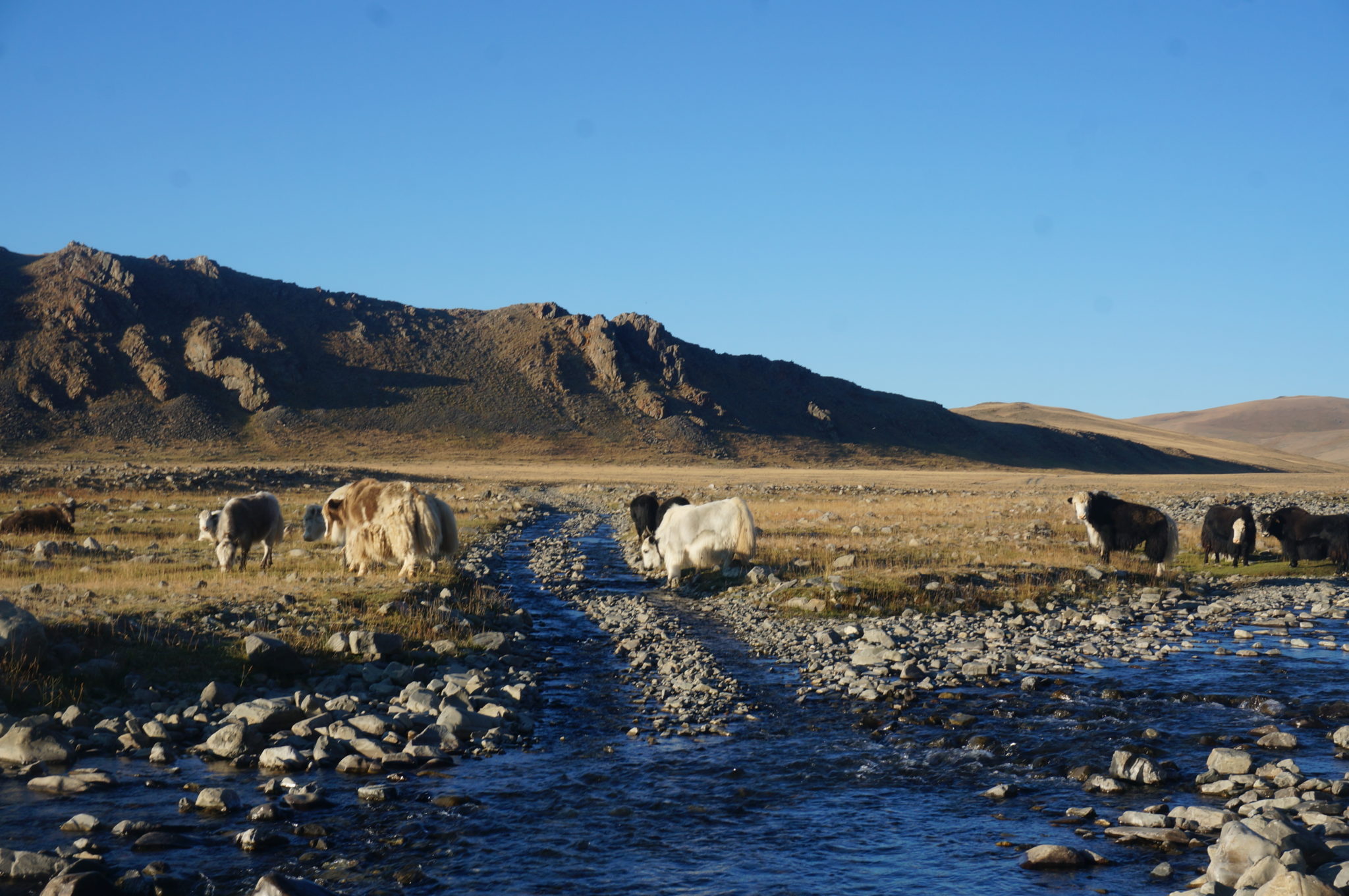 Back in motion, we were faced with two highly concerning potential obstacles: 1) we weren't really sure which direction we should drive and 2) after that last tire change, we were down to zero spares and were back on the terrain which had caused three flats the day prior. All we could do was hold our breath and enjoy the ride.
Knowing any bump or jagged rock could spell catastrophe, we shuffled about the awe-inspiring mountainscape high on caffeine and a sense of any-moment-could-be-our-last thrill. While navigating around this vast, vibrant valley, which could have been anywhere from 2 to 20 miles wide (our depth perception was all sorts of twisted), we encounter yet another river, this one even deeper, belligerently blocking our way. After consulting multiple yurt-dwellers for directions to Hovd, all of which were entirely conflicting, we decided to slow things down, shoot some epic footage, ride around the roof and accept one family's kindly invitation to come inside for tea and biscuits. Thankfully, this bunch was far more genuine than Joy's lot; they took a deep fascination with our camera equipment and happily indulged us with a group "Goulet!" video.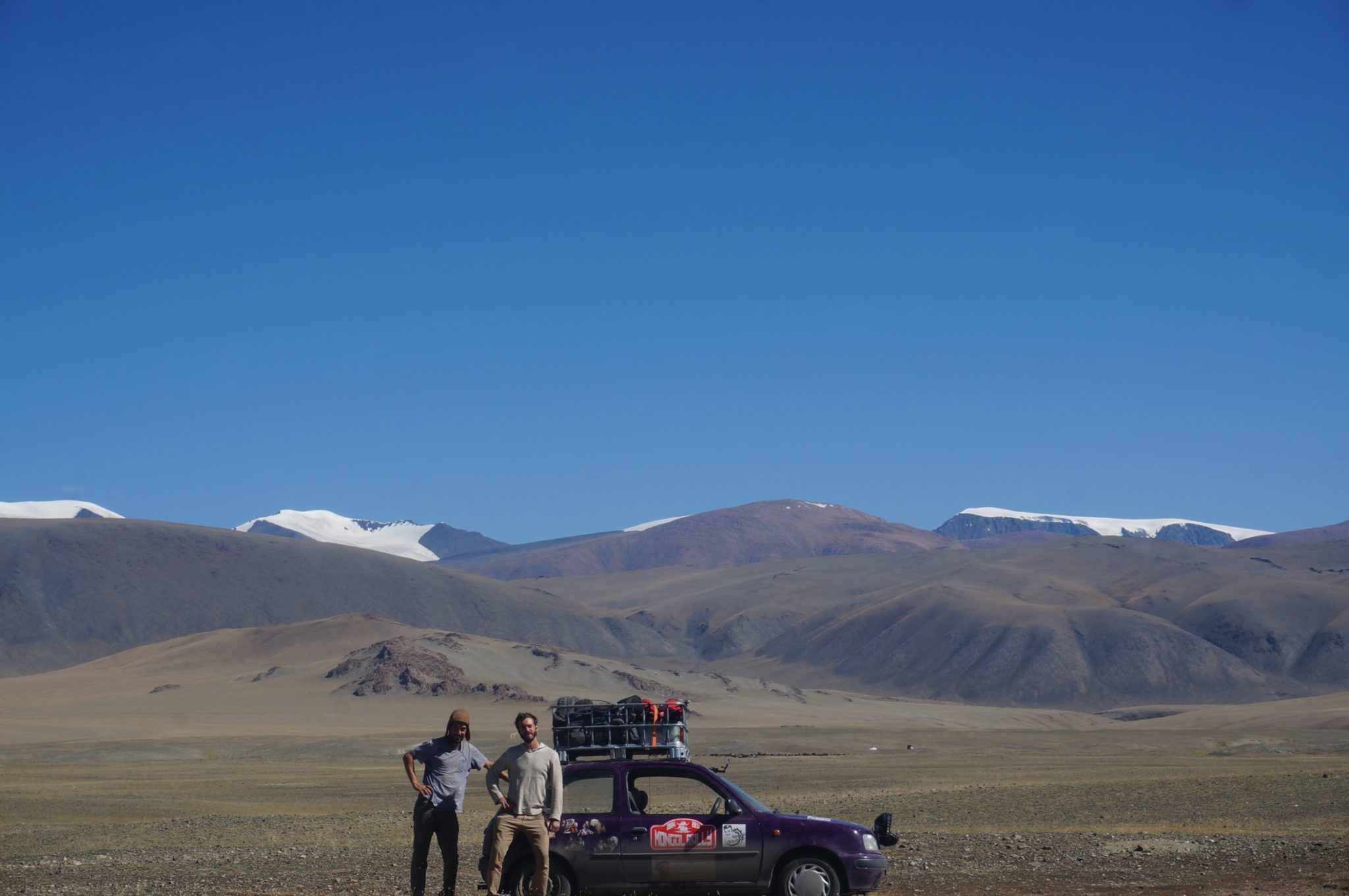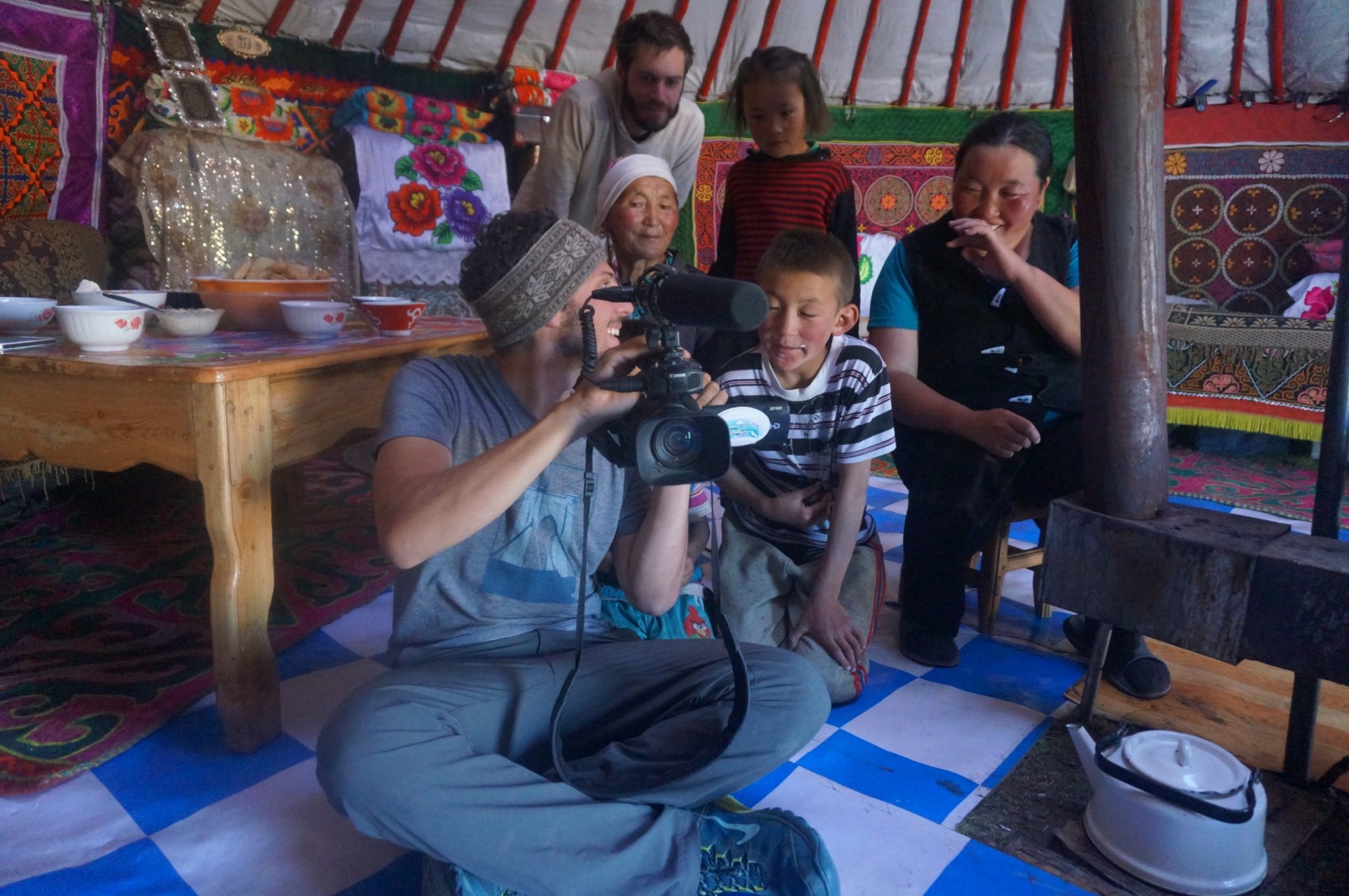 The dream of the yakful and yurtful valley inevitably came to an end when we ultimately found a way out, after pushing the AG over a comically oversized boulder smack in the middle of the road. Around and between the neighboring mountains we looped, at last hopeful that Hovd could be reached by day's end. But, could our grumbling stomachs withstand several more hours before a substantial meal? After some wavering, we agreed they couldn't, so we stopped for some dumplings and stir-fry at a humble roadside restaurant. Consumed by our filmmaking mentality, we insisted upon filming the cooking process behind closed kitchen doors, which made the eating process that much more pleasurable… or maybe it was that we hadn't had a real meal in god-knows how many days.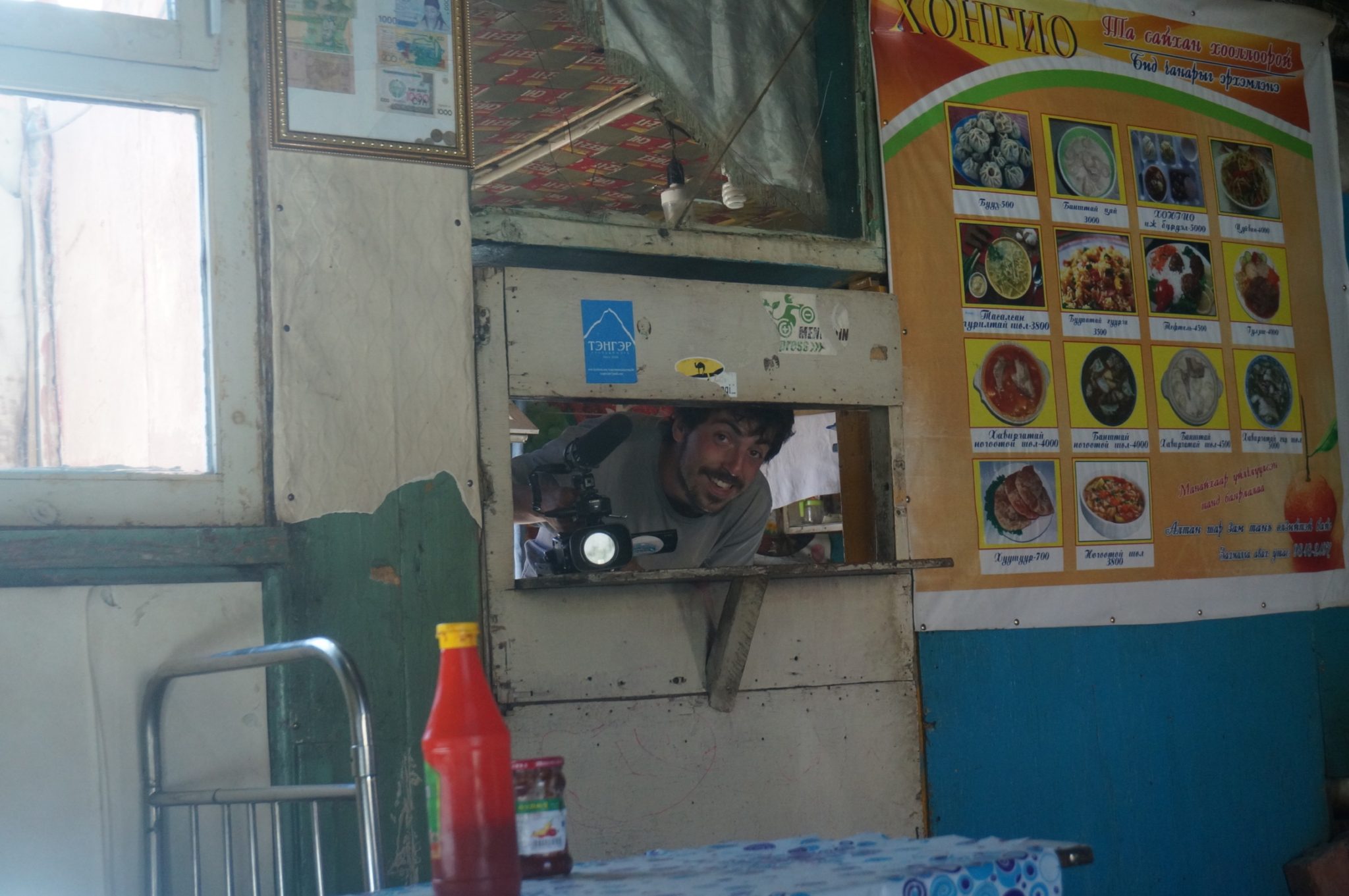 For the first time since we'd been in Mongolia, we were relatively confident we knew where we were. So, we soaked up our surroundings. Past some farm animals we trucked along, as we encountered Mongolian camels for the first time – and these silly creatures had that famed double hump, unlike those loser camels back in Turkmenistan. Yet, just when we were feeling really great about our progress… halt! Another river crossing. We drove one way, but the road ended; the other way, and we ended up in tall weeds away from any semblance of road. What to do! Just then, we met a little boy on a horse herding hundreds of sheep and goats. Because we couldn't understand how to pronounce his name, we just called him our guardian angel. One observation we'd made on our journey is the striking independence and sense of responsibility assumed by children in this part of the world. There are adults in America well into their 30s who can't handle the responsibilities bestowed upon little children in Mongolia. But I digress…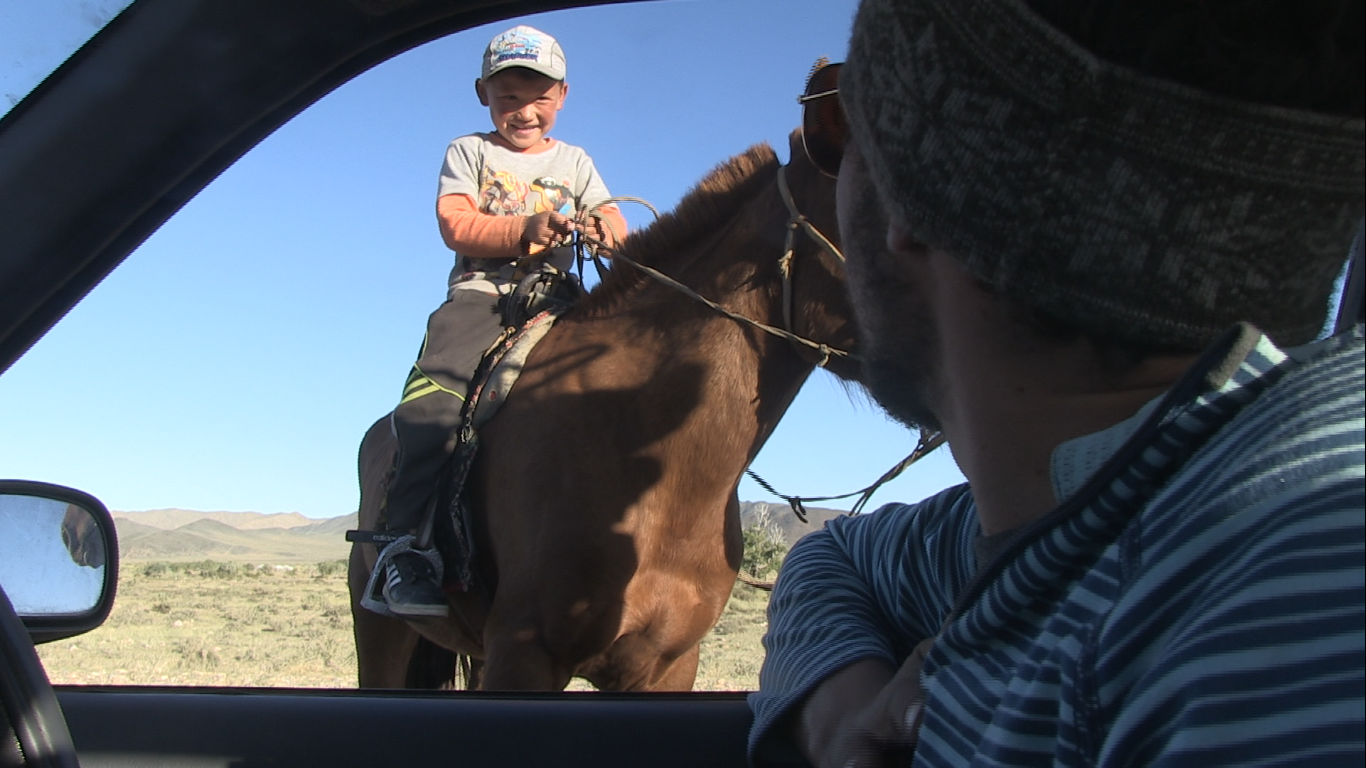 Every time we hit another dead end our guardian angel came to our rescue to offer us an alternative route until finally – he directed us towards a full-blown, modern bridge just a half mile down the river, which safely delivered us to the east side of the river and back on track.
We drove heaps more and then heaps more after that. Our compass pointed west for a while (uh oh) and then it turned east yet again (thank god). We looked out for the Wall of Chinggis Khan and after thinking it may be a physical monument, realized it's actually just a many-mile long mountain range. We were growing slightly restless, fearing that we may not reach Hovd by the day's end after all. Up another incline the AG huffed, as the blue sky darkened and soon adopted an orange hue. Right as we were ready to reconsider our geographic on-trackedness, one hill's zenith revealed a collection of human development in the not-so-far-off distance. Land ahoy! We bellowed some much-deserved excitement at the discovery of civilization. With our pioneering caps symbolically resting atop our weary crowns, we rolled downstream towards the city's center.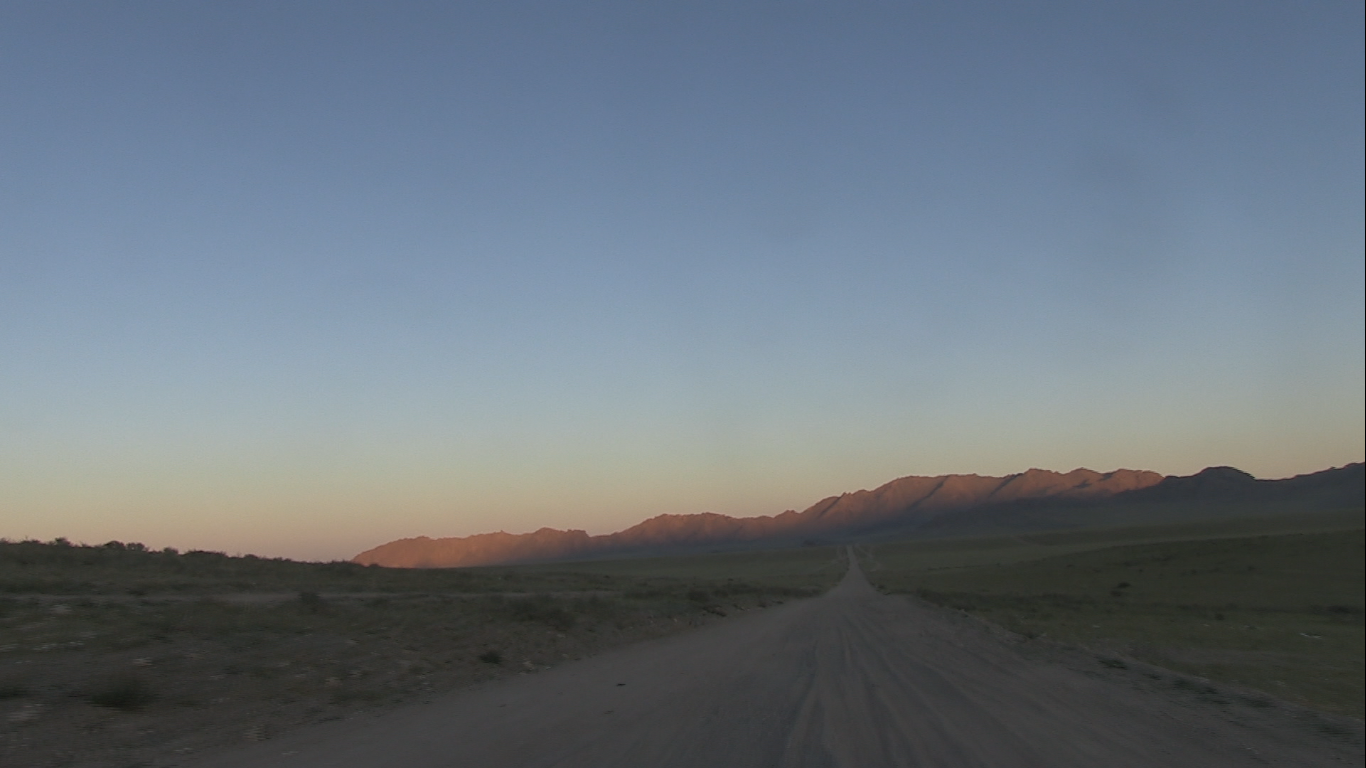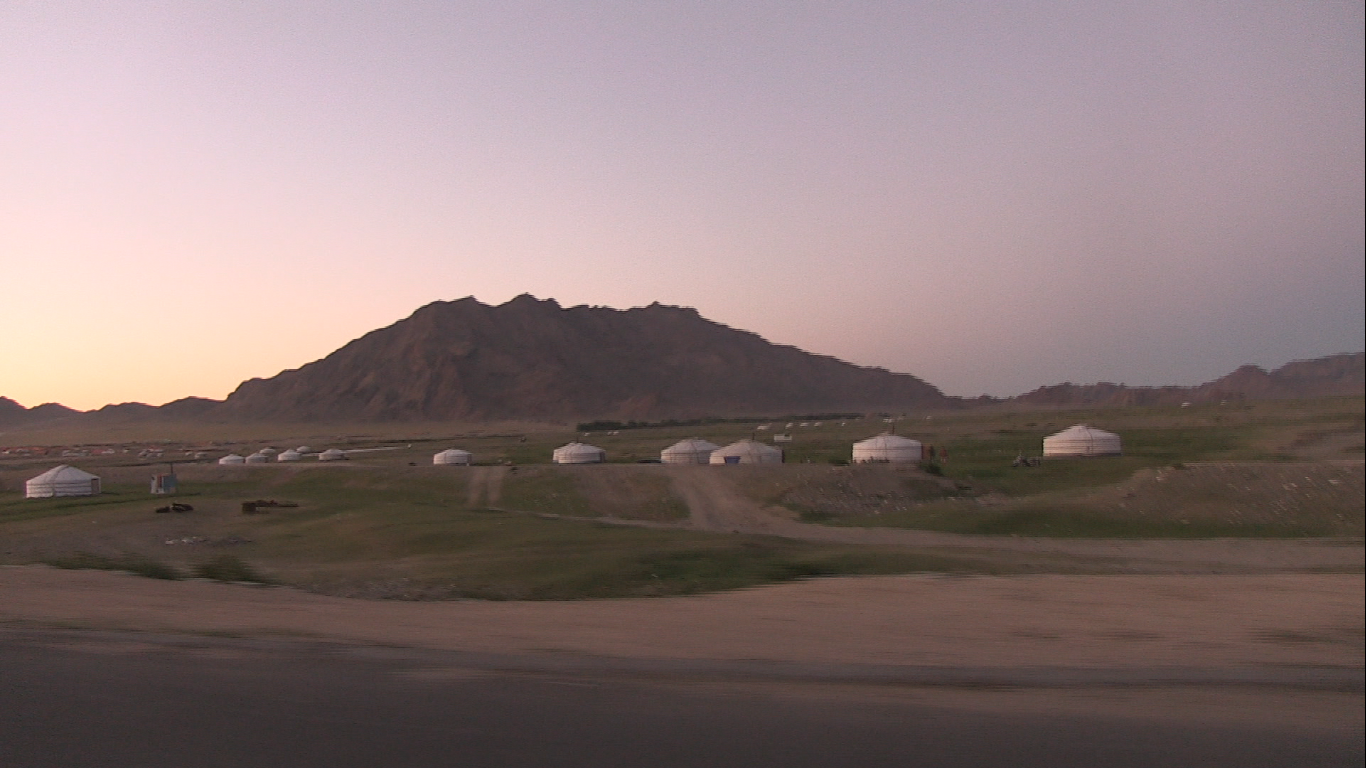 I guess it takes the deprivation of a comfortable night's sleep to fully appreciate how amazing it can be. After over a week without a real bed, this opportunity was something glorious. It didn't matter that the beds were tiny. It didn't matter that the beds were missing boards underneath, so that they drooped horribly. It didn't even matter that we thought we found some old hair and other dirt in the probably-unwashed sheets. They were beds, real beds, and nothing could have been finer.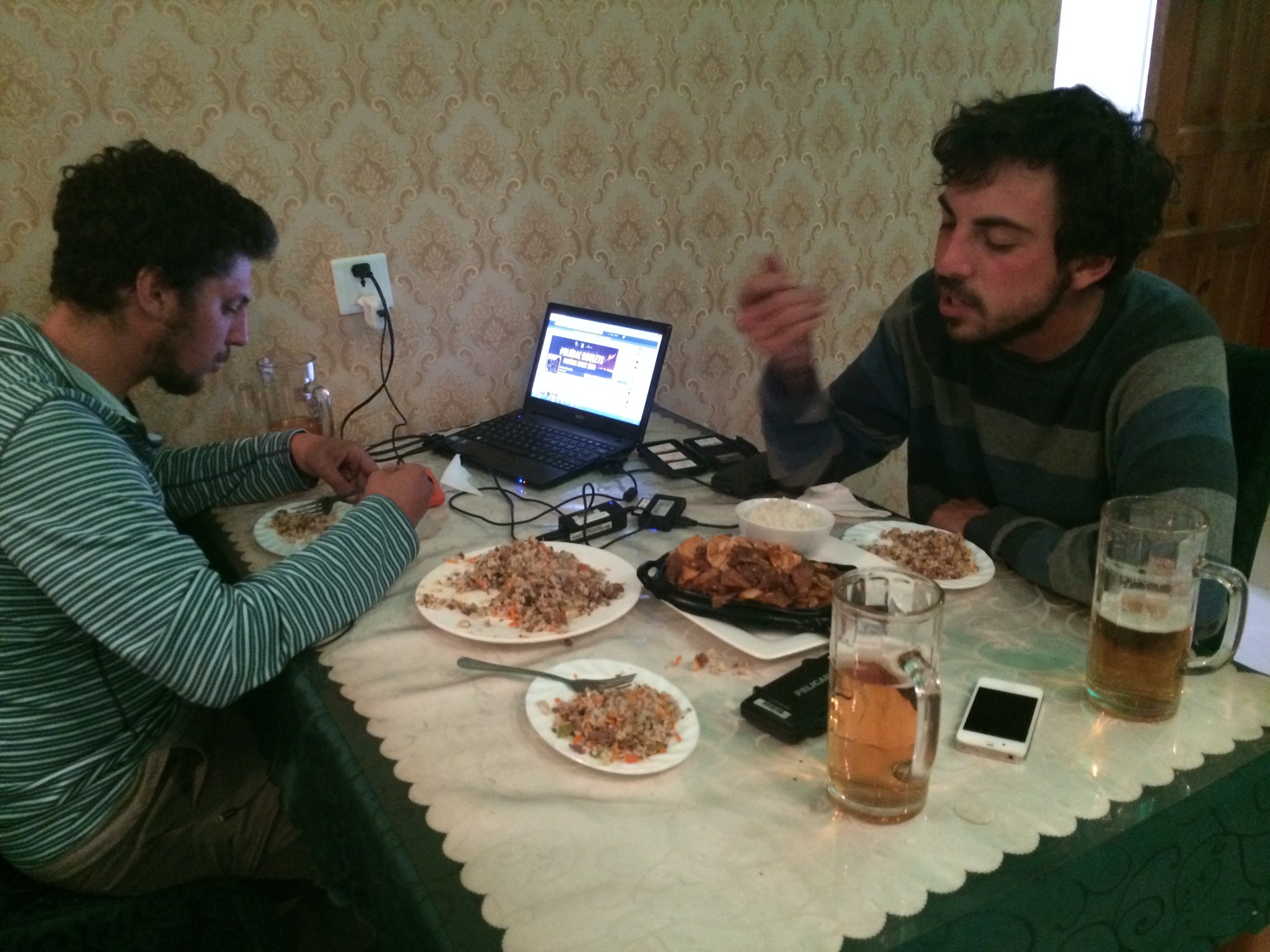 Eric and Alex awoke ready to seize the day. We needed new tires, a whole new set of tires, to take us the rest of the way to Ulaanbaatar and we were sure there'd be a tire shop somewhere in Hovd. But Brian just wouldn't wake up. "Briiiiaaan, are you okay?" we gently inquired. "Oyyyy, ahhhh, ouchie," he moaned from inside his bed sheets. Brian had gotten sick, a burning, freezing fever, probably brought on by sticking his feet in ice-cold water back at the river crossing from the day before and hopefully not from contact with any diseased camels or yaks. Alex and Eric kindly decided to give him a few hours to sleep it off while they went on the tire hunt.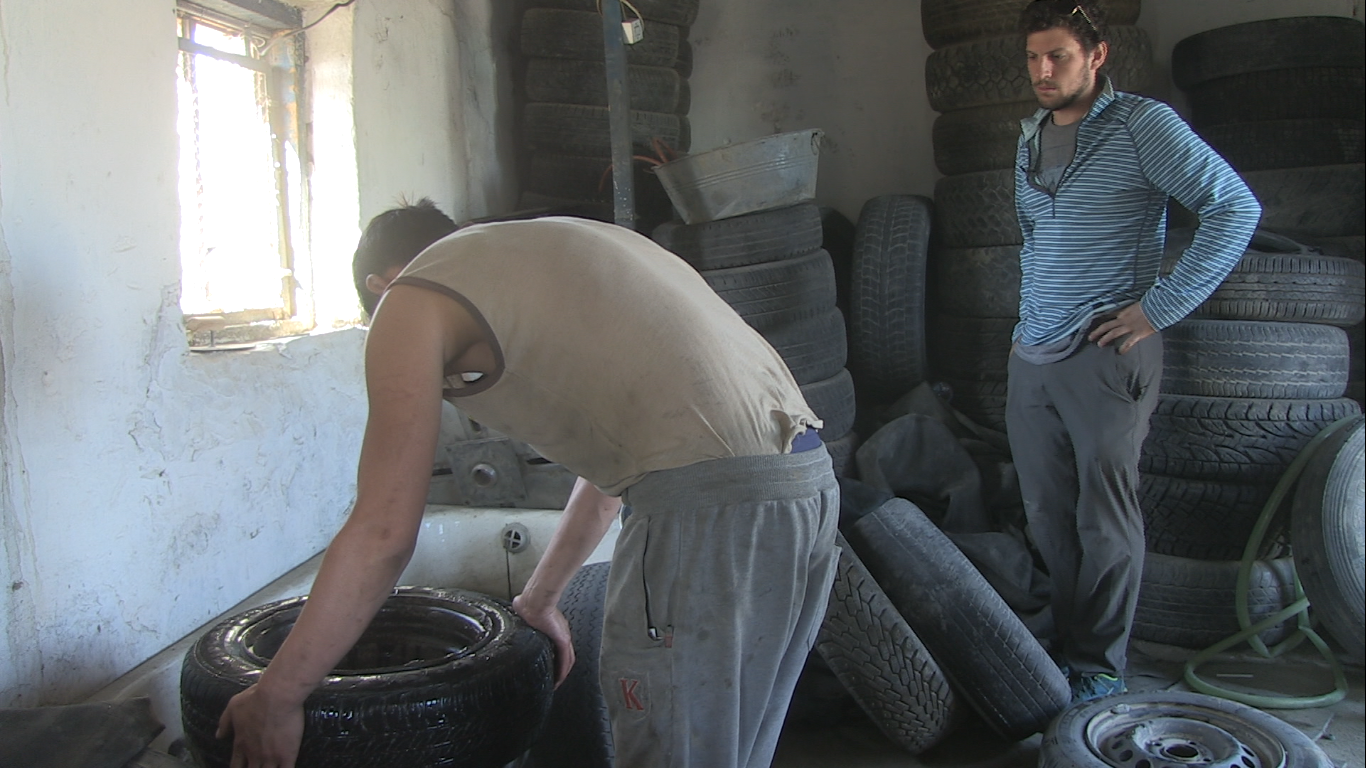 High on the excitement of a successful and relatively cheap tire replacement mission, Eric and Alex couldn't wait to get back to Brian and relay the good news – our biggest problem had been solved! Just as we pull into the hotel, though, some mean, nasty cops cornered us. "Passport, passport!!" they shouted, as they tried to force their way into our car. 'Here we go again,' we thought. These guys were less than amused when we tried to avoid handing over the real copies of our passports and instead tried to just show them copies. In fact, they were so ticked off that they forced us into the cop car and took us down to the station. For as many times as we'd have to finagle our way out of a tricky situation with the Po Po, this was absolutely the deepest into it we'd gotten. We tried to make light of the situation, asking them their names ("Chinee neer henbe??") and telling them just how much we loved their country ("Mongolia sachan!" – Mongolia good!), but the officers did not think we were as funny as we thought we were. Once in the station, a group of police passed around our passports and shared a good laugh at just how ridiculous we looked in person compared to our passport photos. We laughed, too. At last, the boss cop appeared, said a few things to his officers in Russian, handed us back our passports and sent us on our way. We cracked up our way back through town to the hotel, where we told our story to Brian and tossed our stuff back in the Auto Goulet, ready to set off east to conquer the final 1000km of road to the finish line.
The next two or three days were a fuzzy amalgamation of filmed hangouts with yaks, camels, and sheep (never forget our good friend Dorothy the camel), bumpy and hostile dirt roads infrequently intermittent by brief flirts of asphalt, confusing, yet hysterical conversations with drunk locals where we desperately sought directional advice (often to no avail), and nights in our tent lulled to sleep by the serene voice of Roy Dotrice narrating Game of Thrones.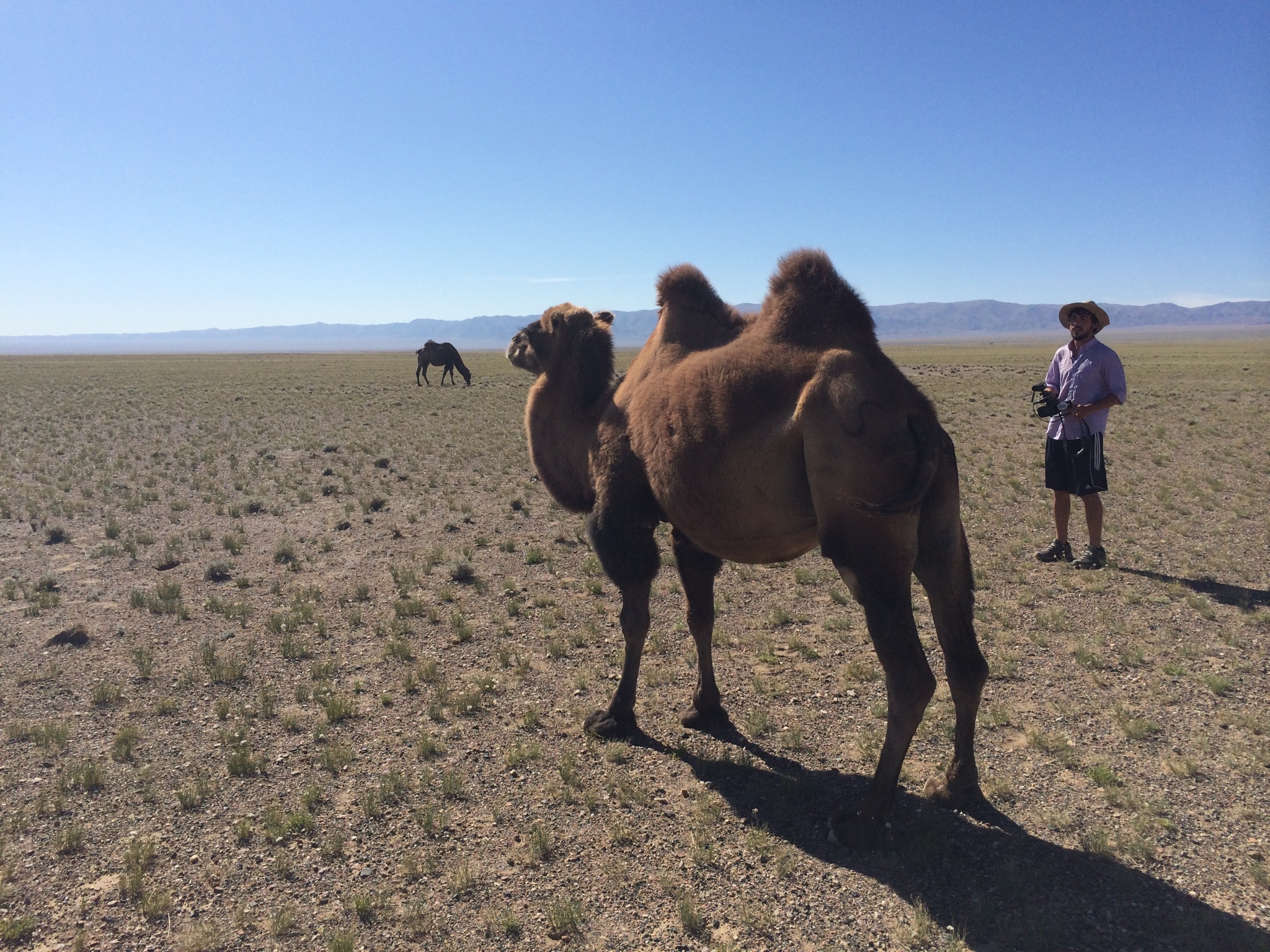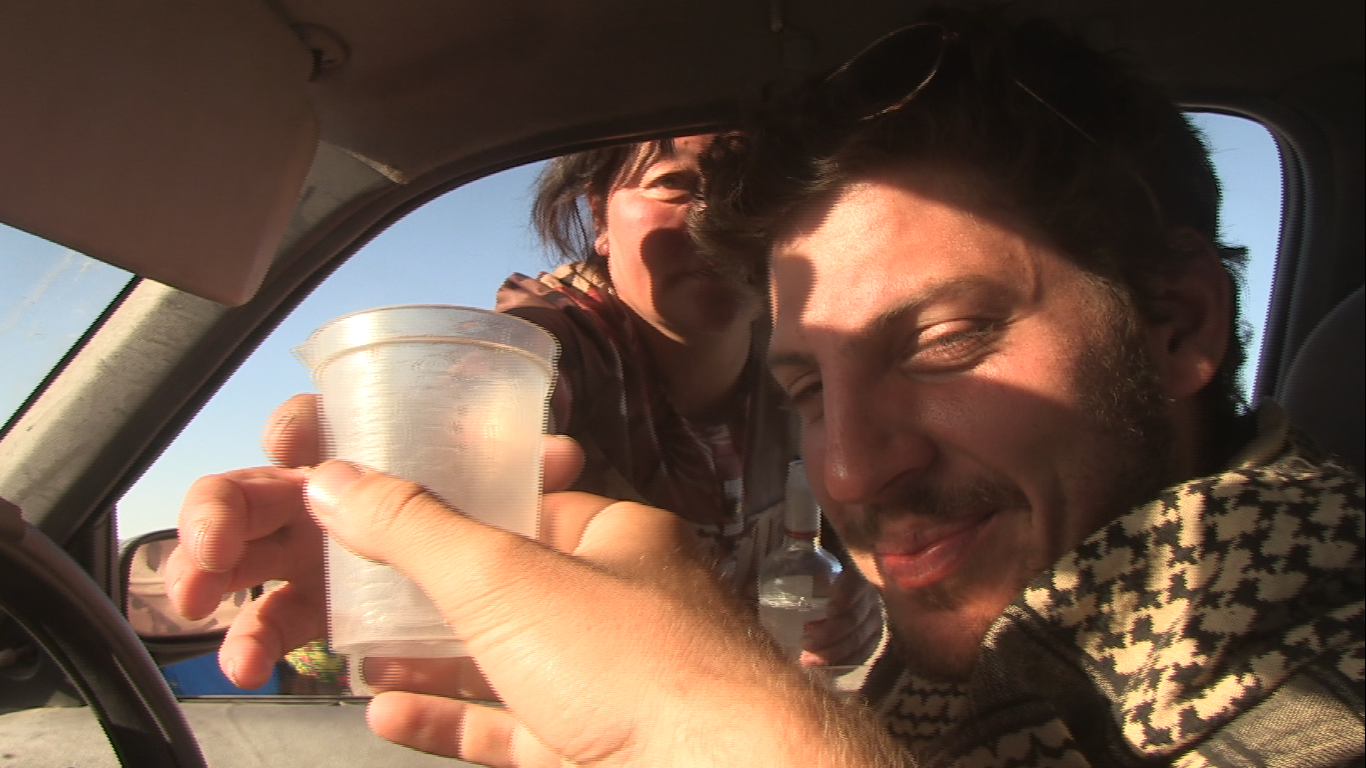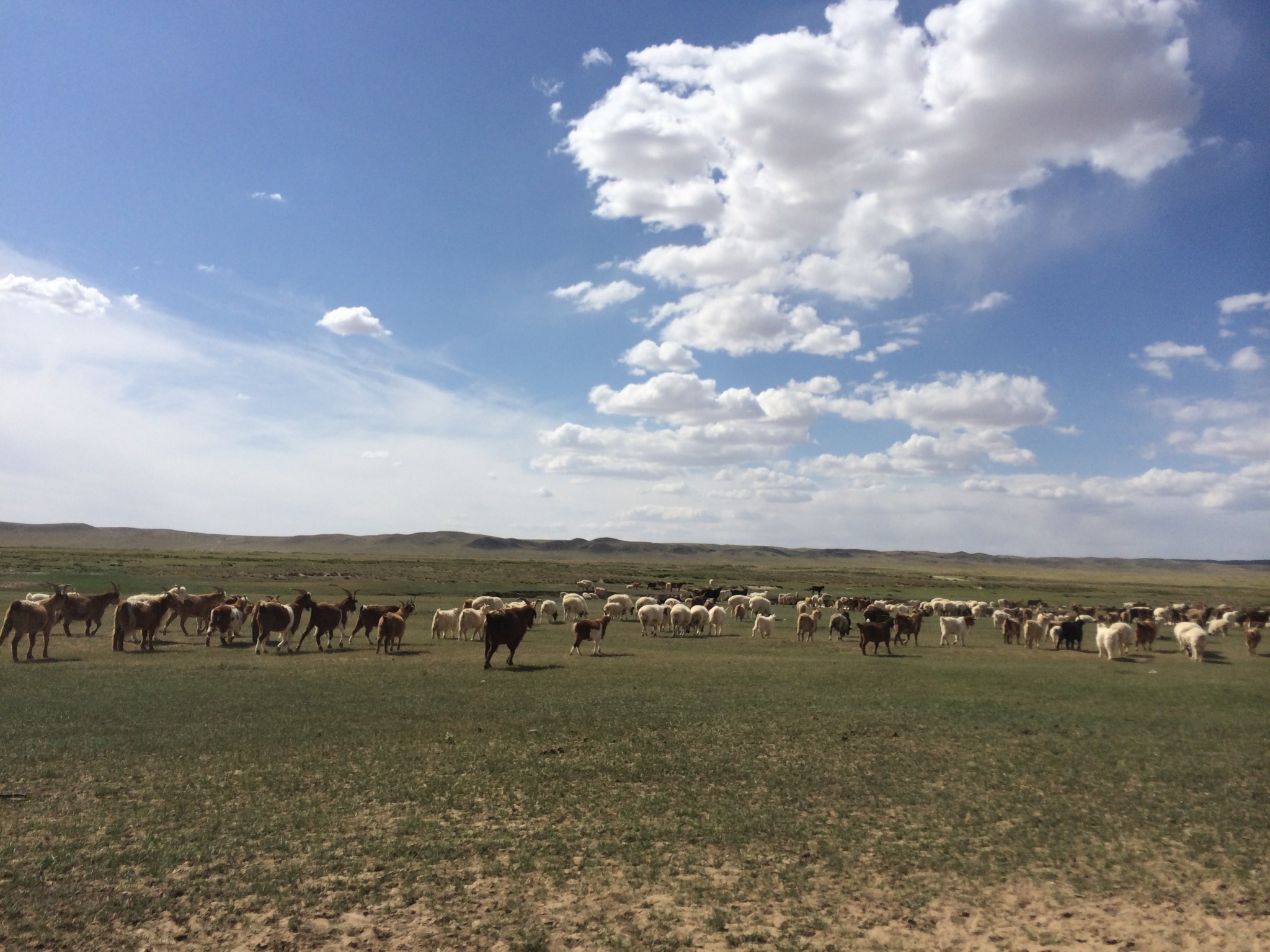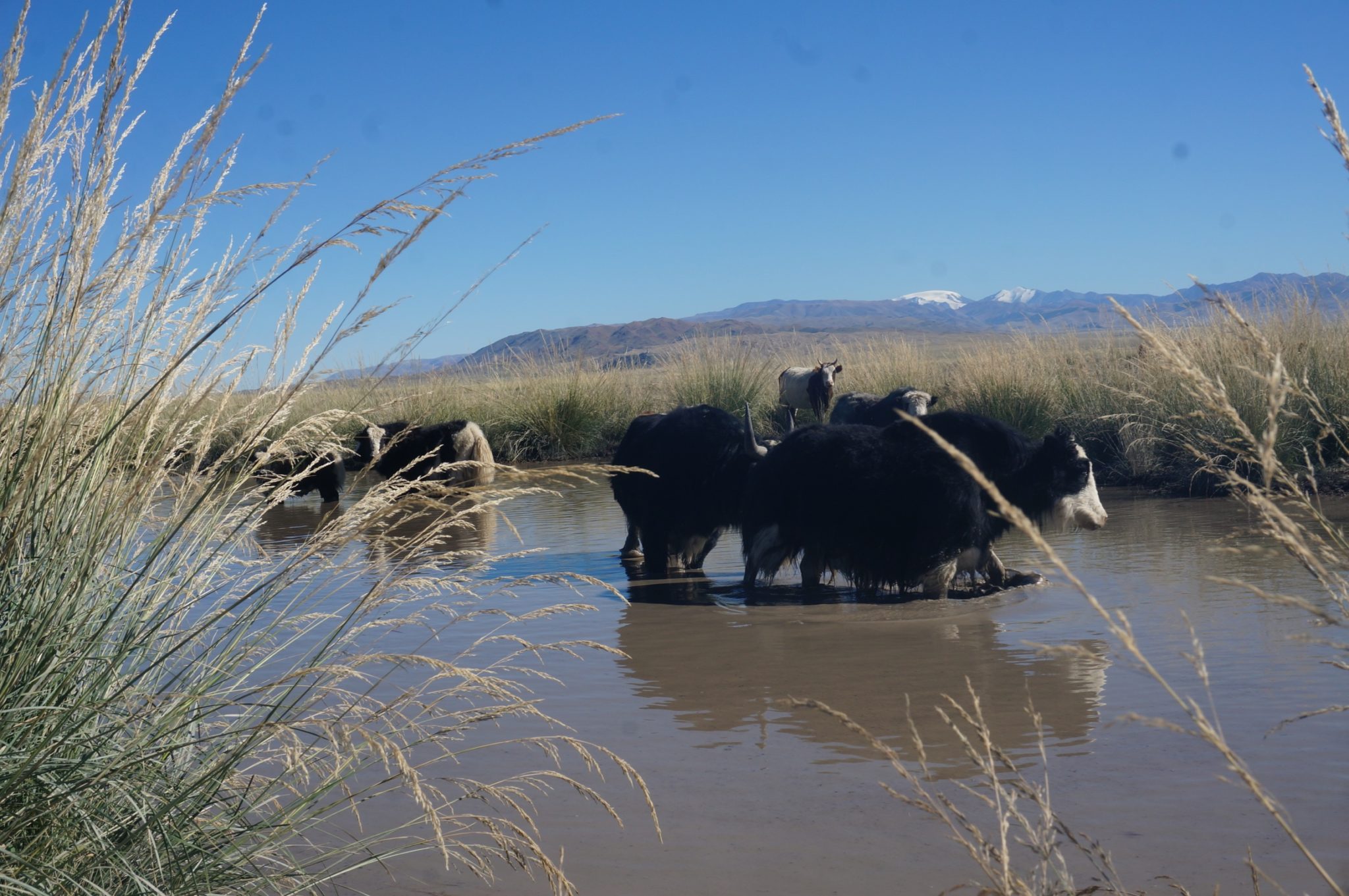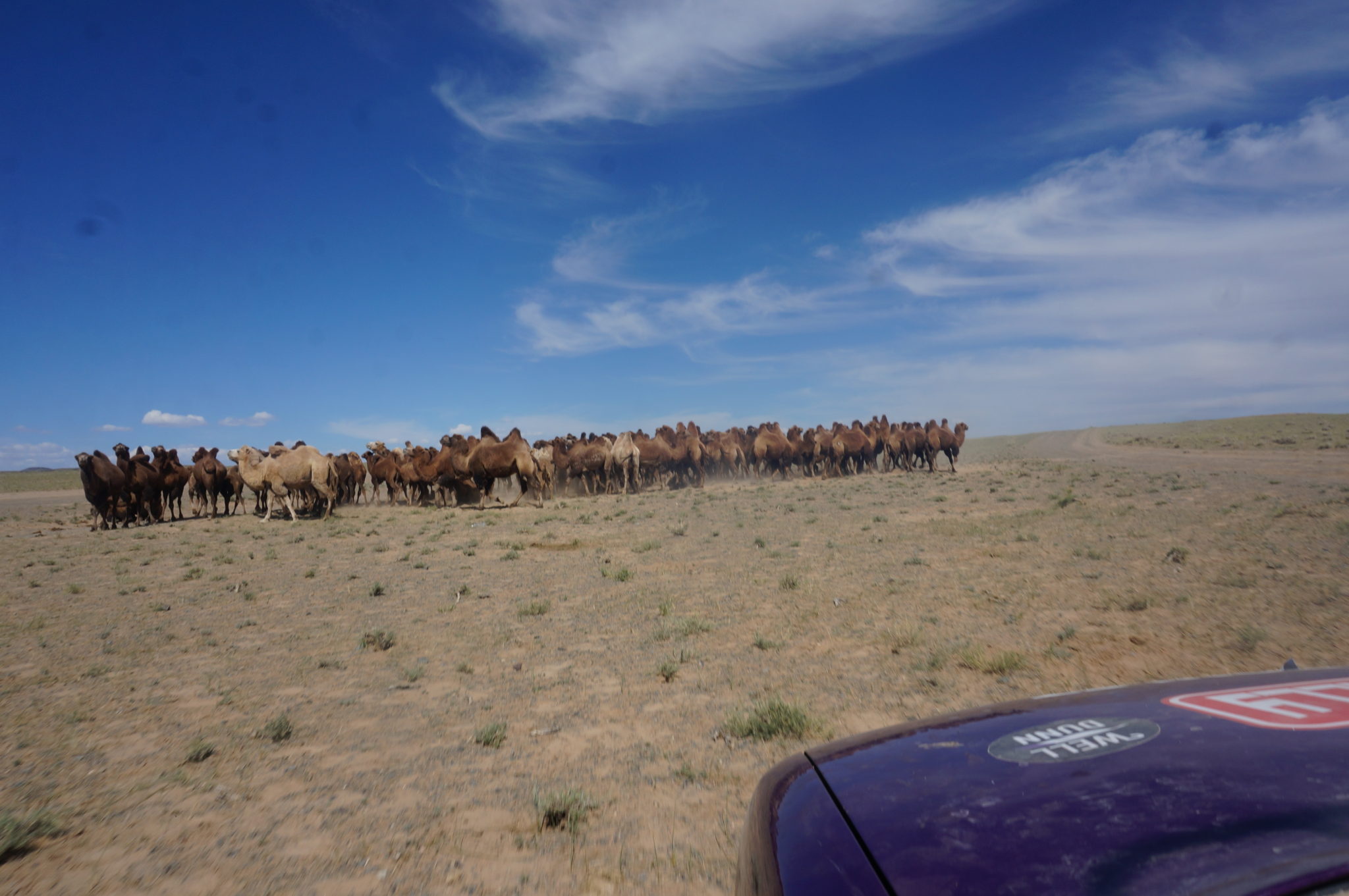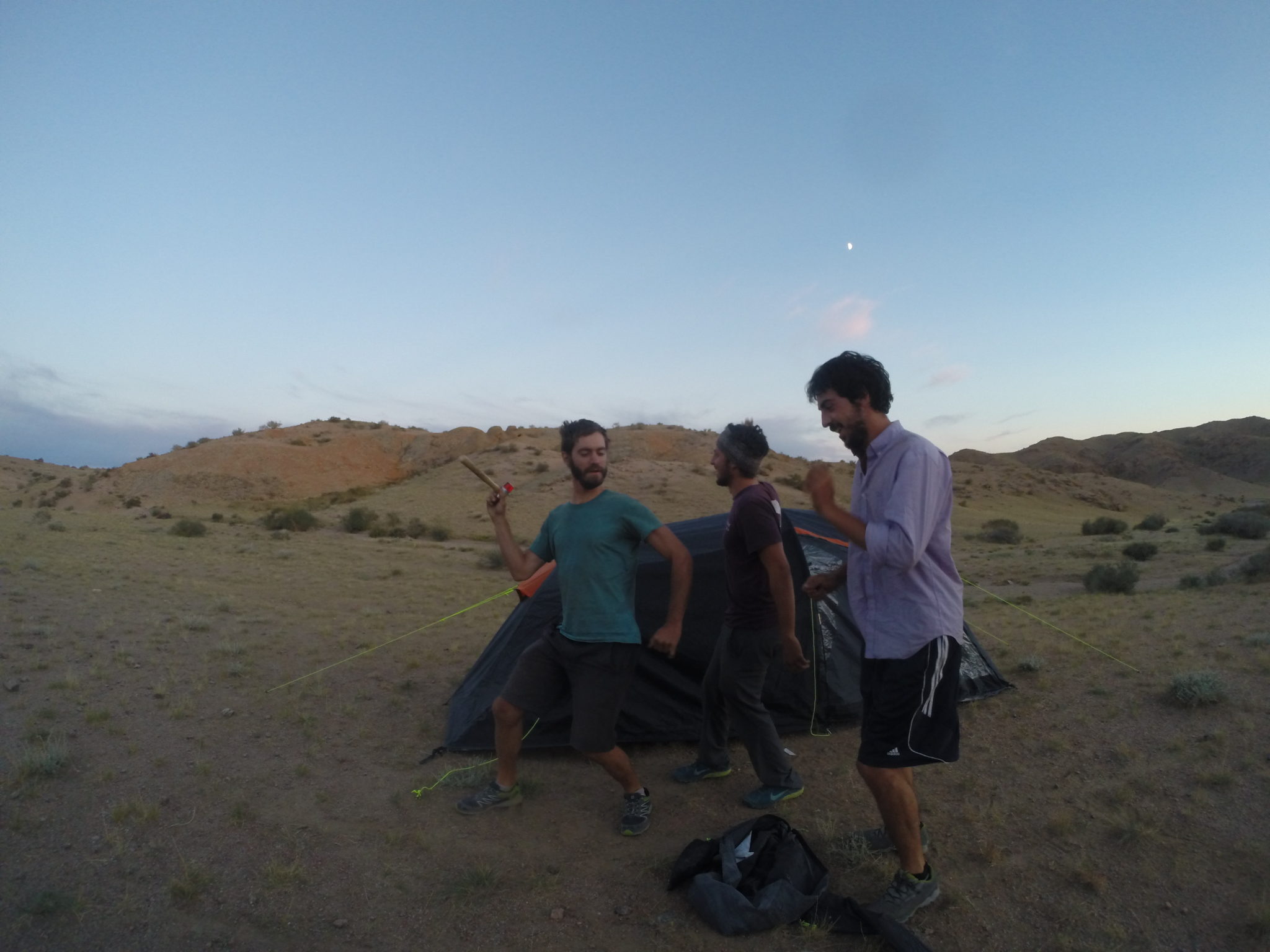 One noteworthy event took place sometime between Hovd and Altai, in the thick of the Mongolian deserty steppe. Bumping hard up on the washboard that was the roads on which we were driving, we paused at the sight of something odd on the side of the road. A closer look revealed a sign from our very own buddies The Breaking Khans, which declared "#Ourcarisdying." We laughed, took a picture with it, then noticed our own car was self-destructing as well. Our plastic bin cracked in two, tossing some of our lesser important items somewhere in the Mongolian steppe. So, naturally, we wrote our own little message about the destruction of our car and placed it alongside The Breaking Khan message, where hopefully it shall lay for the rest of eternity. Down the road our jerry can began to leak gasoline all over our tent on top of the roof and soon thereafter both spotlights fell off. As Brian so pointedly declared on camera at the time, "We're going insane and so is our car."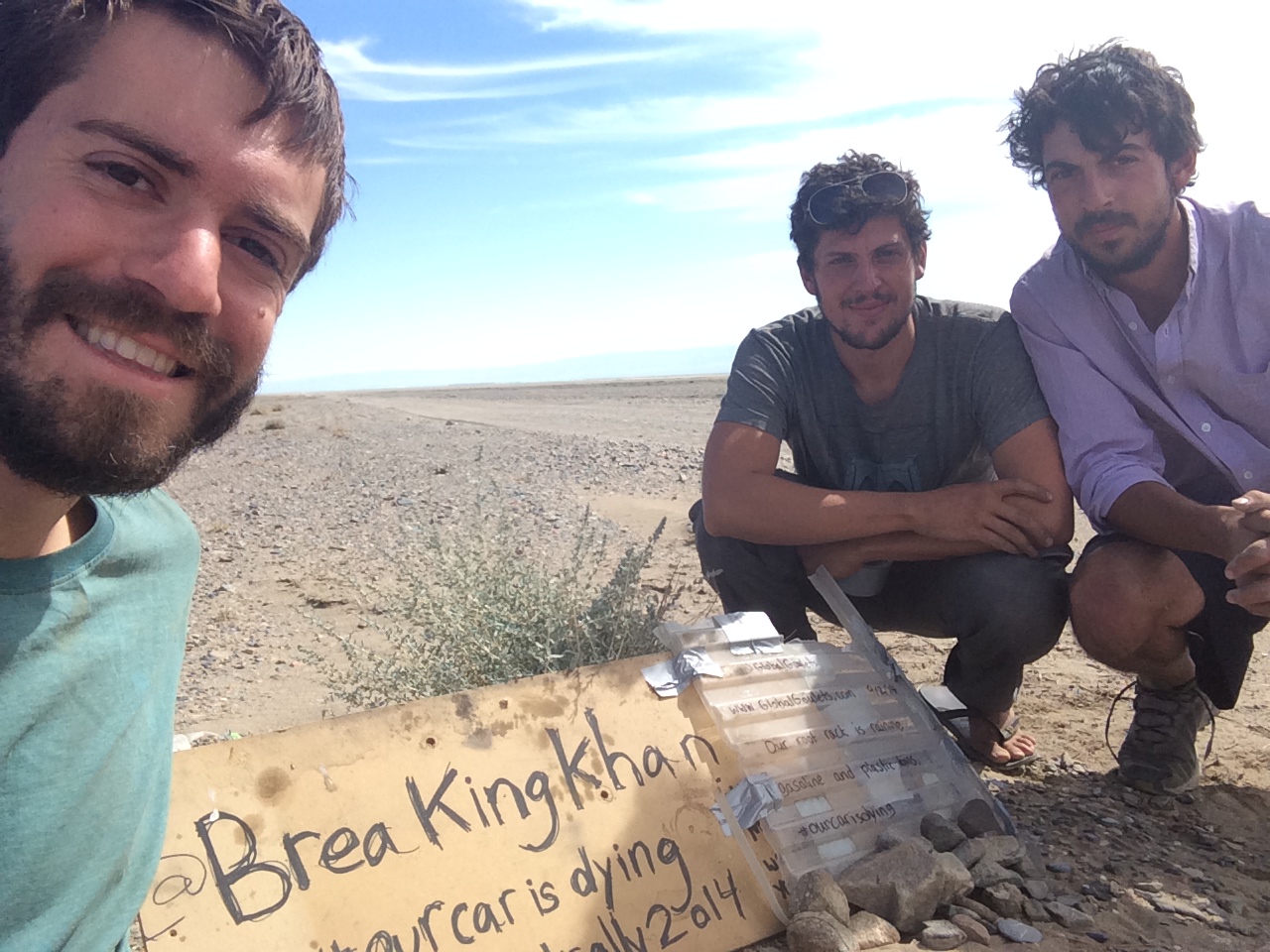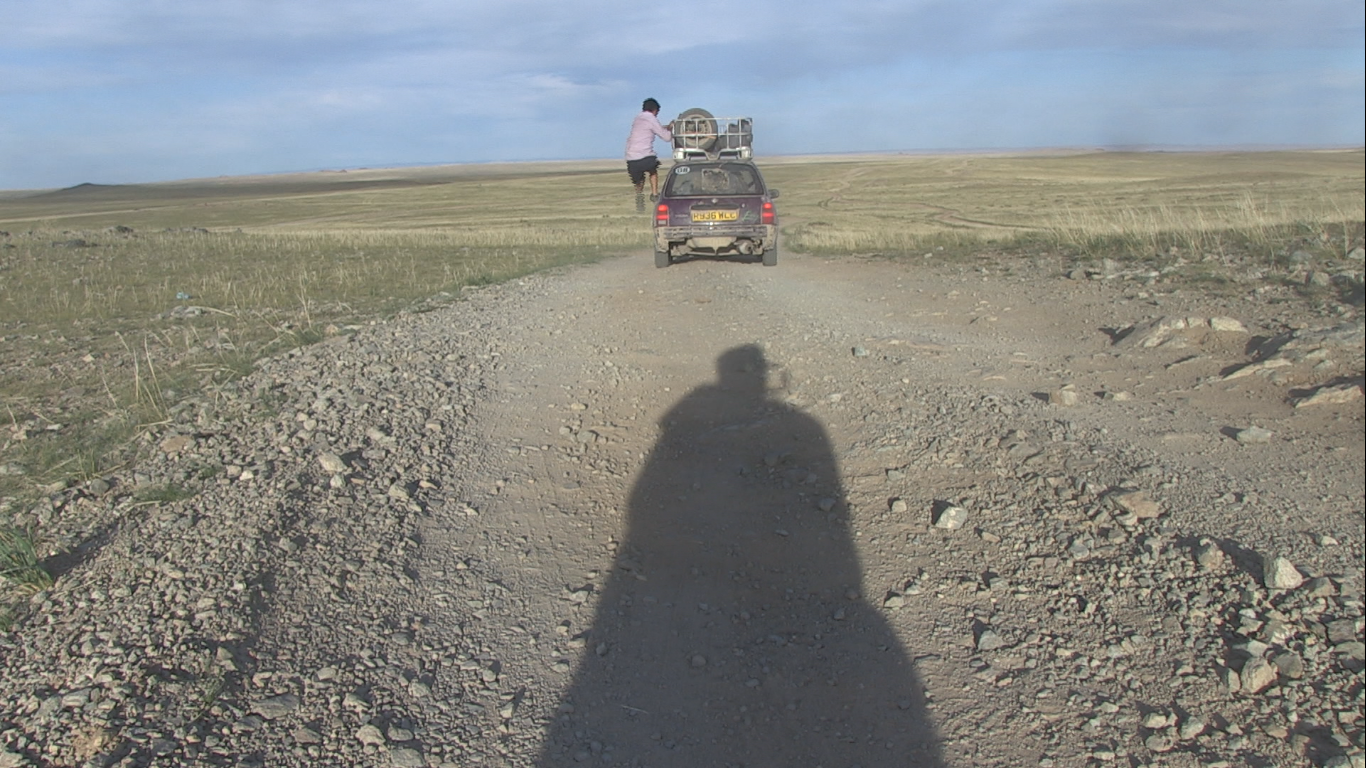 On our second to last full day in Mongolia, just when we were having conversations about what life will be like when we make it to the finish line (at this point, our confidence in completing the Mongol Rally may have bordered on naïve arrogance), one final mini disaster threatened to thwart our hopes. Driving out of a roadside campsite just outside the city of Altai, our car got stuck deep, deep, deep in the sand surrounding our campsite. Unamused, we got down on all fours and vigorously scooped the sand away from our entrenched tires with stones that doubled as makeshift shovels. Angrily we dug, furious at ourselves for getting into yet another highly avoidable quagmire such as this. As luck would have it, we were magically able to spin our way out of this sand trap without even the aid of some unsuspecting local. So, as is tradition, we roared a loud "Goulet" and marched on.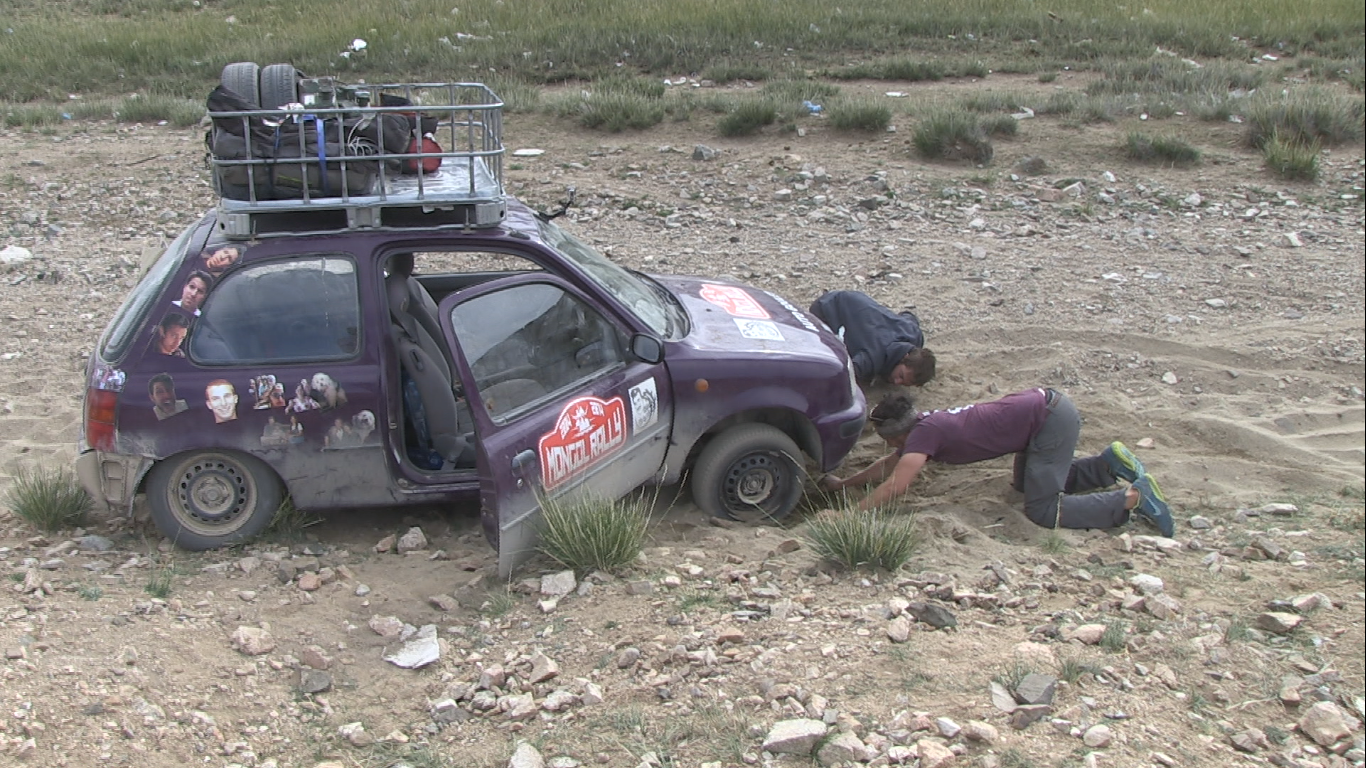 On the final dawn of our adventure through Mongolia, about 50 kilometers past Bayonhongor and when the road had smoothed into asphalt, as it would remain until the end, the skeleton of a roadside yurt caught our eye. "Guys, did you see that?!" Eric giddily cracked. "A yurt is being built RIGHT NOW! We MUST go help them and film that!"
Brian and Alex immediately understood his excitement. We'd been talking so much about these yurts and the nomadic people who inhabited them. Along the way, we'd pondered questions like, "How long do they stay put in one yurt?" and "What do you think it takes to set one of those things up?" To us, we couldn't think of a more fitting and memorable way to wrap up our journey then to participate in the building of one of those yurts ourselves. So, we presumptuously parked our car off the road near where the family was building the yurt and started making very, very (emphasis on 'very') basic conversation with the daughter, who thankfully had taken some elementary English in school. "Hello! We help?" we asked, pointing to the yurt. She was confused, but can you blame her? How often had she seen a group of 3 Americans enthusiastically hop out of a worn down purple car and ask to help set up something as mundane to her as the family yurt?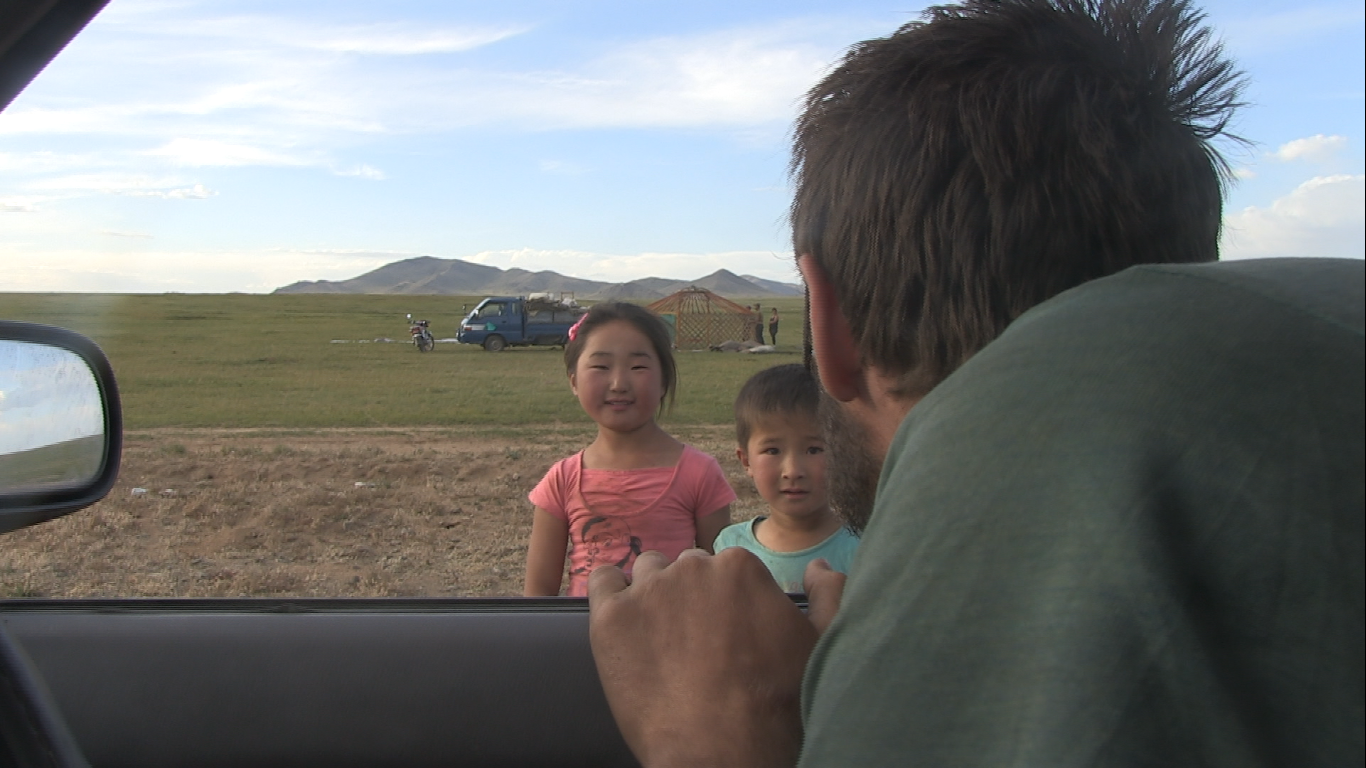 The daughter called back to momma and poppa, most likely to warn them of our strange and curious intentions. Not surprisingly, momma and poppa looked a bit baffled themselves, but when we hustled over with a pack of American Spirits for poppa and some lolly pops for the rest of the fam, they knew we were nothing but harmless, ignorant tourists. For the next hour, we followed poppa's lead as we draped layer after layer over the yurt's wooden skeleton. Fabrics, rain-proof plastics and animal furs wrapped around the circumference of the yurt and atop the cone-shaped roof. Three, four, five layers added, promising to insulate the family when that brutally bitter winter blisters through in the months to follow. Above all, we got some of the best footage we'd filmed during the entire Rally and we were incredibly pumped about it.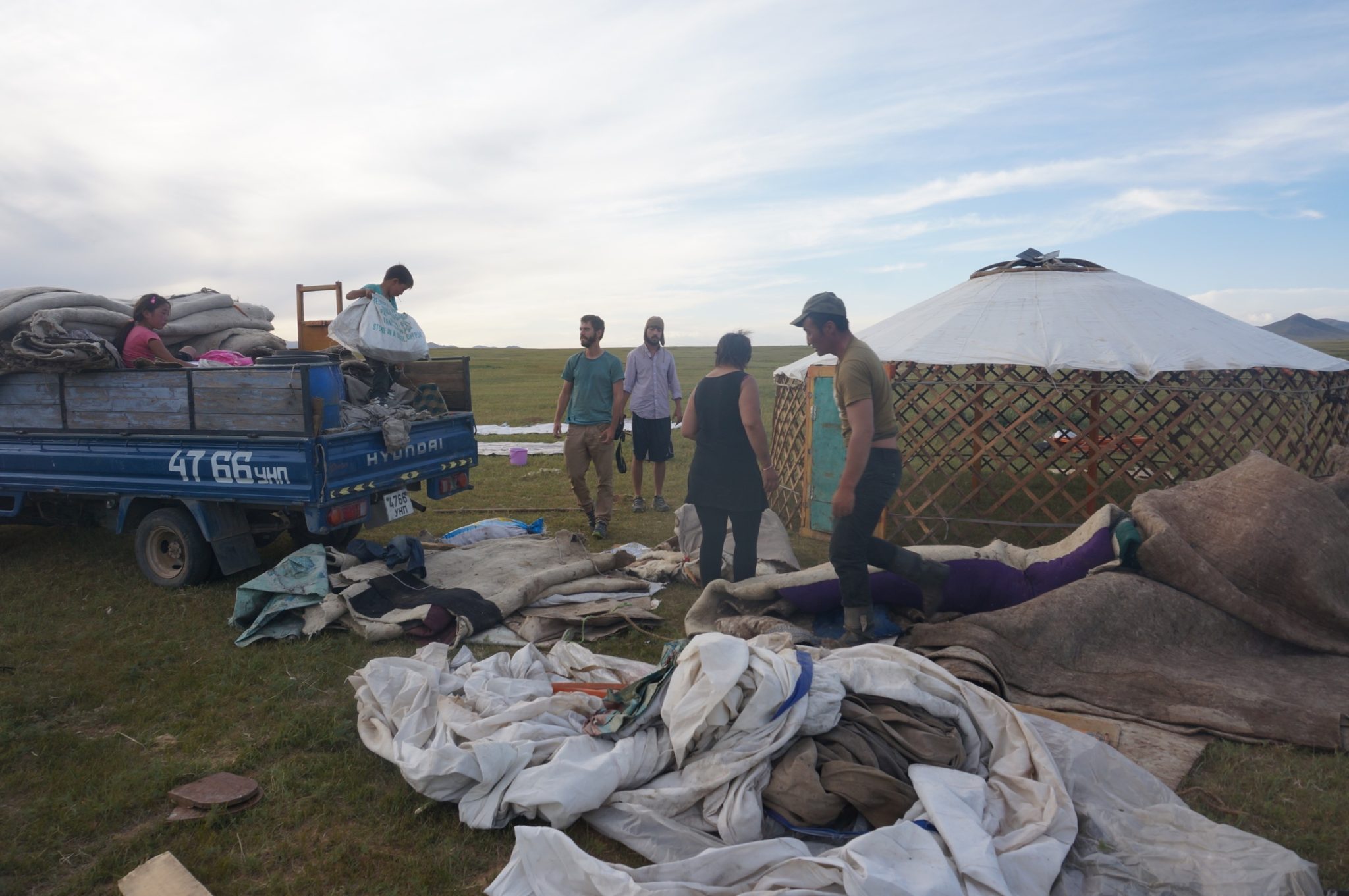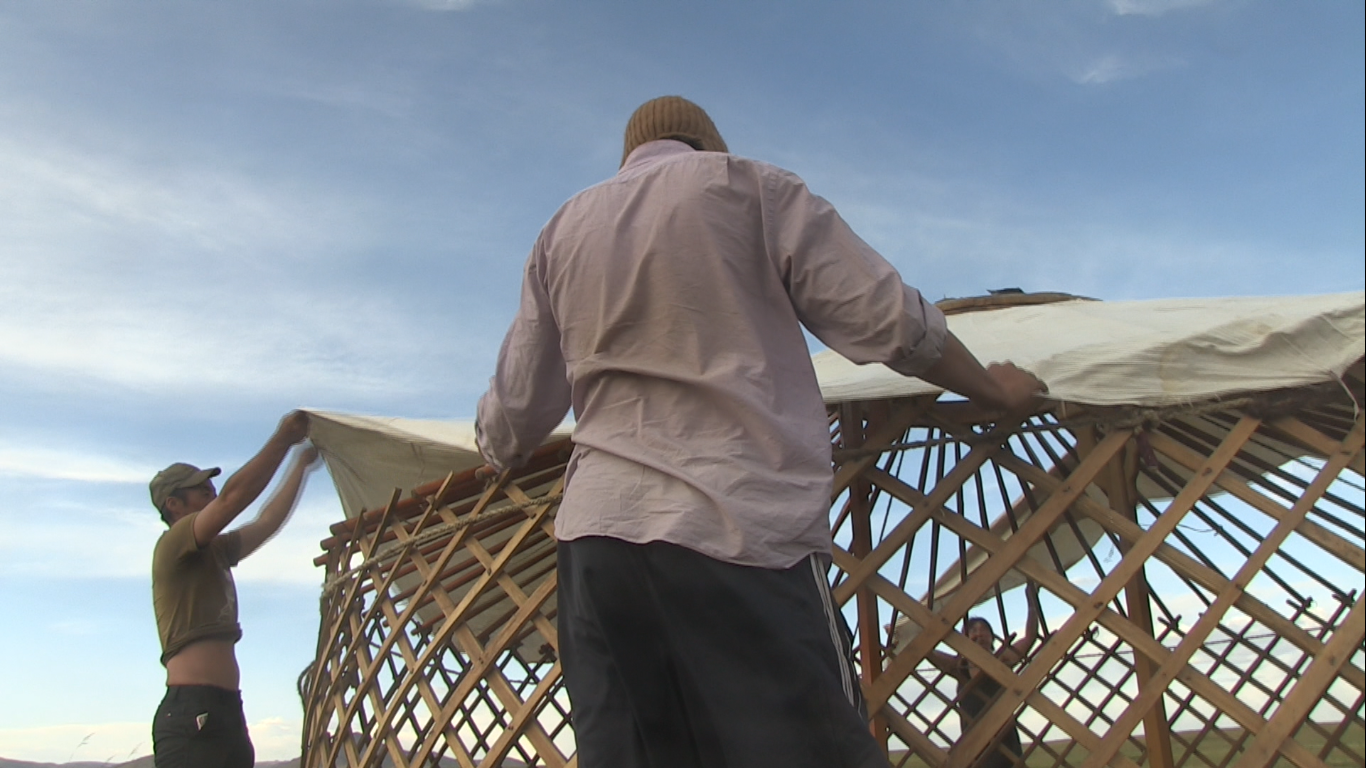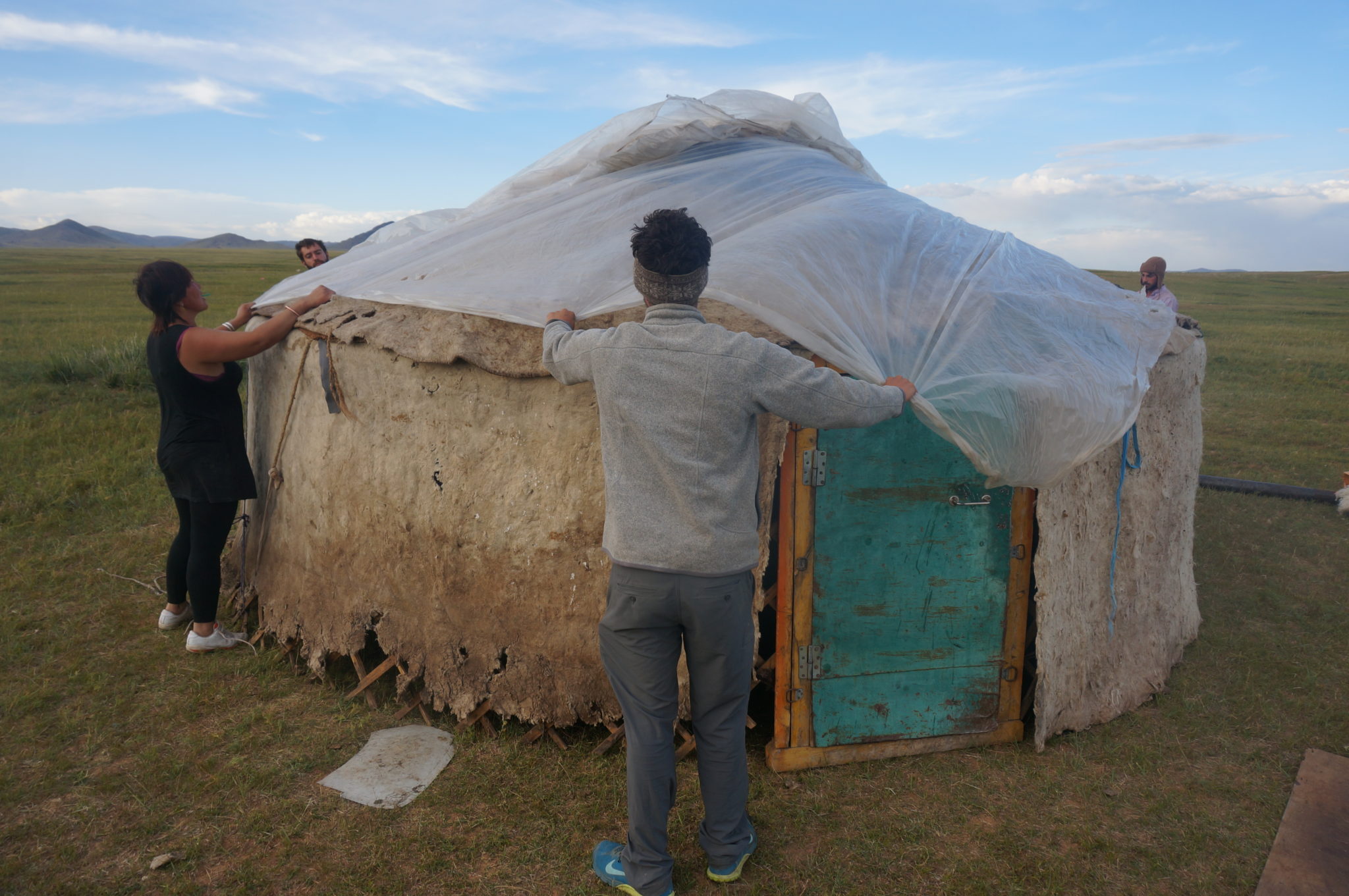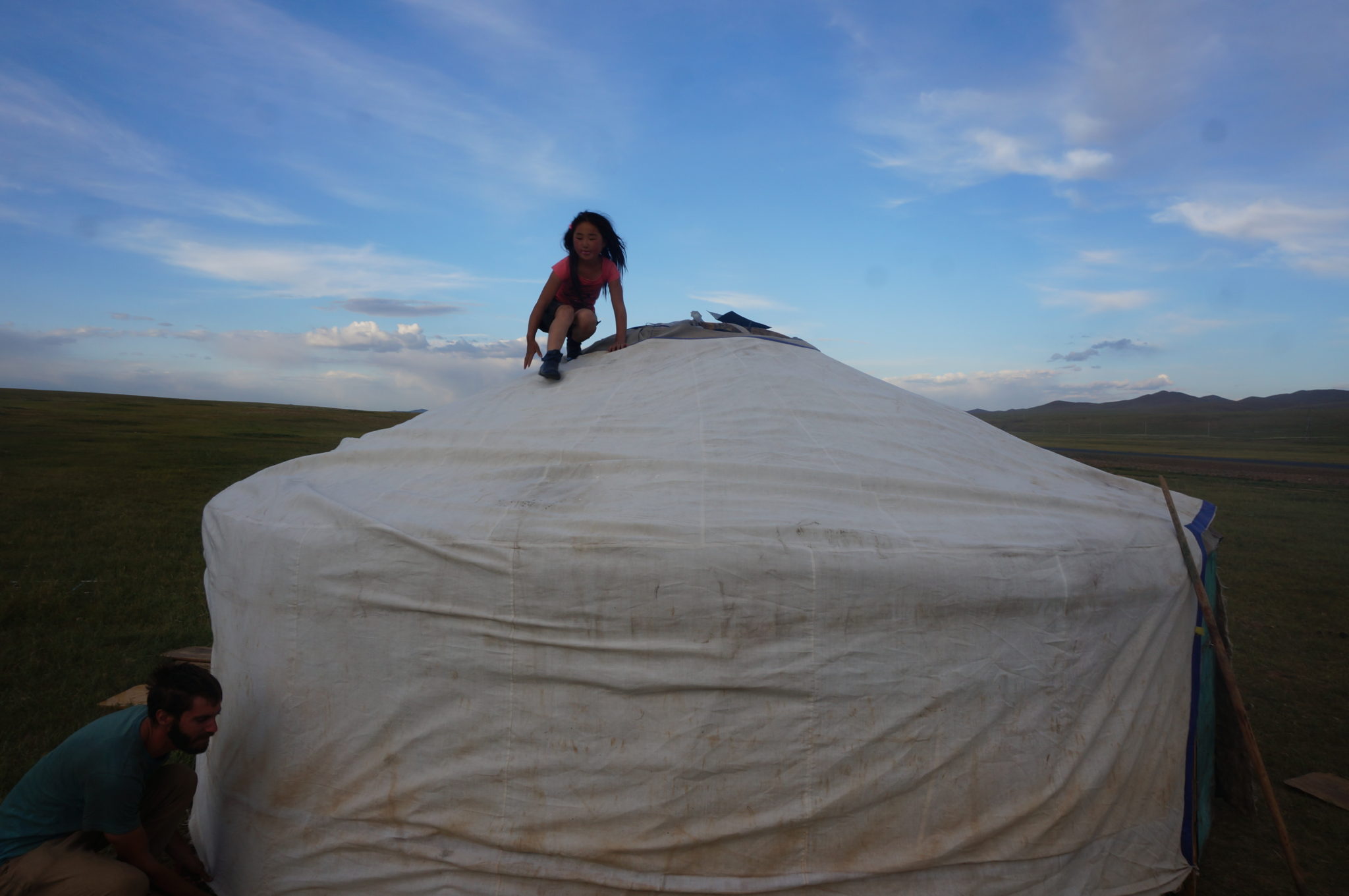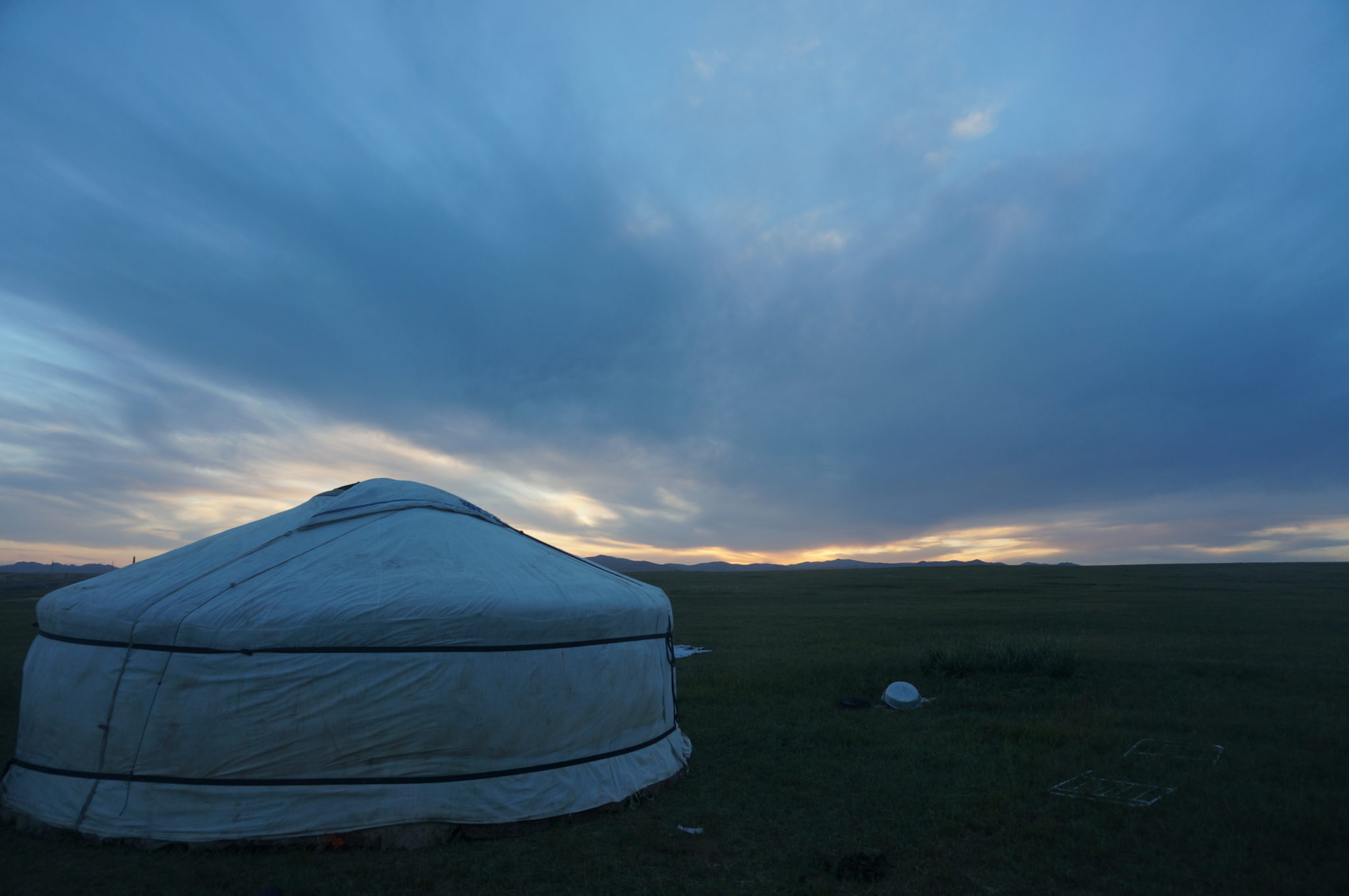 After the yurt was fully dressed and we'd helped unload their truck with all the furniture needed for within, we whipped out our folding lounge chairs, gifted it to them, and sat back with gleeful grins, feeling exceedingly generous at handing over our no-longer-needed stuff to people who would make much better use out of it anyway. Enthralled by the concept of giving away all we had left, we dug deep into our trunk and handed over our leftover zip ties, raincoats, NYC souvenir pencils, and whatever else we still had hidden deep within the dark depths of the death bed-bound Auto Goulet. In exchange, our new favorite Mongolian family force-fed us cup after cup of what Brian attested "is not water!"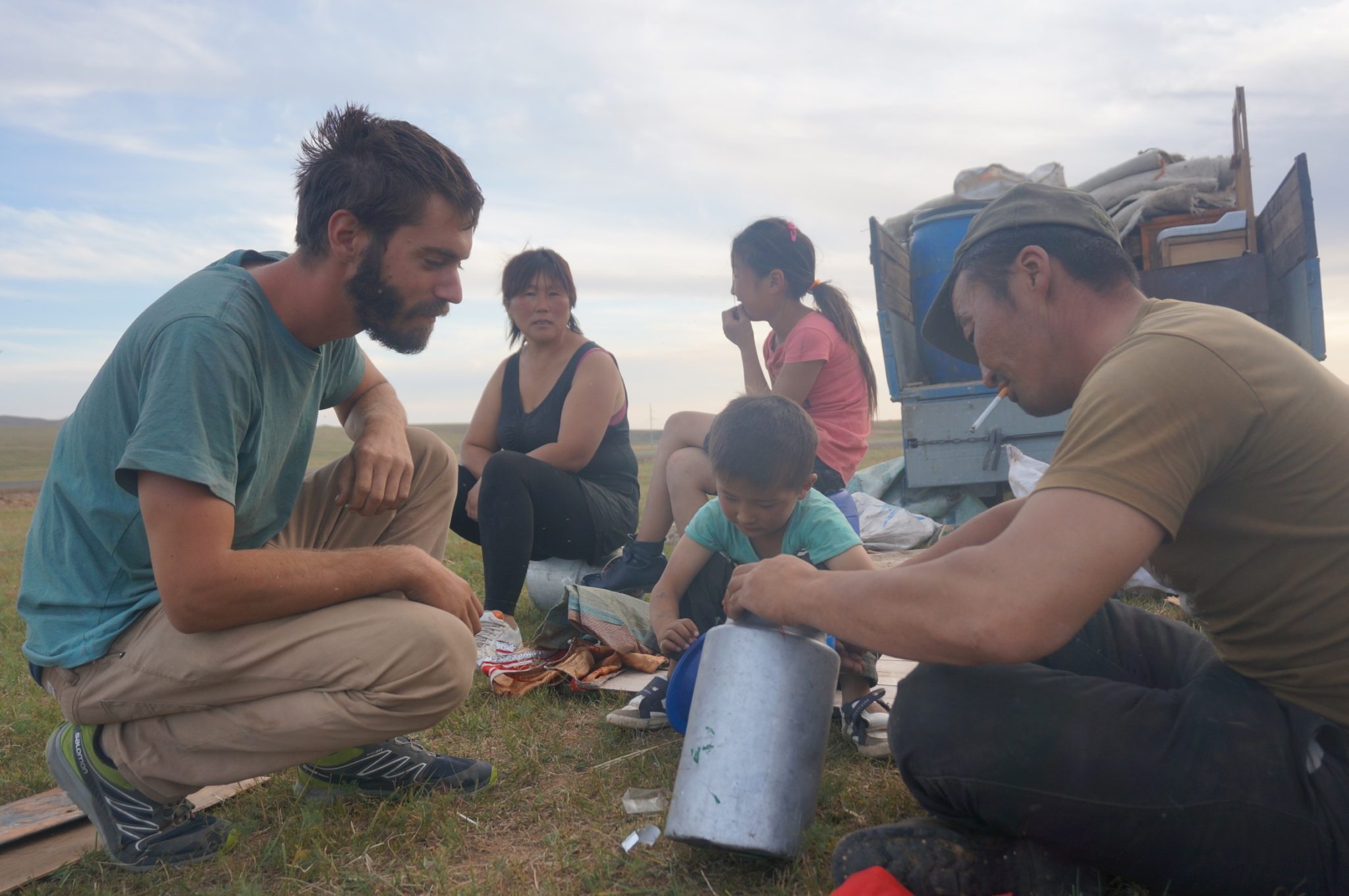 After some stunning photographs of the family in front of a backdrop of the final Mongolian setting sun of the Rally, we walked (or after all that mare's milk we'd been drinking, more like stumbled) back to the car, ready to depart and say our goodbyes. But first we had one final, monumental gift for the family: our car spotlights. After 8 days in Mongolia, those spotlights, which inevitably served as nothing more than a vanity for our Auto Goulet, with almost no practical use over the entire 7-week Rally, fell victim to the treacherous Mongolian roadway. We couldn't think of a more appropriate recipient of these 100-dollar, wastes of money, pieces of crap. Besides, maybe they would actually use it the right way, unlike us. Before filling up some empty bottles of water with whatever remaining Mare's milk they had left, we waved so long and drunkenly swerved down the long and winding road in search of our very last Mongol Rally campsite. The next day proved to be a smooth cruise to the finish.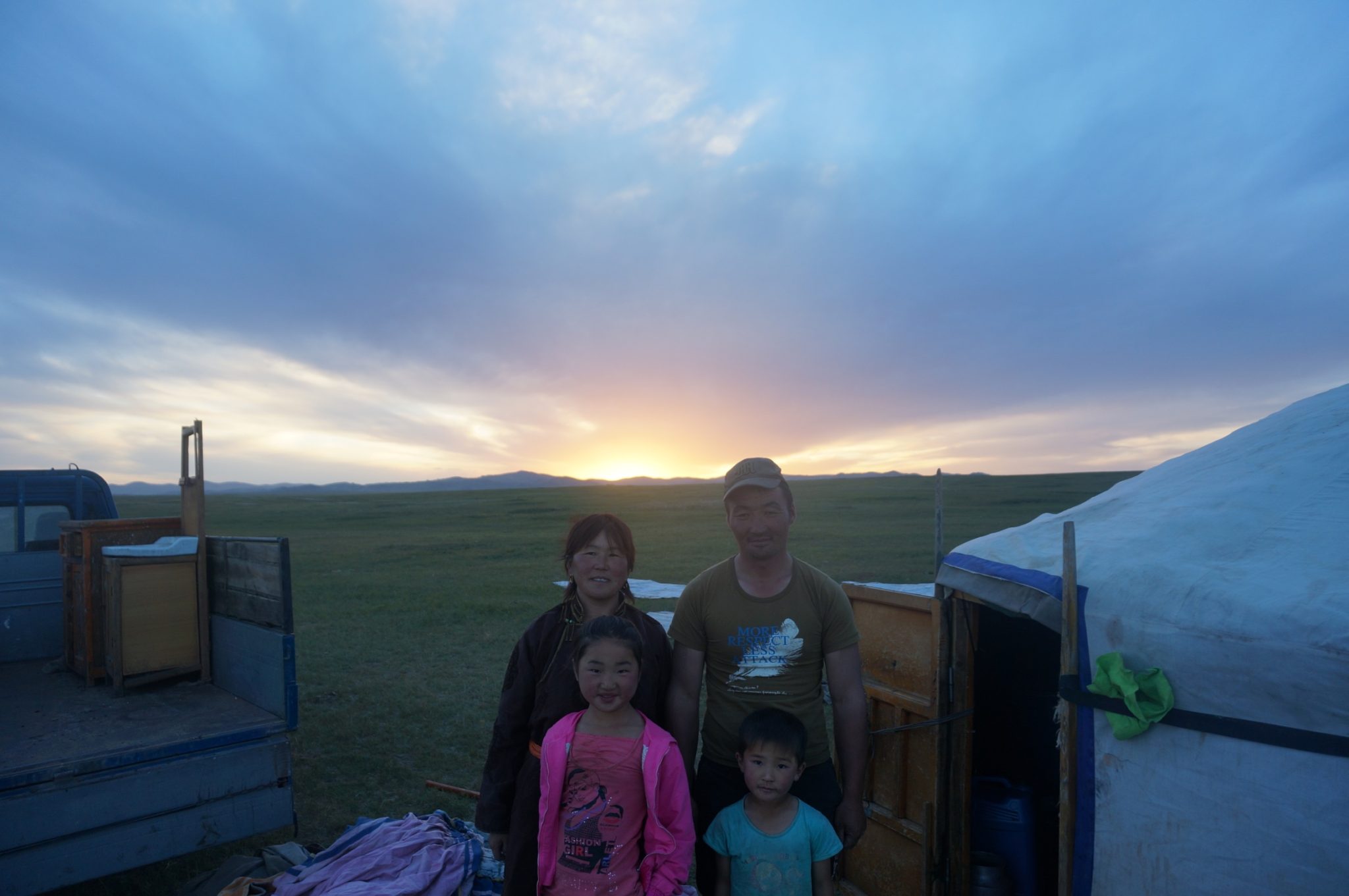 I by no means intend to underplay the beauty of Mongolia. On the contrary, it was arguably the most unique and exquisite country of the entire Mongol Rally. Beginning with the extreme altitude of the Altai Mountains shared with Russia in the northeast, the geography would abruptly and majestically transform and retransform as we traversed the length of the country. We drove past fields of boulders and unforeseen salt flats. Through rolling green hills littered with livestock of all types (the animal to people ratio in Mongolia is somewhere in the range of 50:1), across seemingly endless stretches of lifeless steppe, and over lively, boisterous rivers home to some of the kindest and happiest yurt-dwelling people you could ever meet.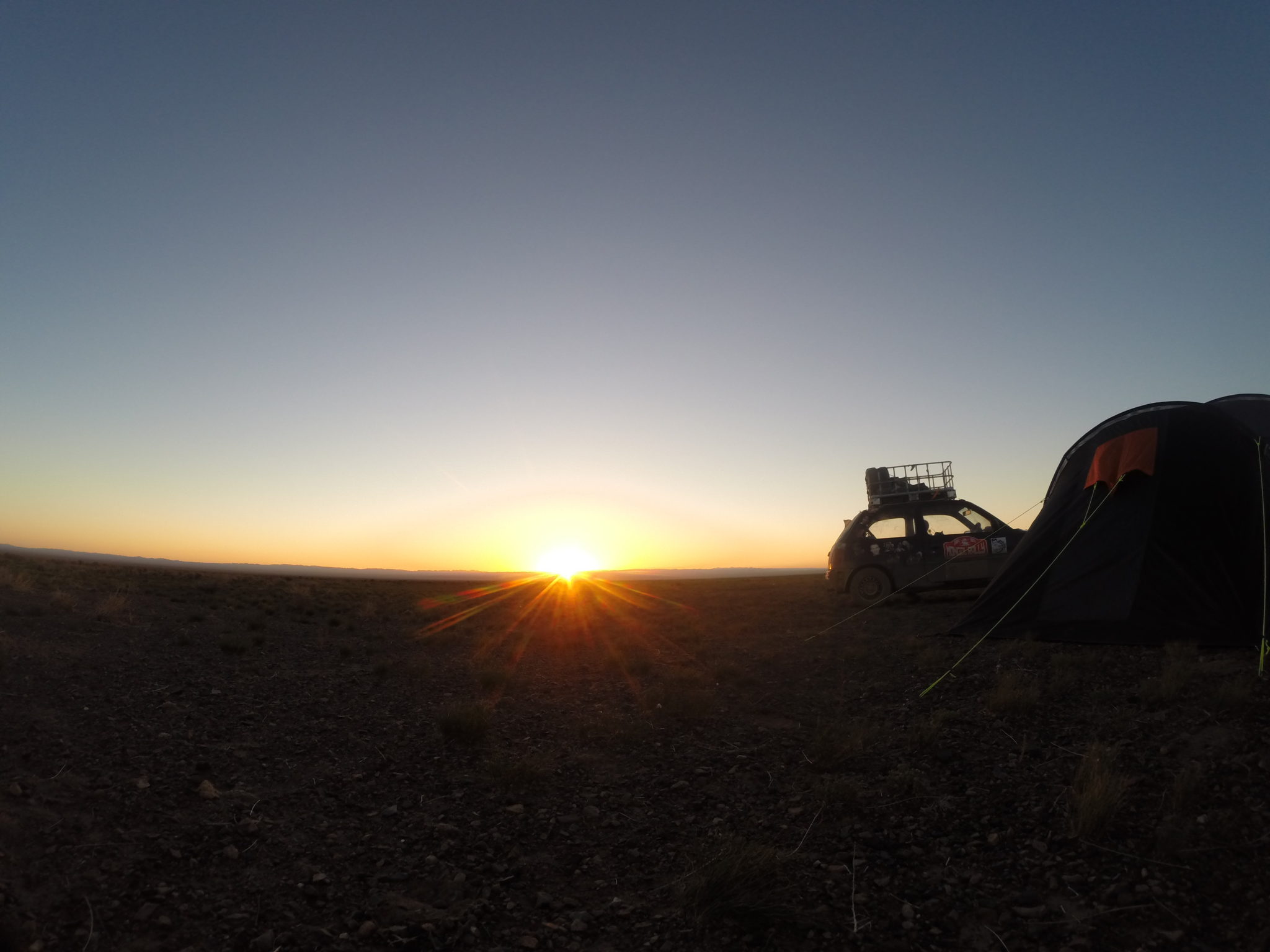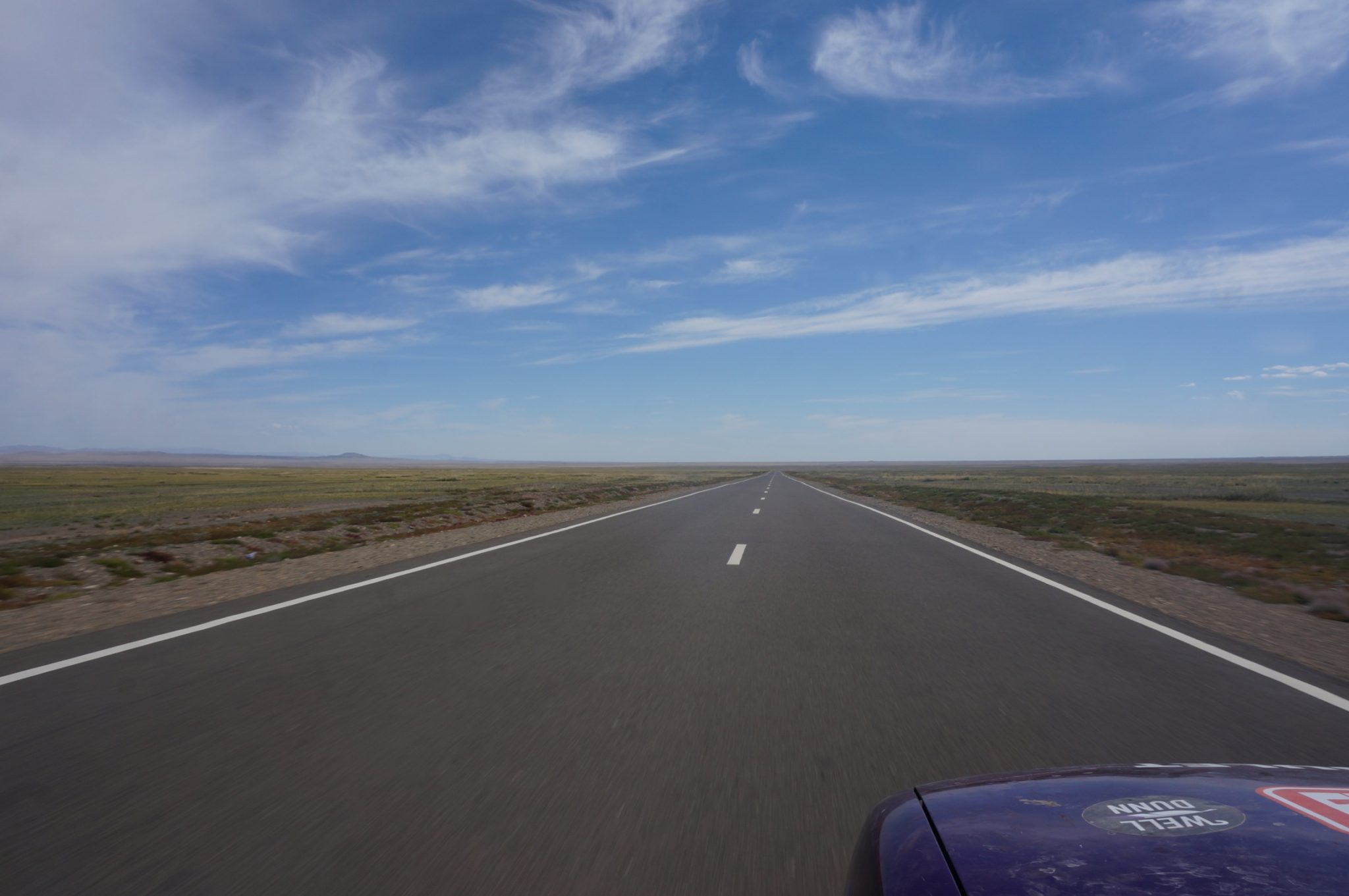 In the end, we made it to the finish line of the Mongol Rally. But while we celebrated our once-in-a-lifetime accomplishment, we each struggled with a terrifying looming reality – what do we do now? Sure, we had plenty of work left to do what with footage write-ups, purchasing of souvenirs for our friends and family who had donated to our charities, and taking stock of our camera equipment in Ulaanbaatar. But when it was all over, and we needed to fly home to America, what would we do? Go back to our regular jobs, our regular lives, and our regular homes in the "real" world? Or had this new sense of adventure, this thirst to travel, to absorb all that the people and places of this planet have to offer only wetted our appetites? When we raucously and rambunctiously danced that bittersweet dance of triumph at the Ulaanbaatar finish line, Eric off-handedly joked to the camera, "See you on our next adventure, when we drive to the bottom tip of Argentina. Coming Summer 2015!" As fate will have it, this otherwise weightless remark might have been more of a premonition than a jest after all…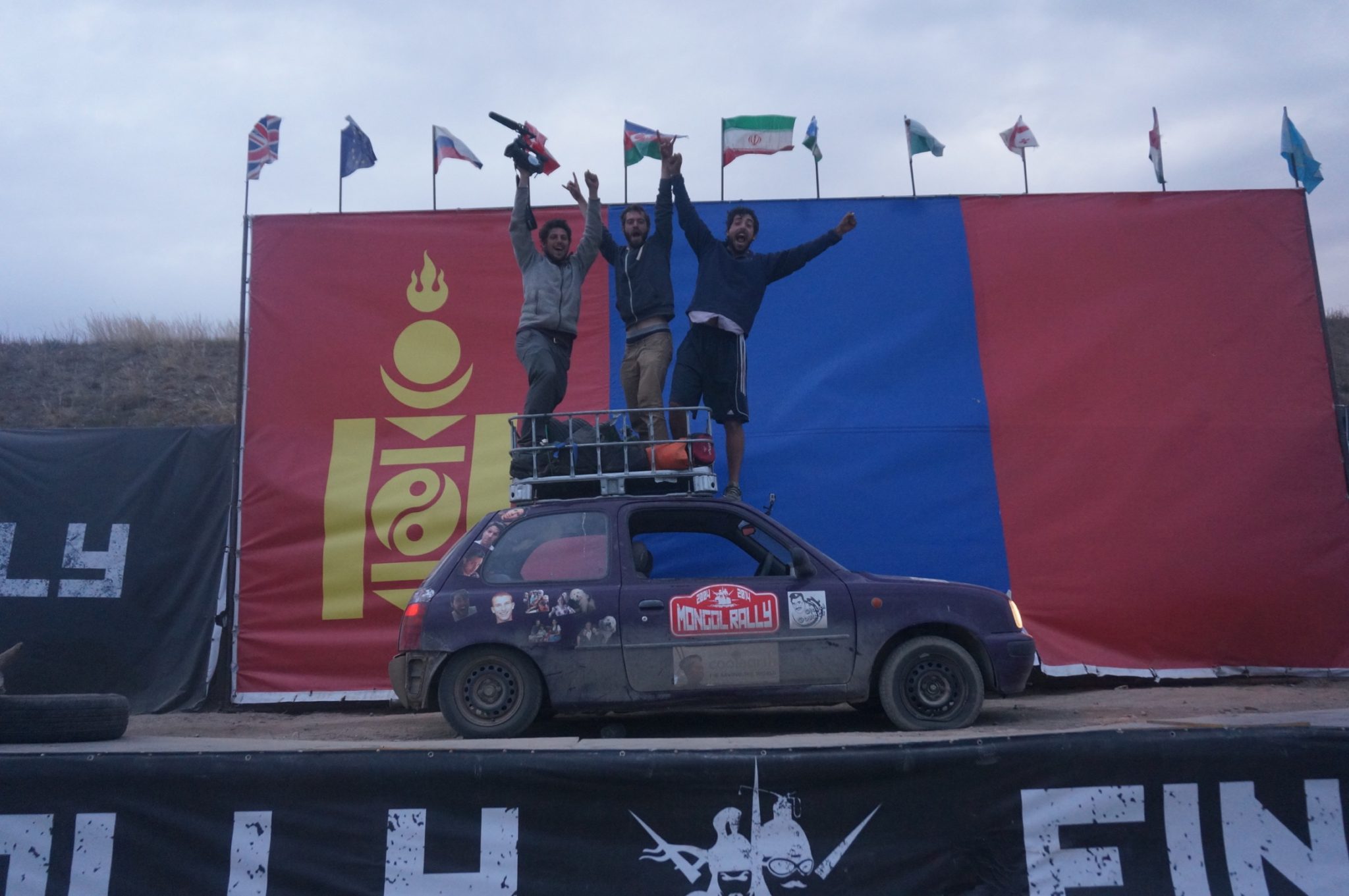 The Global Goulets have conquered one-third of the planet and made it to Ulaanbaatar! But what about their noble steed? Read on for our loving Ode to the Auto Goulet.