We made it to Khorog in the late morning, the official launching spot of the Pamir Highway. Hearing rumors of the impossibility of finding resources essential for survival in the desolate GBAO region, we stocked up on water and gasoline… and baby wipes and nutella. What we were most excited for in Khorog was the prospect of briefly stepping foot into Afghanistan. Our guide book had told of a neutral bazaar across a bridge over the river into the hostile land (at least to us Americans) where Tajiks and Afghanis trade and shop in harmony. Well, we found a bridge, figured it's got to be the one, and giggling, gingerly crossed. As we tiptoed to the other side and made landfall, we rejoiced- we were in Afghanistan without even a visa! Quickly though, our joy was deflated when we spotted another rally team. "Guys, this isn't Afghanistan. That's on the other side of town. And apparently you have to be Tajik to get in." Heads hung, we moped back to our car, buckled up and braced for the stretch of road we'd been waiting for since April, when the region was reopened to essential travel after a multi-month closure due to a flare up of ethnic violence.
We crossed our first Pamir Highway checkpoint down the road as Brian took the lead and went into the office, passport and car papers in hand, to register our passage. Eric and Alex sat patiently by a fried fish booth. 2 minutes passed. Then 5 minutes. Then 10. Finally Brian reappeared, half hot-headed, half super stoked. "I have an announcement to make," he spoke into the video camera. "We've just paid our very first… drumroll please.. bribe of the Mongol Rally!" It was only 4 dollars, but enough to turn the guard on duty from hostile to hospitable. With a handshake, we blazed into the mountainous terrain before us. At first, the rocky mountainscapes maintained a sort of Appalachianesque appeal, shades of brown painted with green shrubbery beneath a warm, bright sun.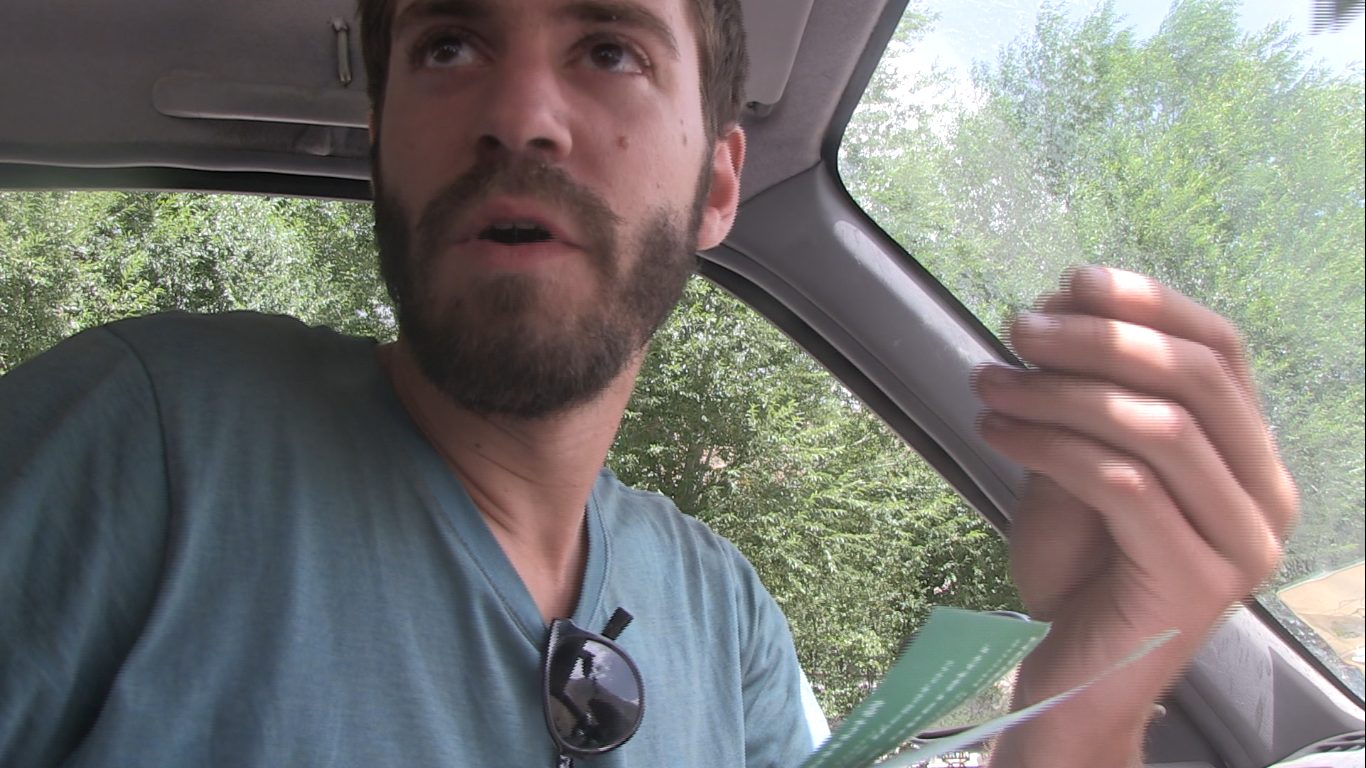 Here a dirty addiction emerged, that of an unquenchable yearning to film. We filmed everything. I mean ev-er-ee thing. Each bend in the road led us to an even more breathtaking sight, as we burned through memory cards faster than a dizzy drunkard takes down his morning moonshine. We paused for a momentary break from the ride to film us cross a bridge, which we were certain would collapse from under us… then we filmed us run away from a lady who looked like she wanted us off her turf. Then we filmed us say "salaam" to a nice grandpa dude and his children.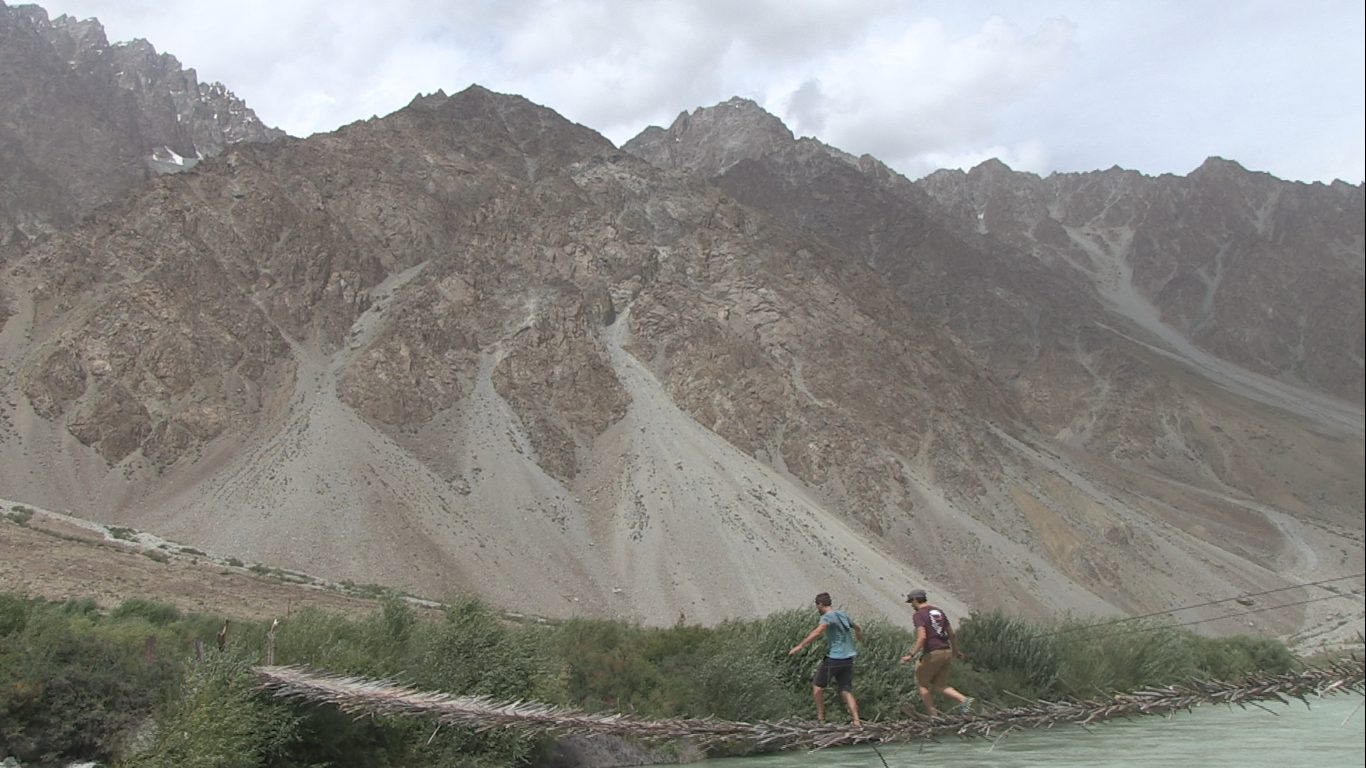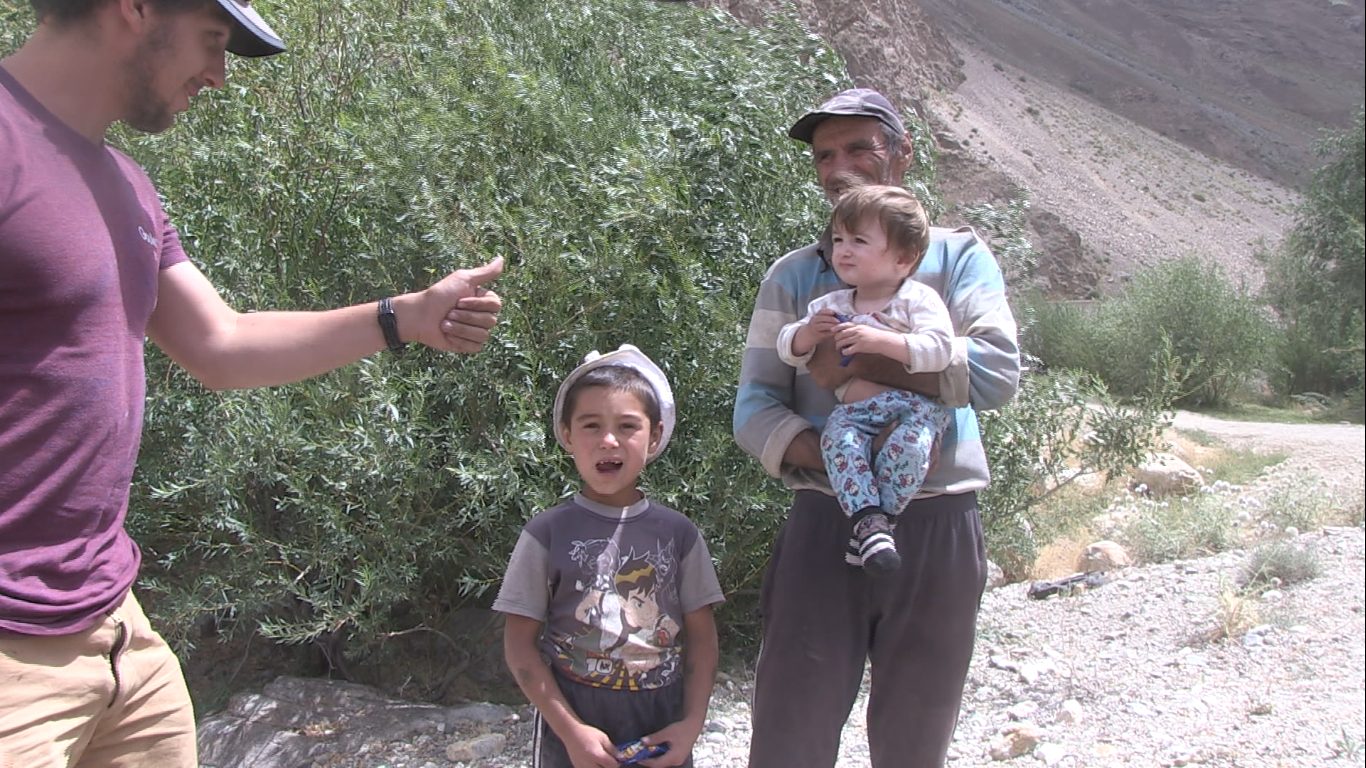 We cruised on roads far superior than we ever imagined in the Pamirs, mostly clean black asphalt intermittent with spotty weathered grey pockets. Our mouths agape as mountains ahead adopted white snow peaks, we marveled at the splendor of what we knew was the Pamir Highway in all it's glory. Up, up, up the Auto Goulet hiked into elevated cliffs. Pushing first gear hard in accordance with the steep incline, Alex made a startling discovery. "She's burning up!" The car was overheating, or so said the temperature meter of the engine. So, three quarters the way up a darkening peak, we stopped roadside to give the AG a breather. Stepping out of the car to take leaks off the mountain's edge, the climate shift made its presence known like a punch in the gut. "It's freezing!" we shivered, as we raced to unearth our jeans and fleeces buried deep within our backpacks. No doubt, at 30 degrees Fahrenheit, we'd arrived at the Rally's coldest stretch.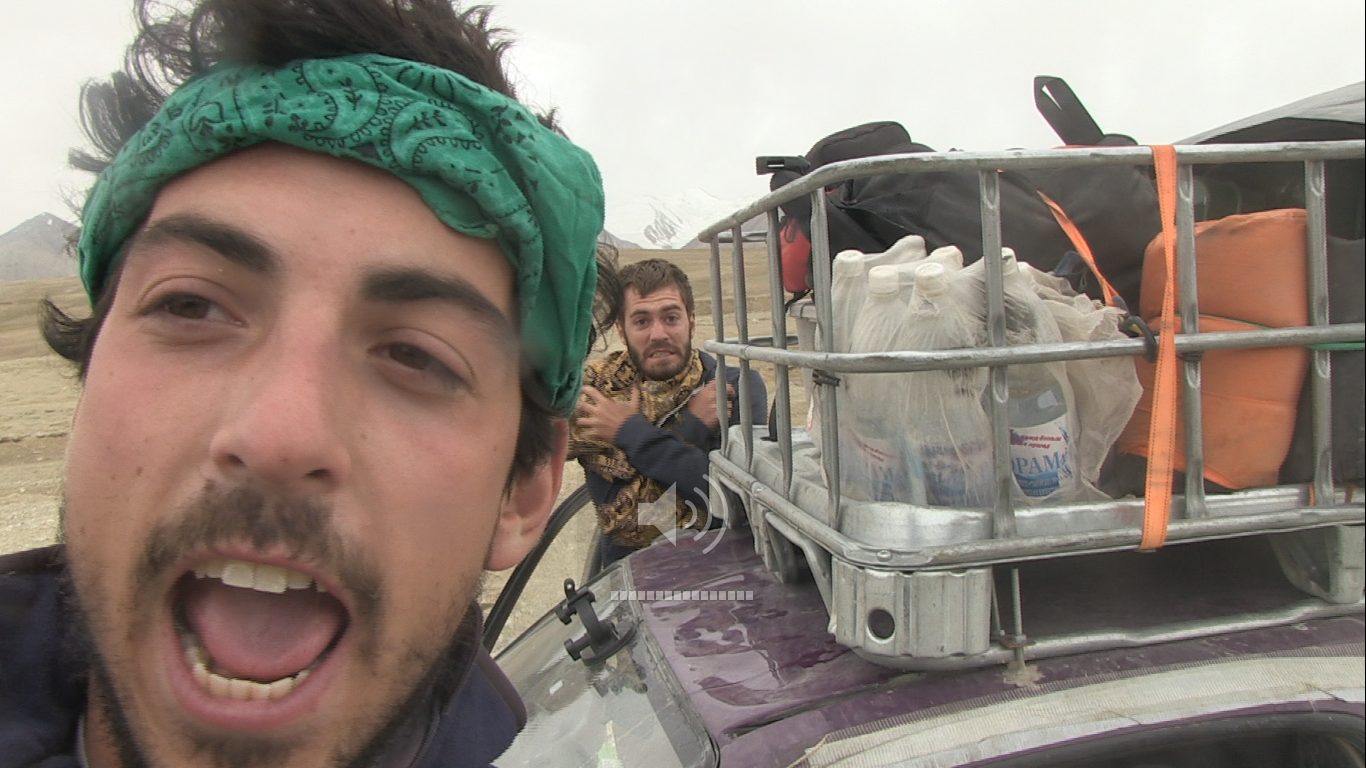 We laughed about the stark plummeting temperature once safely inside the warm car and even waved to some scurrying little beaver-like animals that populated the territory. Cocky with assurance that the roads on the Pamirs were just going to be pleasantly paved, we kicked up the speed to a cool 50mph down the mountain's backside when – thbump! hop! plop! – we blindly tumbled through a series of unsuspected potholes – blimey! Right then, our fuel gage began a massive nose dive from nearly full to well under the one quarter mark. Fearing a punctured tank, we jumped out of the car expecting a trail of precious petrol behind. But no, the road was as dry as a thirsty sailor. So, what's the explanation? Back in the AG, we watched our fuel gage reading jump from empty to half full, back down and up. While we figured the tank was warped by the rock brigade or the meter confused or some combination, we exhaled knowing that a catastrophic crisis was averted.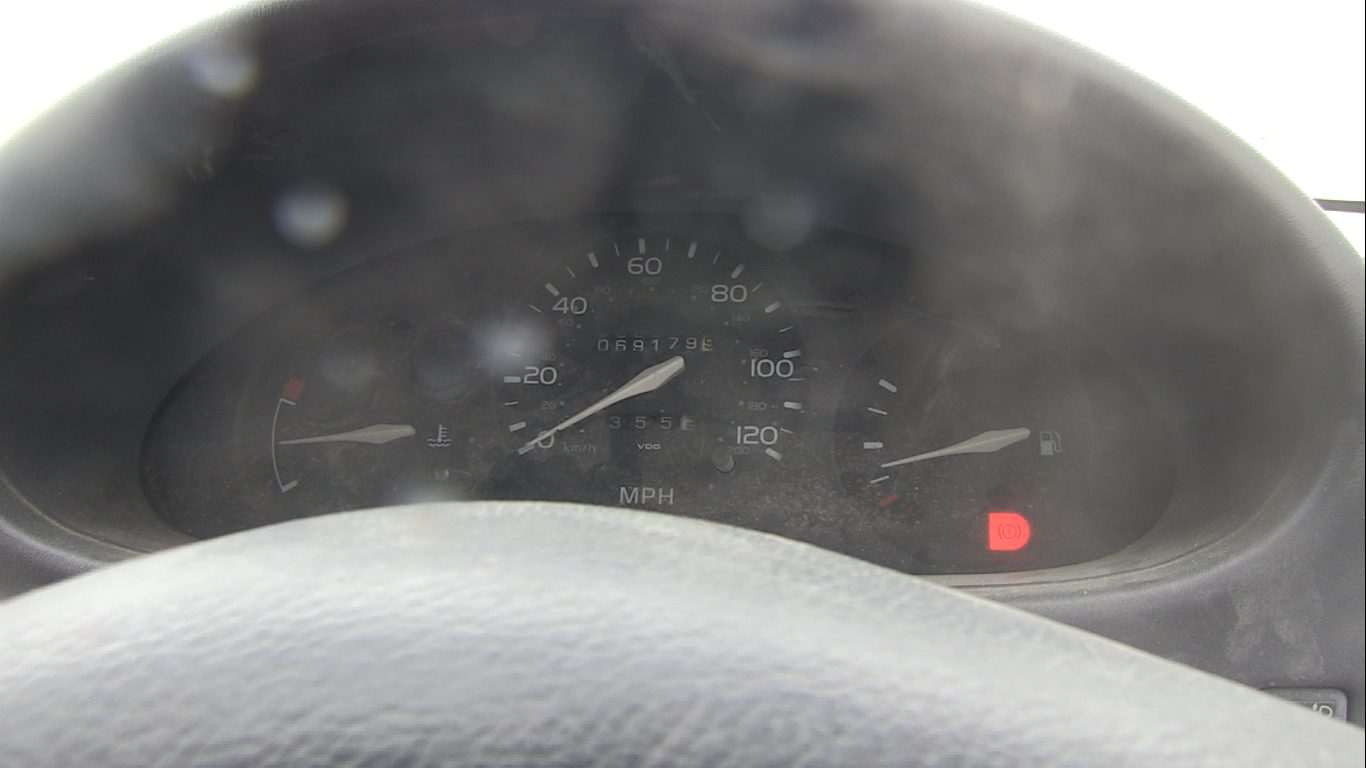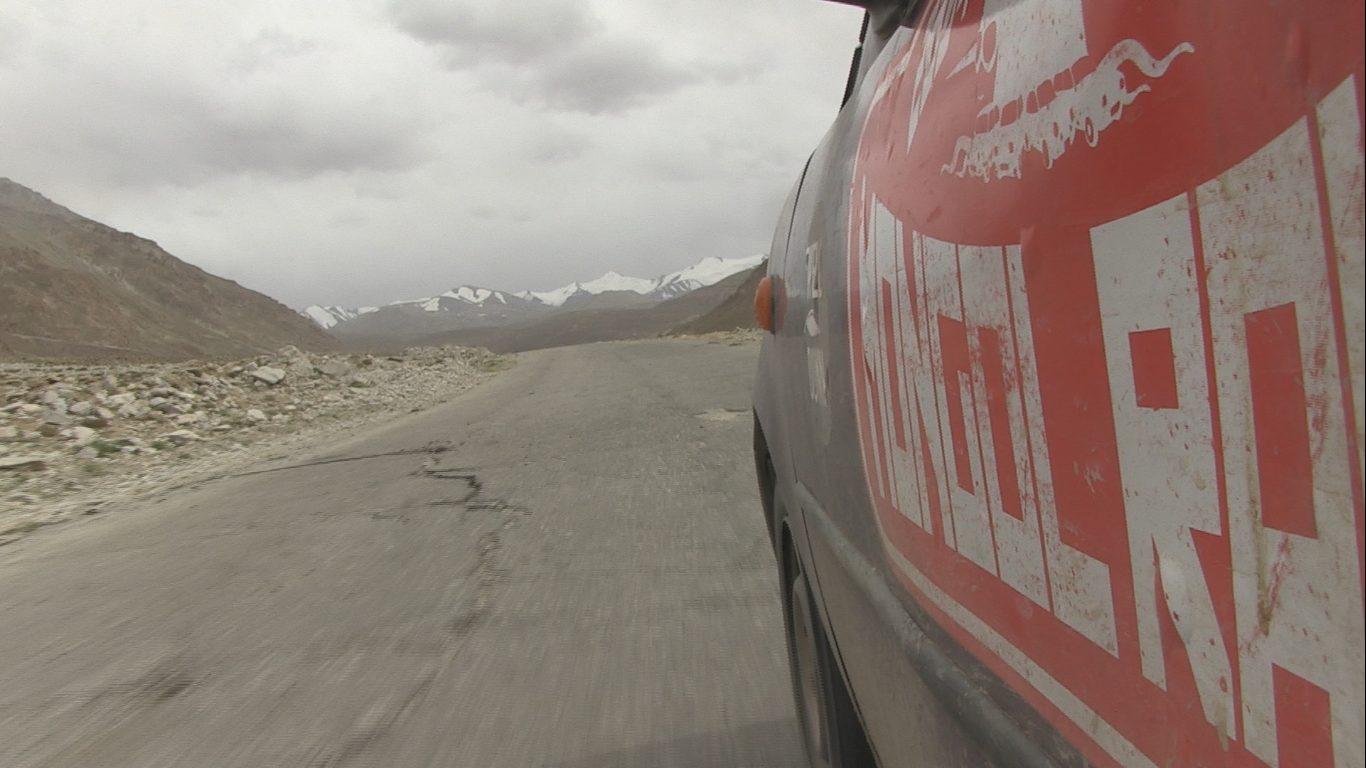 A few hours passed when a massive can't-miss moment called our name. Driving into the snow white surroundings, beneath an overcast wintry sky, betwix and between brown and grey rolling hills, we discovered a lake running parallel to the road. We must go to that, there was really no debate. Better yet, the surely icy cold temperature of the water presented an ideal opportunity to conquer the Ice Bucket Challenge, apparently all the rave back home. Off road we went, onto a dirt permafrost path clearly designed for a heavy duty 4×4 and by no means fit for our fragile Nissan Micra. We pushed as close to the deep green bastion as the AG would allow, until the land softened  with the lake's moisture, 50 yards from shore. When at last we made it to the water's edge, by foot, it became clear that completing the Challenge here would be impossible. Not because of the brutal bite of the cold air, nor that we hadn't proper clothes to reheat us after the event; it didn't even have anything to do with the noteworthy fact that we were hundreds of miles away from the nearest hospital. In reality, the beautiful green tint of the lake was a product of slippery, nasty algae that caked the shore, blocking access to the pristine waters deeper within. So, unless it were renamed the Ice Algae Challenge, this had to wait for another day. Reddening faces beginning to blister, we battled the whirling winds a bit more until we could take no more. We stupidly sprinted back to the car (for fun!), finding ourselves entirely breathless with minimal oxygen available so high up, as our overworked lungs busied to regain balance.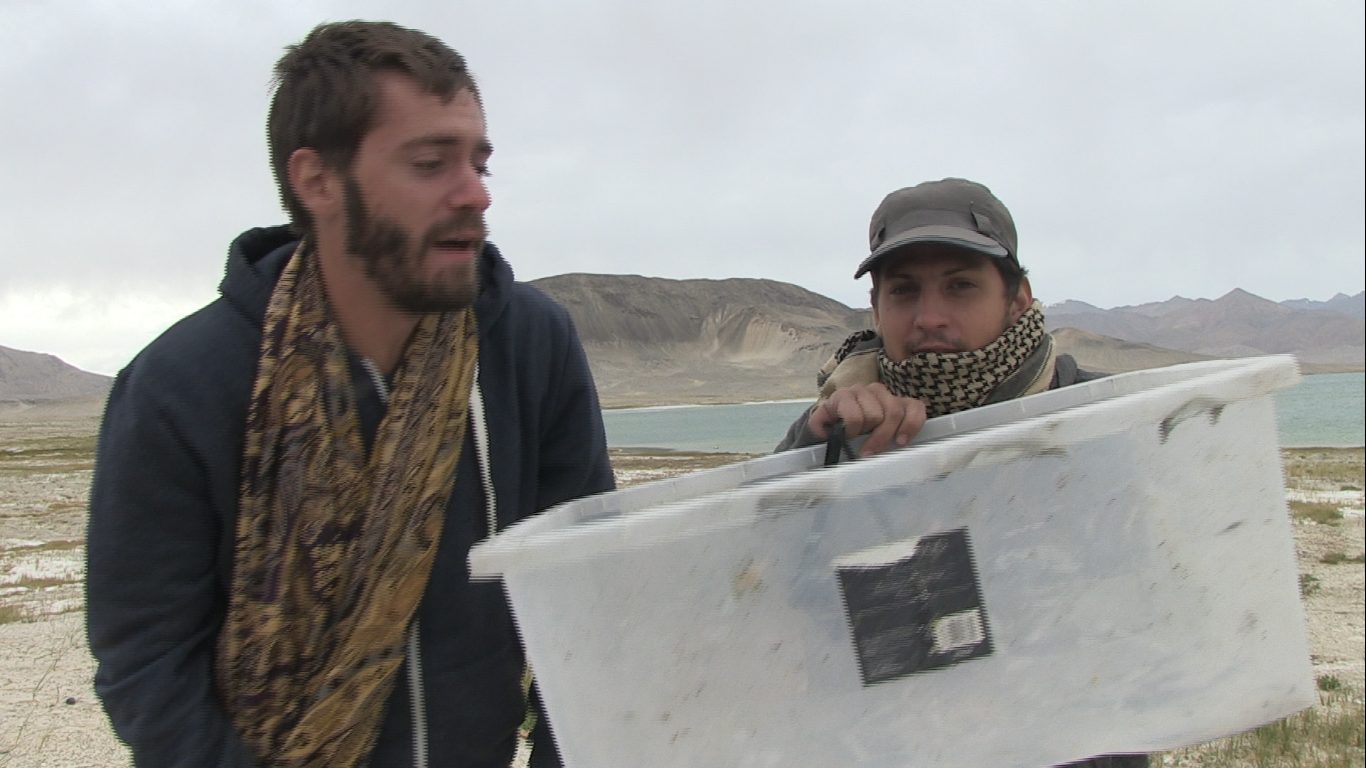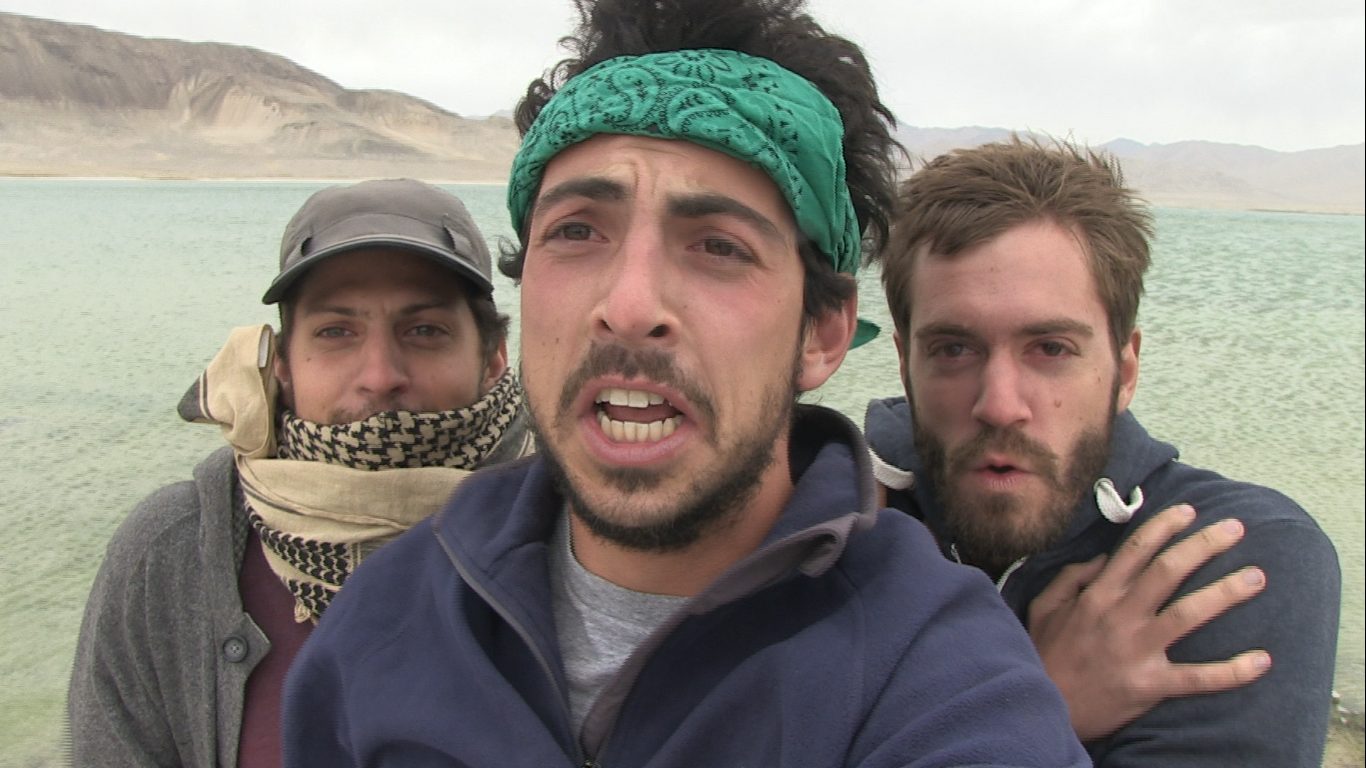 As daylight diminished, we arrived at another Pamir checkpoint. Collecting his composure, Eric recognized it was his turn to face the guards. After the bribe delivered upon Brian earlier in the day, all three of us expected another battle this time around. A good 15 minutes went by with Eric still inside the guard's cabin, while Brian and Alex could only imagine what type of torment he was facing within the walls. But when he emerged, a massive grin was plastered across Eric's grille. "What an accommodating crew!" he bemused. Inside, the guards had offered him a seat, while they kindly skimmed through our passports. Over a couple cups of timely chai in the charmingly chilly abode, the guards smiled when Eric explained he was a teacher back in America. "Rakmhat, thank you, kaloq, spasiba, gracias!" Eric thanked them in as many languages as he could.
Not more than a couple of minutes later did we enter the small village of Alichur, the AG glistening in the forefront of a postcard worthy fleeting sun (take that manhattan sunset instagrams!). Upon the welcoming wave of a couple bundled up kids, we opted to bunk up for the night rather than face the elements in our tent 2 miles above sea level, here at the world's rooftop. We hurried to unload the car, as the night's windy wrath chased away the last light of day. We warmed our bellies with some beef stew and a pot of chai, recounting the journey behind us, an exercise facilitated by the moving images of our camera. At peace, we slid into our cloud-like feathered mattresses, which like always were mere inches from one another. By now, we were very used to tight sleeping quarters.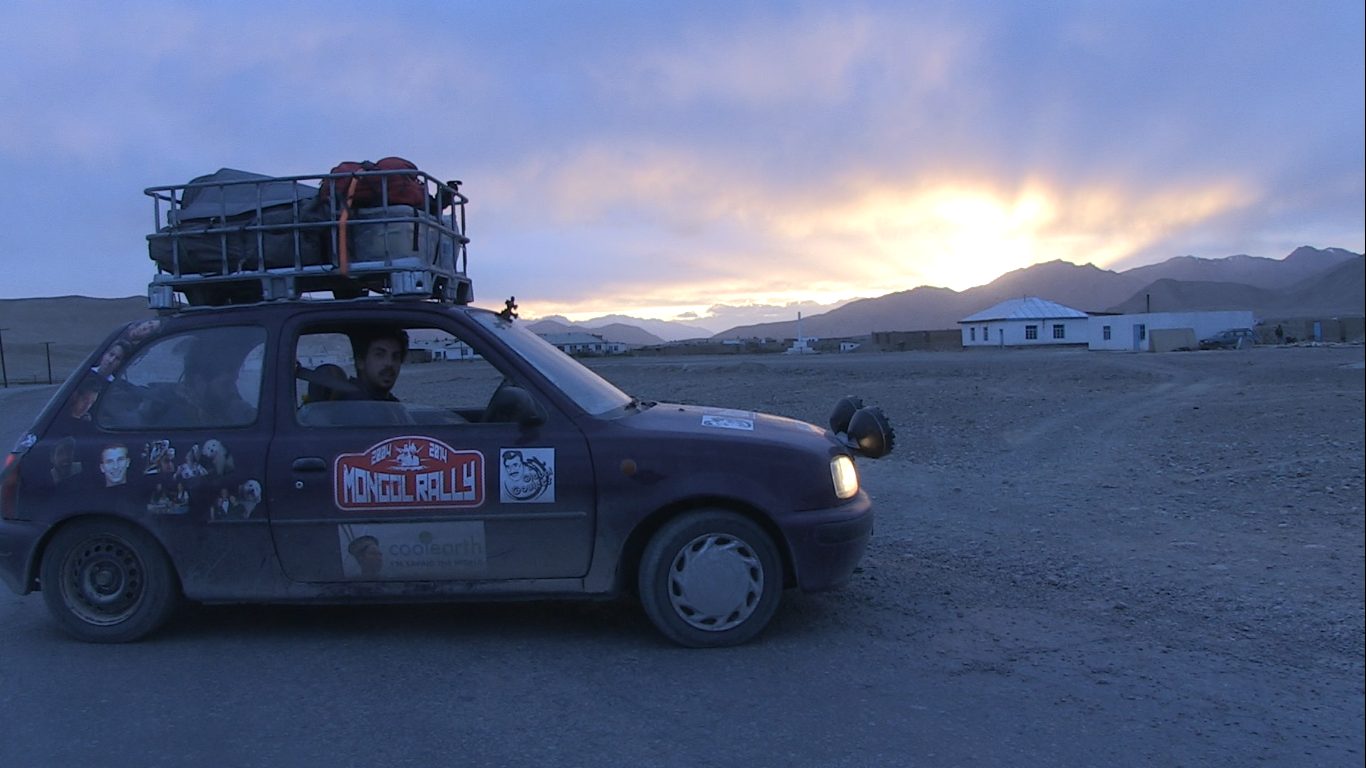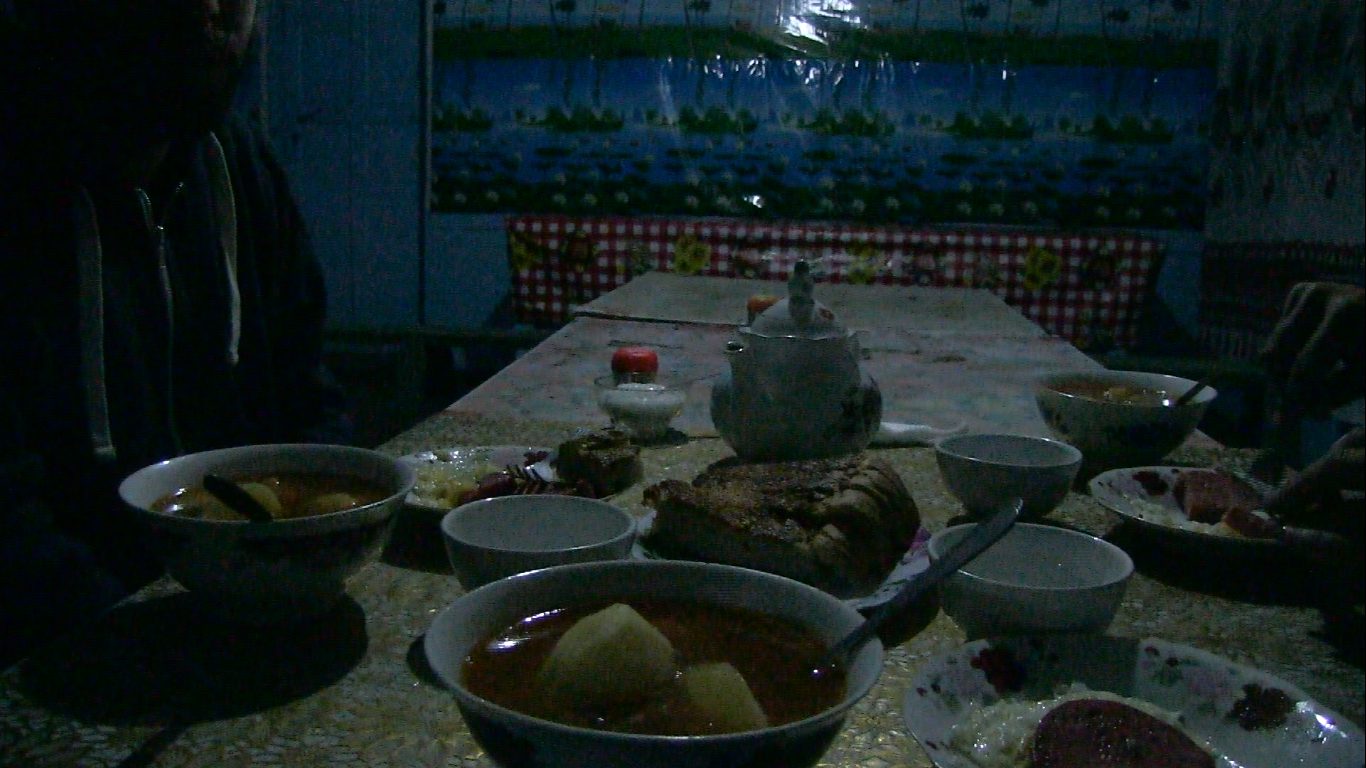 Dawn broke loudly into the bedside window, rattling our eyes awake before our bodies were fully ready to greet the new day. What's more, we faced a tough adjustment to the rapid rise in altitude; brutal headaches and congested sinuses resulted from the dry, thin mountain air. We loaded up the car and congratulated each other on our early start, still keeping in mind our strict deadline for exiting Tajikistan, a short three days away. But once we turned on the engine, a deep growl moaned from underneath the front hood. AG was angry, we'd put her through the ringer the last few days and she was voicing her pain. Of course, none of us knew the first thing about car mechanics, so a check under the hood was bound to tell us nothing. "Let's just… uh, change the air filter?" we blankly posited, without any actual knowledge of whether this could repair the noisy grumble. It didn't, but we left the new filter in anyway and drove off.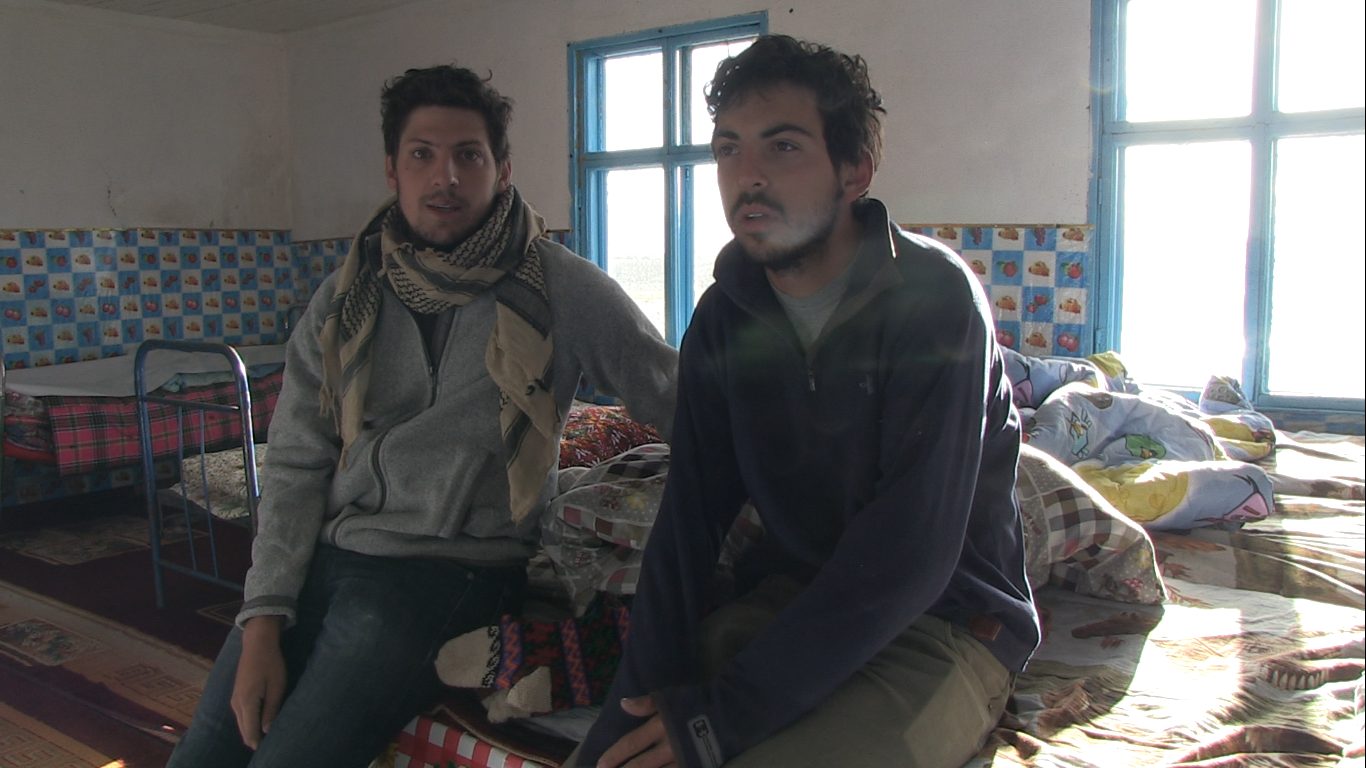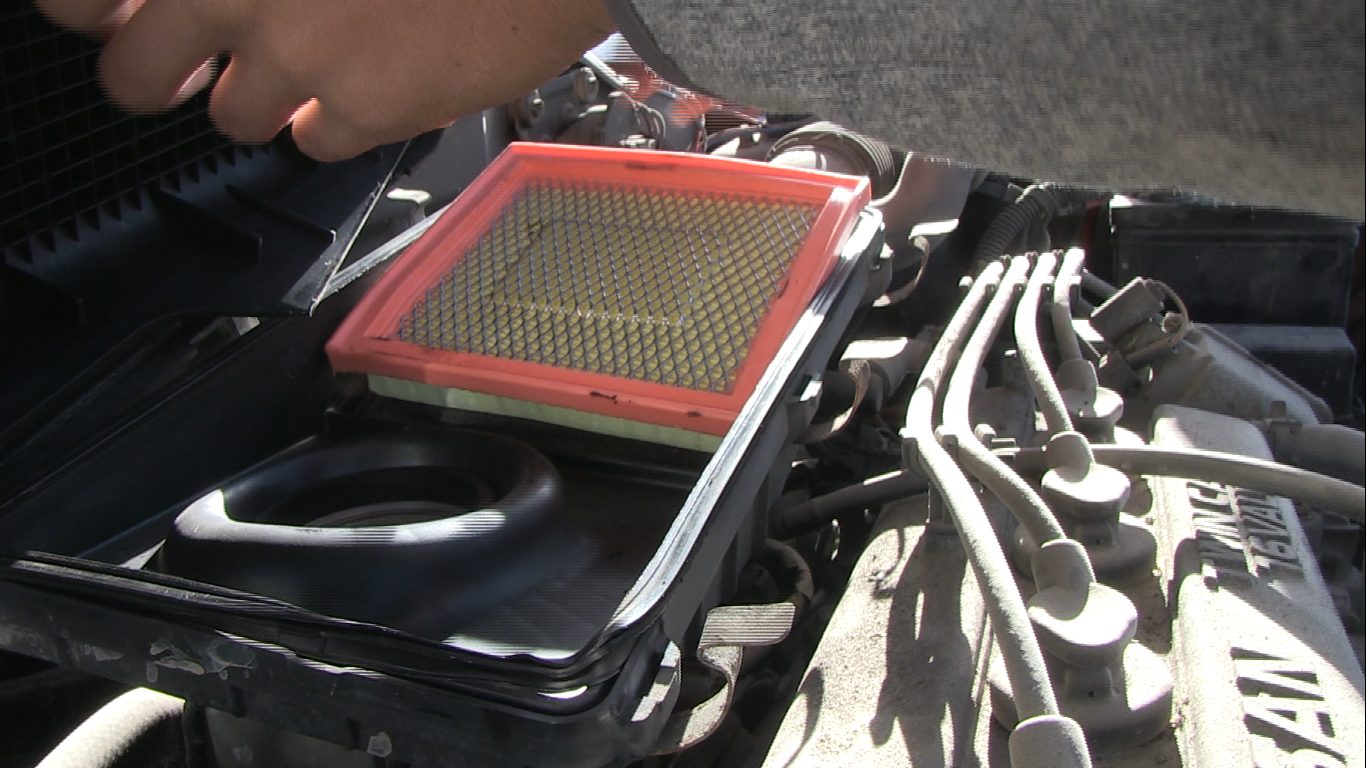 A few hours later a reading of our map against our current coordinates revealed we were far ahead of where we thought we'd be just one day past Khorog into the Pamirs. We took this as an opportunity to take an instant coffee break, as we pulled to the curb and set up our folding chairs on a rocky plateau hanging over a narrow valley ditch. The explosion of caffeine energized our weak systems and the warmth of the hot drink vitalized our frigid fingers. Now fully awake and exponentially daring, we decided to drive our bruised mobile home off the comfort of the main road to get a sweet shot of her sitting on the edge of the plateau's plate. Instead, Brian and Eric watched helplessly as Alex accidentally took the car into a substantial ditch. Only with the brute strength of all three of us pushing painfully could we clear the front left tire from its dangling position above the ditch and back planted onto the hard earth. Well, that was a dicey one! We got our shot as planned and proudly pioneered onward.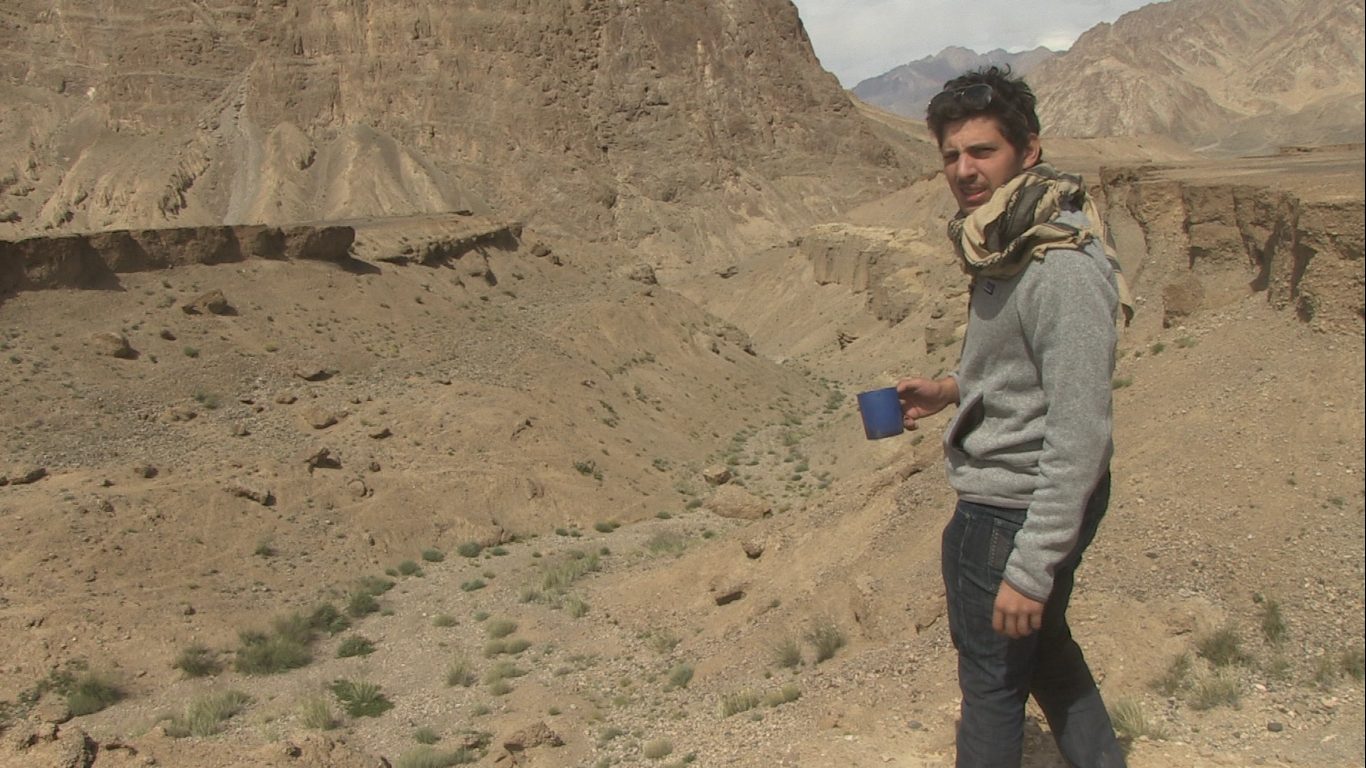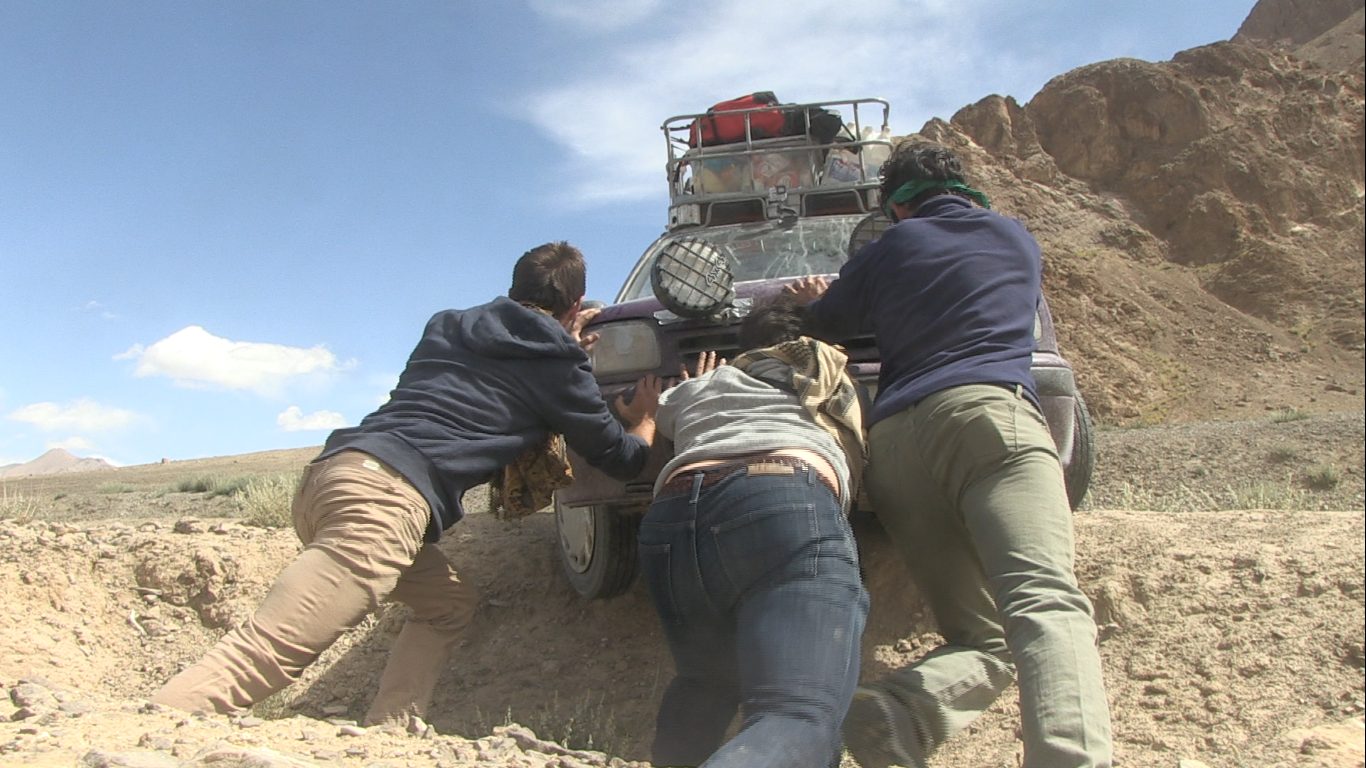 We bounced into the town of Murgab in the early afternoon, with the first matter of business being the need to refuel. The tank meter at zippo, a father and son team at the makeshift petrol station traded confused glances when the AG only drank 20 liters before spitting out anymore, like a pouty toddler refusing his daily vegetables. So, the tank was half the size it used to be, but that's only a minor hurdle- nothing we can't handle. In town, we met an Italian traveler and a French photographer and stumbled by a English-fluent homemaker who invited us all in for a nice lunch. Funny, we thought, to be eating sheep fat and brothy soup with a Frenchman and an Italian, who hail from countries where fine cuisine is a way of life.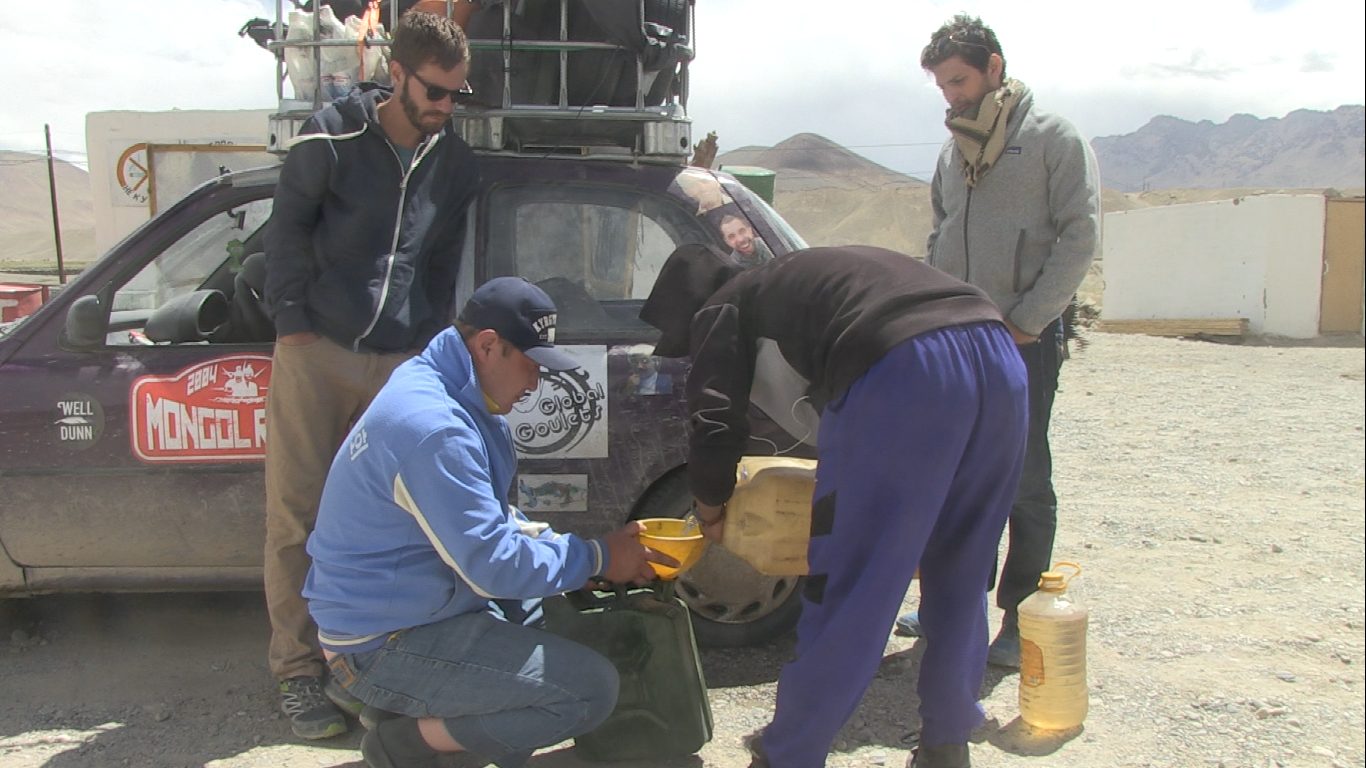 We jumped back in the car after lunch and set off to cover more ground. We drove east 15 miles until we realized- whoops, should be going north! Then we drove back west to Murgab and got on the right route up North. Smooth sailing characterized our drive for the next 2 hours. Crystal clear blue skies overhead gave way to oncoming cloud cover as we yet again trucked upward into a mountain pass. In a hurry, the peaceful pavement transformed into a rock-infested rumble zone. Vibrations reverberated about the car, climbing up into our feet and shaking the rest of our bodies. We bumbled along like that for a solid hour, inching along at just 10mph, the bouncing so loud that the music coming from the radio was entirely unrecognizable.
The clouds began to slide away once we approached Karakul, the lakeside village well known as the final stopping point on the Tajik side of the Pamir Mountains. We drove through town and saw a plethora of guest houses, knowing well we'd find a cozy place to spend the night. Hi Karakul! Bye Karakul! Passed the town we went, towards the glistening lake shore and towards the endless snow peaks that encapsulated this pristine paradise. Now drunk with reckless abandon, we again off roaded the AG into a frozen permafrost tundra, aiming for some more glorious footage. Blasting music and driving haphazardly, we gloated at our majesty, when- vrrrrrrrmmmm!!! – we were stuck. "Oh, that's okay, this always happens," we agreed. She just needed a good push. Ummm, actually, maybe not. The AG had had enough. "No," she pouted. "I ain't movin a muscle!" We had abused our lovely little wagon to the brink, and she was making a stand. We checked her feet and noticed she'd planted those tires a good 3 inches into the muddy frost. All we could do was walk back to town, our tails between our legs. Walking almost a mile back into town and brutally ill-clothed for the plummeting temperatures, we met a man and gestured that our "machina" was stuck in the frozen fields near lakeshore; "over there," we pointed. He grumbled, then motioned for us to follow. Opening the gates to his garage, the man revealed an old soviet truck, surely 2 to 3 times older than our own carriage. Bouncing into the blackening scene, the cold mountains hanging like muted curtains in the background, we took a few extra minutes to locate our tiny little locomotive. After a couple of uncertain attempts, the AG was freed of her tar-heeled torment. We'd learned an important lesson today: stop driving the dang car into unsuitable terrain- we promise (fingers crossed). That night we slept in the fire lit confines of a cozy guest house floor.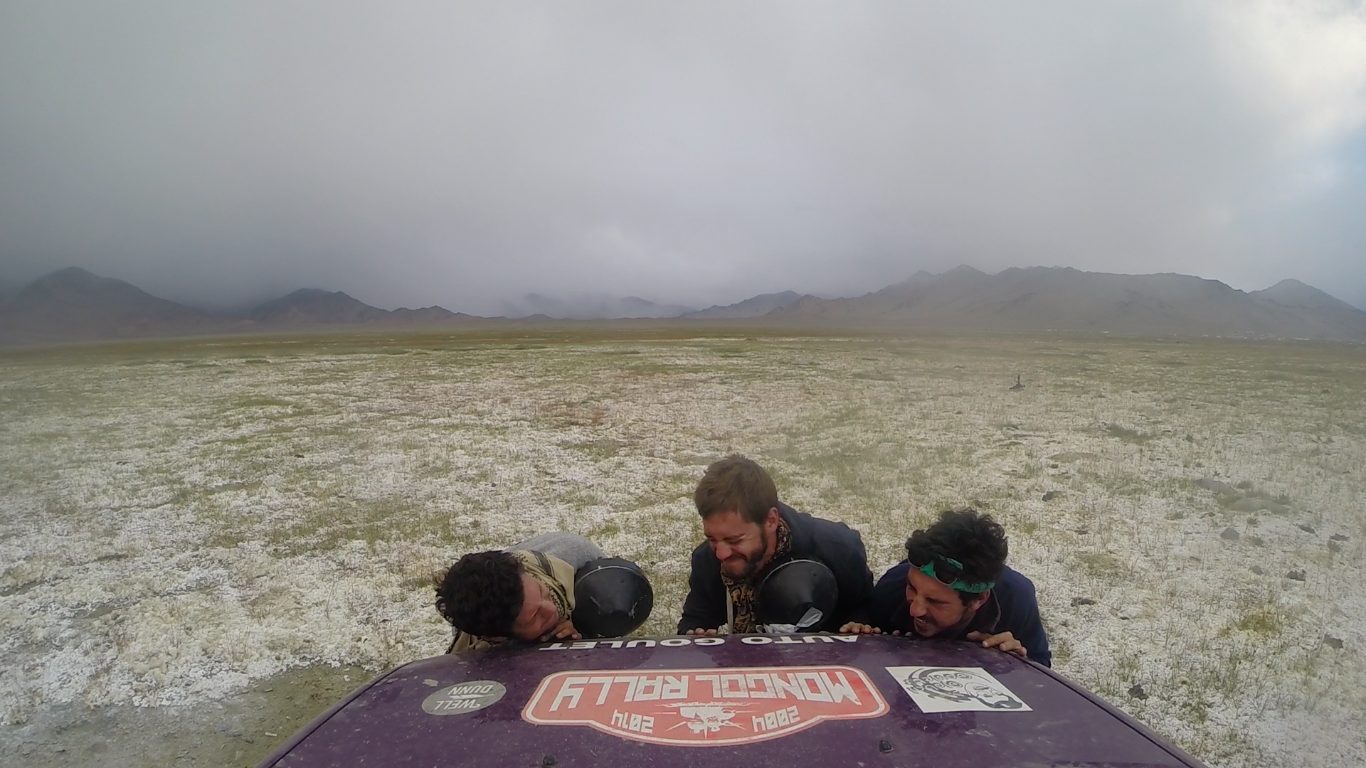 In the morning, we gulped down some chai and jumped in the car, ready to clear the border, a whole day sooner than our visa deadline! Just turn the key and… Wait a second, the car won't start. Try again! Start that engine and… ummm.. Still won't start… Hmmm. Maybe it's just too cold to start. We let the AG thaw out in the rising sun after a night's slumber in below freezing conditions. An hour later, we tried again. Hey turn that key, this time it'll work for sure… We turned, but, nothing.  If the car is busted, we're in big trouble. Not only will we need a tow 250 miles to Osh to see a mechanic, but we'll need to find one before the next day or else it's Tajik jail time for Brian and Eric!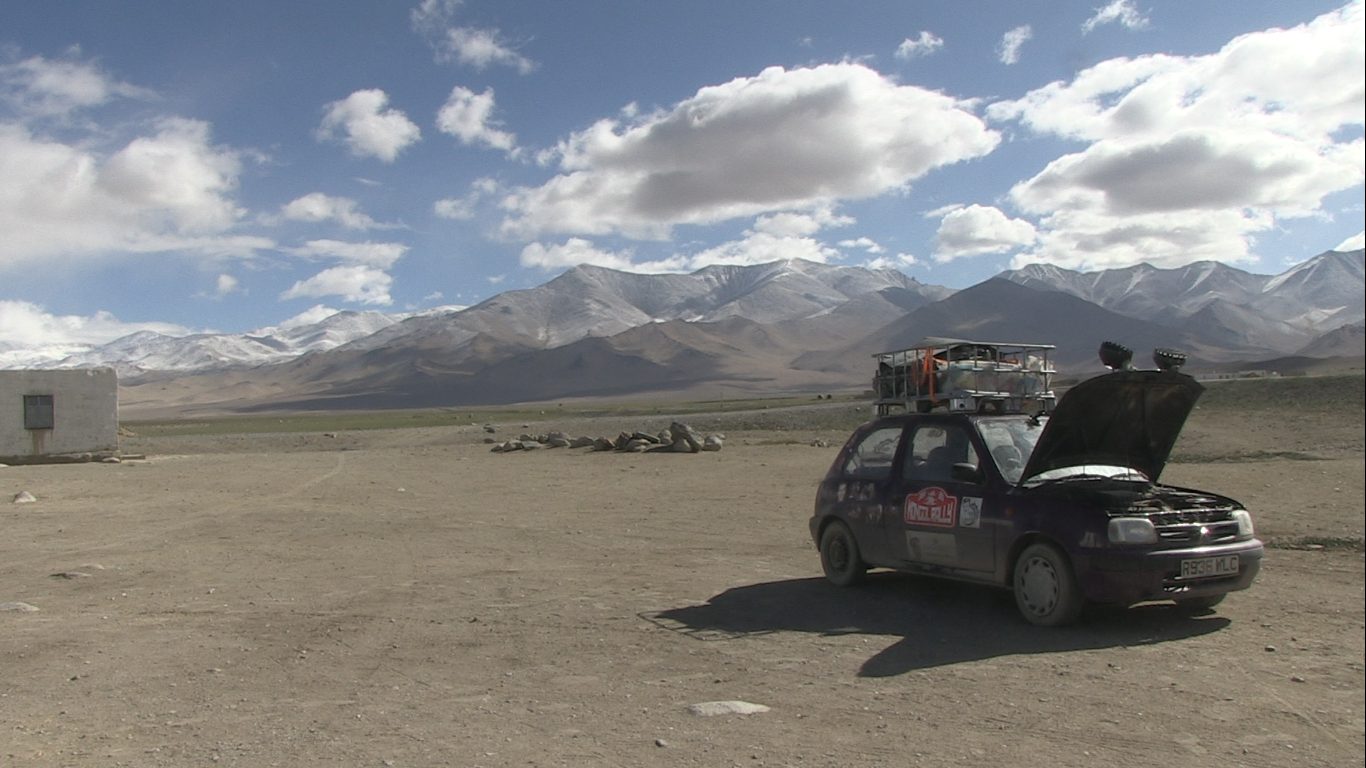 All the locals gathered around our sickly little lady, wondering what was wrong. Is it the spark plugs? Don't think so. Maybe the battery again? Nope. Christ almighty. We read through our whole car manual and tried every trick in the book. Eventually, the local bro gang called over the best mechanic in town (of no more than like 50 people) and this guy got to work. Fiddling around with nearly everything under the hood, in a last ditch effort he checked the air filter- remember the one we replaced the day before? Apparently there was tons of crud buildup inside and once the phlegm was coughed up – blaaaccchh! AG was congestion free and ready to roll! We thanked this most recent car savior with a bottle of 2 dollar vodka, hooked the roof rack of AG up with some style, courtesy of Marco Polo horns found near an Eric outdoor pee sight, and fled for the border at last.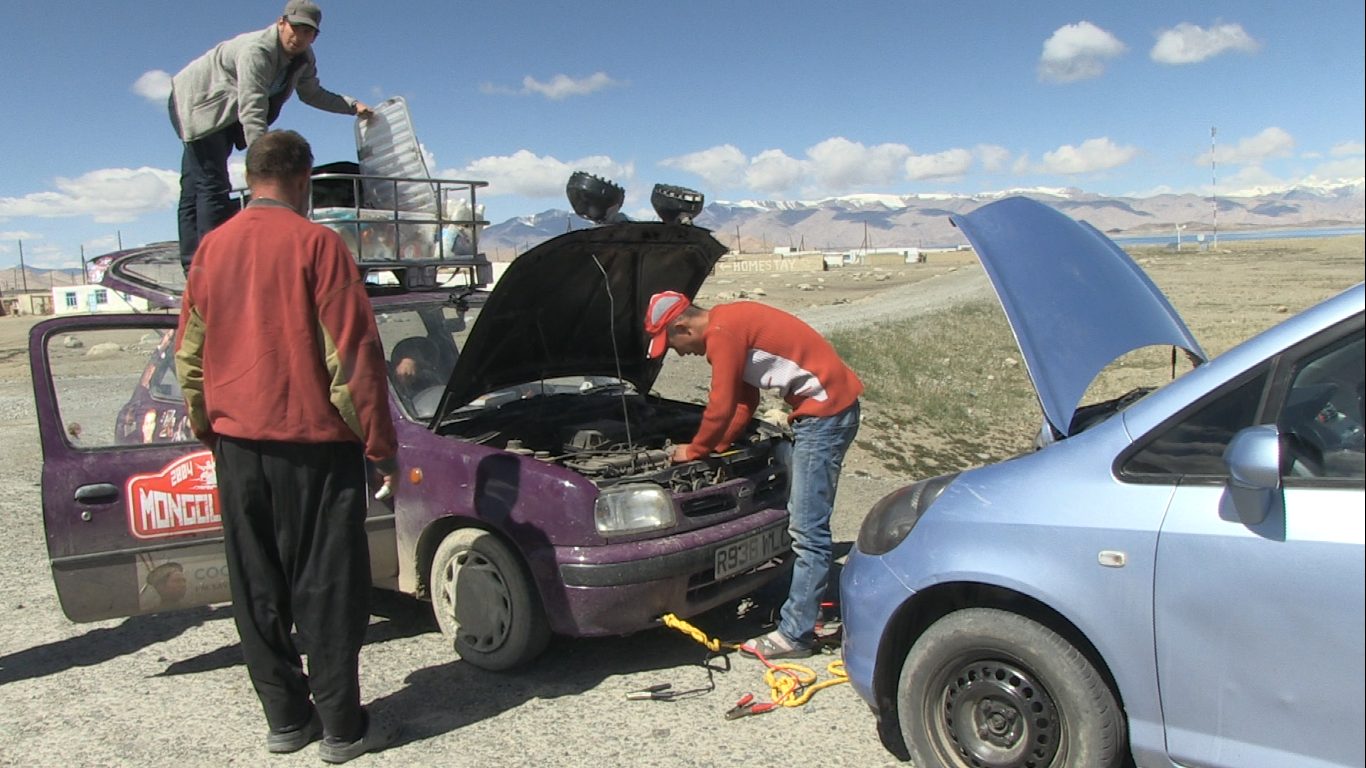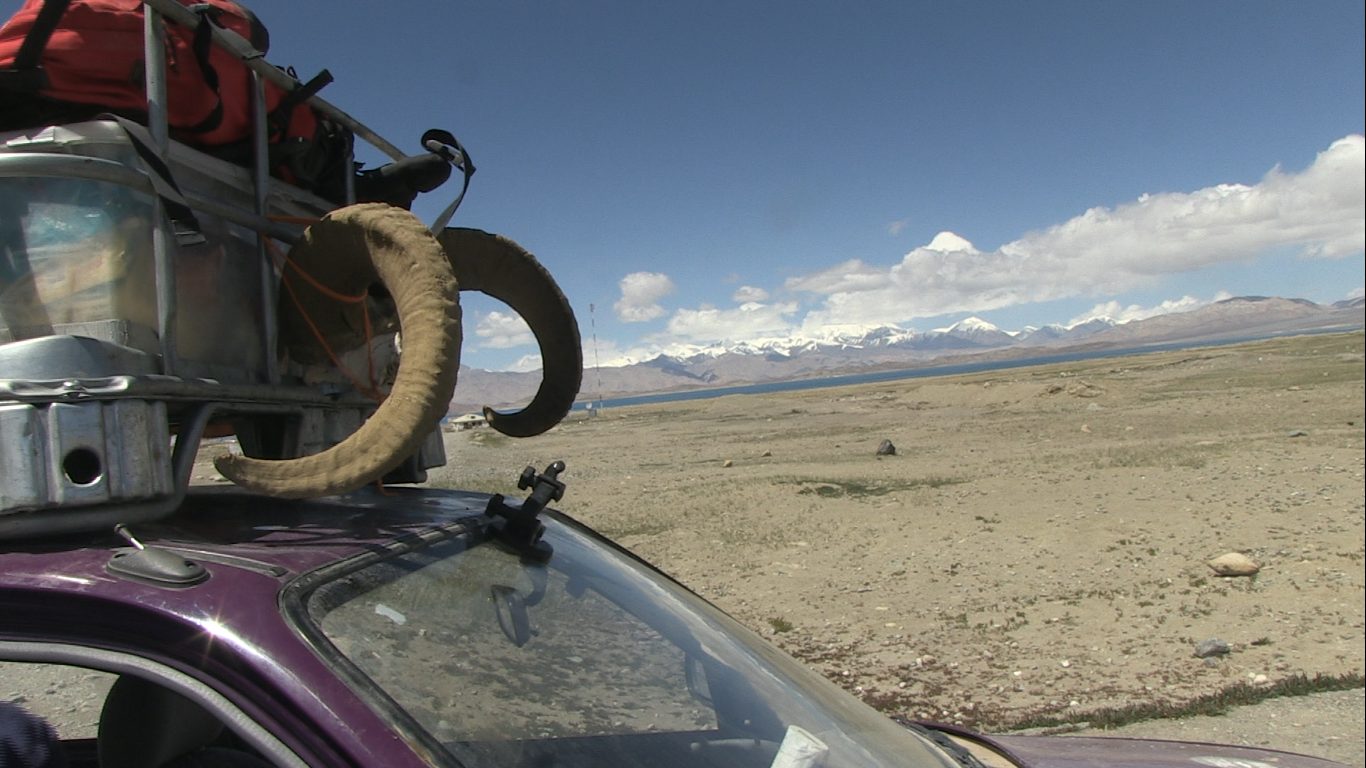 On the way, over a final Tajik mountain pass, we stopped nearby some cyclists to take a picture of the cascading collection of silvery peaks circumscribing the perimeter of our line of sight. We tipped our cap to them for taking on the Pamirs without the aid of an engine, as we made some small talk with them about our respective adventures. "Ya know, we've seen a ton of cars with these Mongol Rally stickers," they observed. "Just a couple of hours back we met an Australian chick with two other guys."
"Did those two guys happen to be American, one maybe barefoot?" Brian quickly questioned.
"Oh yup, those are the ones," the cyclists retorted.
The Breaking Khans! After over three weeks apart and a multitude of debilitating setbacks, we managed to be just hours behind our trustiest of rally allies. Back in the AG, we buckled up and approached the boundary of Tajikistan, where the only trouble we faced from the guards was the ridding of the newly acquired Marco Polo horns. Well, they were good while they lasted! It was a tough au revoir to Terrific Tajikistan, but we were glad to be out of there and free of the fear of jail.