Sometimes goodbyes are harder than hellos. After driving through the night in shifts on our detour to find an open border crossing, we arrived at the Uzbekistan exit around 8 am, first in line and ready to go. The guards, however, were not – we were told to wait because the crew had "sport". The entire border staff spent the next hour playing soccer in the backyard of the facility while we pulled out our gas stove and made ourselves coffee and oatmeal on the floor of the customs search area. Finally, three curious guards searched through every article in our vehicle. Uzbekistan really cares about drugs, wads of cash, and porn. Fortunately your Goulets are not international drug traffickers, but if you've ever been in one of the 3k+ photos on Brian's iPhone over the last three years, the Uzbeki border guards will probably be familiar with you next time you cross through the border.
Entering Tajikistan was not a problem, but the guards reaffirmed the severity of our fast approaching 8/19 exit date.
Next stop was Dushanbe, Tajikistan's capital city. It claims the largest flagpole in the world at 165m. We scanned the horizon for it on the drive in, but our eyes could only find, wait… red white and blue? In a land where we hadn't heard English or seen a proper toilet in a week, O say could we really see by the mid-afternoon light those glorious stars and stripes that we call home? We had stumbled upon the US embassy and realized that if anyone could extend our visas and keep us out of Tajiki prison, it was those damn great Yankees. We flashed our American passports with pride to two non-American guards and waltzed in, expecting a bucket of Bud Lights, a bacon cheeseburger and poolside service.
But America's not what it used to be, apparently. Instead, we talked to a Tajiki national who confirmed to us that no, we cannot extend our visas, there is no support, gasoline, or food in the Pamir Mountains, the roads are terrible, and the last American who broke a leg and went missing took 3 days of diplomacy and searching to recover. No one had any sense of how long the mountains would take to drive through, because no wise Tajiki has driven them unless in the rare case that family lives there (although the region covers 45% of Tajikistan, only 3% of it's population lives there). With that we quickly stocked up and headed for the hills. We never even saw that dang flagpole.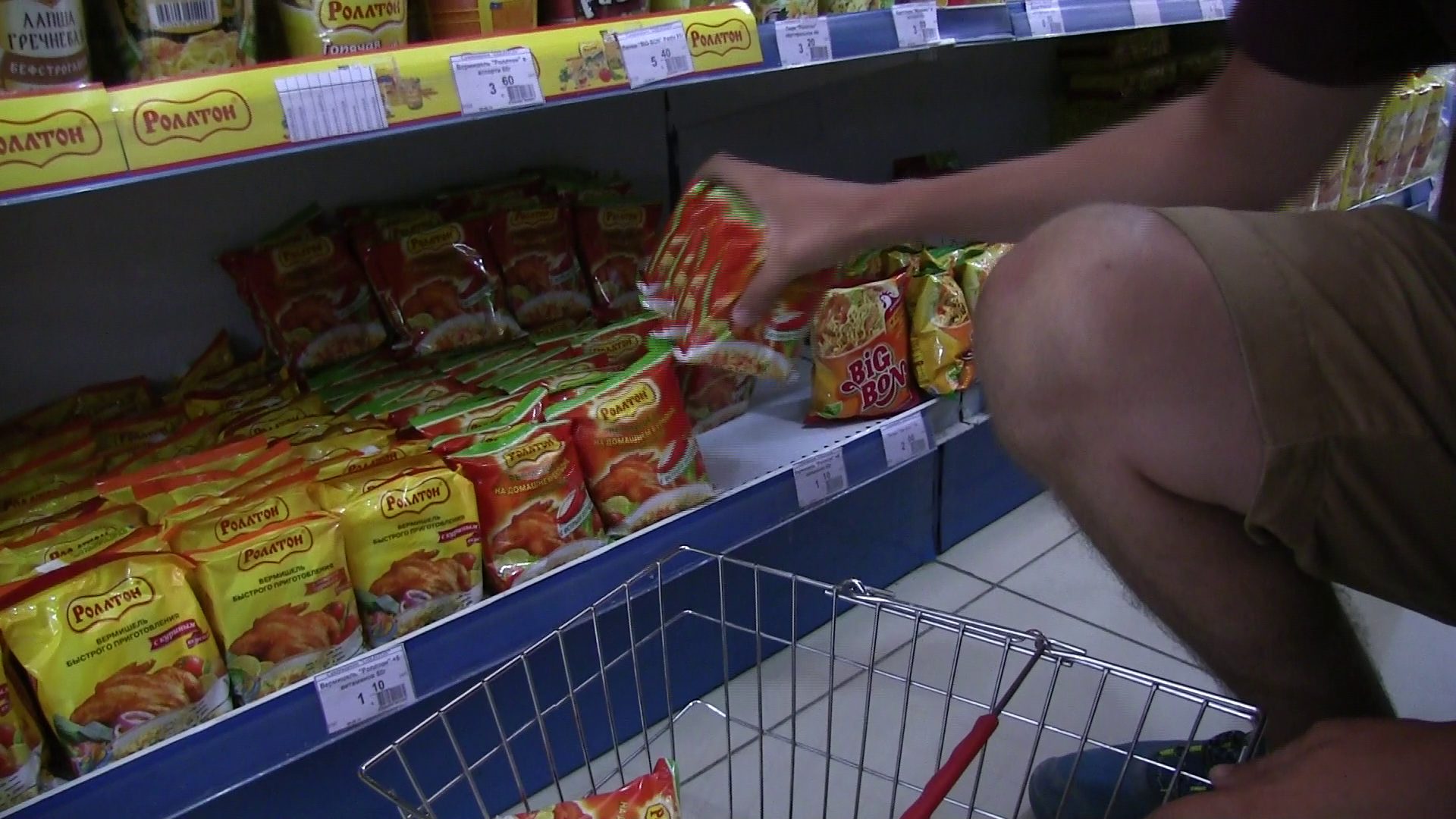 That first night we made it to Kurob and got our first taste of Tajiki hospitality. We stopped at the first restaurant we found, a large, empty place, and gestured wildly enough to get some meat. At the end of our meal we gestured wildly enough to get across that we needed a hotel. The waiter, without speaking a word of English, followed us to our car and hopped in the passenger seat, climbing over the drivers seat due to our busted door, and leaving whatever remaining duties at the restaurant behind.
He led us to a Soviet dinosaur of a hotel, empty and institutional in the center of town. We weren't having it – the gnarled rugs, the rusty bathroom, the ratty grey beds reminded us of a horror movie and weren't worth the price. We hopped back in the car, disappointing our waiter and the hotel. From the passenger seat our waiter reconsidered and began animatedly pointing directions, leading us on to smaller and smaller streets that we would never find the way out of.
Finally, we pulled up to what we knew must be home for the night – a delightful family abode where two older women in beautiful gowns sat cross-legged on a carpeted platform covered entirely above by fruitful vines. They invited us in and quickly produced tea and bread, crackers and dried fruits and nuts. They bravely maintained their gracious smiles when we removed our shoes, unleashing a stench that immediately turned the grapes growing overhead into raisins and killed two of their chickens (in reality, they plucked us a generous bunch of grapes from directly over our heads and we enjoyed the fruit of the vine, praying not to be sick the next day). They warmed up some water in a bucket for us to rinse our tired bodies. Brian stuck his hand in a large bag of feathers plucked directly from the friends and ancestors of the resident chickens – we would ultimately be sleeping on heavy feather beds made entirely of this heavenly combination of molecules. After last night's marathon drive through the dark, our bodies sunk deeply into our feather cocoons and it would've taken a fire or a forklift to get us out of there. In the morning we awoke to the most proper rendition of cockadoodledoo performed by a rooster since the day they made the sriracha logo, and the sight of our host mother silently bowing her morning prayers in the rays of sunlight through the hallway windows. We gave our thanks and continued our mission through the Pamir mountains to beat our visa deadline.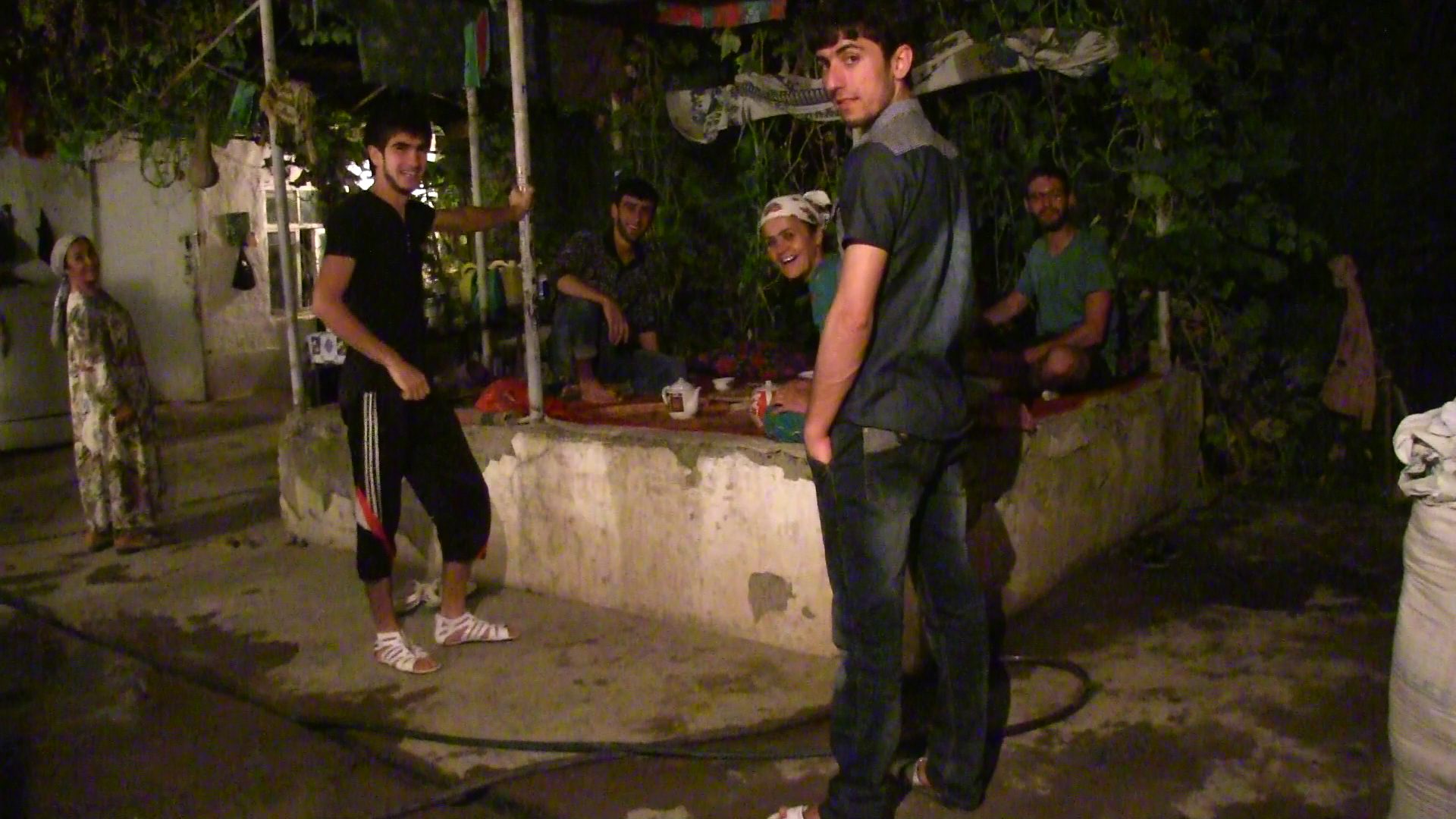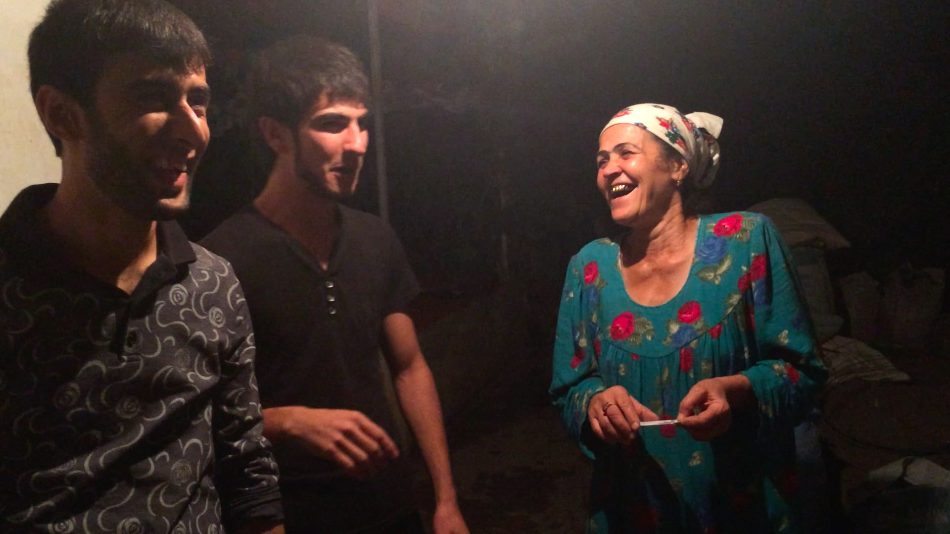 But as is tradition, we didn't get too far. The road was beautiful but treacherous. We circumnavigated a massive lake of crystal blue water amidst the mountains, dotted by untouched brown islands. Then we passed through village after village, consisting of a few houses and many cows and donkeys each, on dirt roads that bounded up and down and ever loyally along each curve of a healthfully gushing river, seemingly shallow but unwelcoming with growling white rapids.
That river is more than your typical body of water. It is the international border between Tajikistan and Afghanistan, and for your humble Goulets, an open window into a land that's been reflected as an angry enemy for most of our lives. We were mere feet away. The Afghan side mirrored Tajikistan in beauty. Epic green and rocky mountains cascaded into the river below, largely quiet and uninhabited but for some scattered huts and villages connected by a rough goat trail. We were less than a stone's throw away (actually) but any intimidation quickly subsided to further awe. We would drive the sharp twists and turns and divots of the river border for two days and over 400 km, in almost constant sight of our Afghan neighbors looming overhead.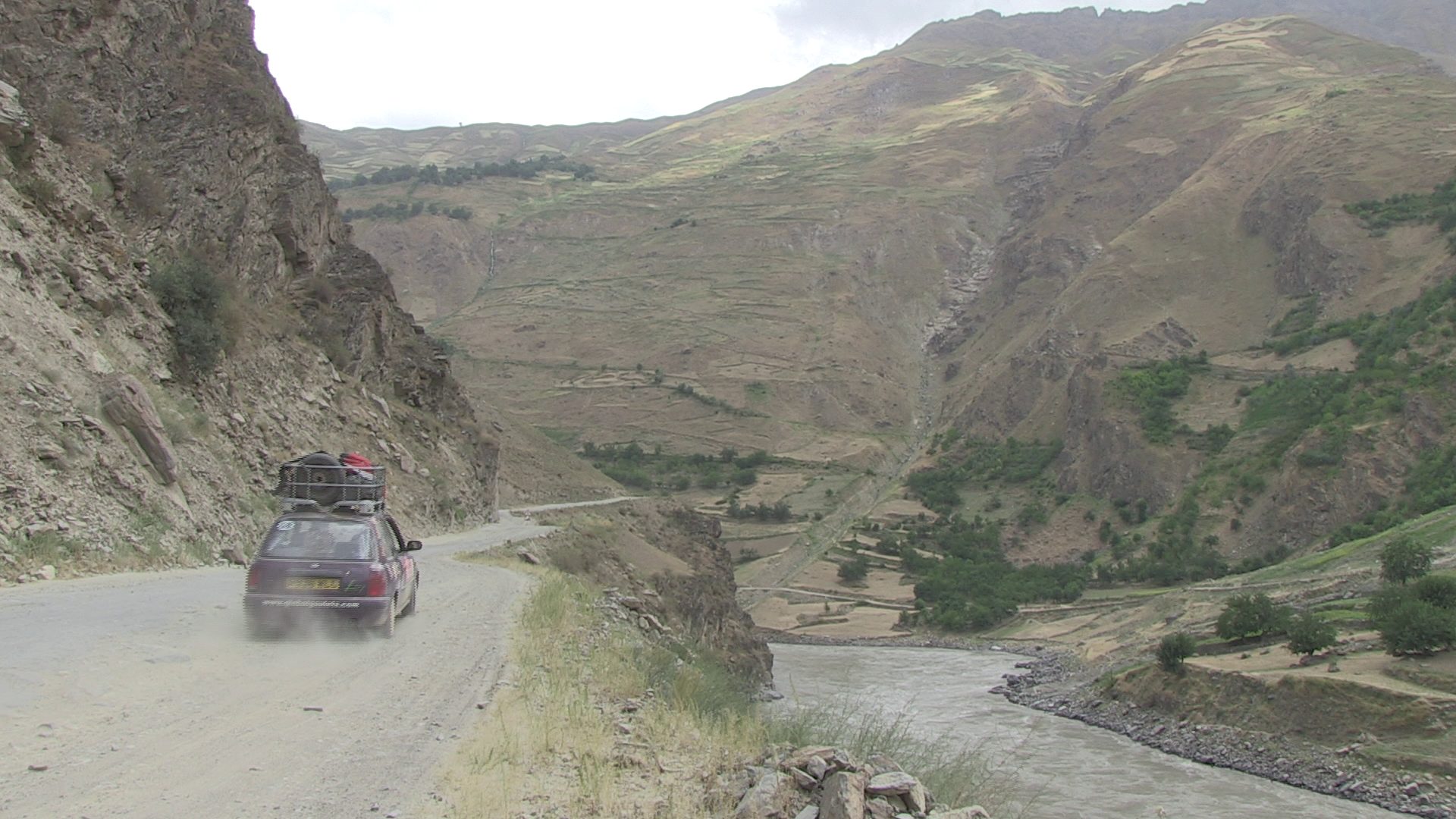 It was along this stretch, about three hours in from Kulob, that our Auto Goulet met a twist too many, stalled, and never woke up. The truck drivers behind us helped push us up the nearest hill and out of harm's way, but our girl would require a jump anytime we stalled or turned off the engine (and we stall a lot). Staring at days in the rough and remote Pamir Mountains with only three days before our strict visa deadline, your hopeless Goulets began shuddering at the thought of Tajiki prison food, and even worse- Tajiki prison wifi. We made the decision to return to Kulob and burn a full day of our precious visa time.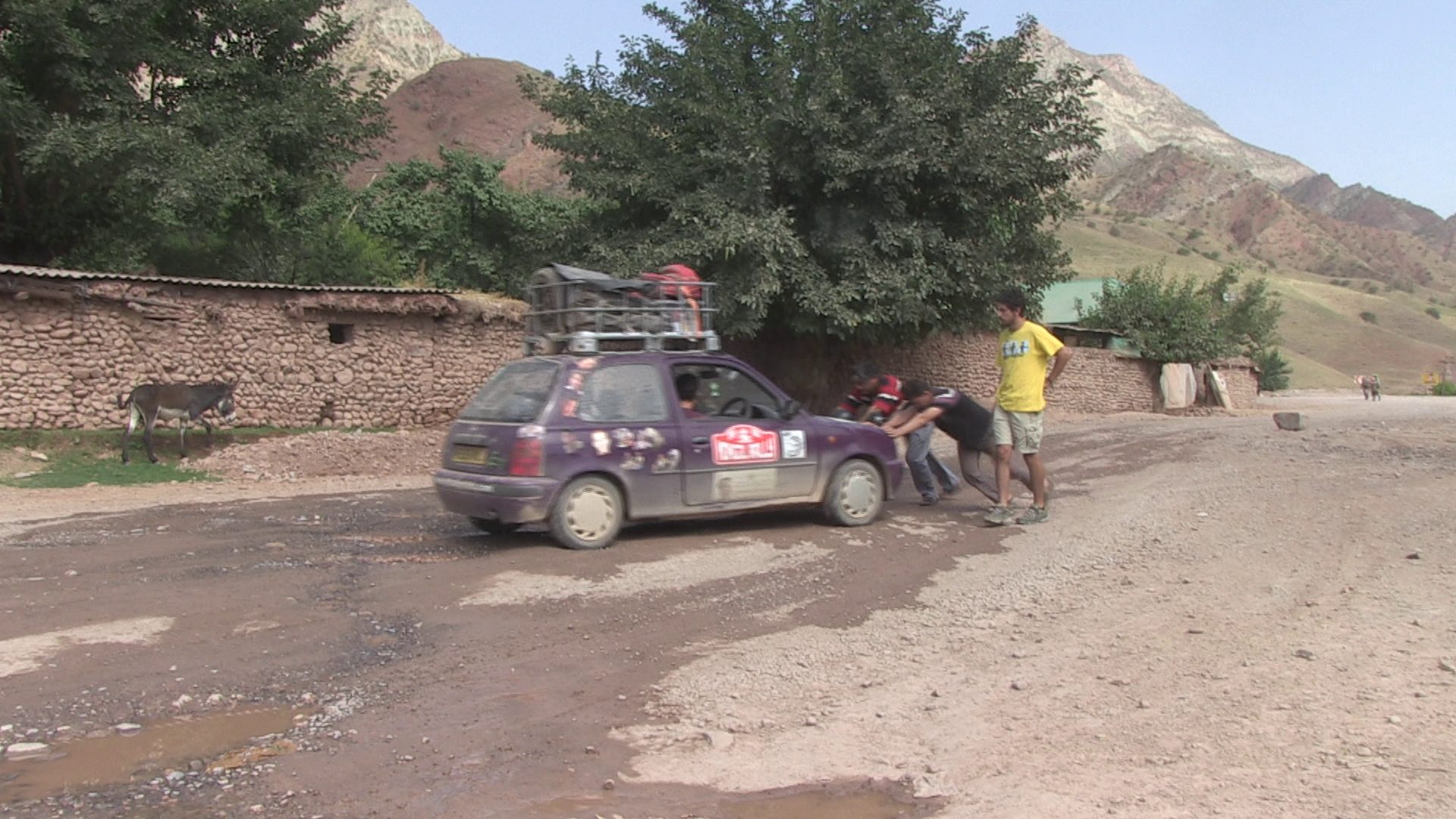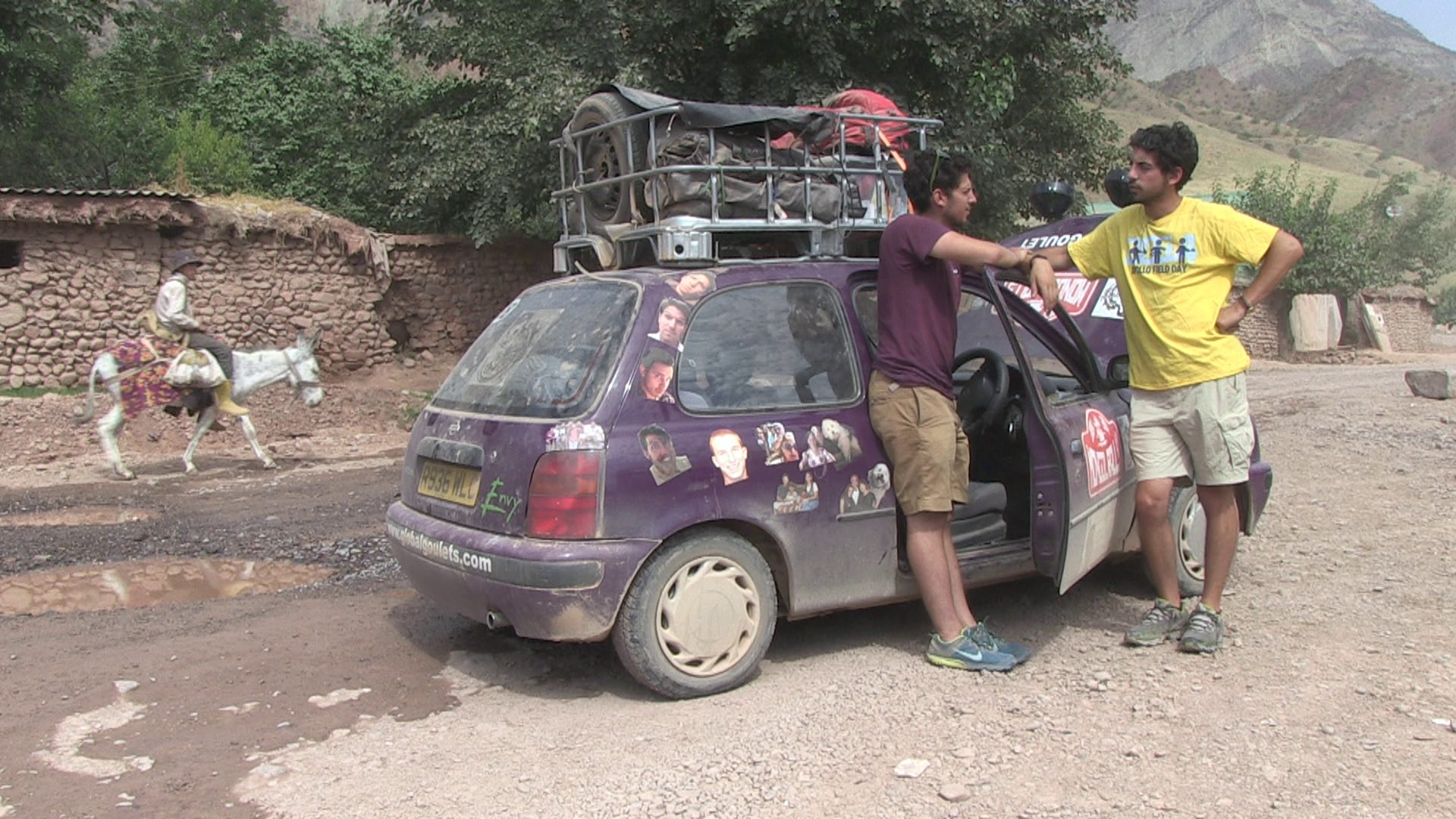 Back in Kulob, a local quickly gathered the need for a new car battery and escorted Brian hastily through the bowels of a grand bazaar, where everything from food to appliances to unheard of English-language CDs were on display. It didn't take long to find a new battery that would fit our car and budget. Meanwhile, Alex and Eric sat in the car outside and were gifted a watermelon from a local boy. But our helper wasn't satisfied. Instead, he jumped in our car like a true Goulet (hopping bravely through the window of our busted passenger door) and directed us down the street to a local mechanic.
For the rest of the long afternoon, the mechanic and his posse of loyal local school boys (wait a second, why weren't they in school on a weekday?), who would sprint to be first to his toolset and back every time he raised a need, paid close attention to their latest fascinating patient. We waited idly for hours while the mechanic fiddled with the alternator and even took us to a nearby spare parts yards where we were lucky to find a UK-made small matching piece. But after 4 hours of waiting (and 4 hours of good sunlight closer to Tajiki prison), the doctor, his assistants, and his patients were left frustrated. In the end, it was determined that it was just a battery issue, and we returned to the bazaar to buy the battery that was in Brian's hands hours ago.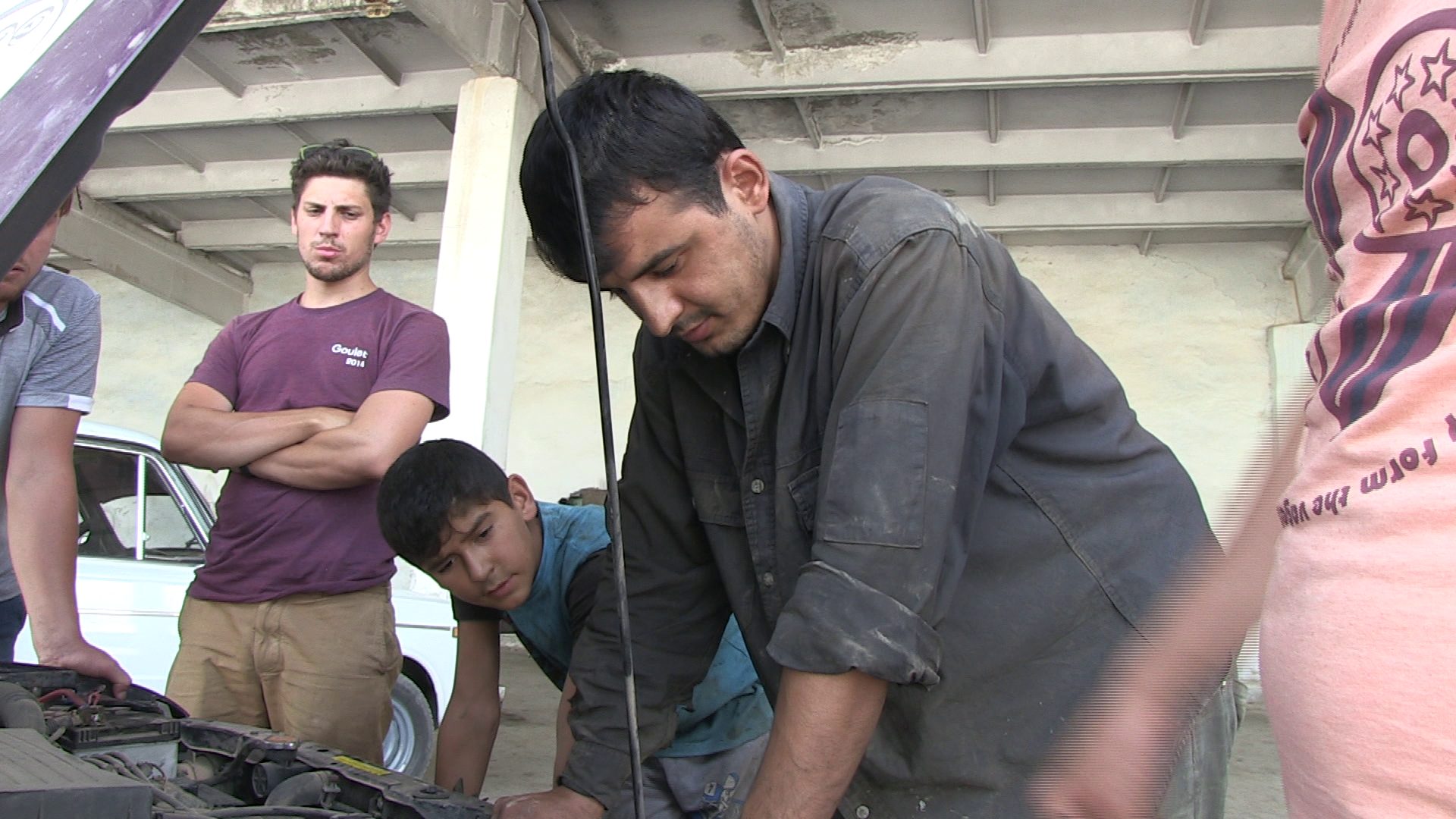 We set out again to recover our lost ground, only slightly confident in our new used battery. Along with a large herd of cows we crossed again into the GBAO region. This is a semi-autonomous chunk of land, famously disputed for by the British and Russian empires, now known for its notoriously difficult-to-control border with Afghanistan. We flashed the special GBAO permits in our passports and reentered this vast, remote mountain range.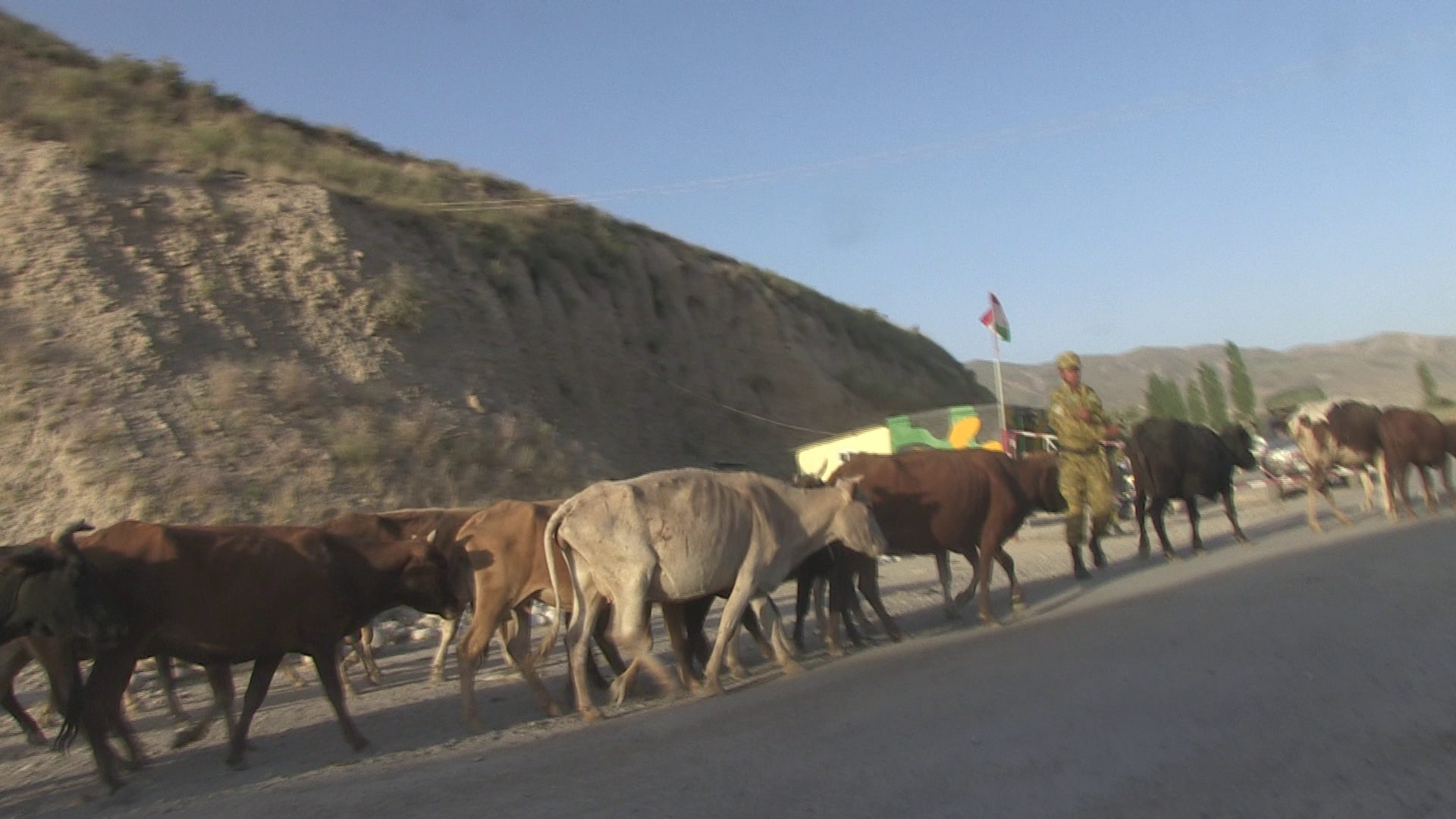 At the GBAO checkpoint, we met a fellow Rally team of Australians and a lone independent biker from Austria named Hanas. We decided to stick as a group that night. An hour later, we approached a cliff overlooking the river and conclusively knew it was our place to camp. We set up camp right on the Afghan border. It was a gorgeous spot and as the darkness set on Tajikistan and Afghanistan, a luminous display of the universe opened up over head. It was the peak of the annual mid-August asteroid show and we sat awake sipping vodka and watching shooting stars amaze us overhead.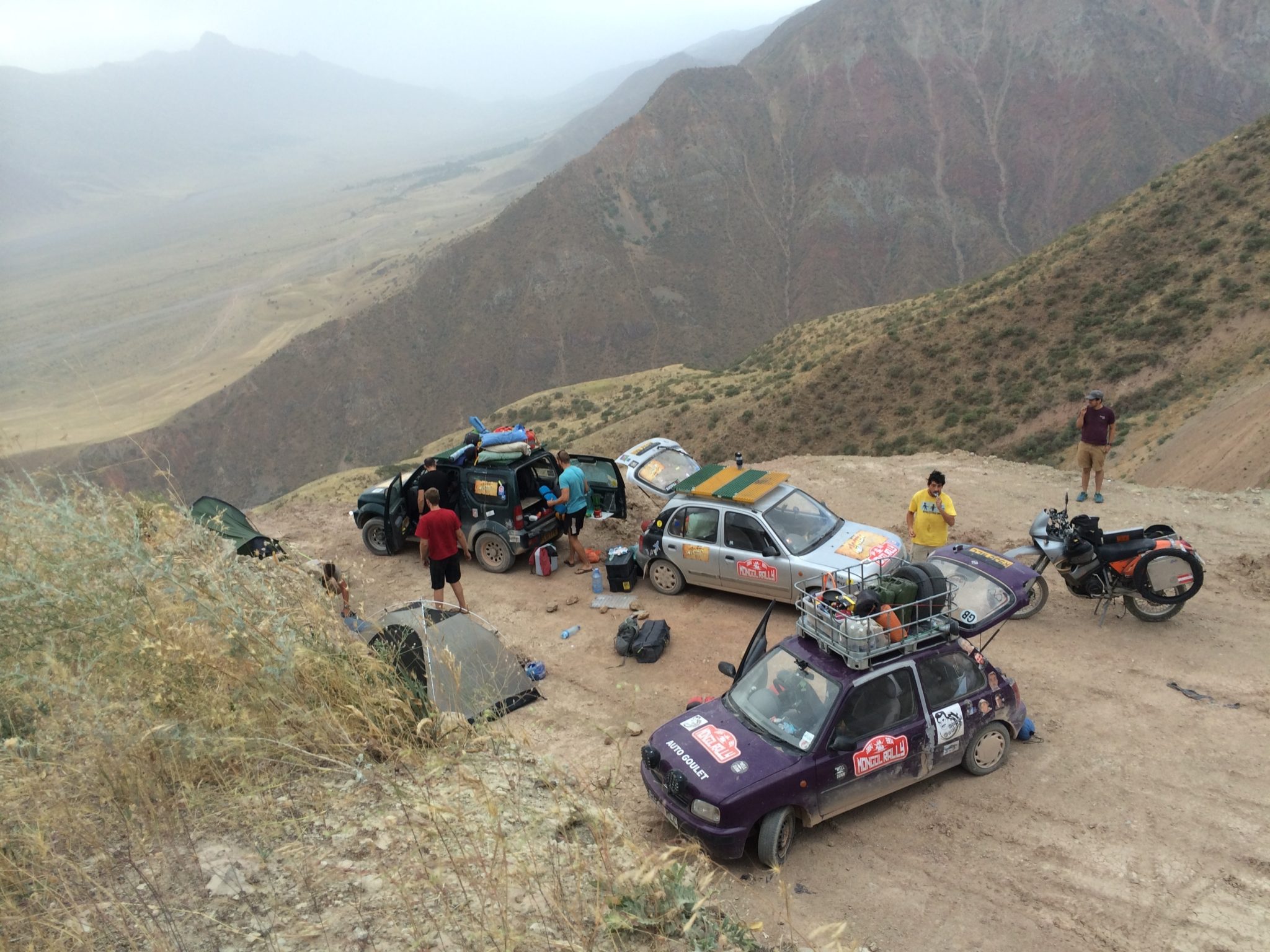 Little did we know our camping spot was a natural wind tunnel, and we spent most of the night fighting to keep our tent beneath us. Nathan, of the Australian team, had set his tent at the edge of the cliff and watched a long list of items fly past him and out into the blackness during the night. Fortunately we didn't lose anything worth crying about.
The next day we pressed forward, proudly passing the spot where our car battery died and trucking forward on the tough rocky road and tight edges around the Afghan river border. We were feeling good and constantly stunned by beauty each time we turned a corner.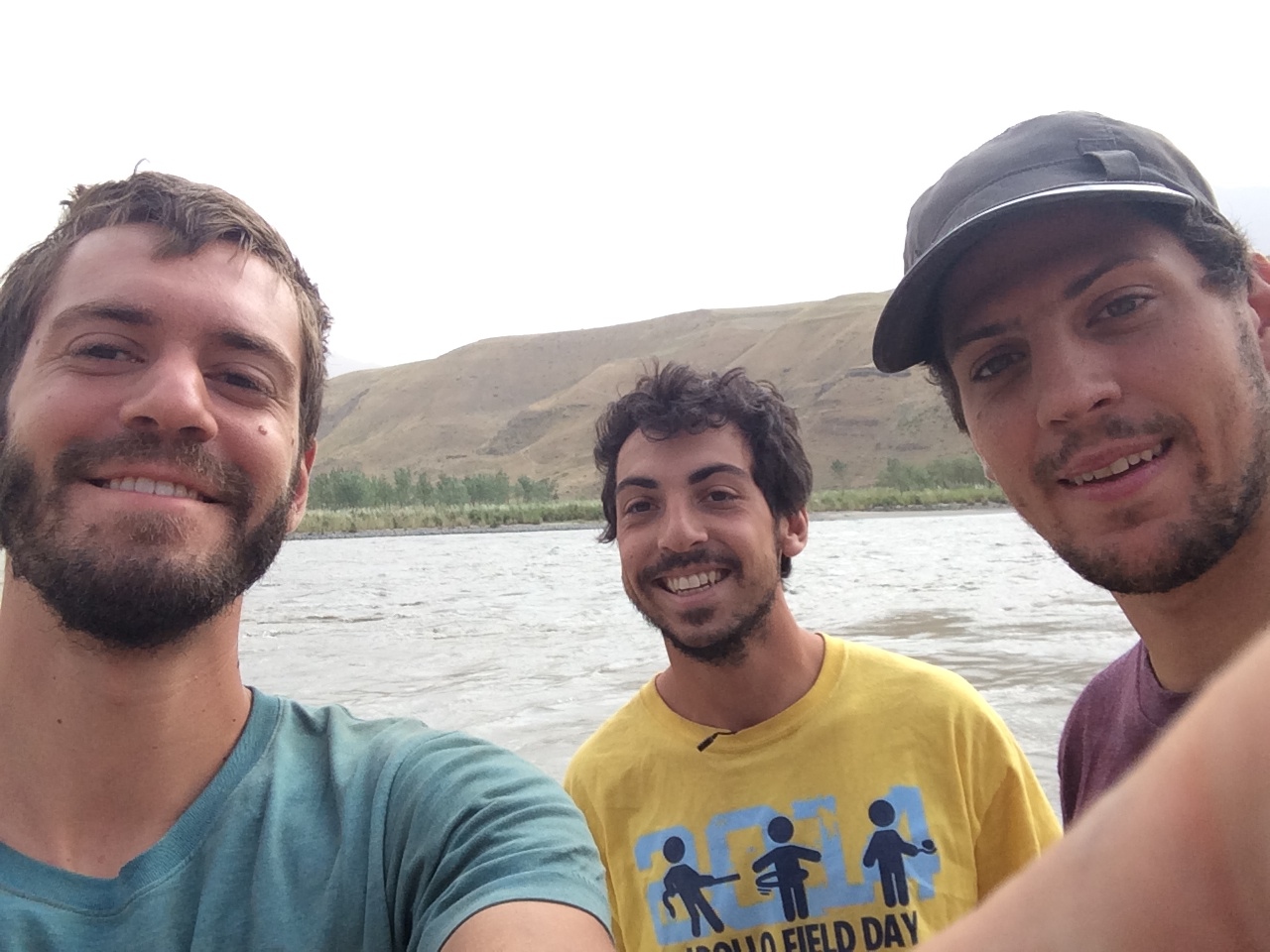 Sometimes, you just have to dance. There's nothing you can do about it. Sometimes, it's in the middle of absolutely nowhere. Sometimes, that nowhere is the border of Afghanistan.
We were bounding along the tight bumps and turns of the Tajikistan river border, making up for dear lost time, when our GoPro camera came bouncing off its mount on the dashboard of our car, tumbling down the windshield and landing right next to our front tire. No damage to the camera, phew. But we were missing a screw in the camera mount, impossibly small and irreplaceable. After a temporary panic, we popped open the hood of the car and hey – the screw was waiting for us neatly and patiently inside!
Relieved, it was time to count our blessings and move along. But Brian didn't budge. From inside the vehicle, in comes the opening beats of Michael Jackson's recent posthumous collaboration with Justin Timberlake, "Love Never Felt So Good."
"Brian, get in the car," they said. But it started in the shoulders. "Hold on," he said. Eric, halfway in the car, caught the bug. "We need to hold on," he said, and stood up abruptly. "You're right," Alex said, cranking the volume so the two Kings of Pop could conquer the Tajik and Afghan mountainsides. The fever was strong. Together, three crazed, ragged and bearded men danced like idiots outside their purple car in the middle of nowhere, in plain view of Afghanistan 40 feet across the open river. We noticed a small village on the other side. We pointed some moves in their direction. Sometimes, you just have to dance.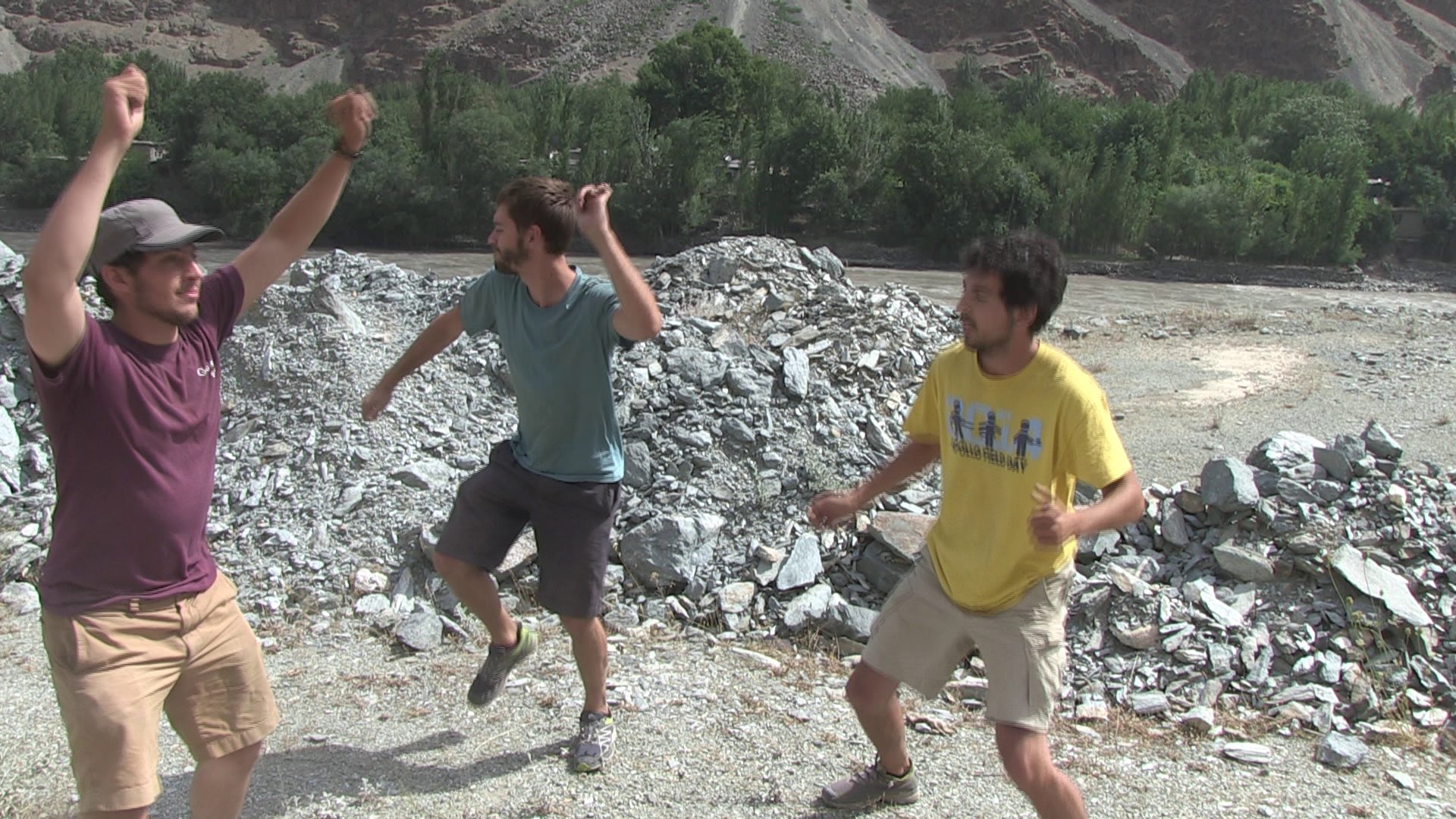 The Auto Goulet held up for the rest of the day. At one point, a Chinese trading truck got stuck on a tight, windy hill, delaying a long group of cars for more than an hour. Amazingly, the Pamir Mountain highway is the best shipping route for Chinese merchant trucks.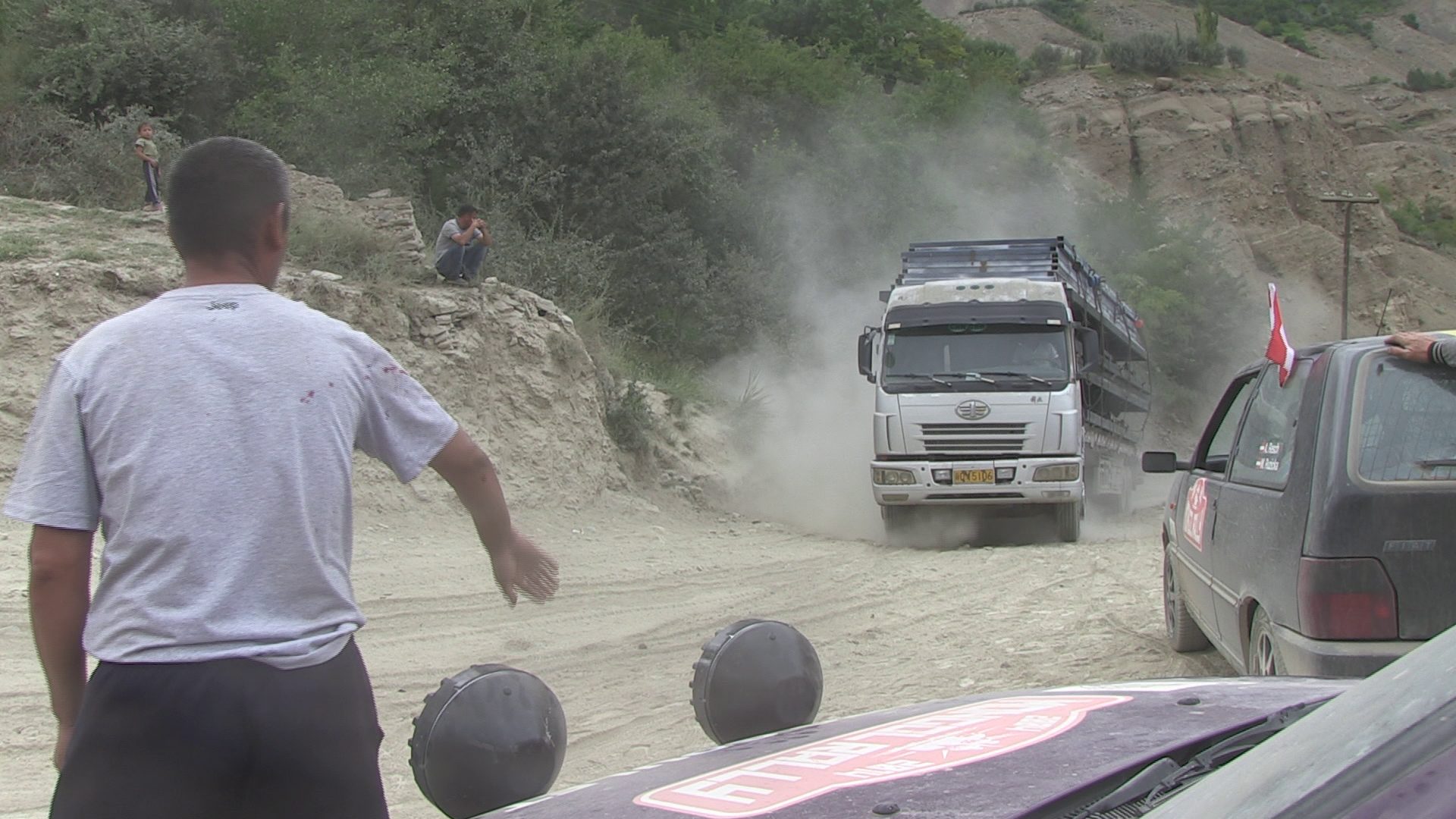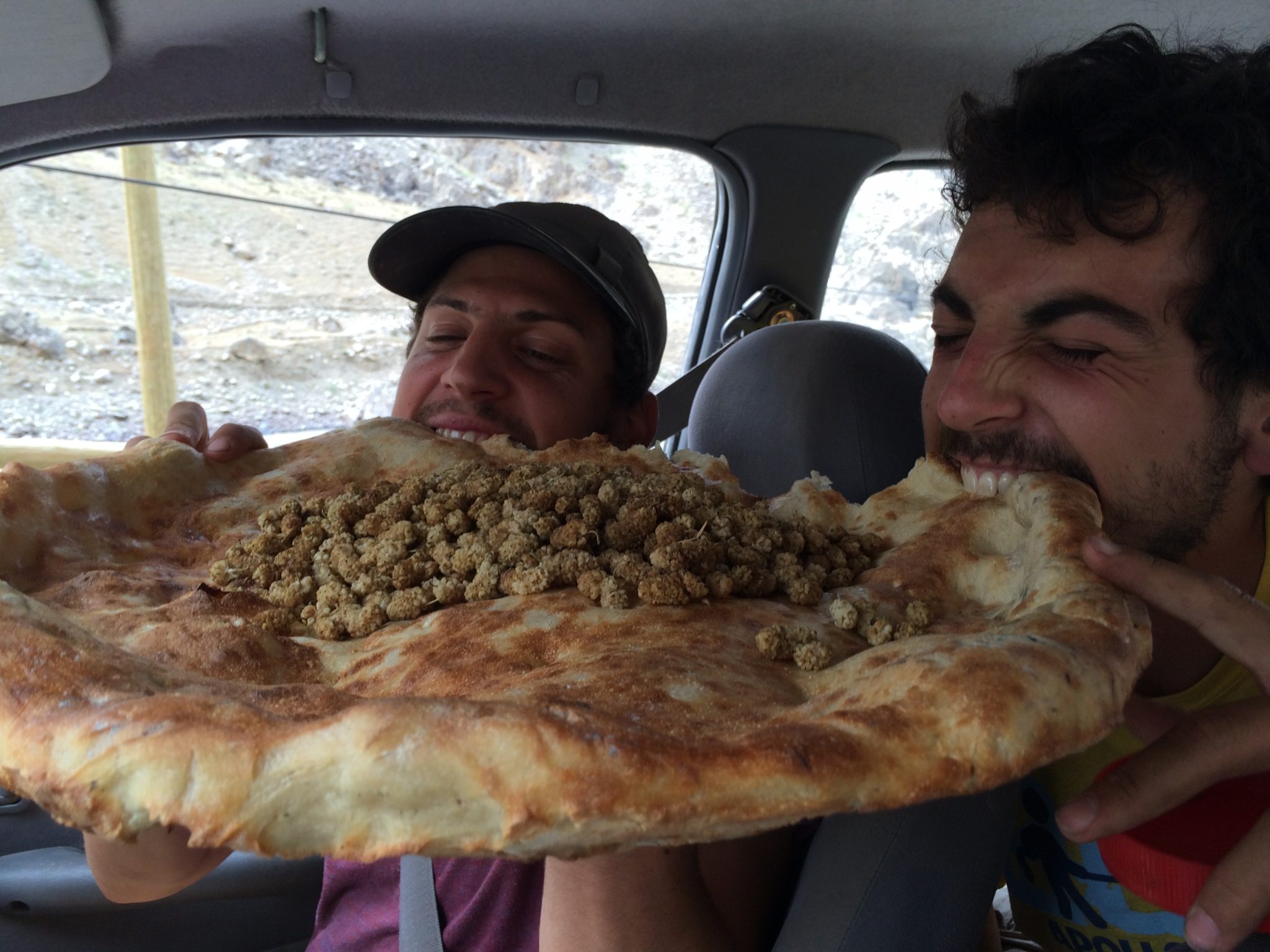 At dusk, we drove through a small roadside town and saw an Italian team of Ralliers fixing something on their car. We stopped to offer help. They were being dutifully assisted by a crew of non-English speaking townspeople.
We were startled then to hear the first clear English we'd heard in days. "What's up, guys?" said a friendly, perfectly accented voice. We turned to meet Sino, who would provide us a cherished lifelong memory and perhaps the greatest hospitality we received on the Rally.
Sino grew up in Rŭshan, the village we were passing through, but was given an education grant and has been studying/working in the San Francisco area for the past 6 years. He was in town for his brother's wedding. But on this night, the town was gathered for another special event – a baby had been born that morning and his father was throwing a grand party. "Would you like something to eat?" Sino asked. We couldn't refuse.
As the sky got dark, we were brought into the glowing lights and sounds of a massive party in the woods off the side of the road. Kids and adults danced to the DJ and ate meat and plov. We walked in and the crowd cleared space for us at a long dining table. We drank Tajikistan vodka and were escorted around the dance floor by men showing us some great Tajik moves.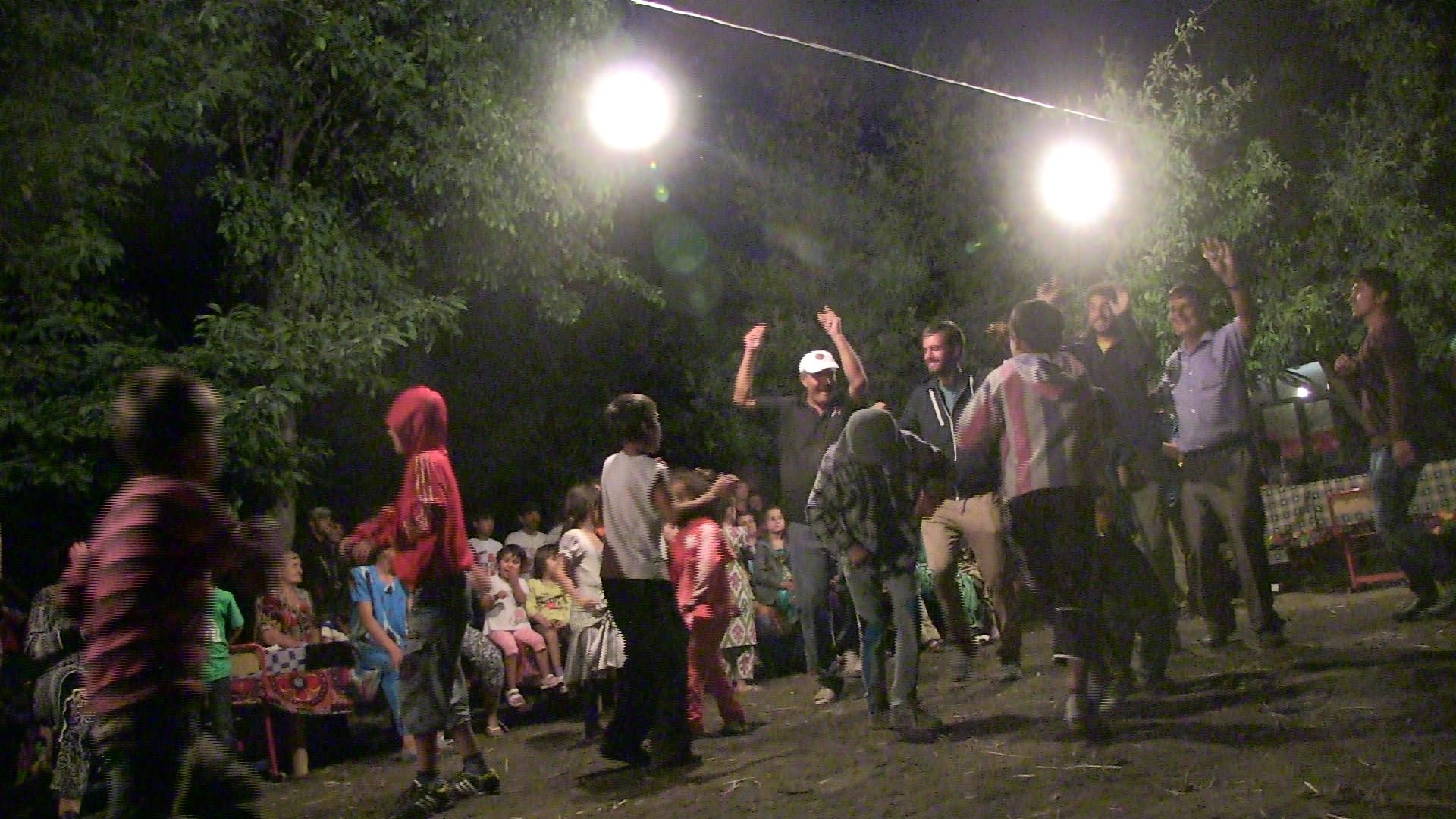 The town's German teacher, who spoke some English, asked if we'd like to make a toast to the baby, his father, and the party guests. We obliged. For the next 5 minutes, the music and dancing stopped, and we were escorted to the front of the party to be introduced. We clenched when, just feet from Afghanistan and within direct earshot, the loudspeakers proudly announced the arrival of 3 American guests. Then we took the mic and, with Sino as translator, thanked the family for the great party and our new friends for the innovative dance moves.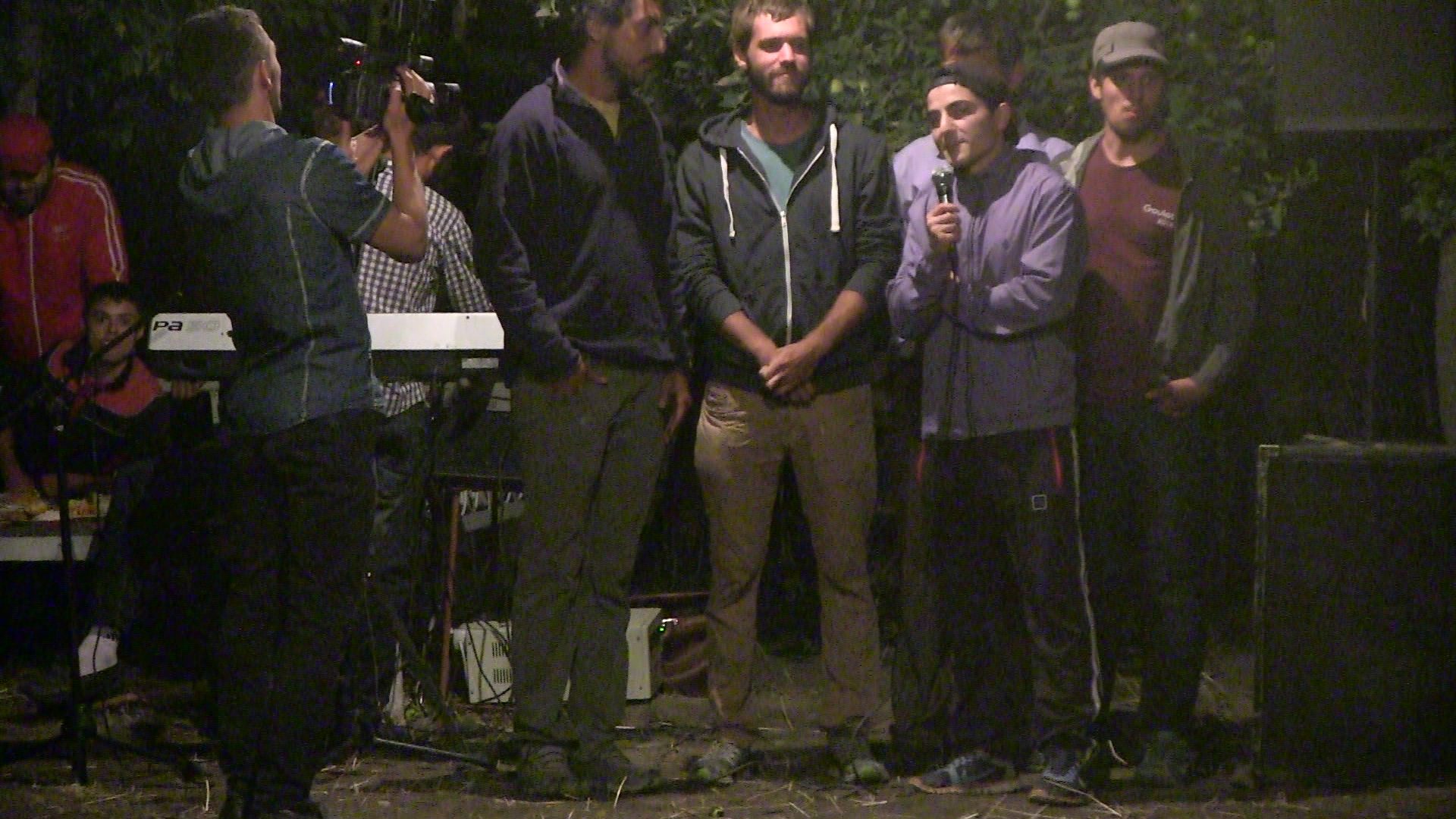 That night, we slept in feather mattresses on Sino's family's outdoor deck above their garden. We awoke to Sino plucking fresh tomatoes for breakfast, and we drank crisp water from their mountain spring. Once more, thanks to Sino and the town of Rŭshan, we headed back on the road that morning satiated with a much deeper appreciation for the meaning of true hospitality.