The following post details the Nowhere Men's journey from February 20 – 24:
You know that sensation when you first wake up. Those fuzzy questions that fade into consciousness upon the first breaths of day. Where am I? What day of the week is it? What's happening? On this day, the answers were dismaying.
Where am I? Somewhere in the forgotten highlands of Bolivia. Day of the week? No idea. What's happening? We are in deep doo doo.
When Alex opened the driver's door and Eric the passenger door, we looked down at a still sizable pool below. It hadn't rained, praise be Pachamama, but the weight of Velita overnight only served to further entrench her in the dire straights of the heavy clay.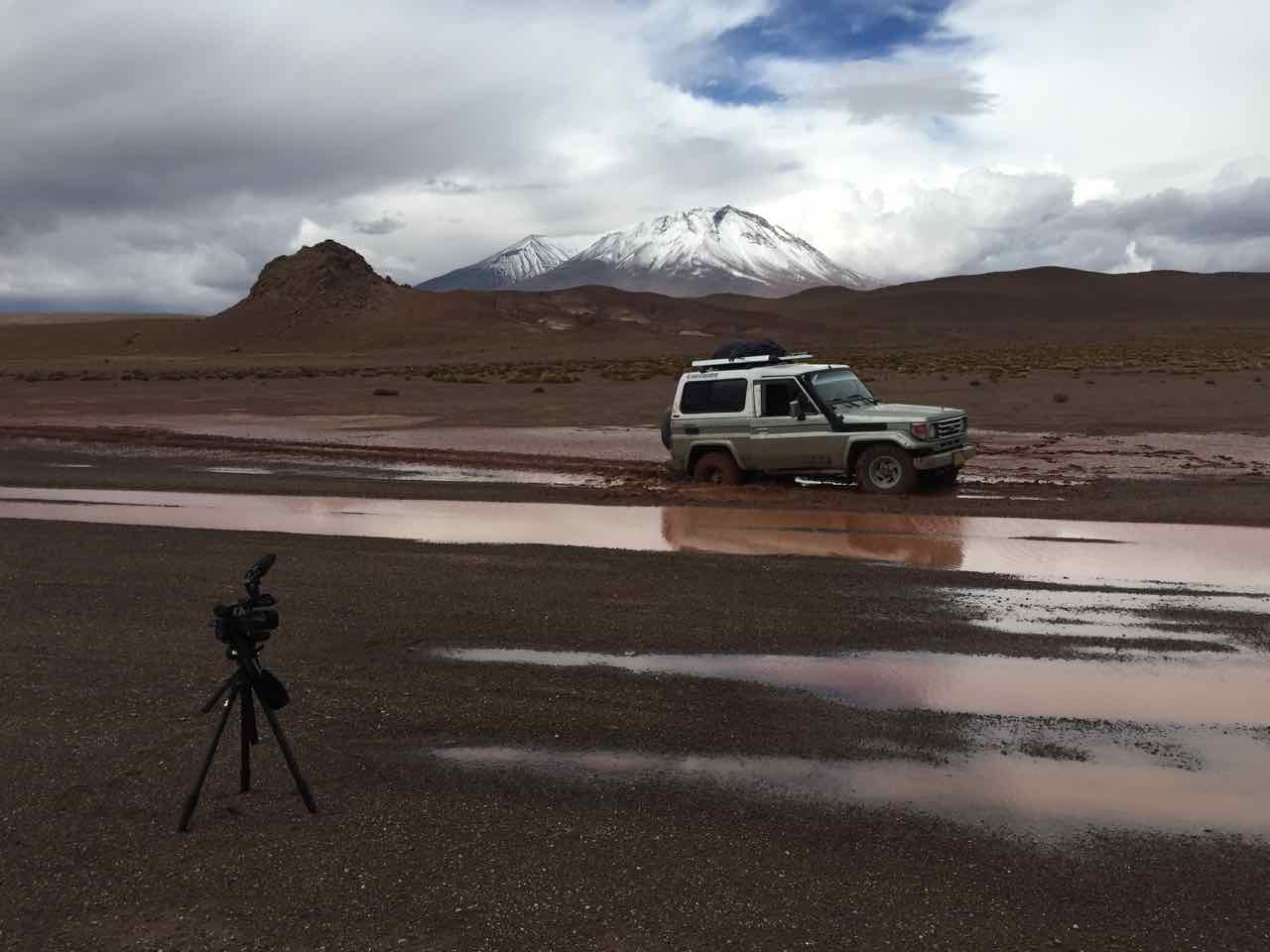 Our bodies were sore and unrested. If you've never had to sleep upright in a car, you aren't missing anything. We were groggy and the prospect of making coffee was low on the list of priorities, so we were also severely uncaffeinated. Our water supply was low and the egg crate was nearly empty. There wasn't even phone service that deep in the wilderness; this meant we couldn't turn on data to make a desperate emergency call for help if necessary. Today we had to get out or we'd be shifting into crisis mode soon.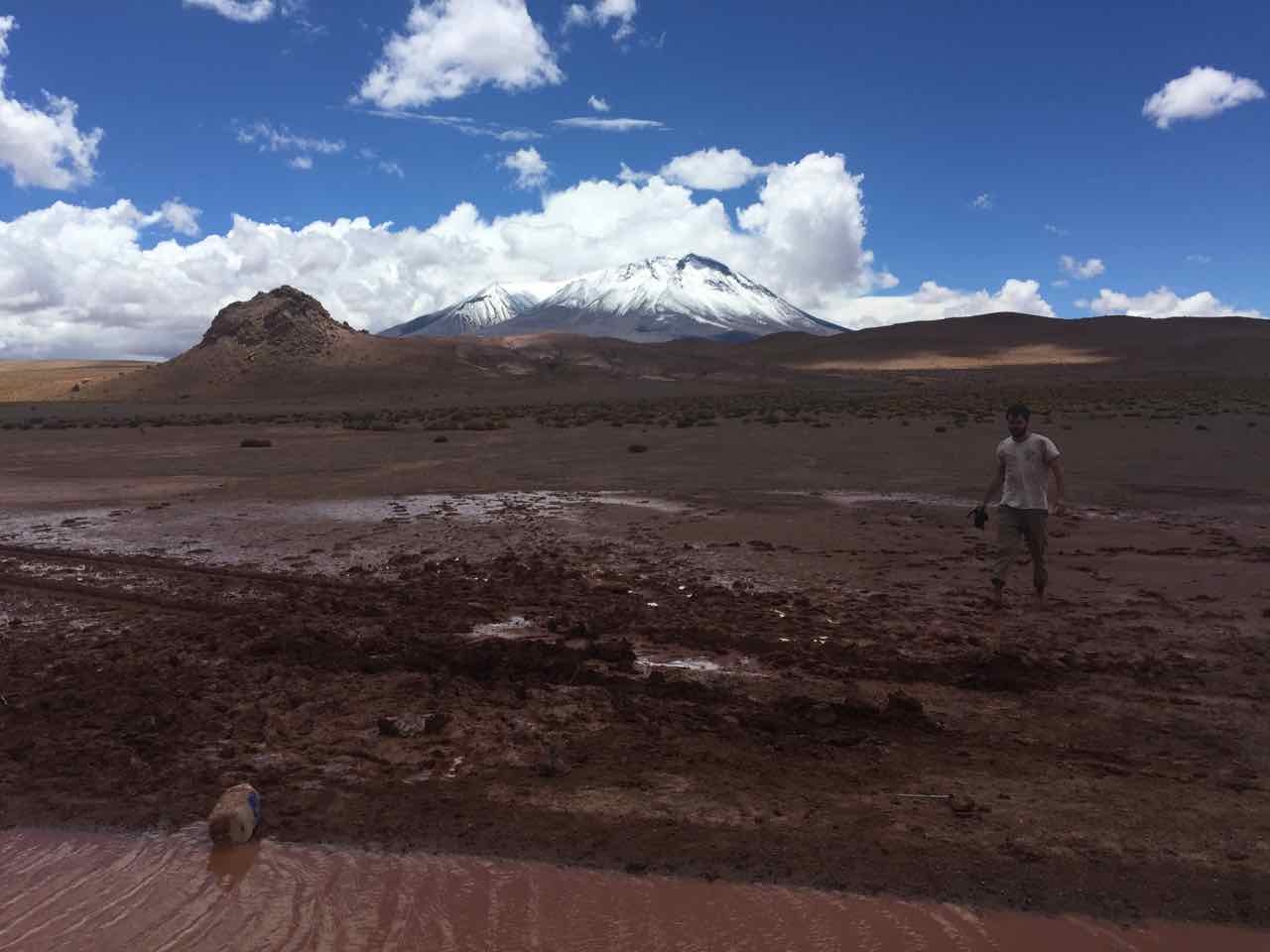 We thought that maybe if we used the car jack to lift us out of the mud it might somehow free us. It was a nice way to trick ourselves into a false sense of control. Nothing was working. Noon and a beating sun loomed.
It was tough to tell if that little dot in the distance was a car. It may have been a mirage, our eyes and prayers playing a trick on us. Or maybe it really was.
We honked the horn and didn't stop until we had their attention. "Hey, over here!" we shouted to no one. Off in the distance what might have been a tiny dot of a person walked over to what might have been a car-shaped dot. Then that little dot started moving towards us. Simultaneously, from the other direction, a fleet of 3 cars kicked up dust over the horizon. Help on the way!
Each car, one at a time, rolled up to us and rolled down their windows.
"We're stuck! We've been here since 4pm yesterday and can't get out. Do you have a tow rope?"
We imagined that surely someone would have a towrope. But one after the next shook their heads. Our hopes deflated in a flash.
A couple of the 4x4s at least had the courtesy to stop and give us a hand. The drivers of 2 of the cars began thinking outside of the box. They told us to cut out our seat belts to create a makeshift towrope. We did it, but they would just snap when we tried to yank us out of our rut. After about 10 minutes one of the tour groups left, insisting they were on a time crunch.
Reuben's group was our last hope. This small but relentless Aymará man had a car filled with some Korean tourists, a quiet retiree, and a mother-daughter duo from Santiago. Pilar, the mom, had the perseverance we needed.
After cutting out the passenger seatbelt, Pilar asked if she could try getting behind the wheel for the next effort to free Velita. Strapped up to the group's land cruiser in front, we 3 surrounded the car's body and pushed. At last, a small shift released the first faint glimpse of hope that this mission was possible. Then, the seatbelt again snapped.
From the sidelines, Pilar's daughter Mica offered up a revolutionary suggestion.
"Saca el piso del frente. La cosa goma." A worthwhile idea. We removed the car mat and tucked it under the back left tire, the one in the most precarious state. The rubber might provide the traction on which that tire could grab a hold.
A hush and whispered jitters permeated amongst us all, like a ballpark on the precipice of a World Series win. 2 outs, bottom 9. Pilar set the car into first gear. We, the position players, got ready. Eyes focused on the play. The pitch.
In unison, Reuben and Pilar stepped on the throttle. On Velita's sides, we lifted and shoved. Working from the car's passenger side, Eric could see Pilar's eyes light up in sheer determination. The car squirmed and shifted, like an escapist fighting a straight jacket. A confluence of energy coalesced to lift Velita from the crude depths of the Earth out and onto dried land. Free at last.
Pilar ran out from the car, arms waving in the air. We mobbed her, a dogpile on the pitcher's mound, celebrating our hard-fought victory. The exhilaration of triumph. The relief of reprieve. Champions!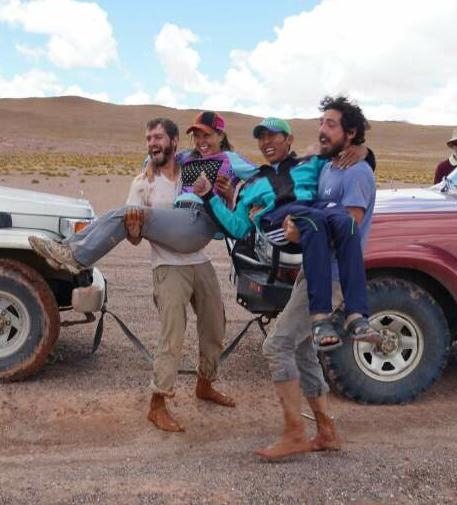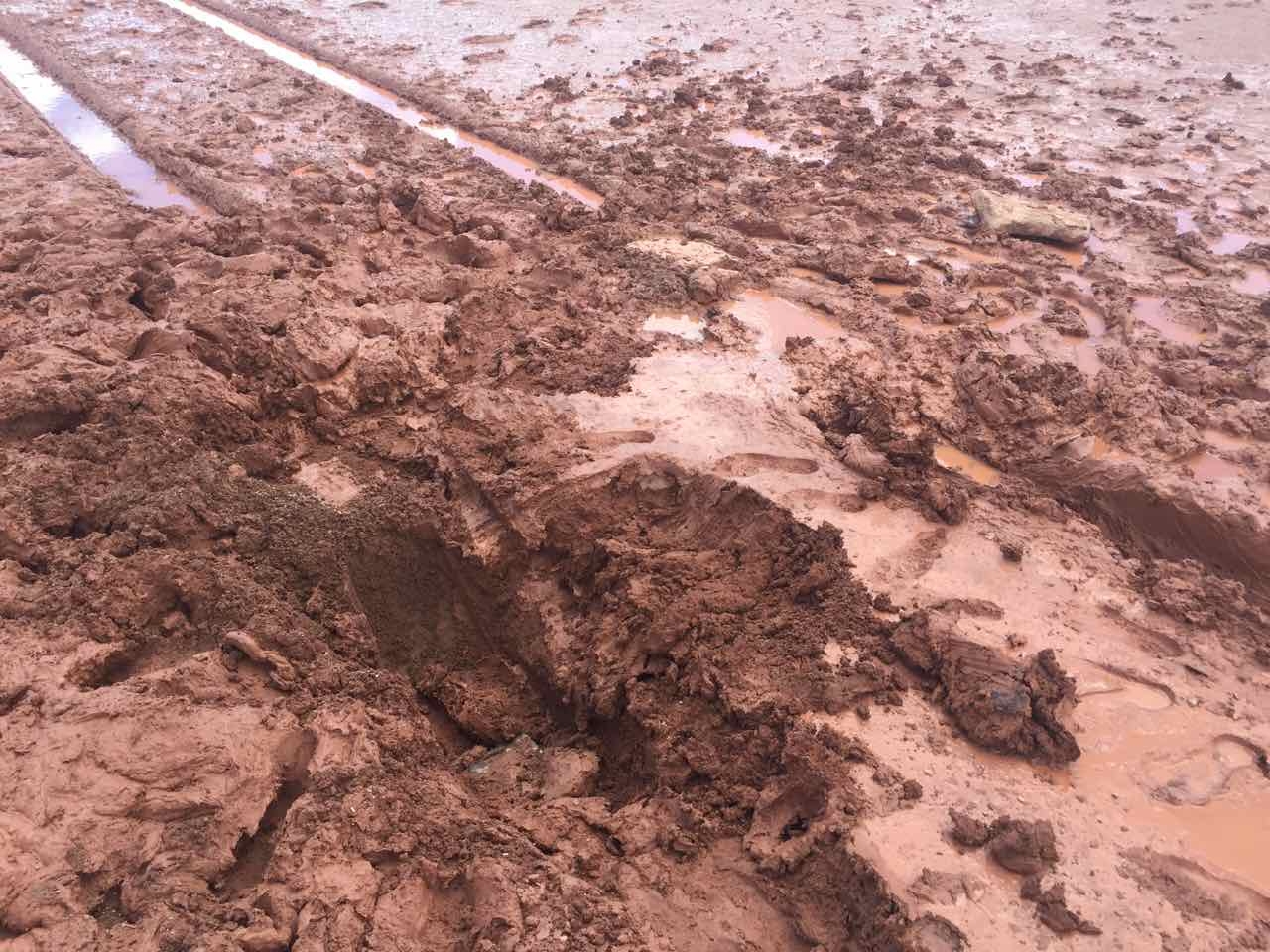 We limped off the field, out of the stadium and out of sight. Nearby, at the other end of the Laguna, what had just been minuscule dots in the distance back where we we'd been stuck turned out to be a bustling tourist lunch spot. We ferociously devoured a series of simple chicken sandwiches, radiating with joy at what we'd overcome.
When we walked back to the car, it was time to take a serious look at the damage inflicted. The cut-out seat belts were the least of our worries. The front tires could not lock into their 4×4 setting, meaning all we had was the power of the back tires. The car drooped blatantly and brutally to the right, like a stroke victim. We didn't know much, but we knew this meant the suspension was completely shot. Our other problems ranged from the hanging side-view mirror to the dismounted radio to the sputtering start to the engine. There was more, plenty more, but we knew there was at least a few hundred miles until we could rendezvous with a knowledgeable mechanic.
That afternoon encompassed our full-fledged tour of Ruta de las Lagunas. We traversed extraordinary pockets of Earth, passing multicolored laguna pools, taking whichever warn dirt path seemed the most beaten and least resistant in a series of interwoven and arrhythmic roads. The washboard terrain wrestled torrentially with Velita. We braced each big bolder in the road by hanging on to the car's handles, bumping our butts off the seats. Outside our car windows the blistering red sand blew around the sand dunes and rolling mountains that could make for a perfectly ideal major motion picture setting for Mars.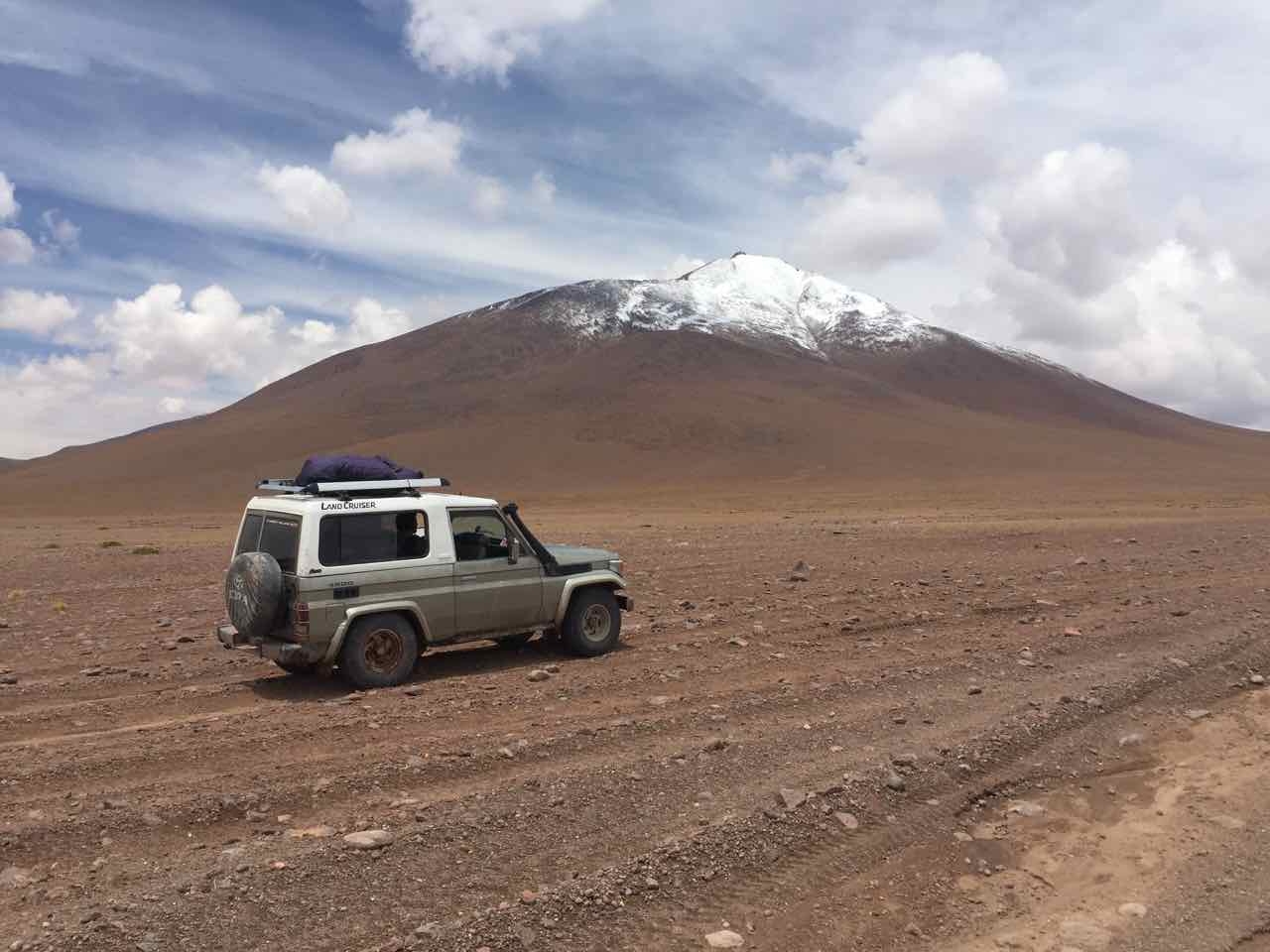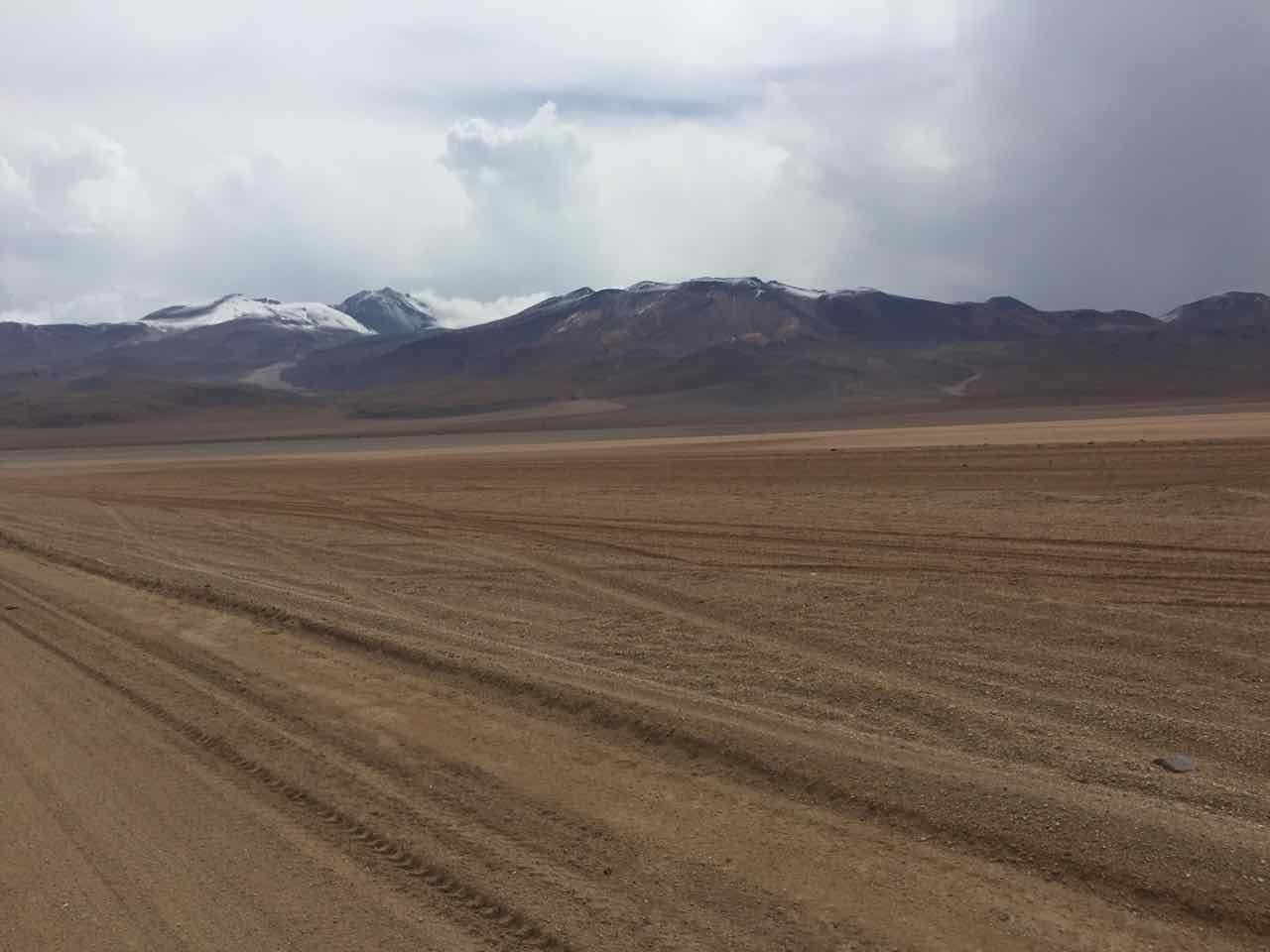 At night we slept at the national park entrance office alongside Laguna Colorada. The ranger on duty, Juan, kindly welcomed us to sleep inside so as to stay dry from the heavy storm that rained away the night. After the miserable slumber the night before during which we'd been locked inside Velita's confines, a warm and horizontal sleep was all we could dream of.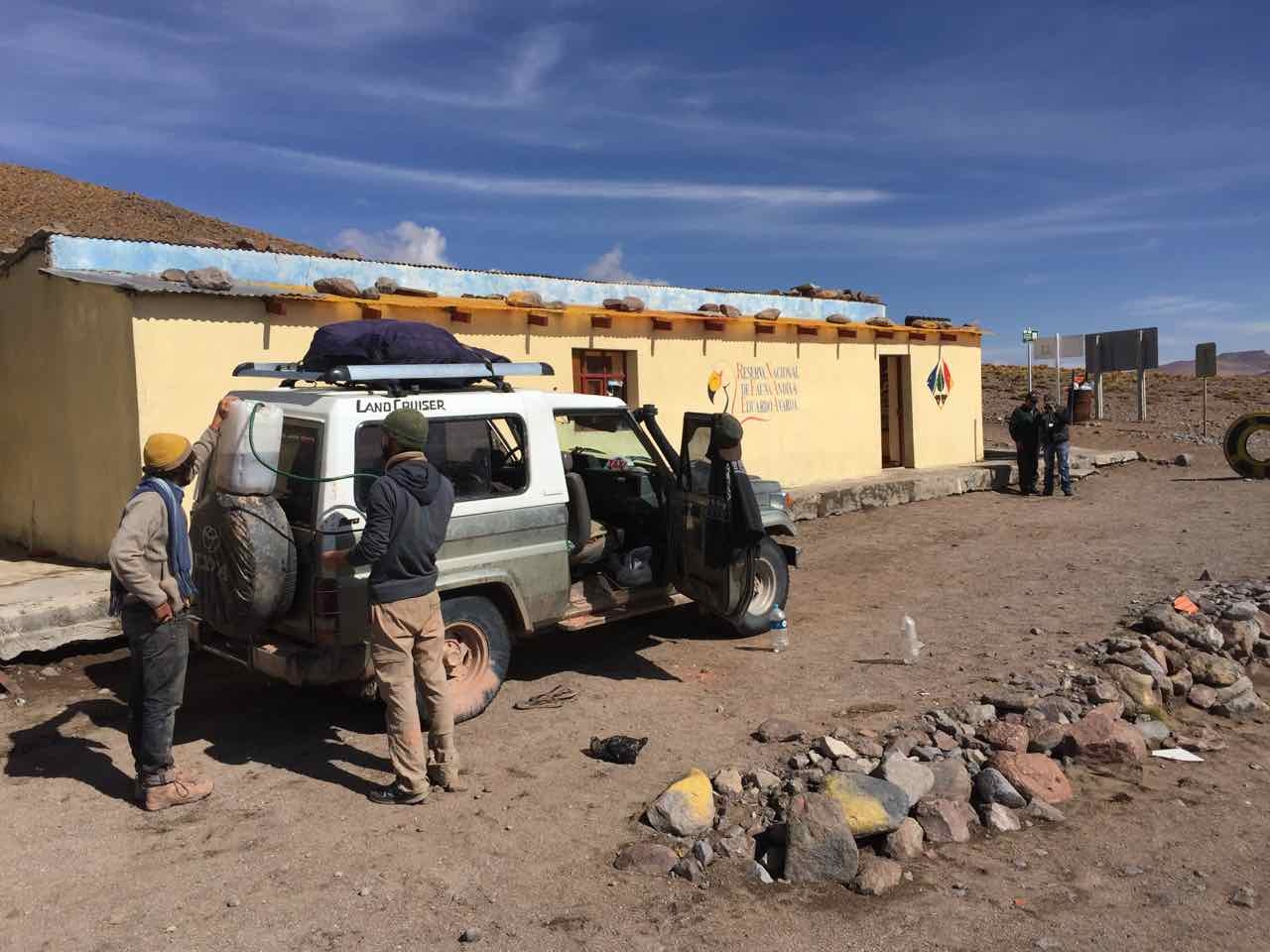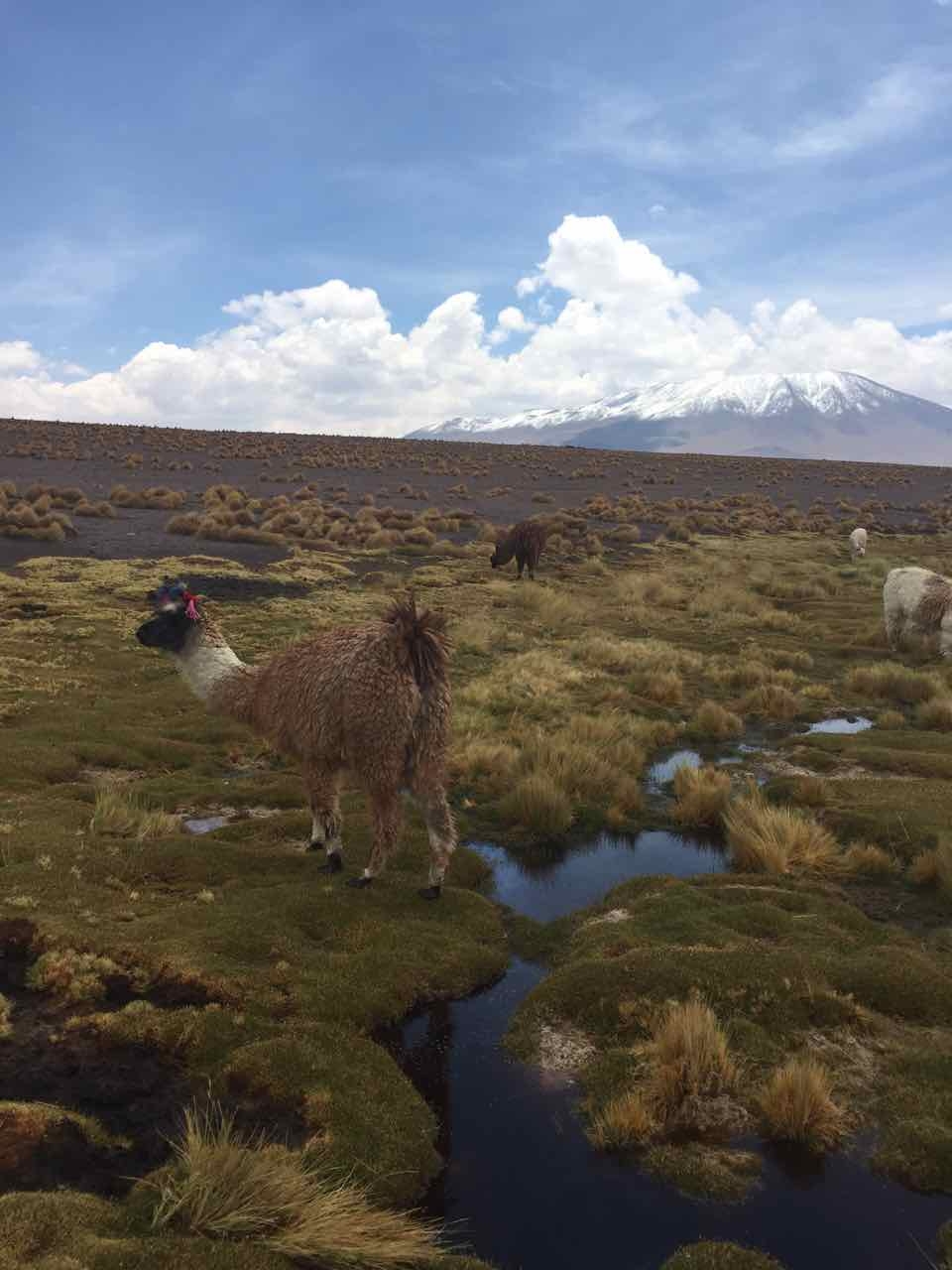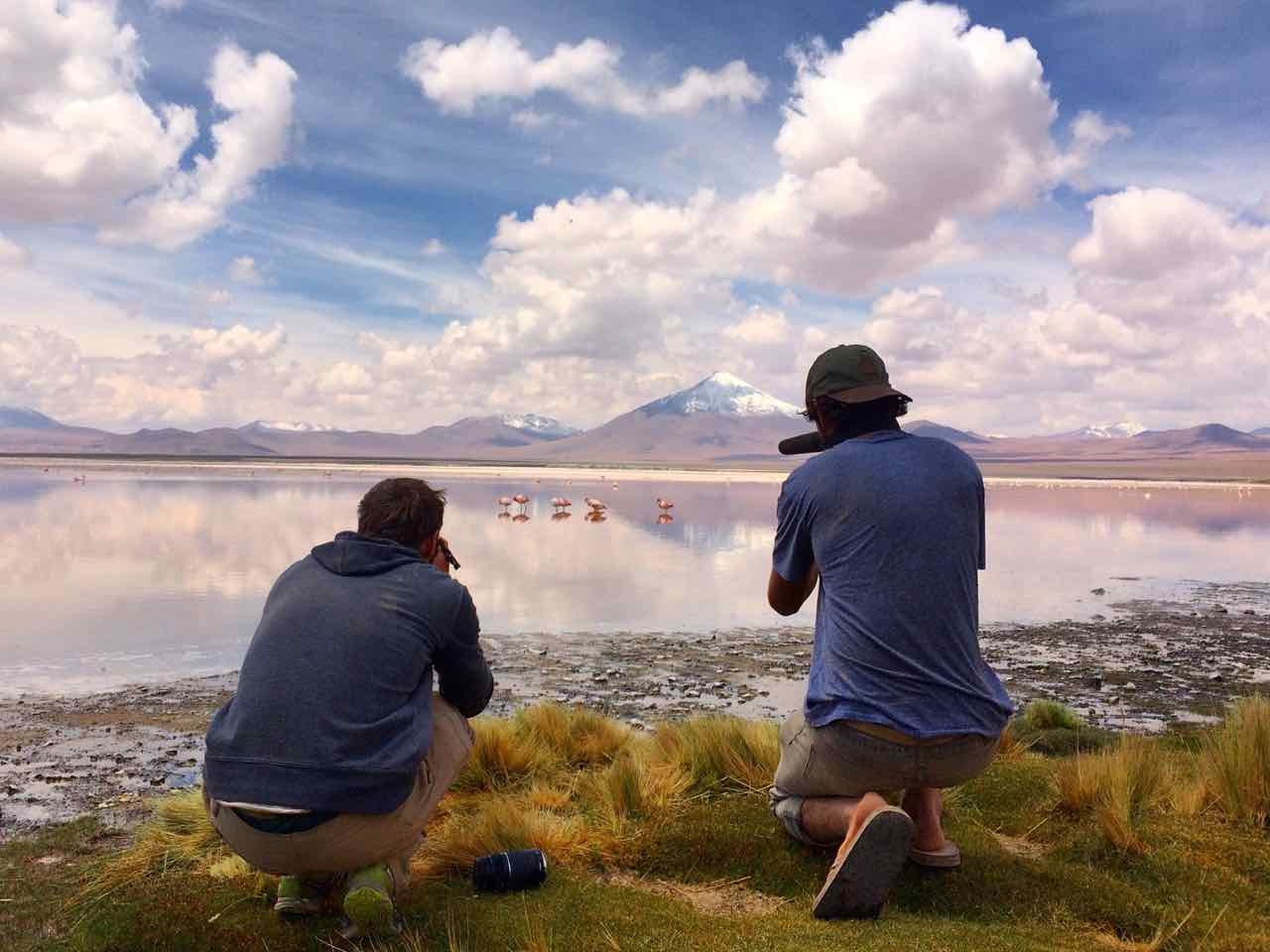 We had a quarter of a tank of gas left to carry us to San Pedro de Atacama, on the Chilean side. On this final day in Bolivia, we drove past magical snow-capped mountains, grazing llamas and vacuna, stick-legged flamingos, and about as much raw, untainted nature as can be seen on our ever-developing planet.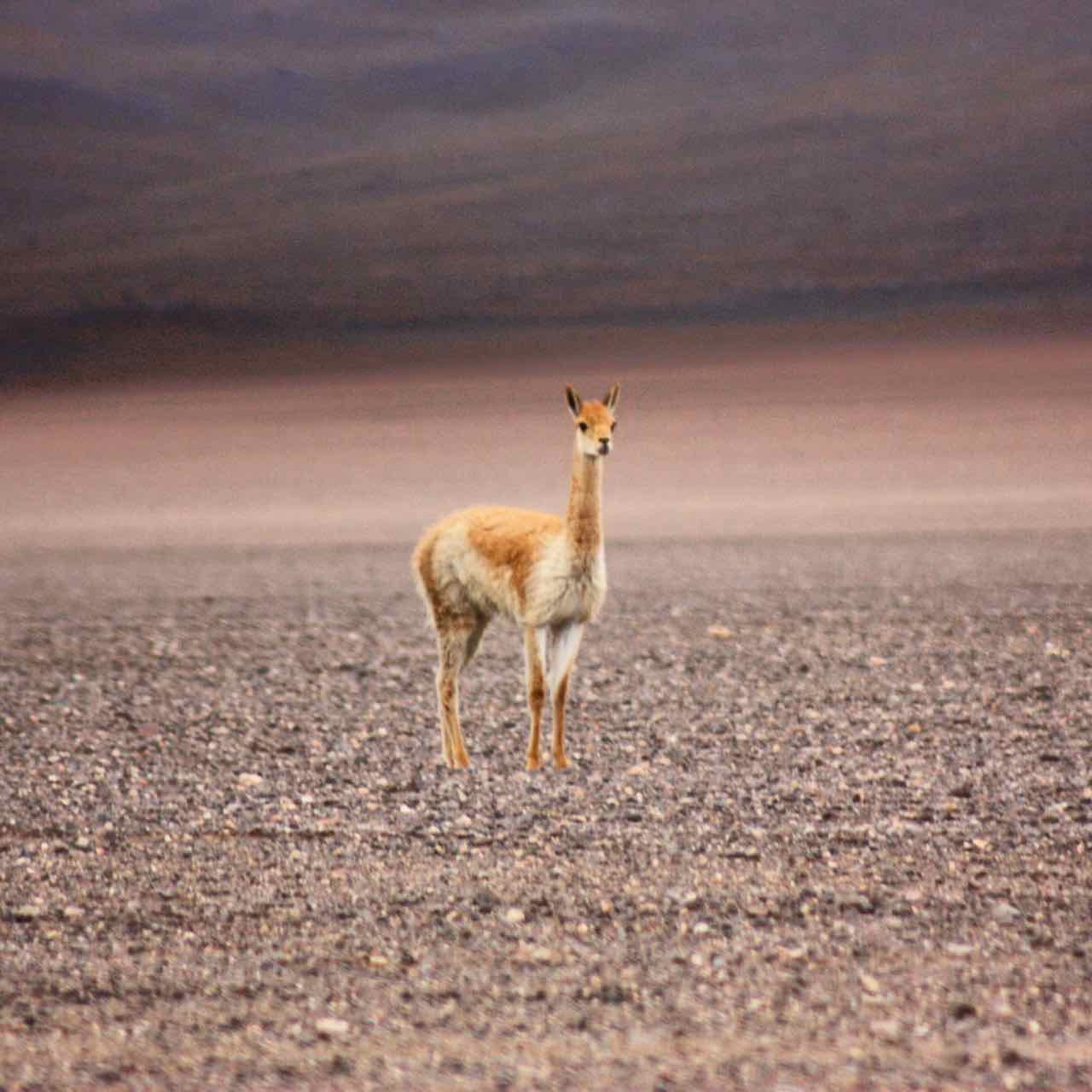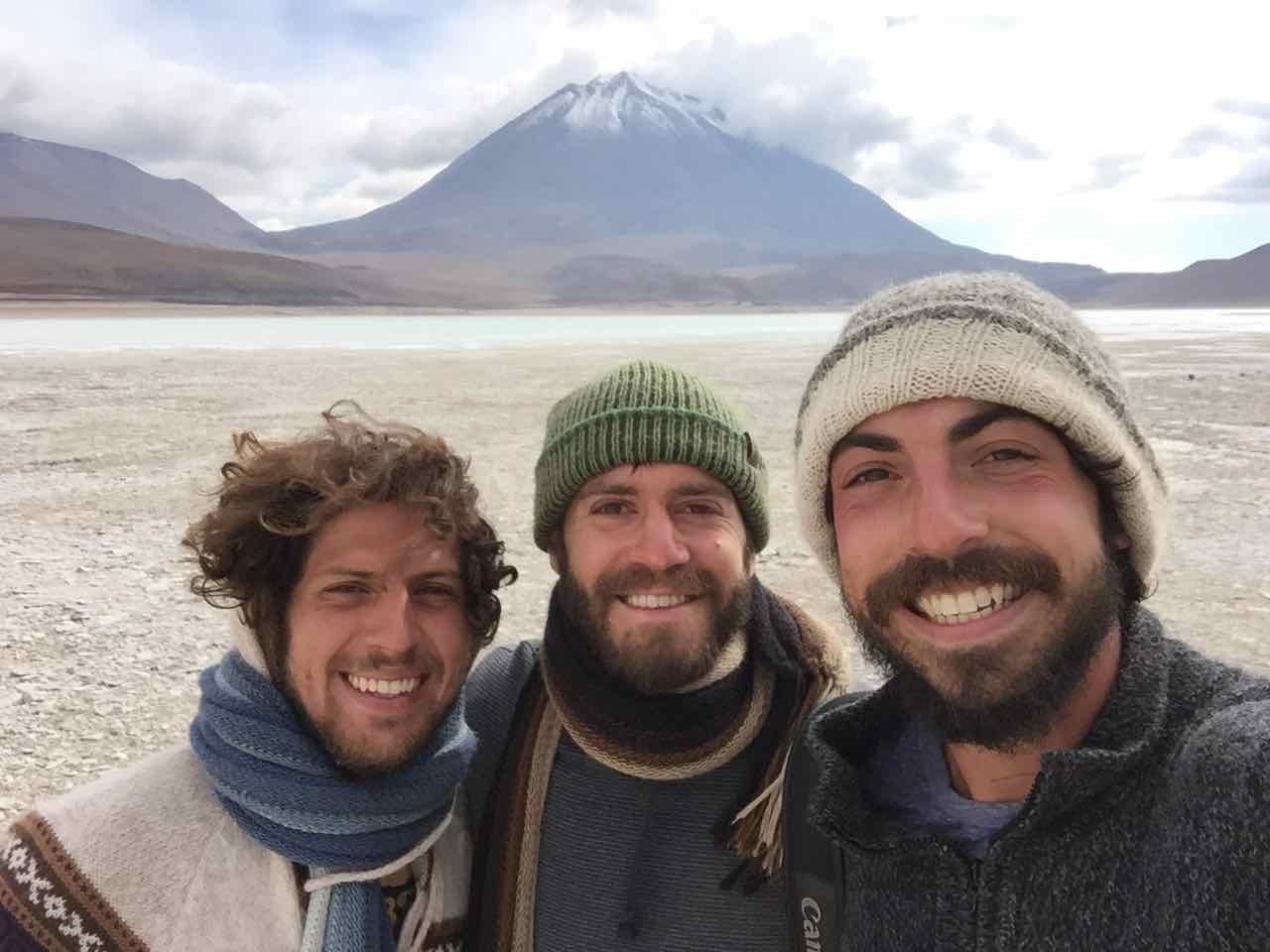 Over 4,000 meters above sea level, we reached the border with Chile, our gaslight pleading for replenishment. Our only hope was to shift Velita into neutral and let her roll on powerlessly a couple thousand meters to the desert. We pulled into town with the gas meter sitting on its floor.
San Pedro would have been an incredible fun place for us had we had a few dollars to toss around. The cruel reality of this tourist town was that no food options reached our rock-bottom range, nor did any hostels or campsites. Instead, we moaned at the prospect of overpriced empanadas and after a several hour campsite search, angrily admitted we'd have to sleep in the car. The midnight onslaught of mosquitos didn't make anything better.
San Pedro de Atacama was supposed to be a desirable destination for us. It wasn't. All of the nearby tourist sights were either closed down or way out of our price range. All we could afford was the free, roadside view of the otherworldly Valle de la Luna (Valley of the Moon). We had to just give up on this place and pray for better fortunes in what we anticipated to be our next stop, Chile's capital Santiago.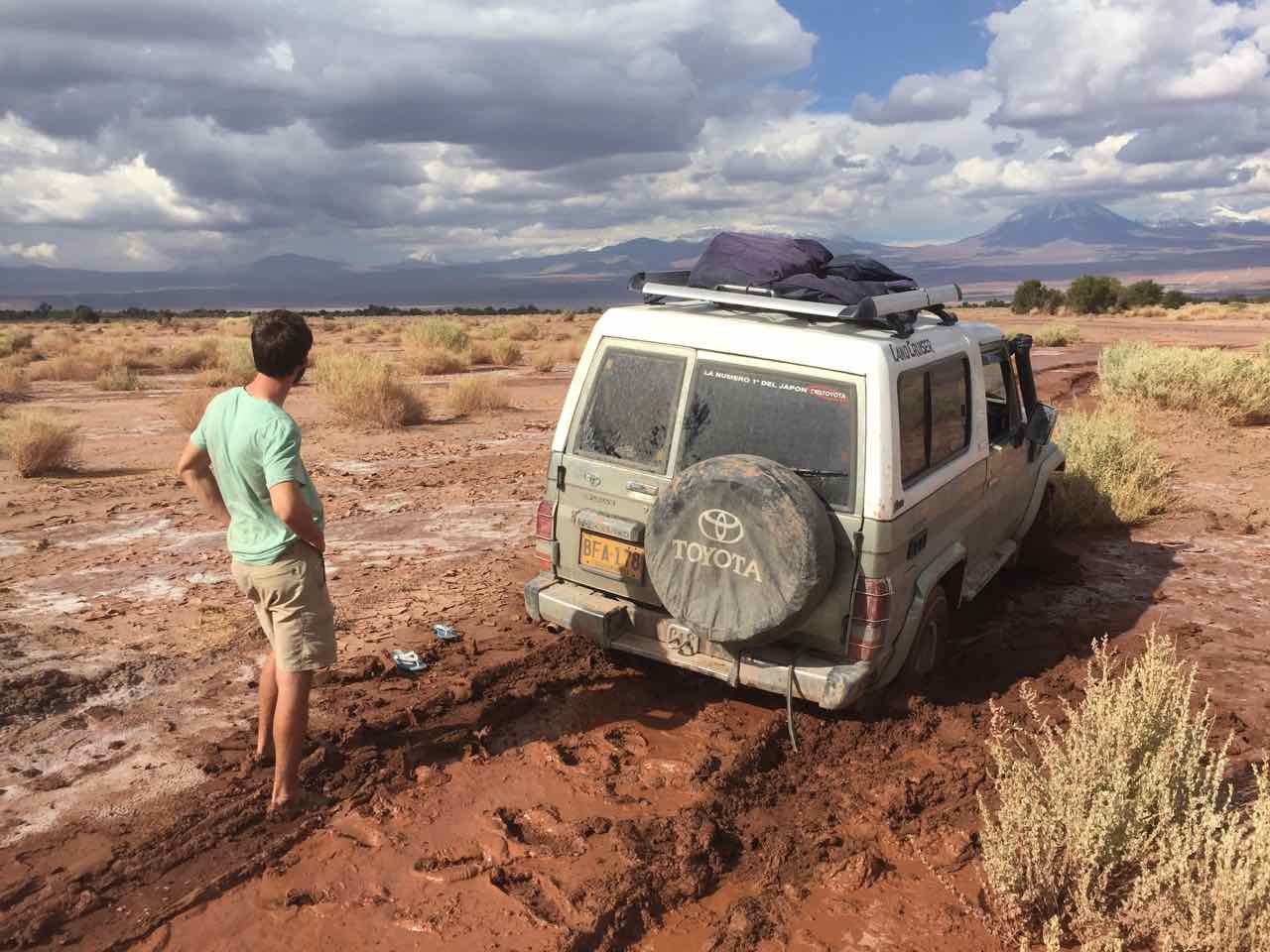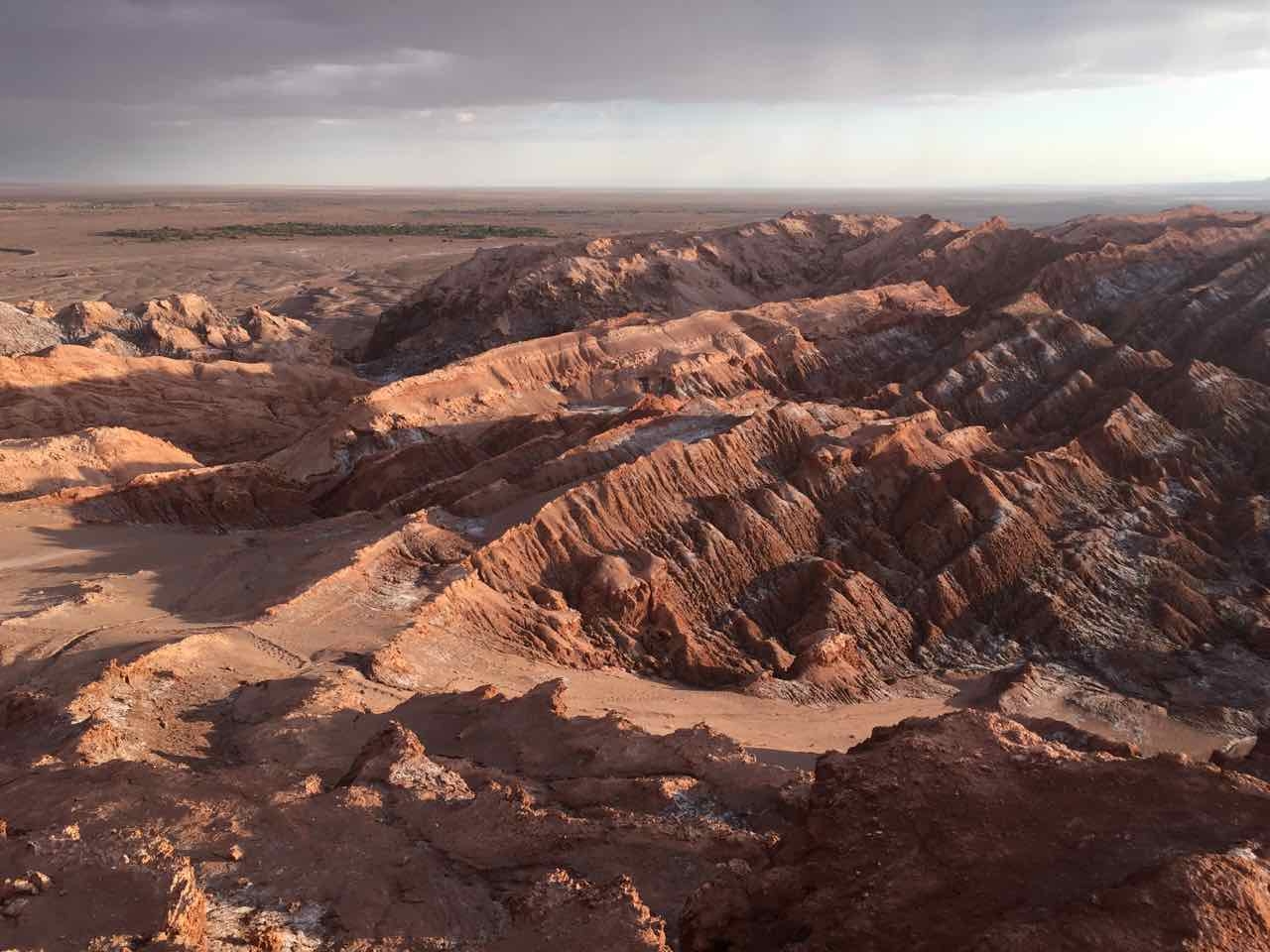 A couple hundred miles on Chile's flawlessly paved highways reminded us of the dangers of driving our car in its current state for any longer whatsoever. It was as foolish as it was dangerous to continue. But by late Saturday afternoon, the mechanics of Calama were closed for the weekend.