The following post details the Global Goulets' journey from December 26 to January 1:
We woke up on the day after Christmas hungover. Not just from drinking (which we also did), but from the emotional high that lifted our spirits and egos to levels beyond what is socially appropriate. Front row access to the Cali Salsodromo was pure rally magic. Yet, the morning light struck us with a harsh reality: it was time to drive towards the border and leave Colombia once and for all.
Twirling up and around perilous mountain roads, we reminisced on our time since crossing into this first South American republic. Some quick math from the Colombian stamps on our weathered passports reminded us that we still had just over a month remaining, but fate had other plans. Our TV show's hard drive was oozing with layers of stories, extravagant and personal, monumental and mesmerizing. There was enough juice out of Colombia. Ecuador awaited.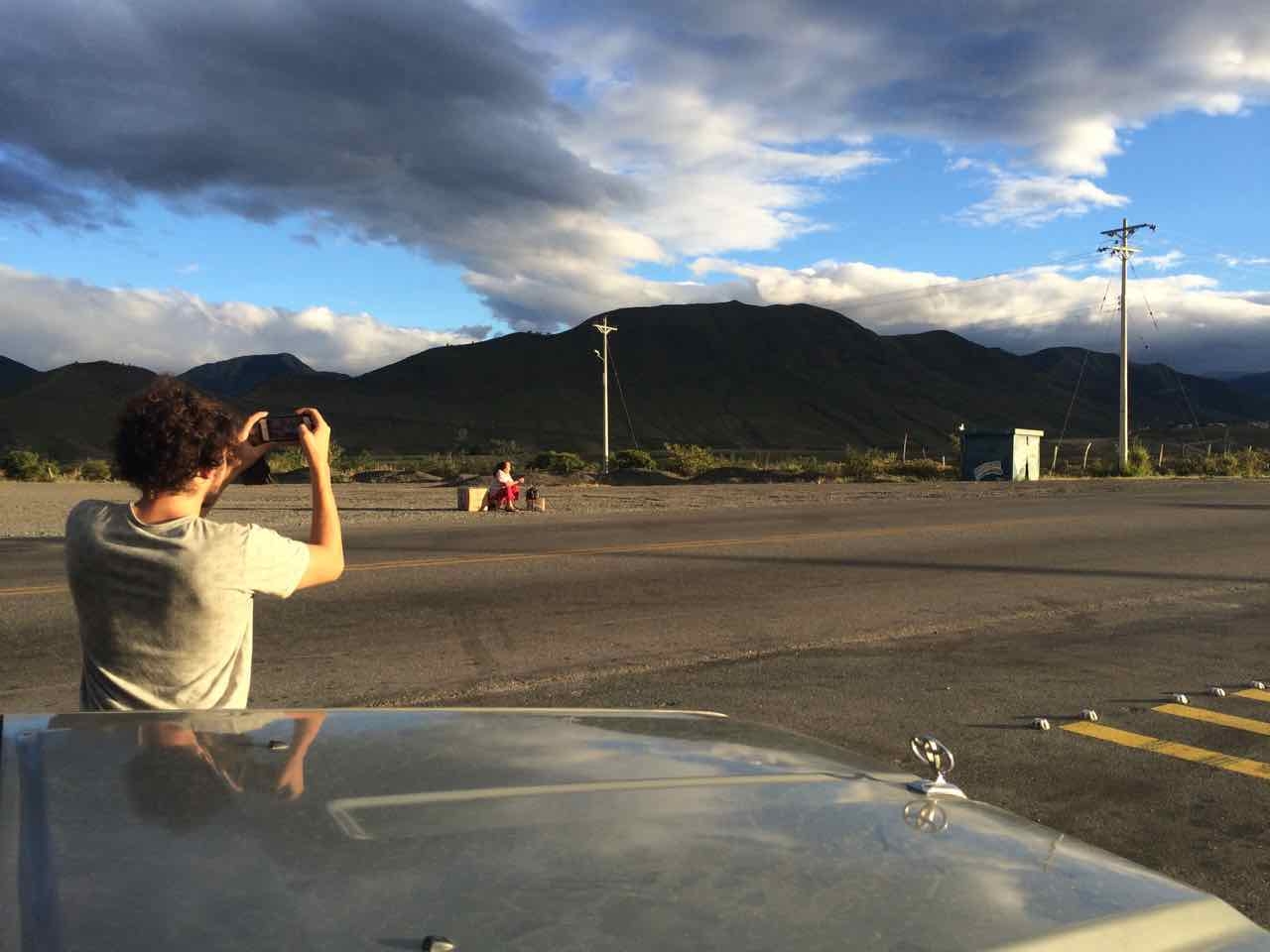 It turned out the drive from Cali to Quito was just too long to be done in a single day. It was becoming all too clear to us that South America was monstrous in size. Unlike our Central American road trips, hopping from city to city would often require multi-day journeys. We camped outside of a mountain town called Pasto and woke up to an astonishing view of a volcano. Later that day, we made a pit stop near Ipiales to check out the extraordinary Sanctuario de las Lajas, a bridge cathedral built within the narrow passage of a valley.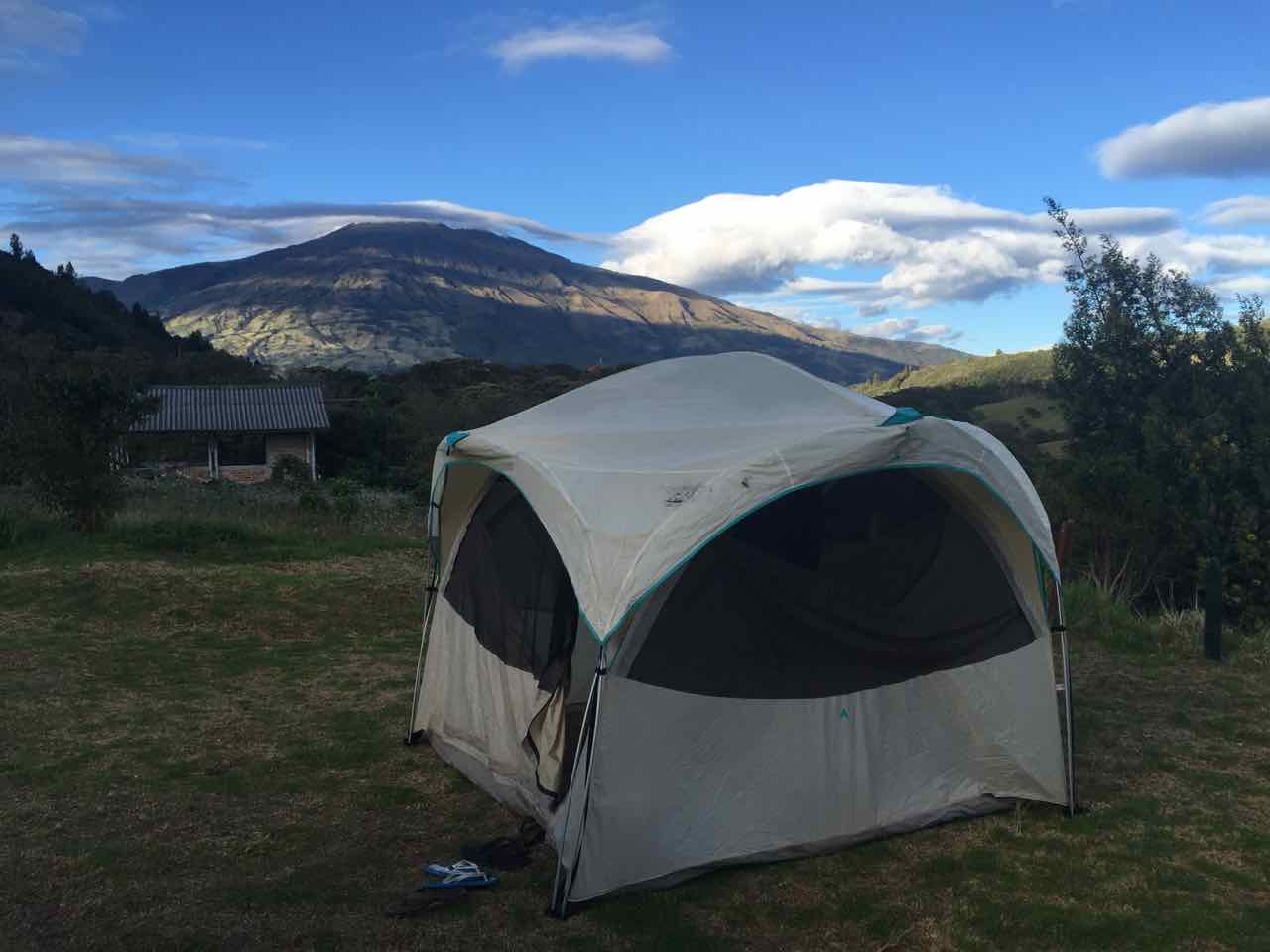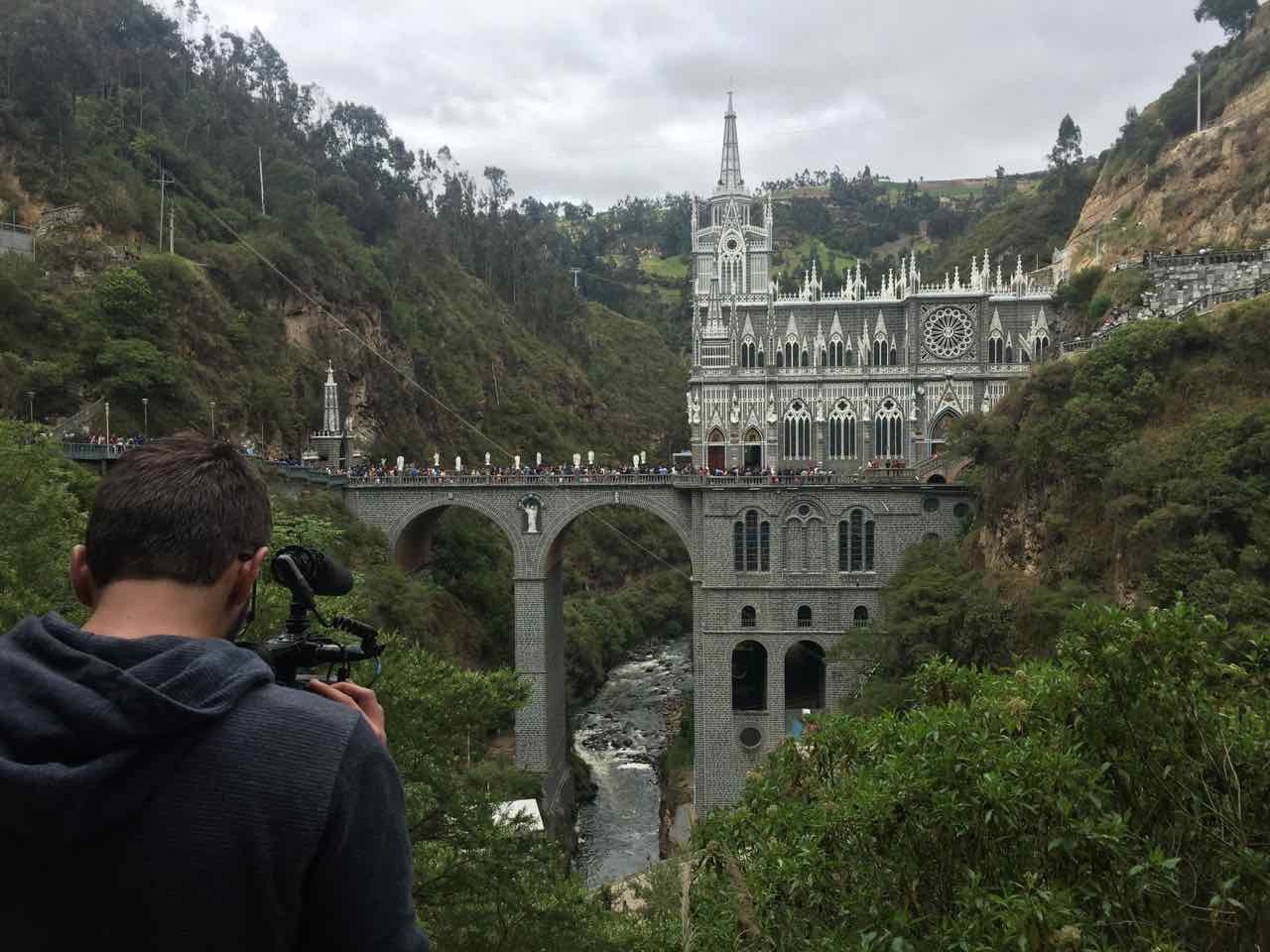 It had been a long time since we'd entered a new country by car – over three months. Colombia would be missed, but nothing equals that rush of discovering someplace new. Every time we cross a border, we can feel a change. Even if the landscape doesn't seem to adjust under new sovereignty, or if there's not a noticeable difference in architecture or the features of the locals, we know it's a new country. You see that cow over there? That's an Ecuadorian cow! What'd you think of those french fries? First meal in Ecuador! Wow, look at that sunset – this country sure is amazing!
We slept on the equator. Well, not quite, but just about a kilometer down the road. In the morning, we stood on the line delineating the Earth's two hemispheres, a symbolic moment for us. For as much as we'd seen of the world, none of the three of us had yet stepped foot on the planet's southern half. Another shocker to us: it's freakin' cold on the equator. At least on this stretch of the equator, where the altitude soars well above two miles, it can be much colder than any of us ever envisioned.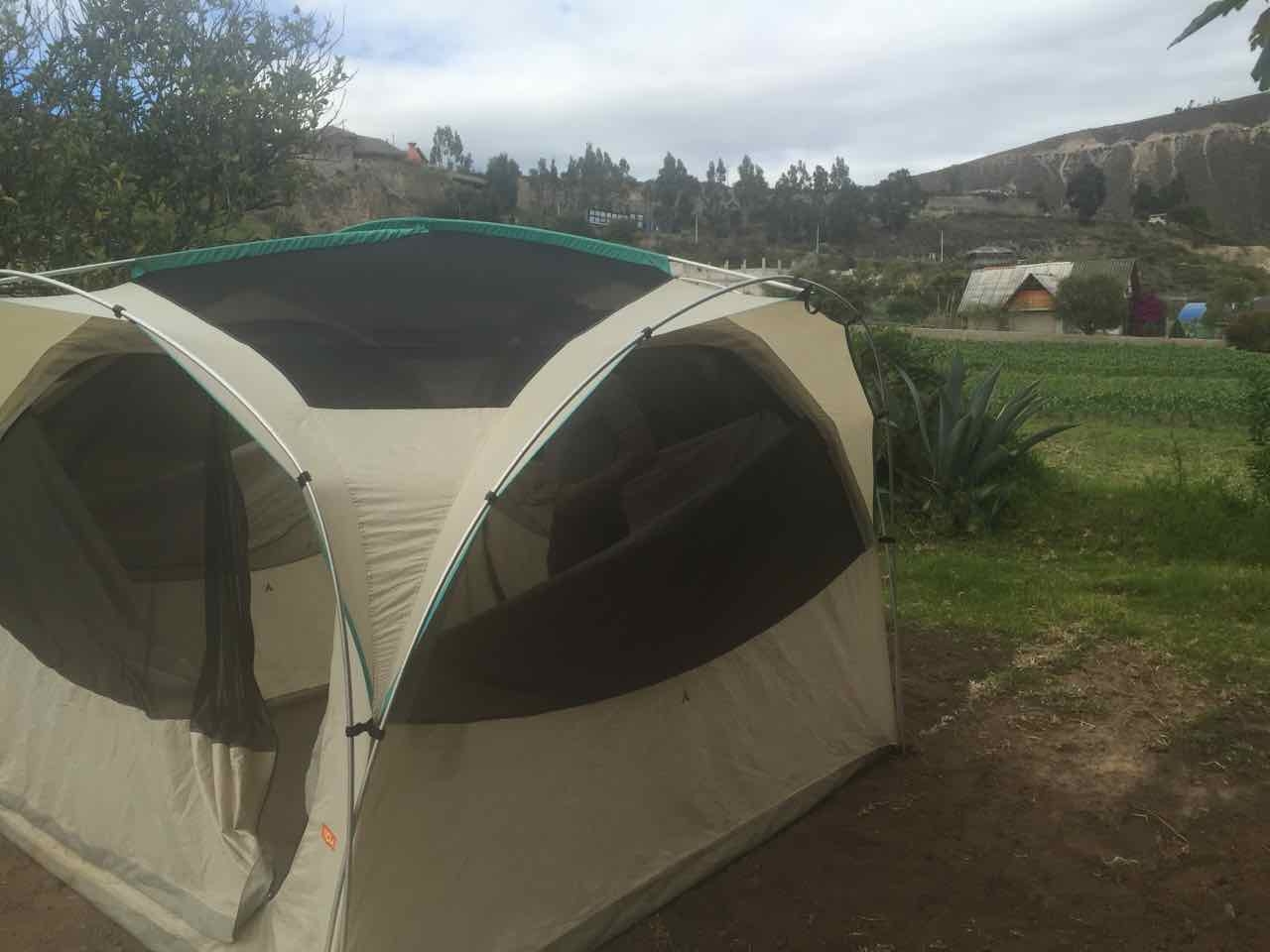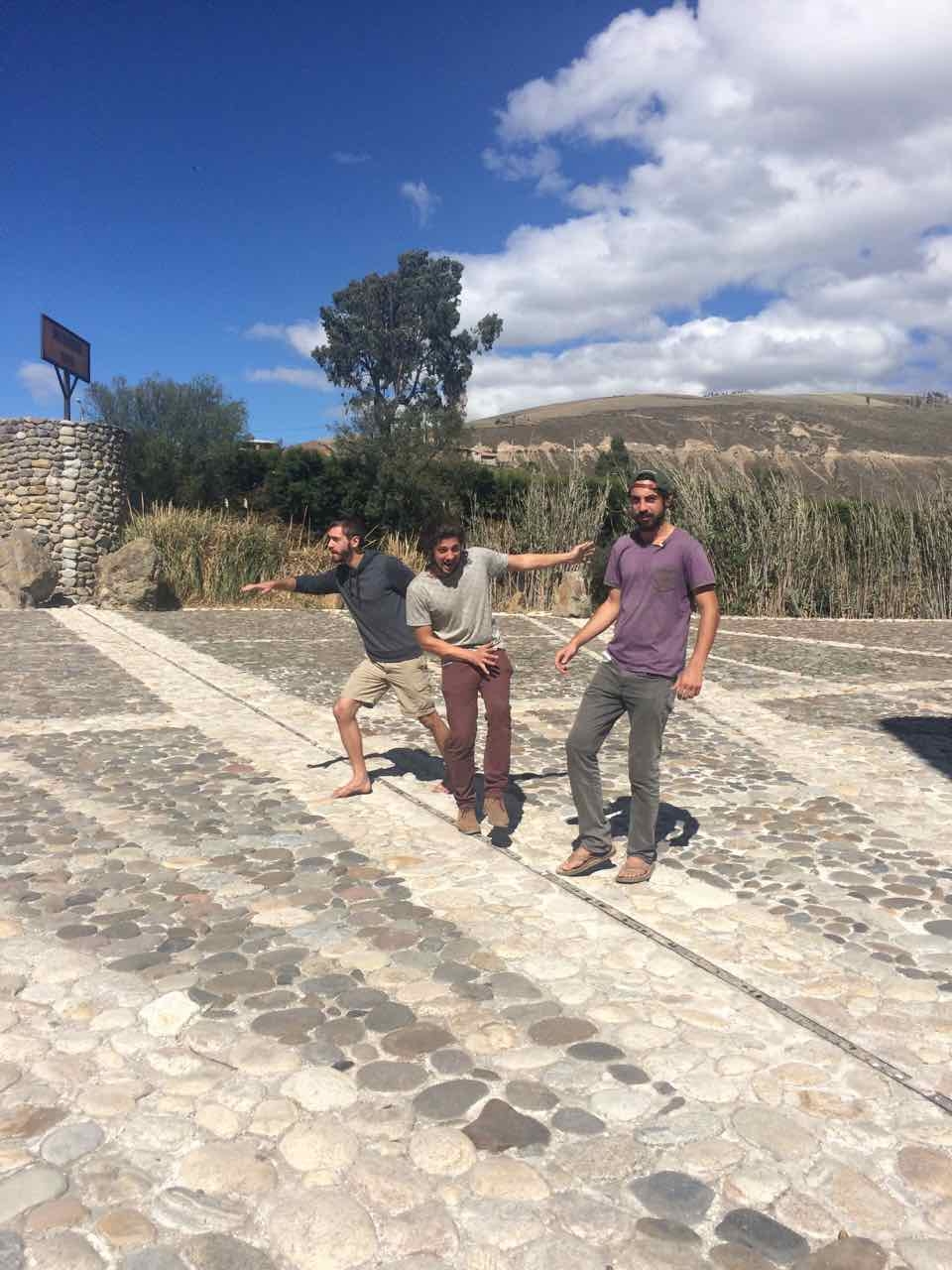 In Quito we reunited with our pal Jeremy, who'd wisely opted to make good use of his frequent flier miles rather than suffer through the multi-day ordeal with us from Cali. In classic fashion, Jeremy had made some new friends, Rachael and Dave (not to be confused with Eric's siblings), an adventure travel duo from D.C. Together (minus Brian, who was on U.S. soil, at the embassy, adding pages to his passport), the five of us ascended well above the city, with the help of Quito's incredible teleférico, for some magnificent views. Things in Ecuador were off to a great start.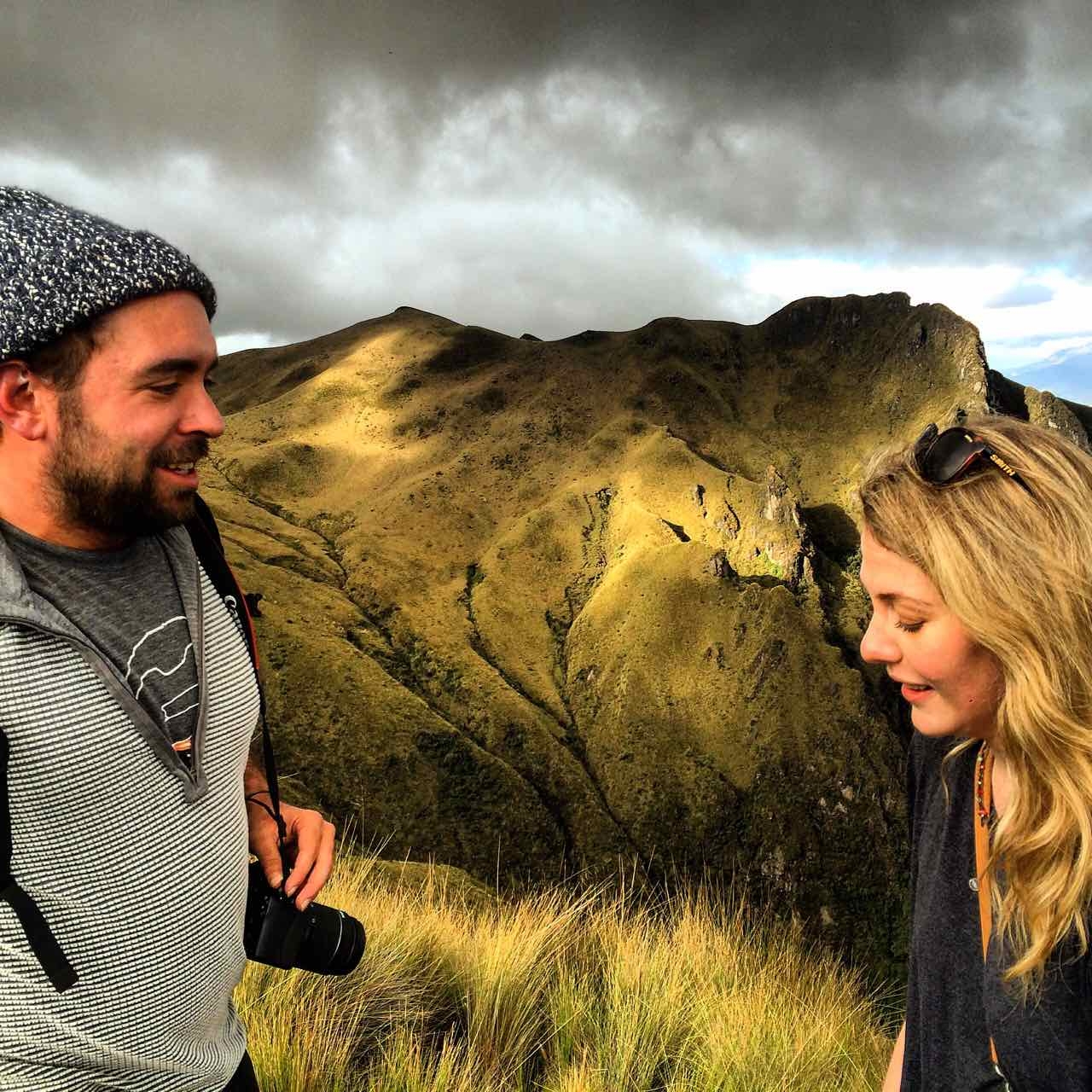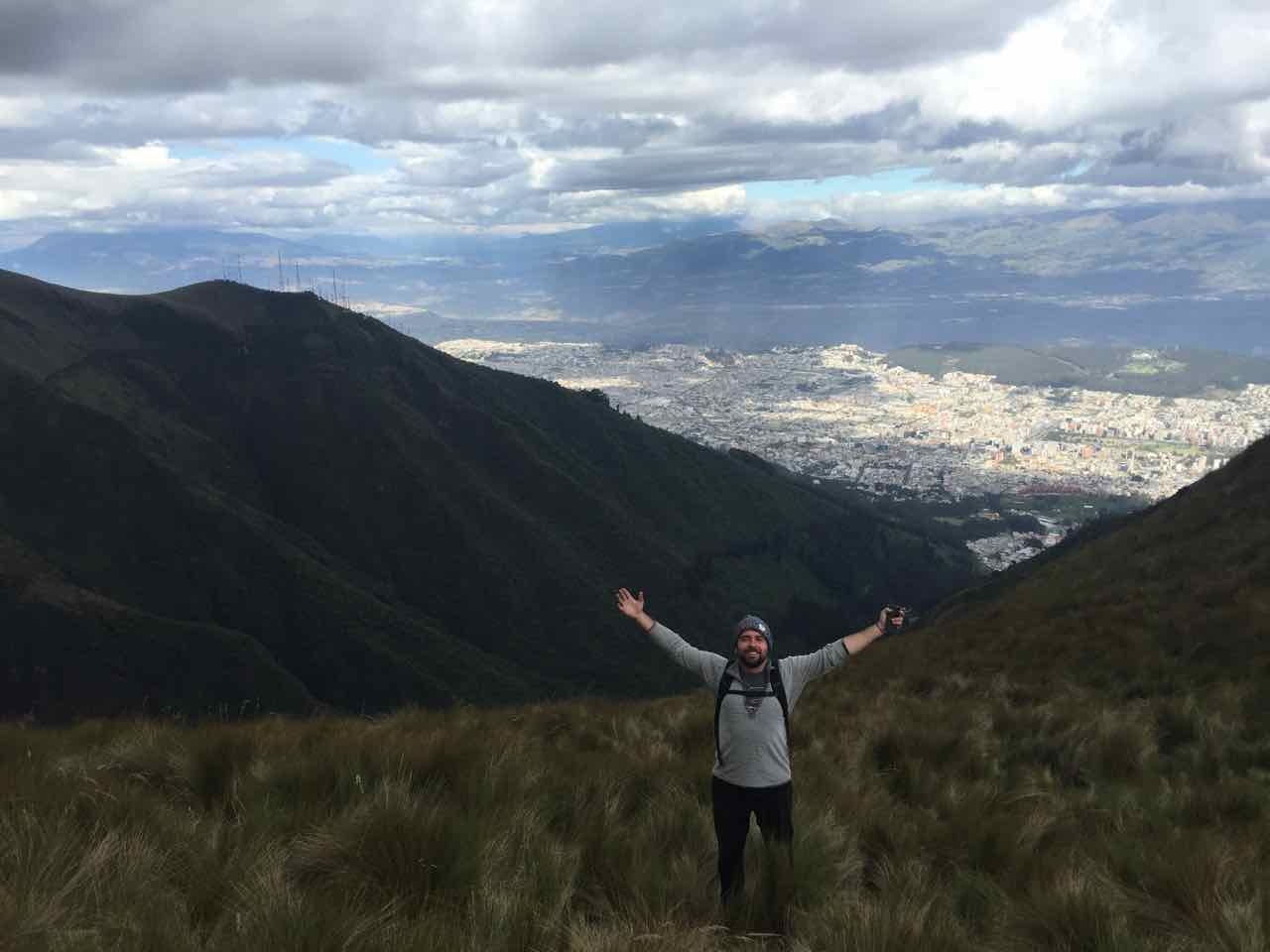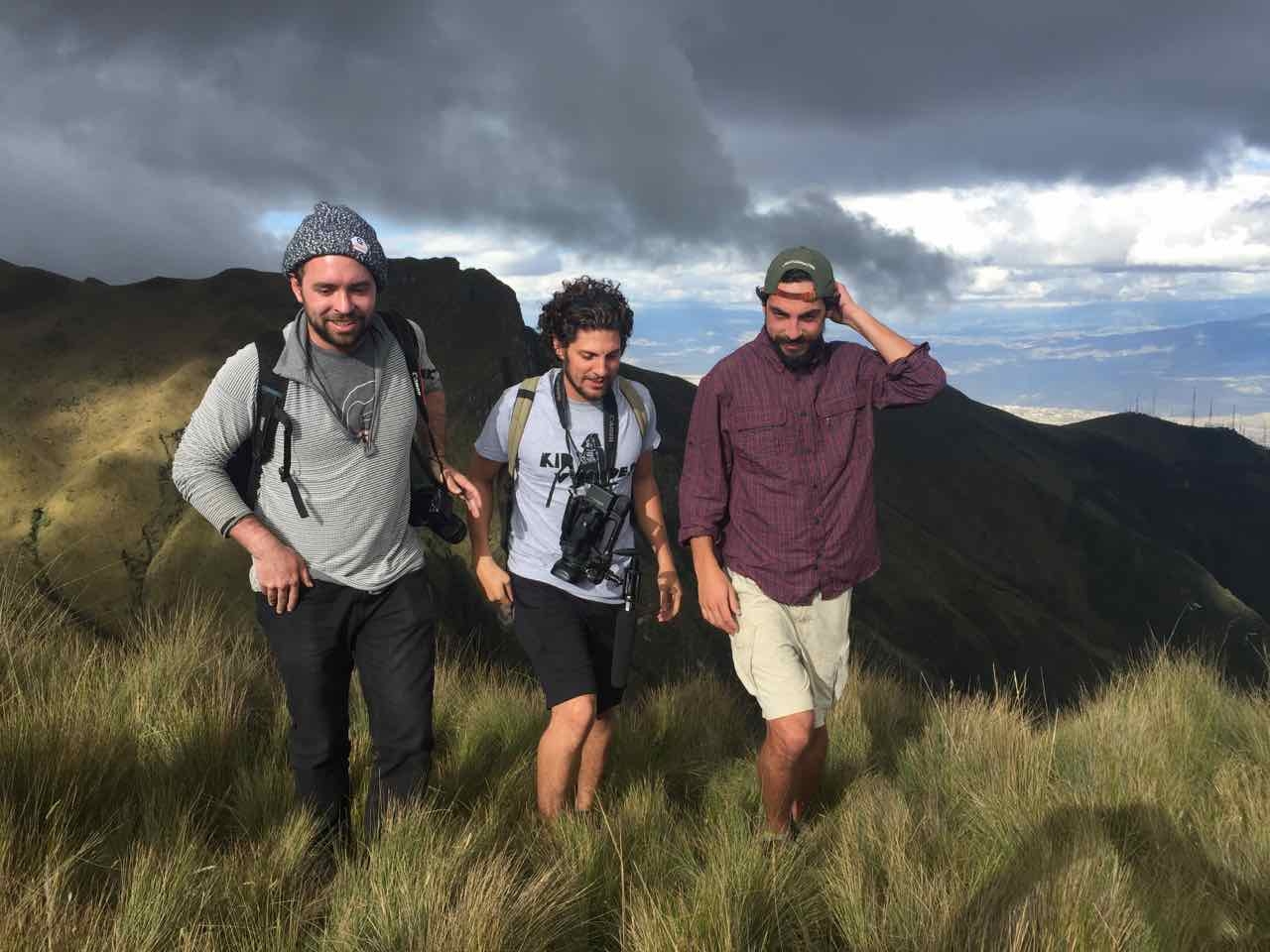 We didn't give Quito too much of our time. After two short nights, we were off to Baños to continue on our fast-moving pace. A night of camping in a random, completely untouristed town was a friendly reminder that having our own car allows for all sorts of unexpected misdirection. Oh, and before arriving in Baños, we had a quick car breakdown. But no bother, a short order mechanic visit extinguished the problem in a jiffy.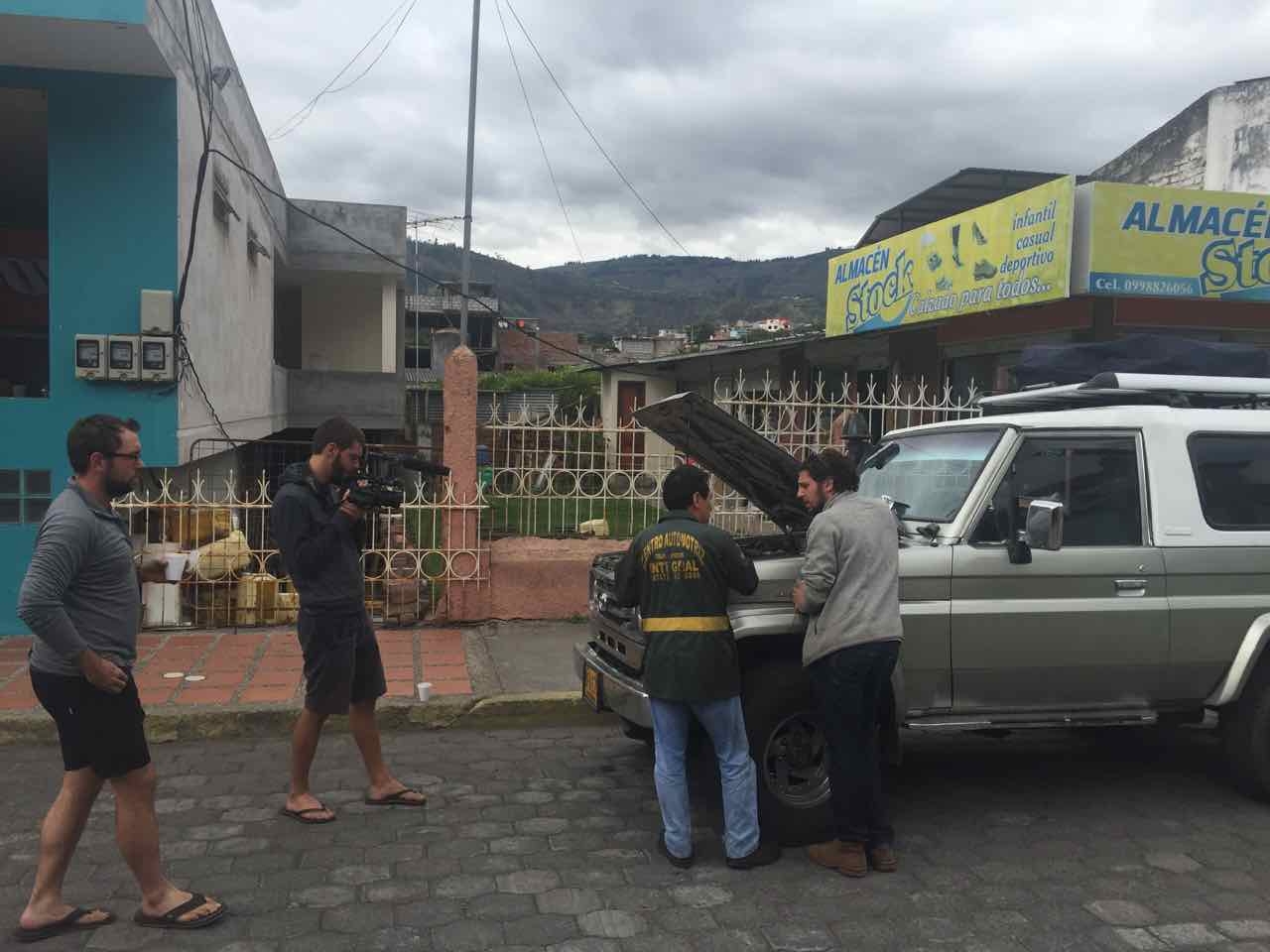 Our first activity in Baños was to hike a long, long ways. We climbed to the sky, where we looked down at a wondrous little town burrowed below within a rich, green valley adorned with a lively river and multiple marvelous waterfalls. It had been a satisfying and active day, which lived up to Jeremy's ever-lofty standards. Seriously, the guy doesn't sleep. However, the crew wasn't complete until our ultimate visitor arrived.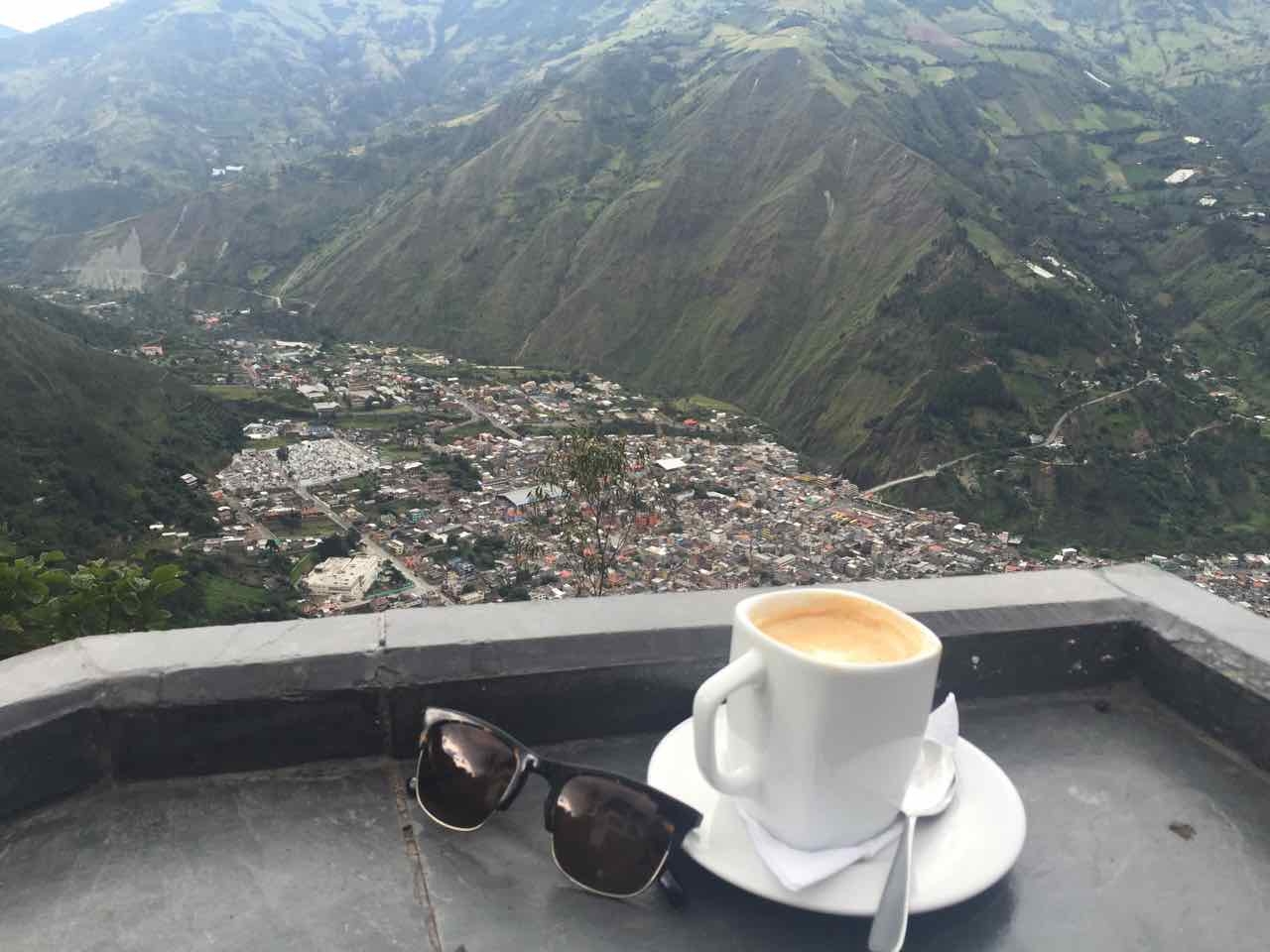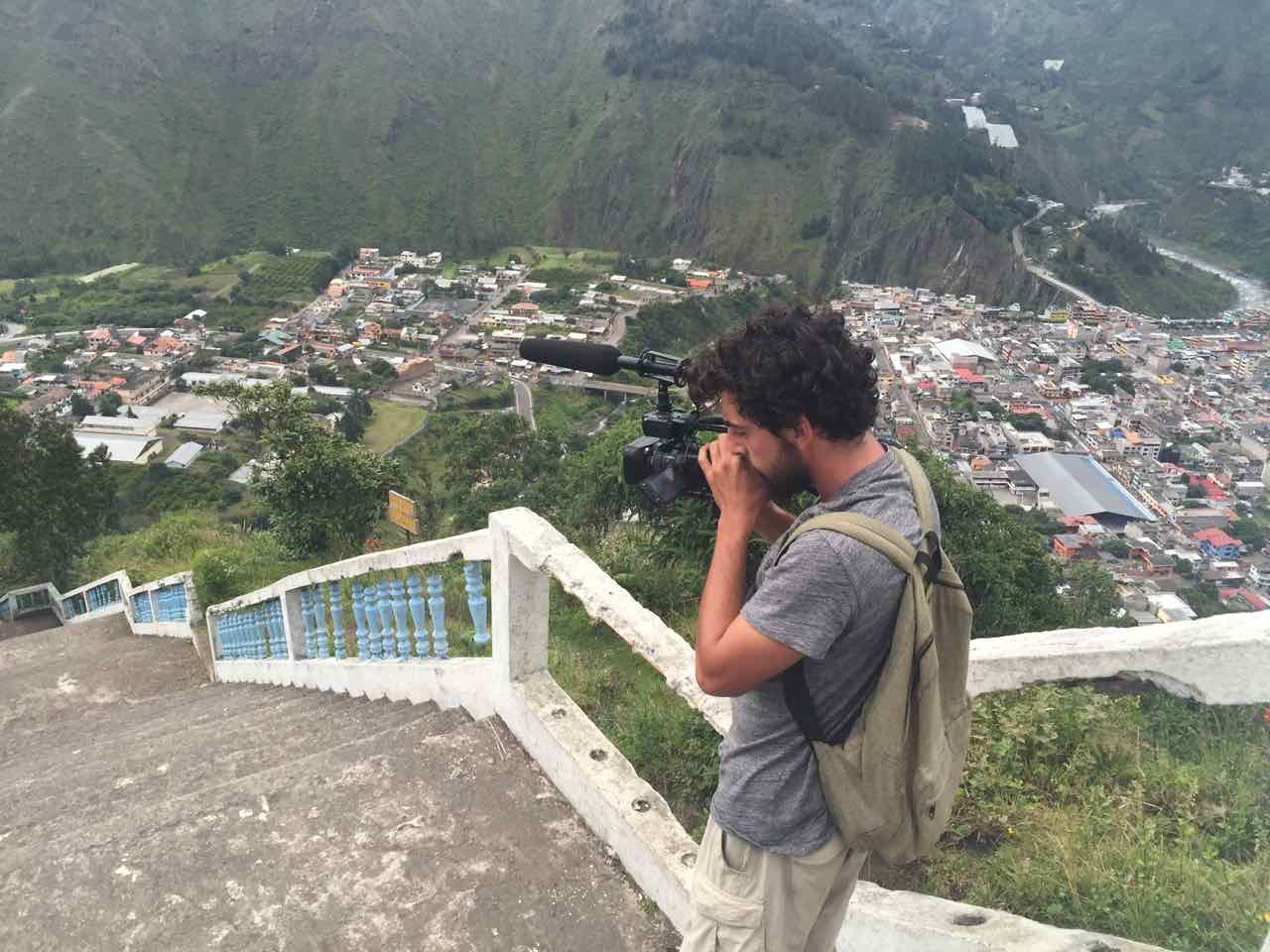 Tobias was always a character. A friend dating back to that cloudy college phase, he had spent the last several years undergoing a serious transformation. After a few formative years in Israel, Tobias' life path clarified itself: he was to be a rabbi. While none of us quite new any religious leaders like him (or any at all, for that matter), we all know he'd make for a great one, albeit exceptionally unique.
Like Jeremy, Tobias is not one to sit still. With this tandem in tow, the next several days in Ecuador would be action-packed and oriented by movement. This began with New Year's Eve. While most people rest up for a sleepless night, we opted for the opposite. The five of us, plus our friends from Quito, Dave and Rachel, rented bicycles with the aggressive endeavor of pedaling to the edge of the Amazon, a town called Puyo. We whipped past stunning landscapes, appearing more like an overly elaborate Hollywood green screen than something from real life. Mostly downhill we cruised, wind whistling into our eyes and over our helmets. In order to allow Brian and Tobias time to catch up to us (Brian's brake had busted en route), we took a massive detour to a boisterous waterfall. Then we took a lunch break that went overtime. Just a couple miles down the road, we stopped at a second waterfall, this one another serious deviation off course. By the time we were back on track it was already late afternoon, only a third of the way to our goal, with rain clouds collecting overhead. Legs already wobbling and every reason to call it a day, we shrugged off common sense and remounted our fleet of wheels.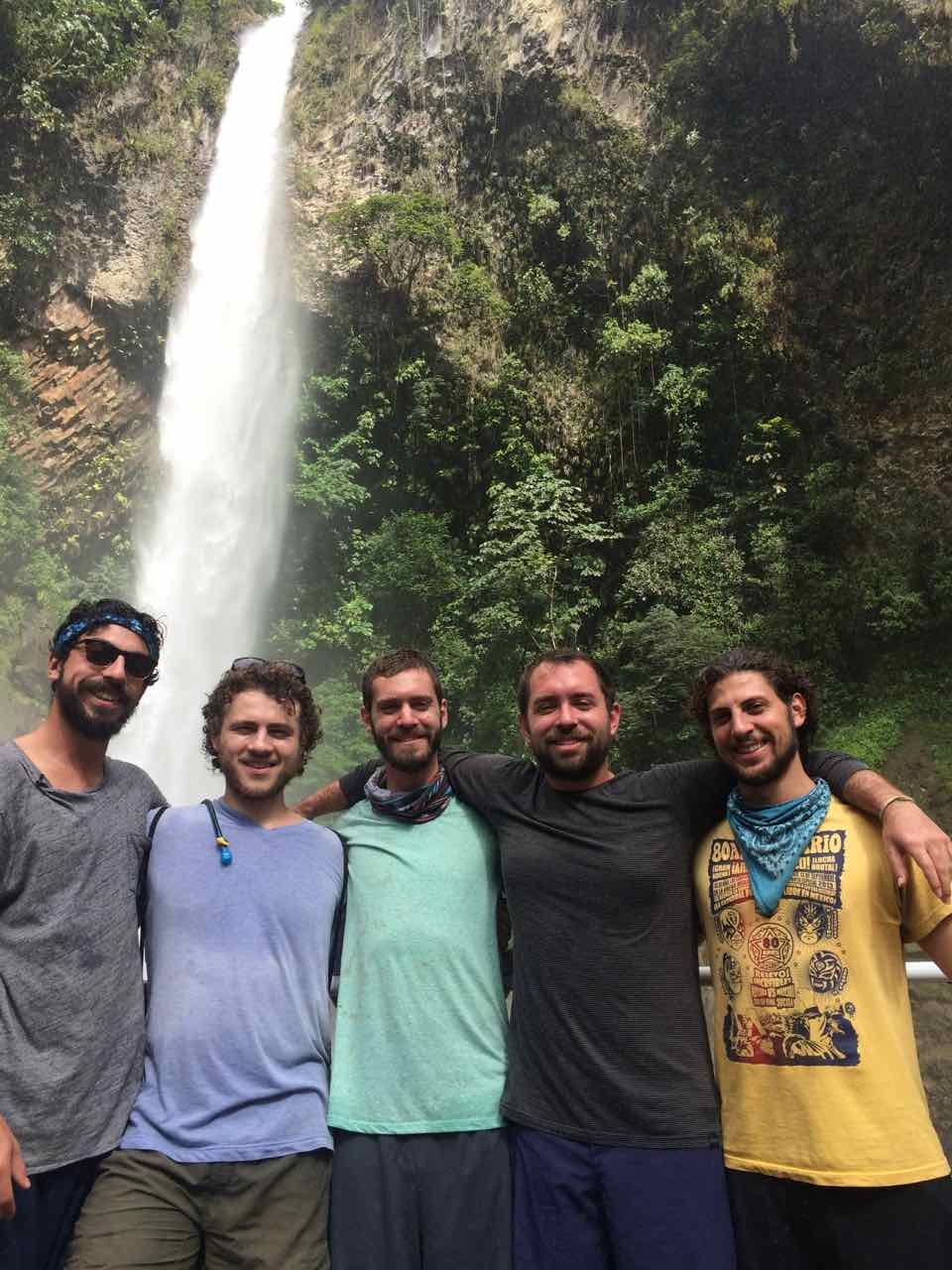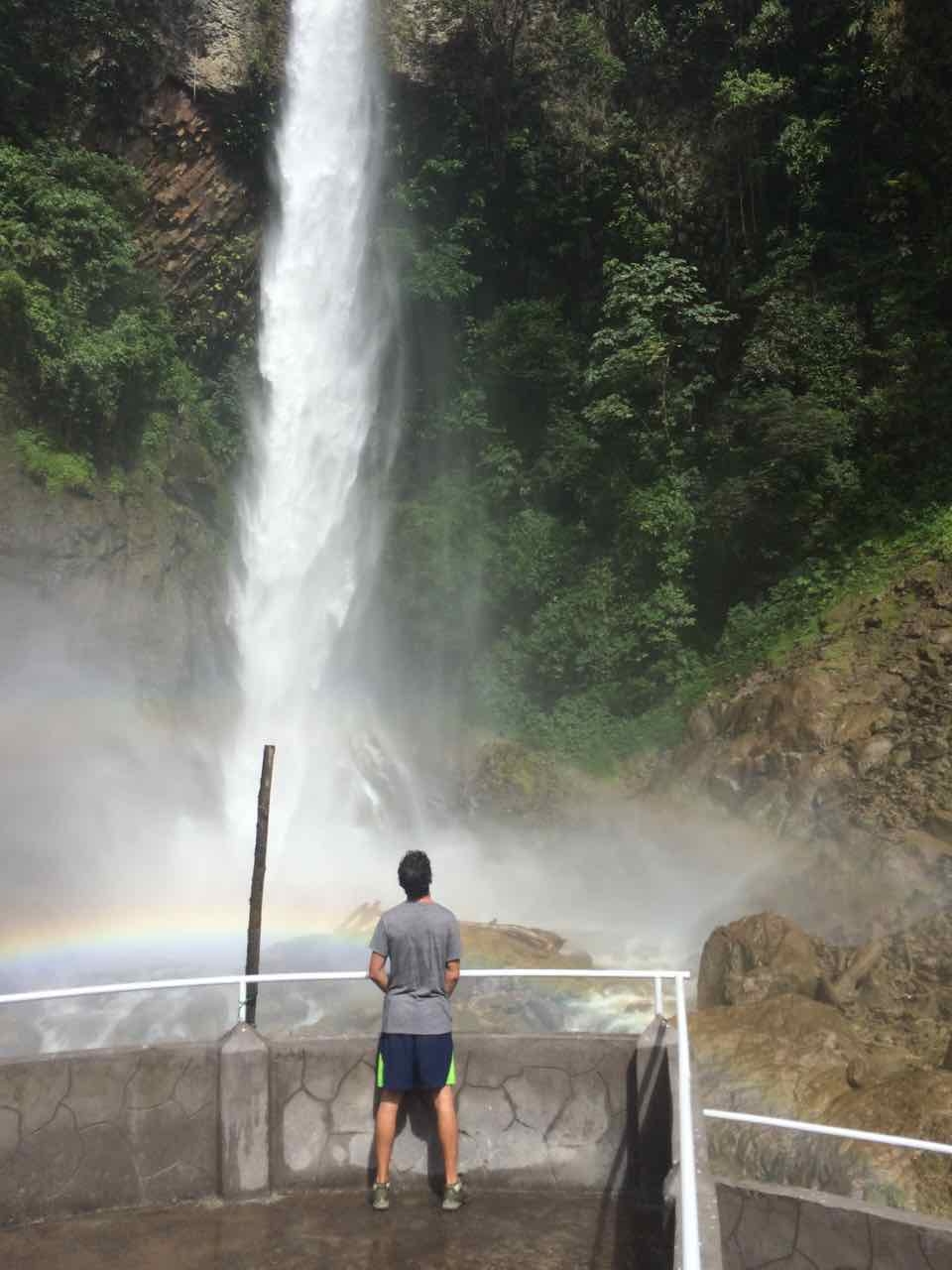 The proceeding hours interchanged exhausting uphills, rain-drenched bends and bumps, and liberating downhills. At around kilometer marker 40, we took a team Thunderbird break, just long enough to allow the soreness of our bones to spread throughout our aching joints, beleaguered muscles, and tired tooshes. With the final sundown of 2015 coming quickly, nobody hesitated when a bus stopped for us to take us back to Baños. We should come clean – the collective stench we brought with us onto that bus was sufficient to sicken the vast majority of unsuspecting Ecuadorians already on board.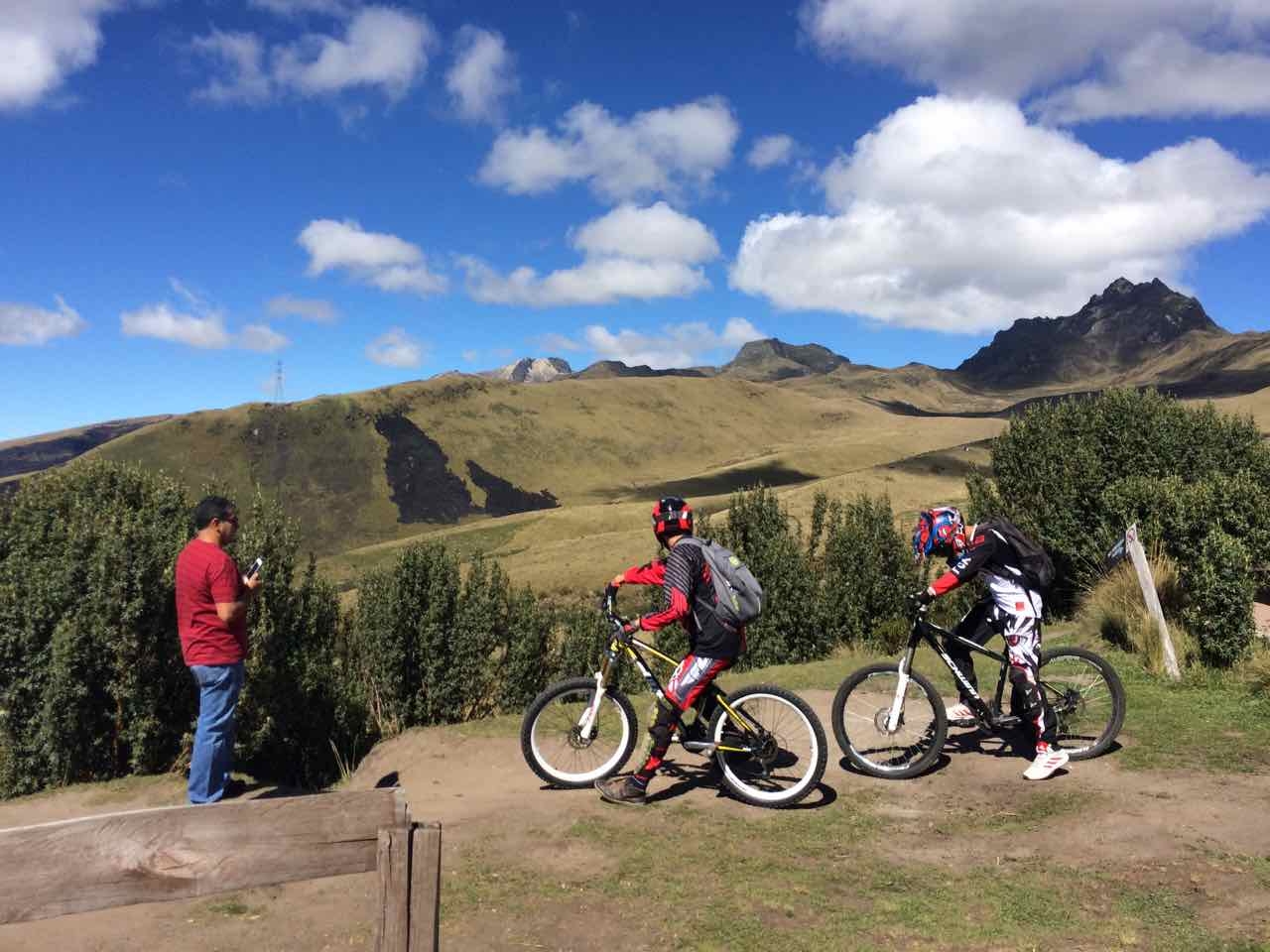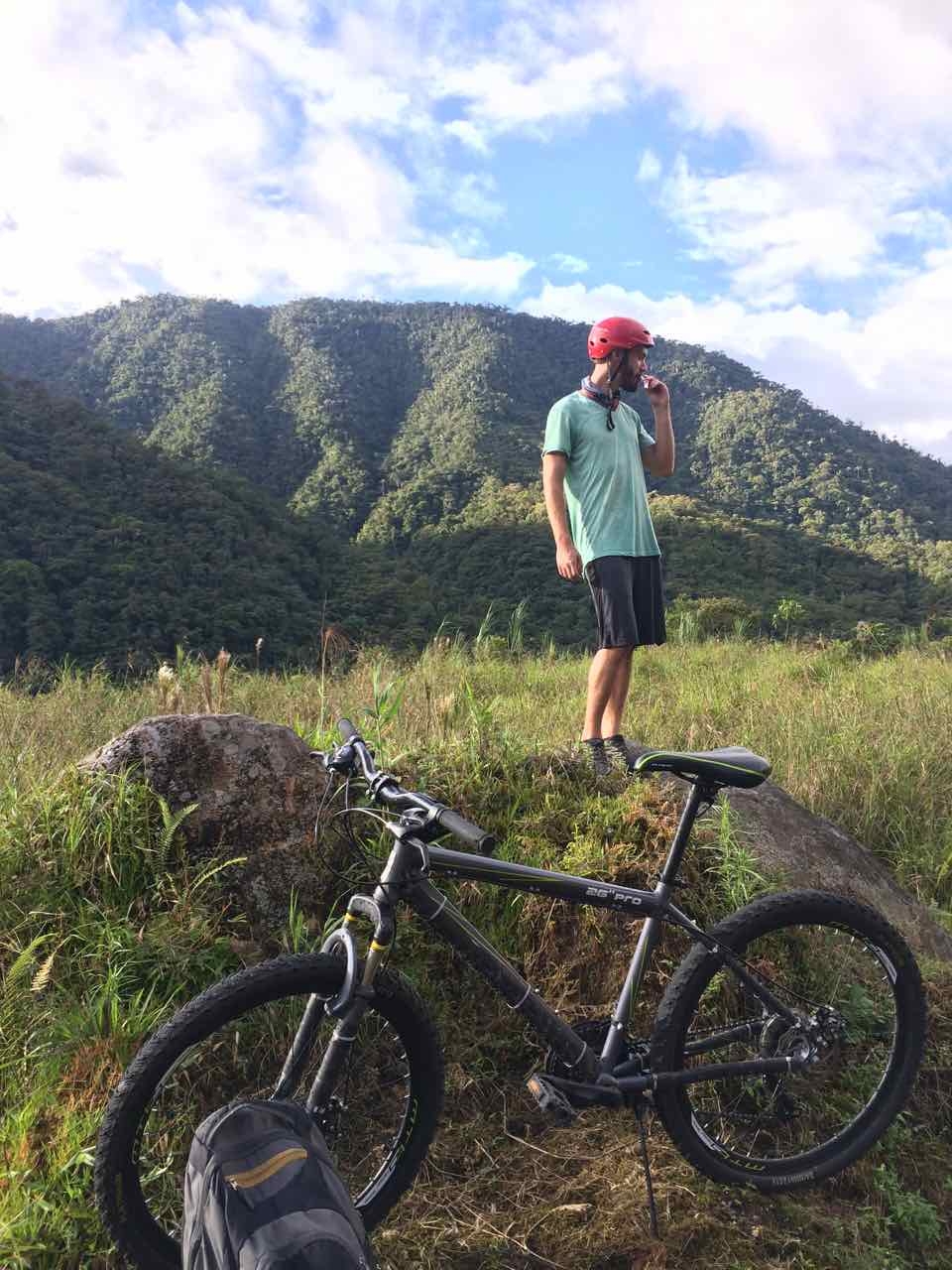 It was a good thing we hadn't pushed on all the way to Puyo or we'd have missed the New Year festivities already underway in Baños. A curious tradition had taken over the streets: boys and men of all ages dressed like girls, stopping traffic to solicit small change. We shrugged, then giggled, and then ultimately laughed uncontrollably, especially when they started party-boying around Brian. After all, it was almost 2016!
The town was popping with paper mache effigies, ranging from images of the country's president to cartoon characters like those omnipresent Minions and Star Wars heroes. Not to be left out, we walked into one of the infinite costume stores that had taken over town to buy some silly hats and wigs for ourselves.
Before getting amongst the celebration, we first took a dip in the thermal baths that Baños is known for (in Spanish, Baños literally translates to "baths") and followed that by taking real showers to wash off the grime of the day. A hearty chifa dinner (as Chinese restaurants are known across Ecuador) properly coated our stomachs for the buckets of alcohol that were to follow.
We were tired, exhausted enough to call it a day and fall asleep before the stroke of midnight. Yet, such a cop out would be antithetical to our working theory on life. When a monumental occasion awaits, we must reject our body's demand for rest and jump right into the deep end. Our New Years was a prime example of this approach to life. As the New Year reigned in, those effigies set up around town were simultaneously burned, a symbolic goodbye to the year that had passed; it was a way to reign in 2016 with a fresh start.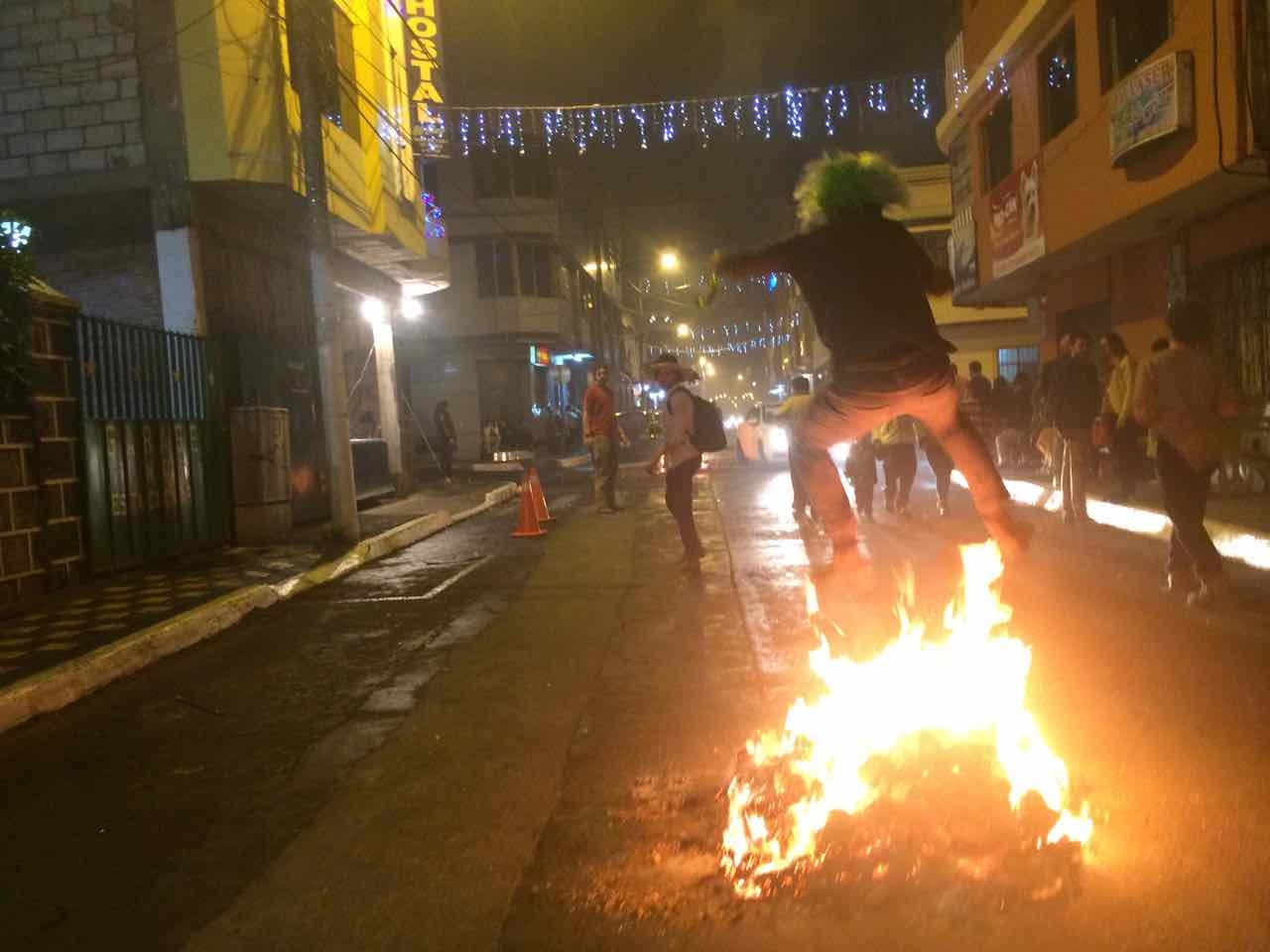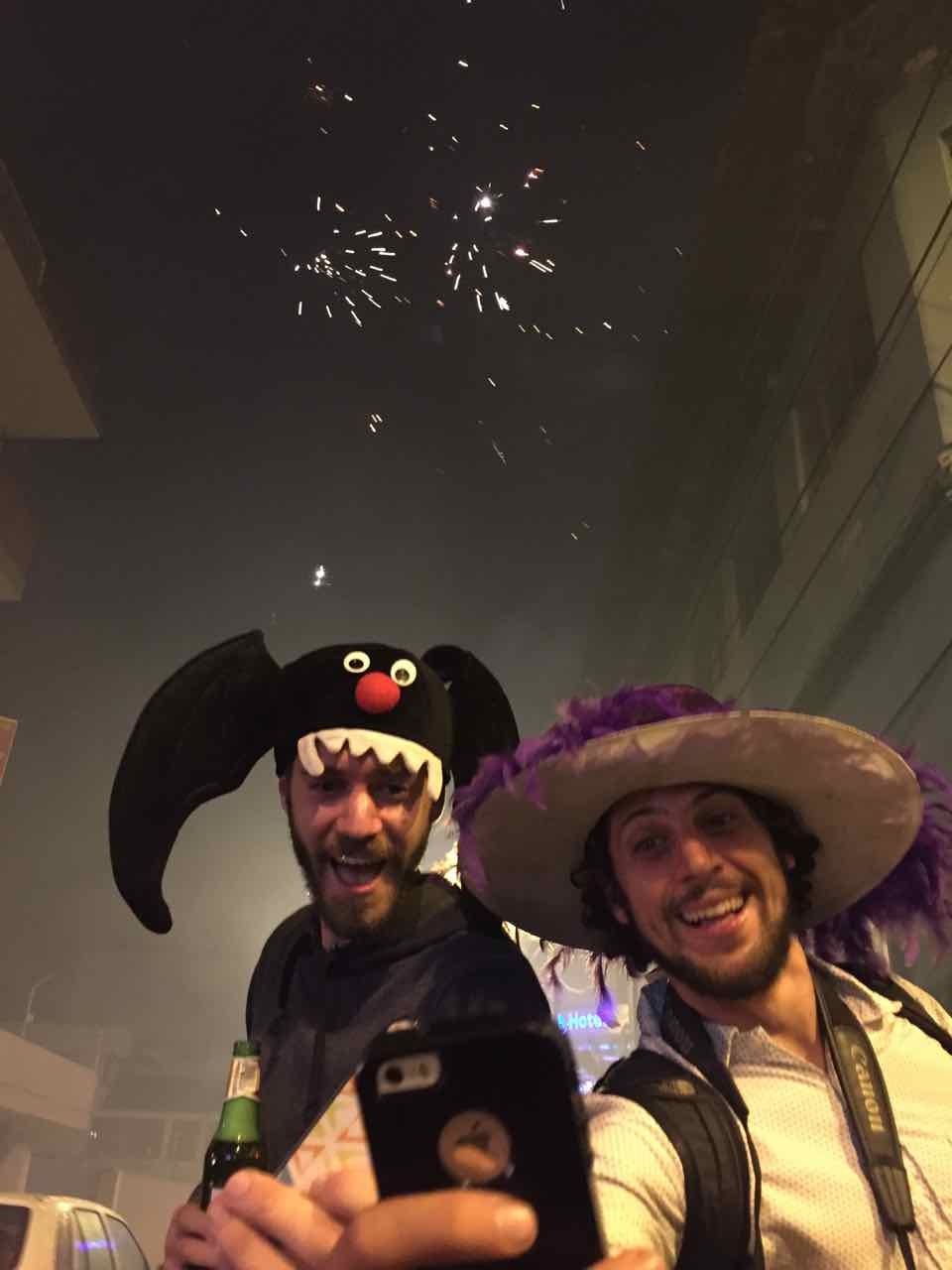 An odd year, our 2015 unfolded in a way we'd never expected. What had originally been planned as a trip to begin at the dawn of 2015 and end before midyear had lingered on into the start of a renewed calendar. Geographically only about midway to the End of the World, the trajectory of which the last 12 months went down was something that epitomized our lives: curveballs in the road, constant changes of plans, and crazy stories perfectly moldable for television. Welcome to 2016; we have no idea what's in store. We'll try to get our lives back to even.