The following post details the Global Goulets' journey from September 4 to September 16 (Days 159 – 171):
Sometimes certain stretches of our sightseeing serve us only slightly in strengthening the serious side of this seminal season of our TV series. Sometimes there is no beginning, middle and end. Sometimes we just hop from place to place aimlessly, with nothing that lights up our agenda or that might move a viewer to tears. Usually, amazing stuff just seems to happen. Other times, we visit extraordinary places and nothing really happens there except for whatever our cooky personalities can cook up. With a mix of both, we recall the following stretch of our travels in a cheeky tone of by random ramblings.
First up: Ometepe, Nicaragua, the twin volcano islands.
It has been said that you might arrive here, fall in love, and never leave. But aside for our astonishing arrival, this romantic narrative did not unfold for us Goulets. Along with our not-so-trusty Santa Maria, we made it ashore on the onset of golden hour and marveled at the aura offered by the landscape and local lure that surrounded us in all 360 degrees. On the gravel road, to our right rested a shimmering sunset settling softly alongside Ometepe's Volcan Maderas. To our left, the jaw-dropping display of Volcan Concepcion, a volcano so grandiose, it generated it's own swirling cloud pattern around the cone, akin to the fluffy phantasm of a cotton candy machine. Through the streets we swerved, waving with wonder at the Ometepe locals who swarmed the streets, seamlessly in sync within this storybook setting.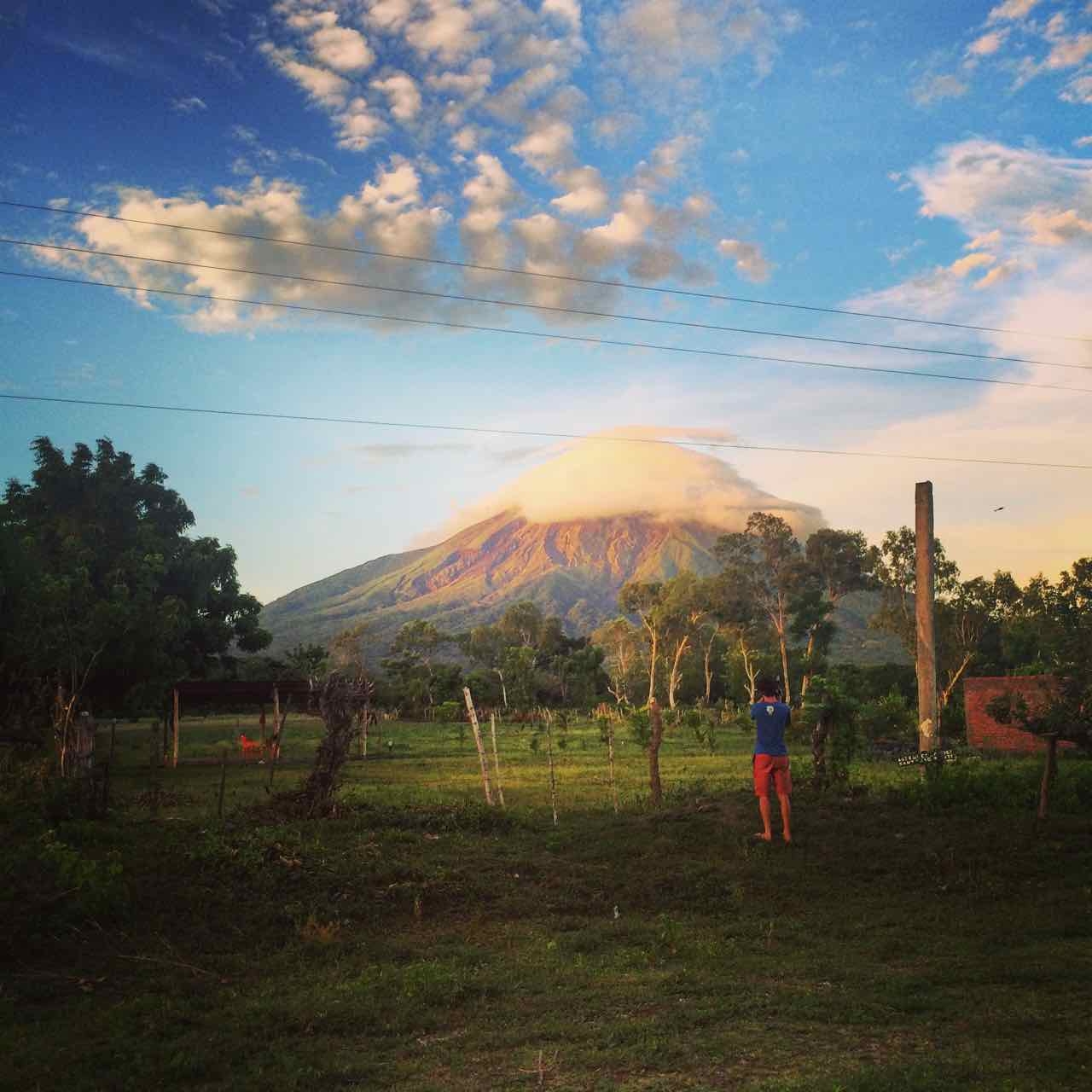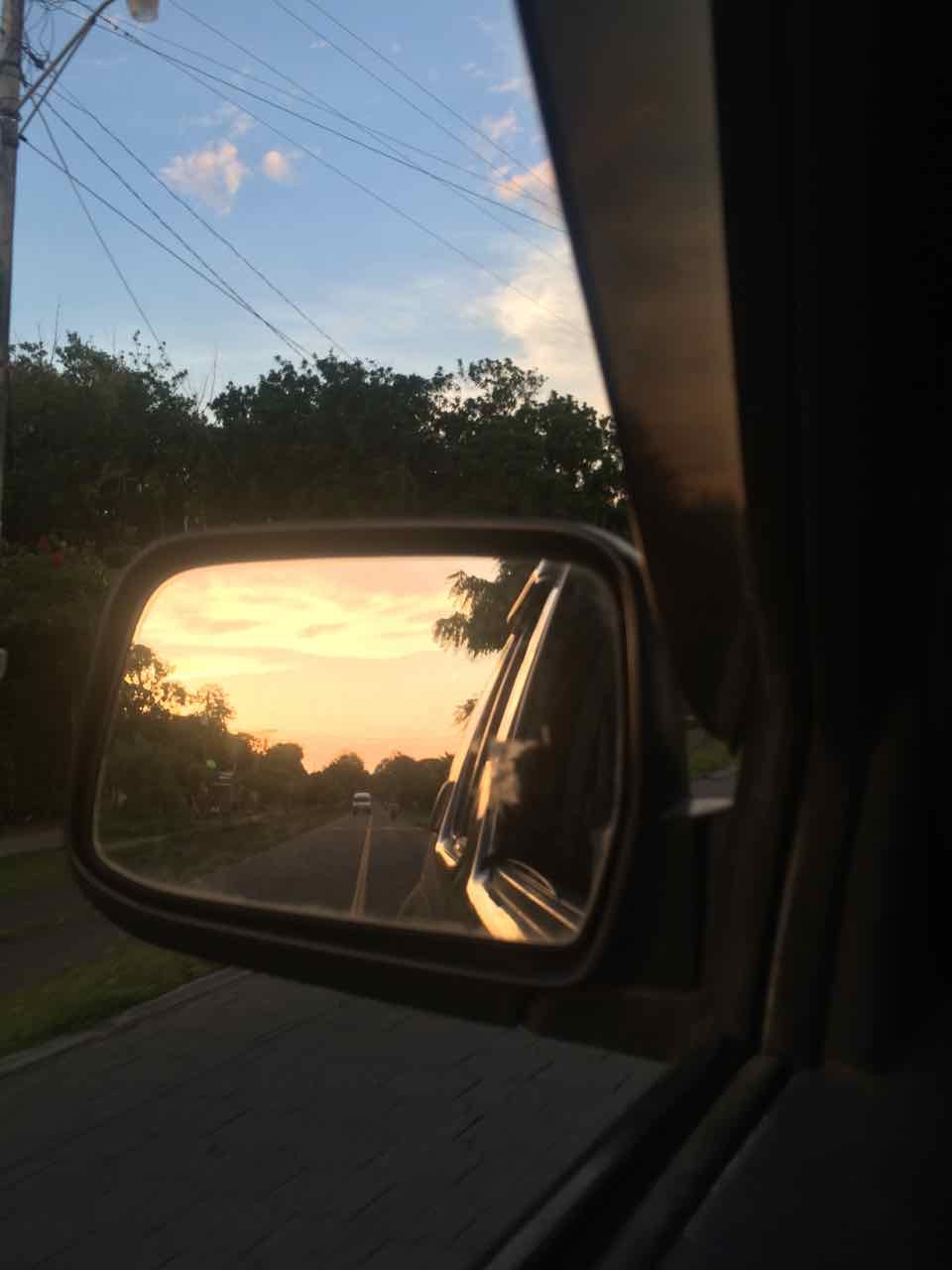 On our only day in Ometepe, we made good use out of having shipped the Santa Maria ashore. You see, often travelers to the island are relegated to renting tourist taxis to get from sight to sight, but we set up our day in an entirely different sort of way. Rather than hike a volcano (done that – link) or explore a waterfall (seen that – link), we opted to take our own little tour of the diminutively developed Maderas side of the island with the goal of greeting and glad-handing the gracious folks who called it home. On went the turtlenecks and out came our friendliest faces. From a café owner who serenaded us with the sweet sounds from his guitar, to a serendipitous soccer game where locals gathered to cheer and chat, to a politically emboldened farmer's pontification on God and country, we soaked up as much of this unique island culture's calm creations as we could in only one day.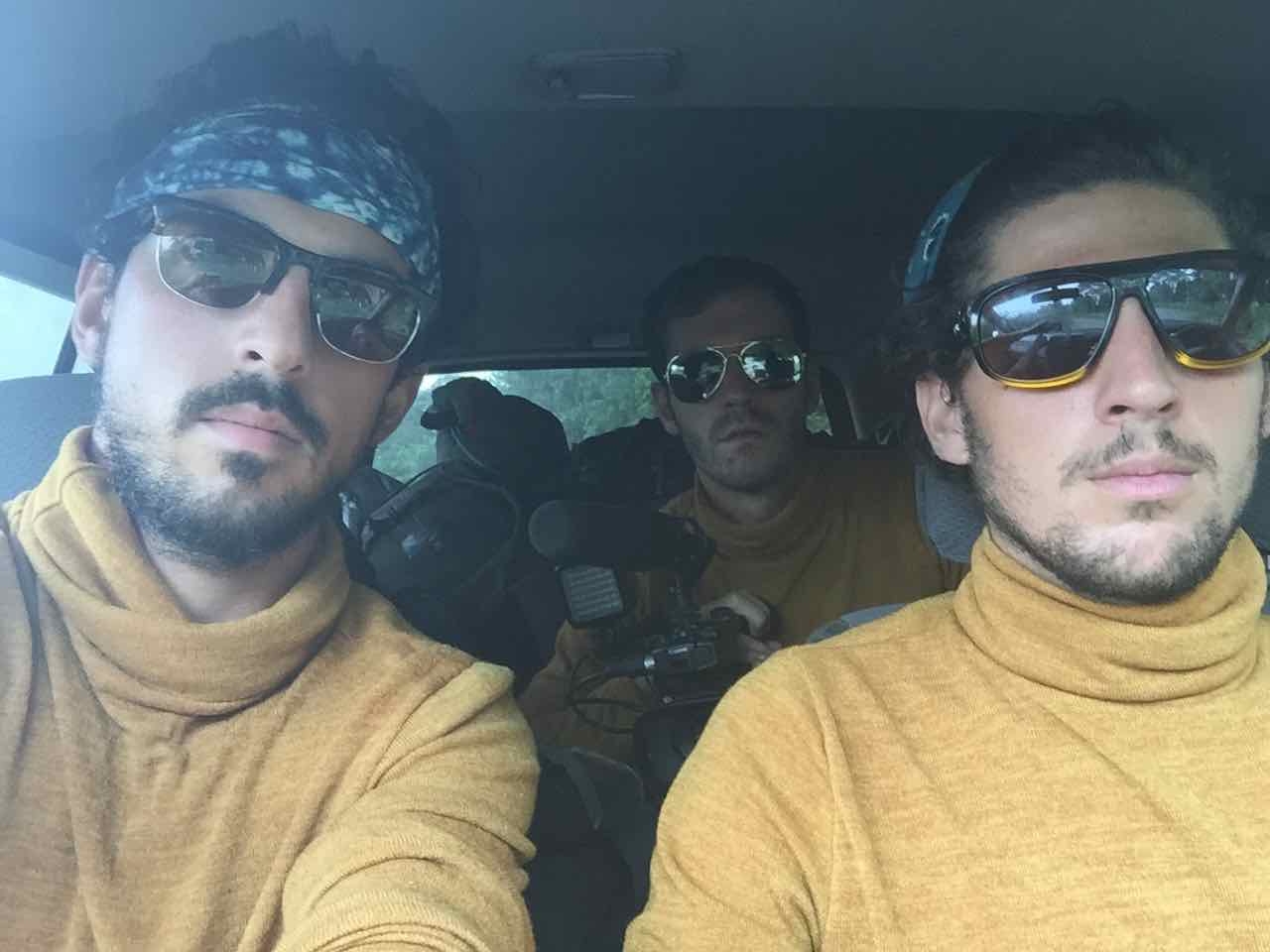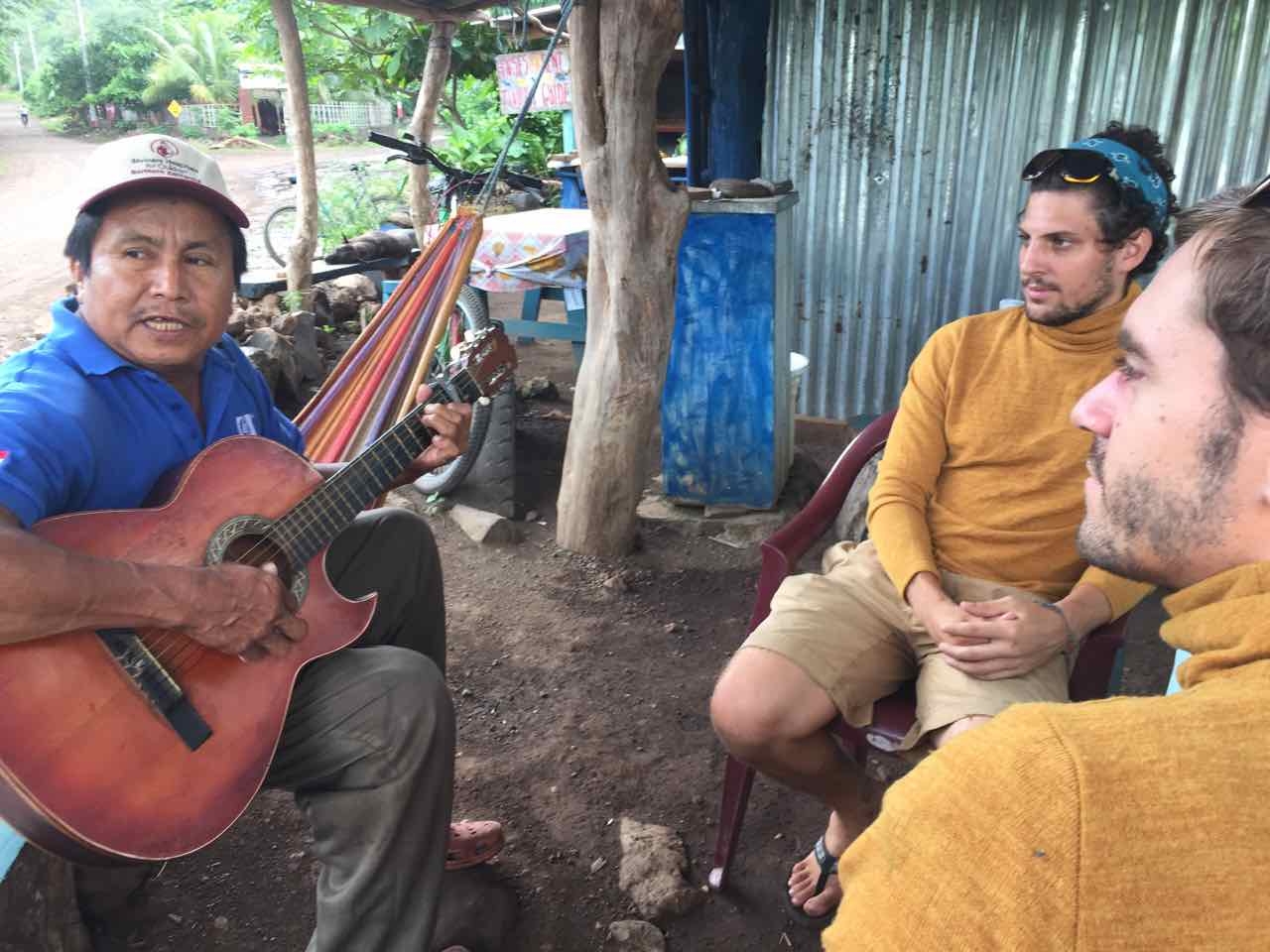 Next stop: Palmares, Costa Rica, the home of Luisa and family.
This time around we were permanently embedded as family and so we proceeded in such a way. "Hola Luisa!!! Como estas?? Here is our laundry, we've got a lot of it! And could you make us some pasta? We're really hungry! Thanks!"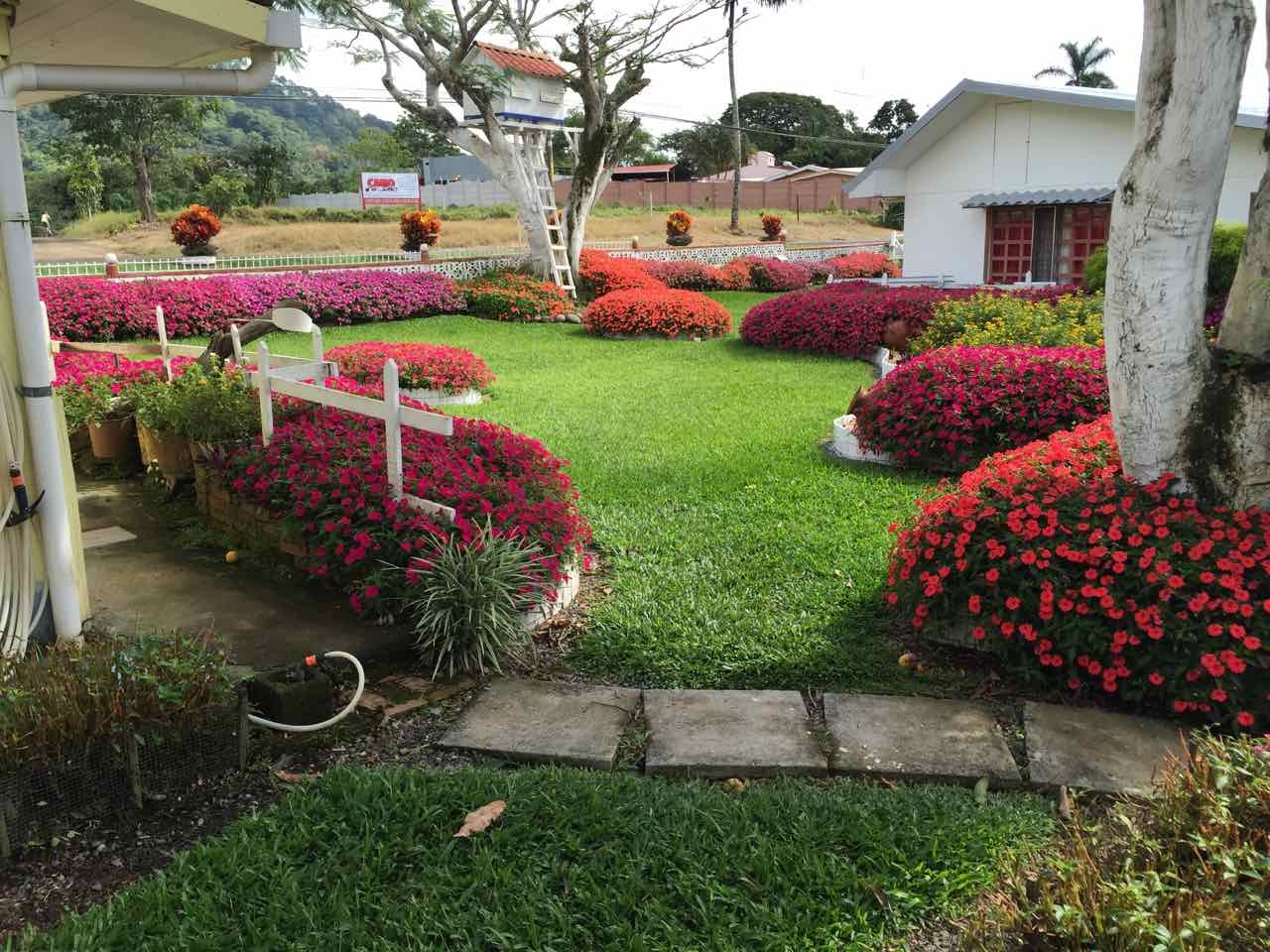 Luisa is in no uncertain terms the absolute greatest host imaginable to this group of ghastly Goulets. She had the daunting task of voluminizing various viands to satiate the vast void vacant within our starving stomachs. Meanwhile, our clothes weren't just dirty – after many moons of our garments grossly gathered amongst the grunge inside our ungodly grimy car, most items were in a state beyond repair, more fit for a garbage bin than a wash spin. And yet, with no more than a shriek of "you babies are craaaazy!" Luisa adopted a splendid smile and sought to save our threads from permanent ruination.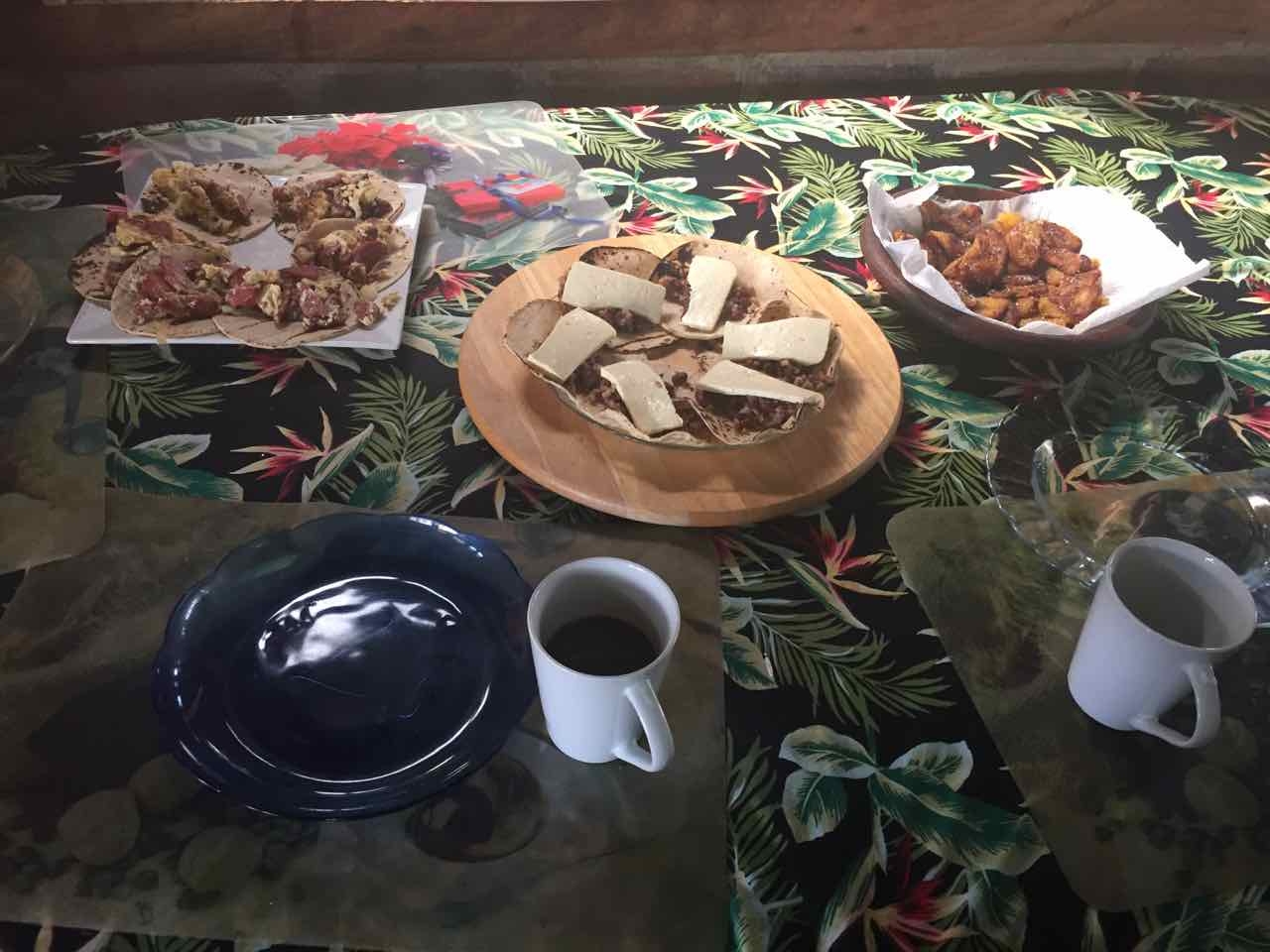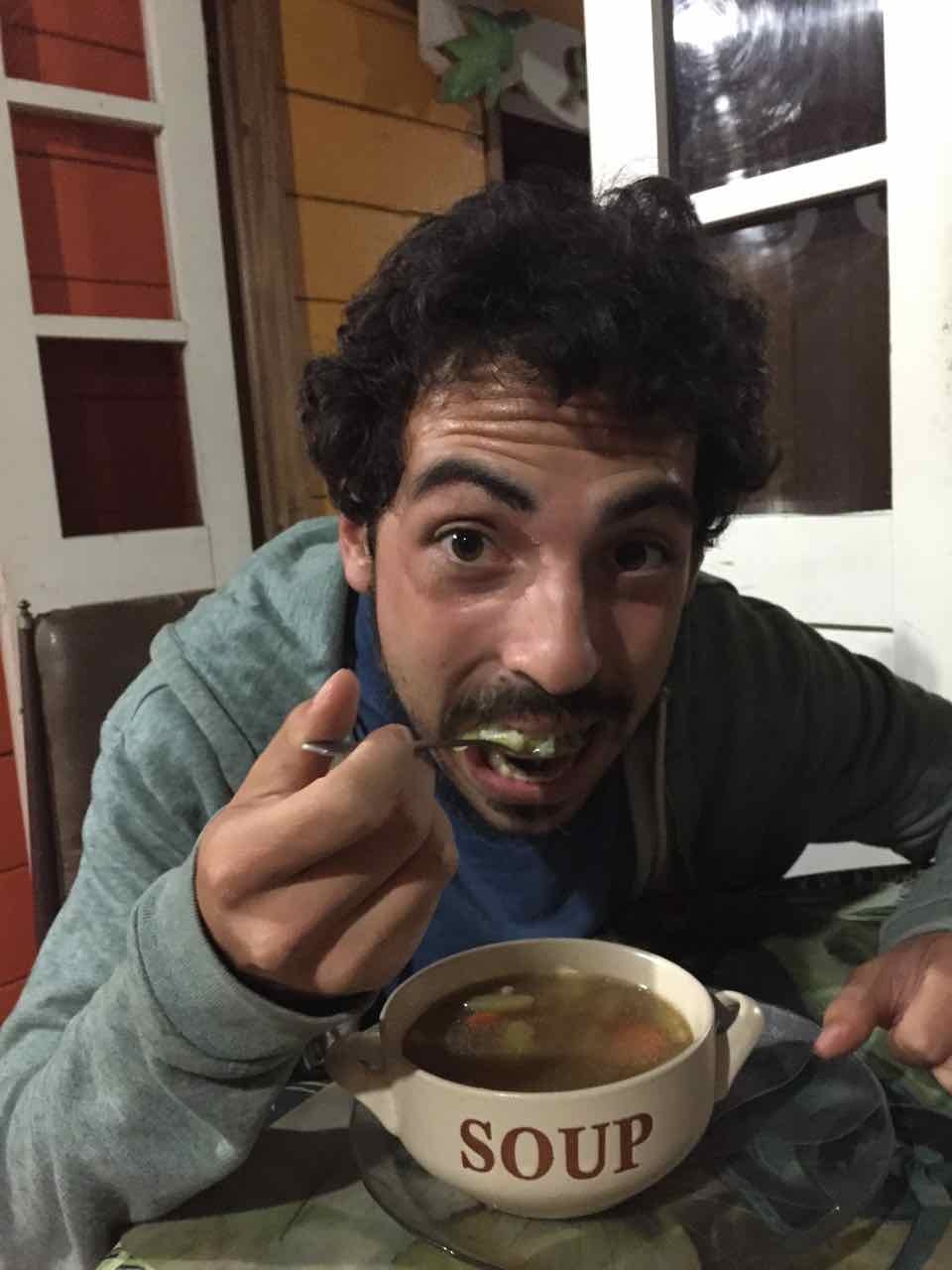 But before moving on, allow us to regress to a serious tone: we can't thank Luisa and the Rodriguezes enough for all they have done to make us feel at home. Together, on our final night, we celebrated the arrival of Brian's 26th birthday with balloons, burgers, and Budweisers – a celebration unlike any he's ever known.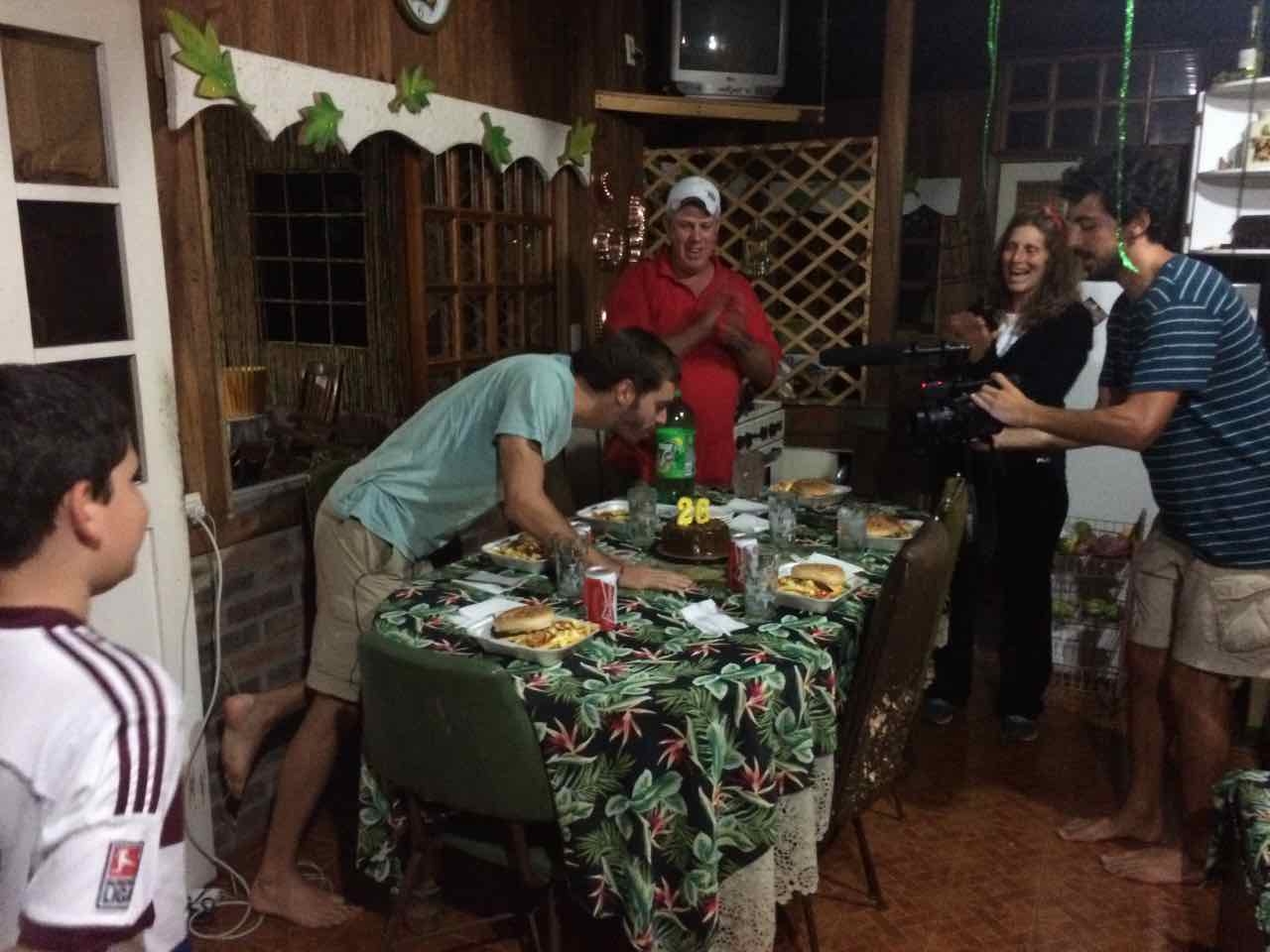 Sloth Sleuthing: from Santa Elena to Palmares to Puerto Viejo and beyond.
We had a week to waste at Luisa's palace of pleasurable leisure, but reminded ourselves that such a sidetracking would surrender ourselves to a hedonistic horror we cannot allow. Instead, we pricked our lazy butts up and planned for a day of hiking at the flora and fauna filled cloud forests of Santa Elena. But just going on a hike for a hike's sake makes for a rather lackluster day of filming. So, we opened up a storyline that would last for a languishingly long length of time – we must meet a sloth. We meant that in no uncertain terms. It became a dream, a fixation, a preoccupation to come face to face with this animal. This tree-loving, sleep-obsessed mammal spends most of its days pinned motionless to branches; in Spanish, they are called Perizosos, which literally translates to "lazy," and yet, to us they become more elusive than any creature you could conceivably conceptualize. Our ride to and from the misty Santa Elena environmental wonderland, along with the 3-hour hike around the reserve's luscious loop, took us to a place of the upmost serenity. We reconnected with Mother Nature and rekindled our appreciation for what she has to offer our hearts and our minds; and yet – no sloth was in sight.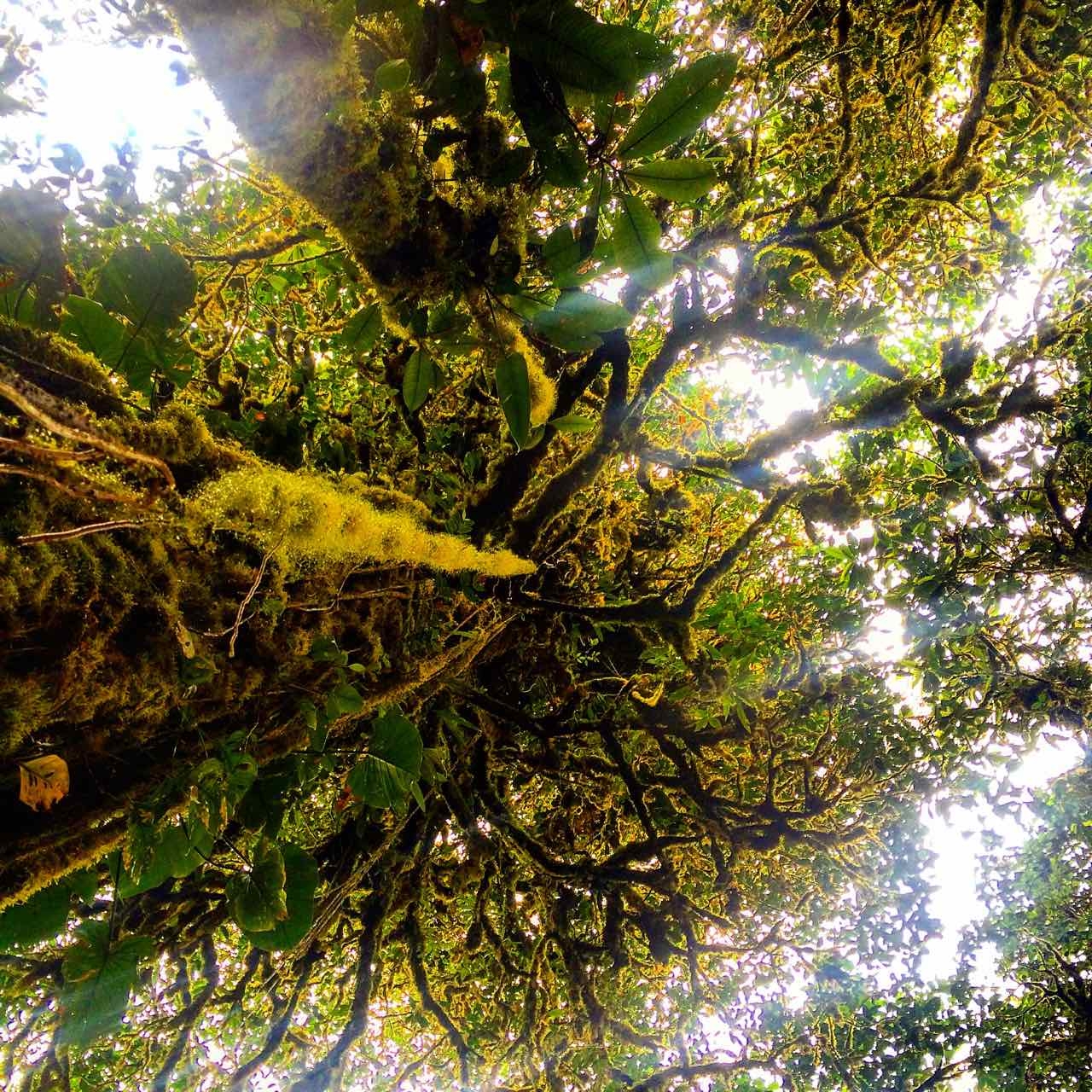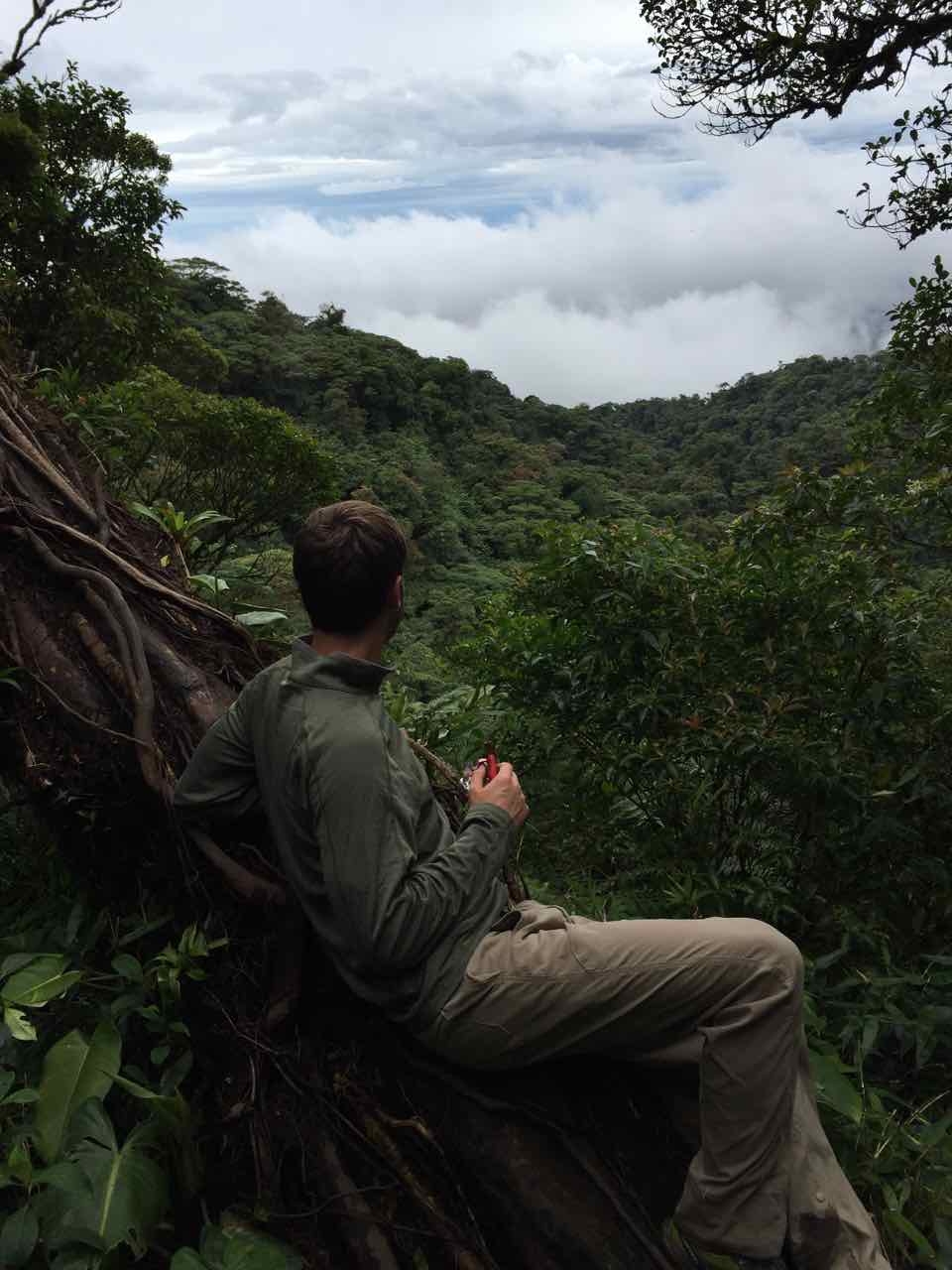 Having heard rumors that a family of sloths resided within the canopy of Palmares' central park, we went on a meager mission to spot the sloth. No dice. After craning our necks to the highest reaches of the park's dozen or so trees, we left with our heads sore as the dickens and dangly in failure (a few days later we learned all of Palmares' park's sloths had been relocated to Monteverde Cloud Forest just a few weeks prior). We were 0 for 2.
For the first time in over a month we were on the move to a new place, taking a new passenger on the ride with us. Sol, Luisa's niece, carries a radiant warmth with her that legitimizes the name bestowed upon her by her parents. Her hair freshly bleached an electric pink, her presence alongside us immediately upped our cool factor one hundred times. Best of all, Sol knew about our maniacal mission to spot a sloth. She was in. Walking up and down the beachside sendero (path), staring up and down the trunks and branches of teetering trees, Sol suddenly stopped us to inspect something far up in the sky. "Perizoso! Arriba, en la rana!" (Sloth! Up on the branch!) We stared at it for a minute, then a minute more. We zoomed in with our camera to get as a good a view as we could muster. It was motionless and brown and blended in quite unequivocally with the branch to the point where we three Goulets were pretty sure it was nothing. But Sol was convinced and her conviction was enough to convert our easily persuadable minds. "Yeah! It's a sloth!" we apprehensively celebrated.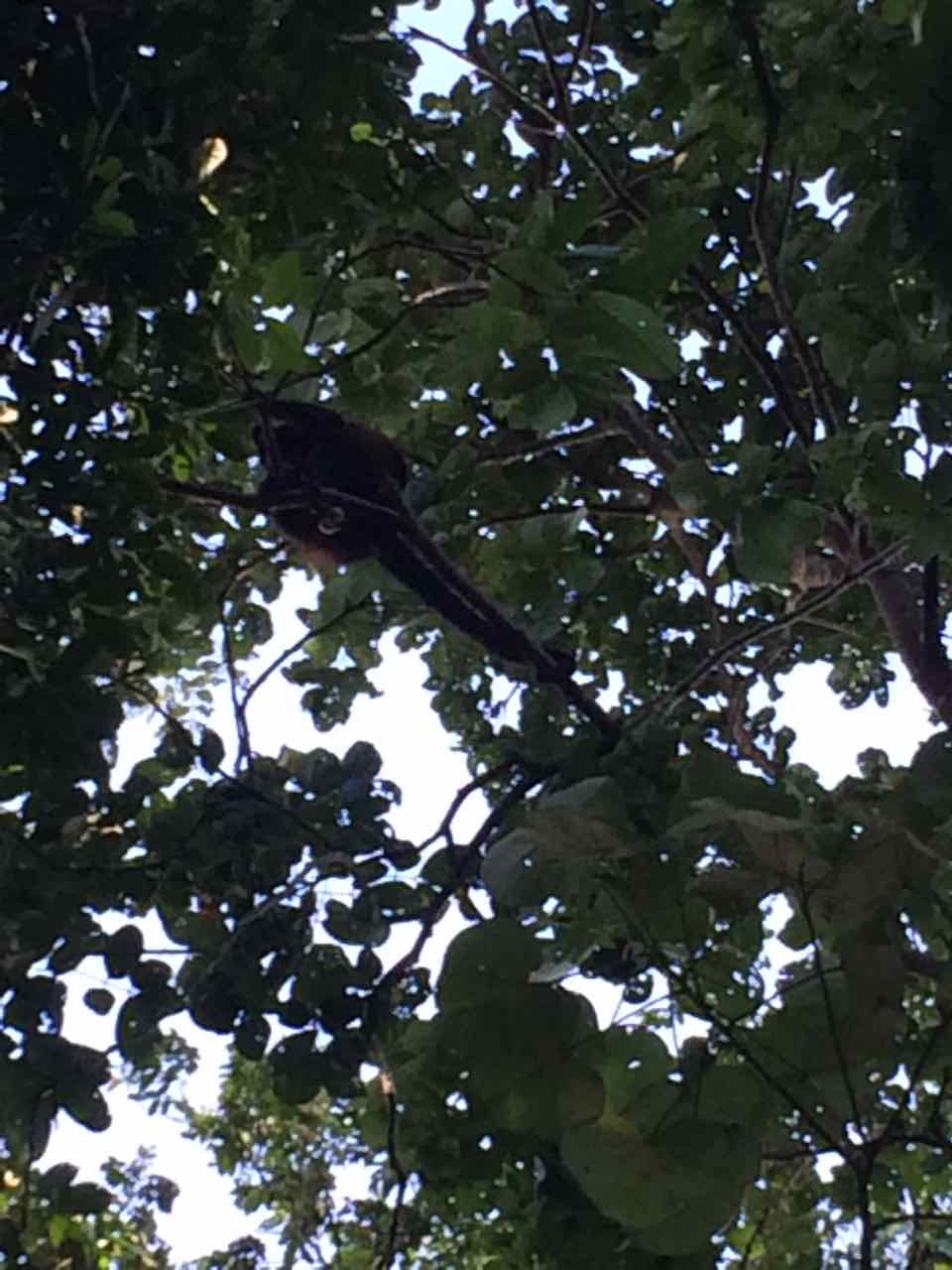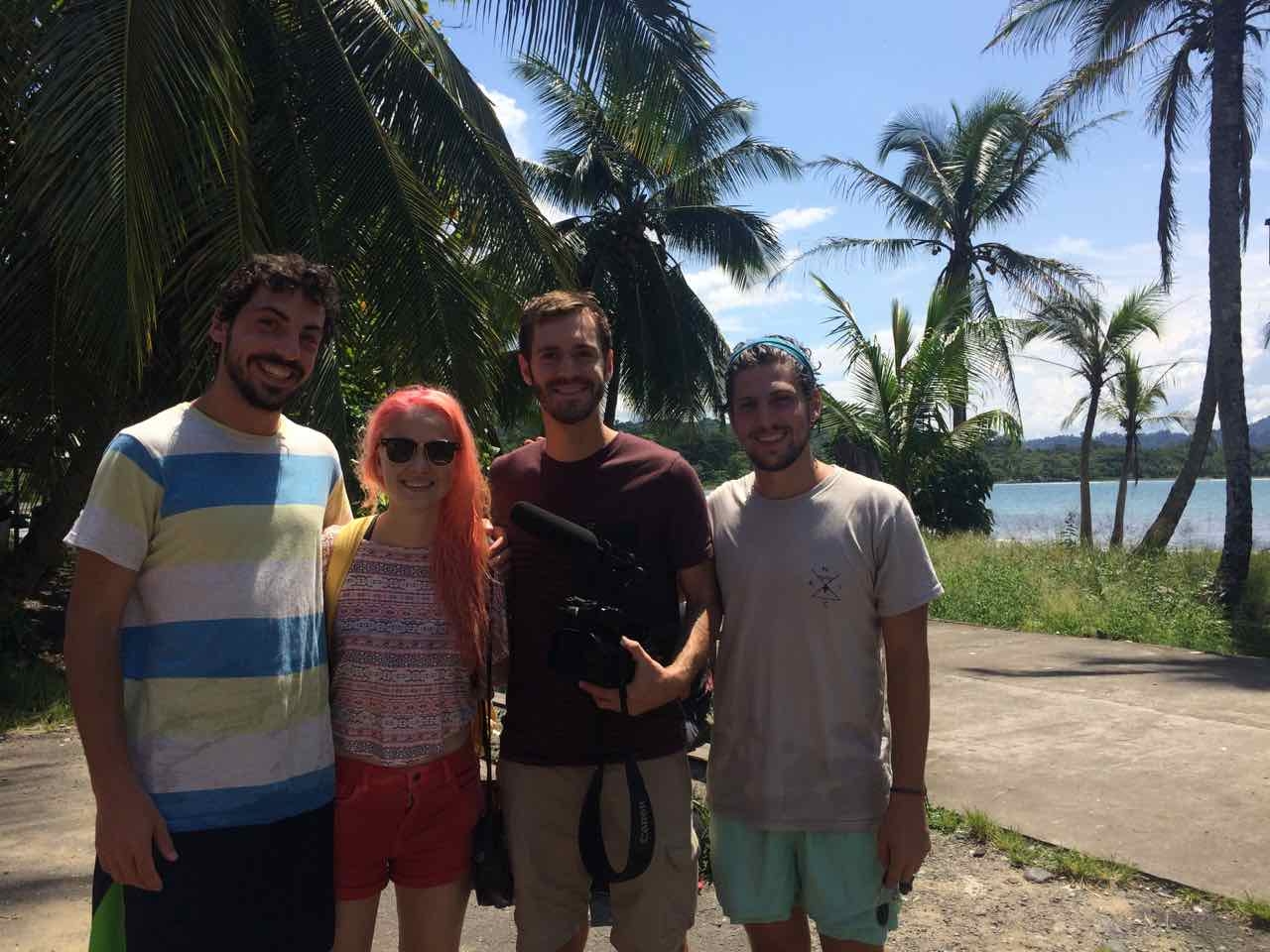 For as positive as we were now that we'd seen the sloth with our own two eyes, the climax of this kooky storyline didn't pop with the sort of poignancy for which we'd prayed. Even a cop-out visit to a sloth sanctuary where we came face to face with the sleepy sucker left us unsatisfied. We had to find them in nature, ourselves!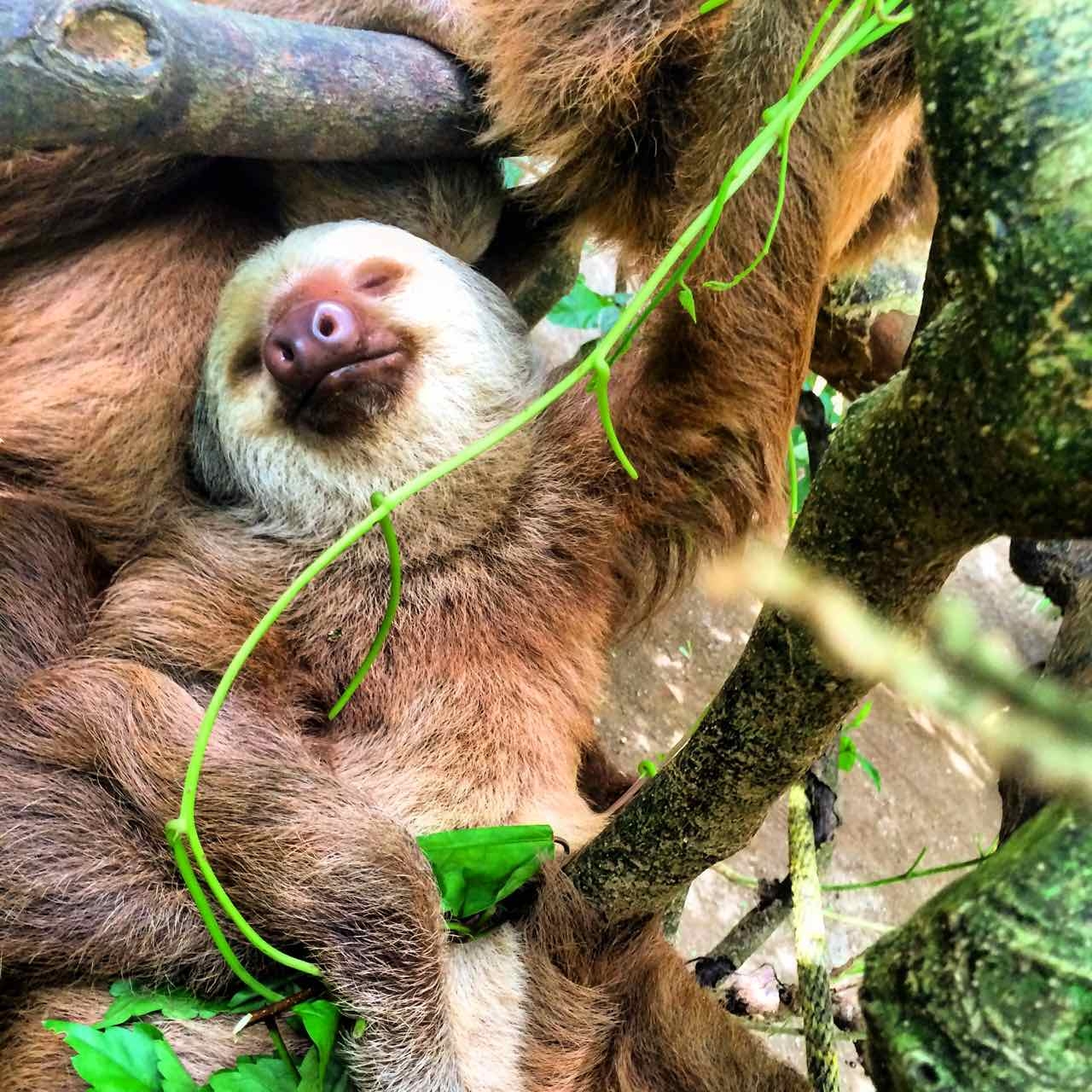 After a couple of days partying at the traveler's hostel haven Rocking J's, we packed up and prepared for a push for our passage to Panama. But wait, it's Dia de la Independencia! Okay – before bumbling to the border we hung around town for a few, tasting tantalizing treats at Evanita's family bakery and capturing the procession of parading school students through the streets. Soon thereafter, we wandered to Panama's post, only to face harsh rejection upon learning that a native revolt was blocking the bridge for our entrance to the new nation. Back to Puerto Viejo we went, delivery on our ever-duplicated destiny to double back to almost every place we've ever been on this journey to world's end. Matilda, a friend we'd made back in San Juan del Sur, insistently invited us for a stay at the hostel she now mindfully manages.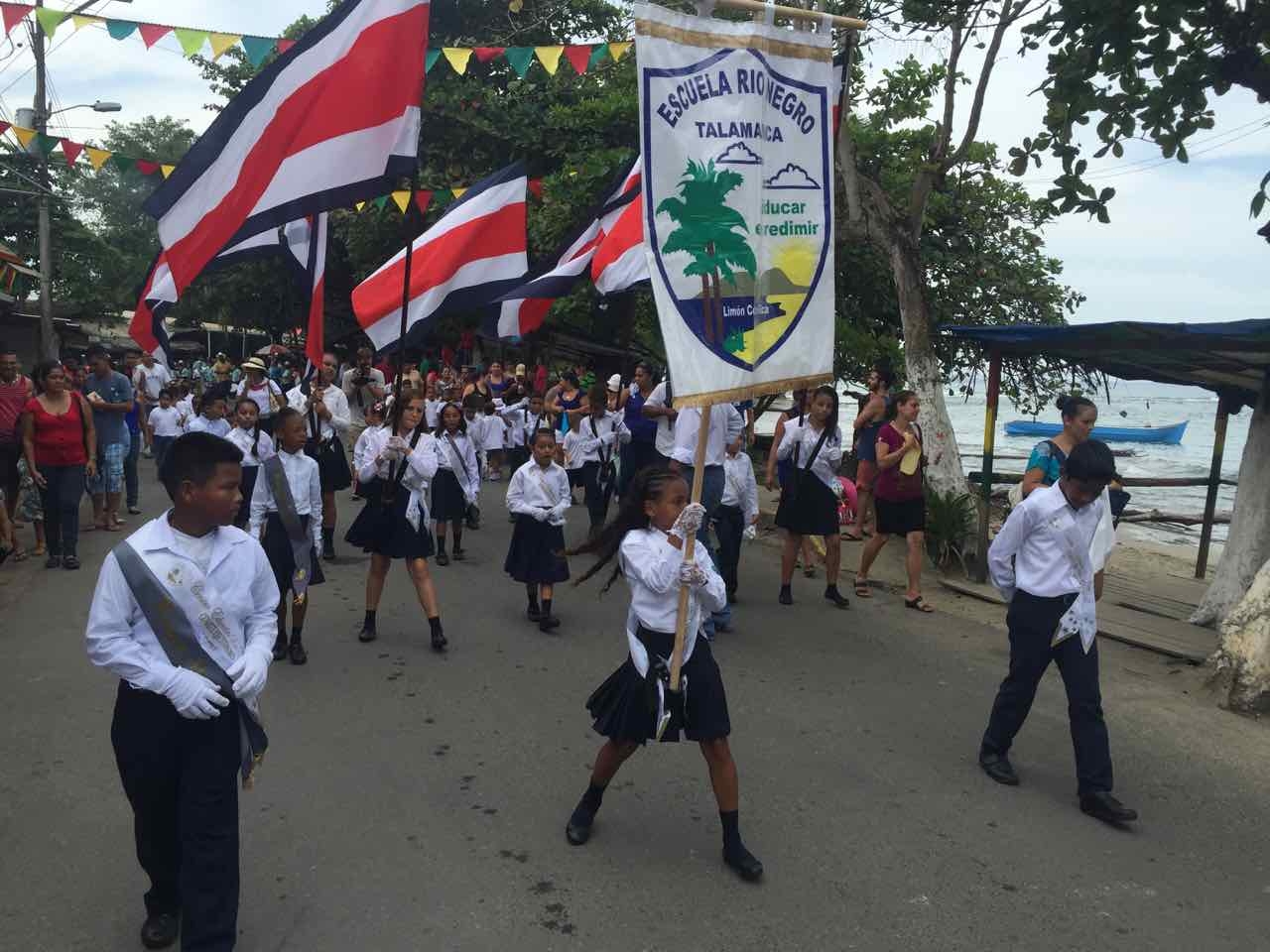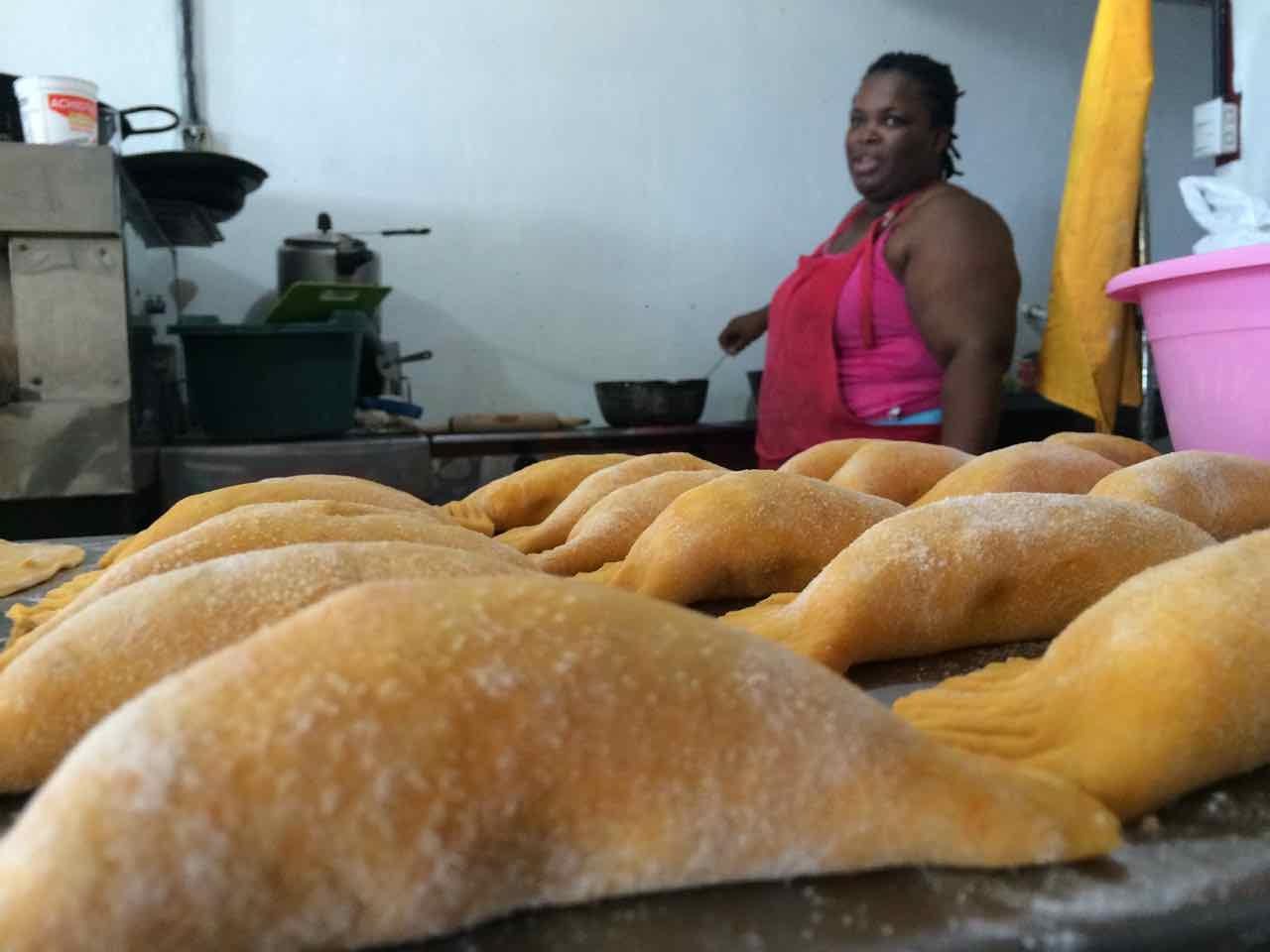 Before you read on to our passage into Panama, let ye' be fair warned: sloth season is not over…