The following post details the Global Goulets' journey from July 22 to August 2 (Days 113 – 125):
This post is written under sullen circumstances. Shrouded in a black cloud of doom, we sit in a café in San Juan del Sur, the gringo party capital of Central America, on a Sunday, the day every single said gringo tosses back any inhibitions and indulges in a day of relentless debauchery and drunkenness in an internationally known event fittingly called "Sunday Funday." Our inhibitions at the moment are too heavy to toss away, however. They are as unmovable as a mountain. Our Goulet spirits are at an all time low point. We are almost out of money. We have spent hundreds of dollars on car repairs. We can't make it to Argentina at this rate and neither can our car. Our fortunes have turned as sour as the forgotten milk meant for our coffee that sits in the enclosed confines of our powerless car. This tale of madness has not come on suddenly; rather, it's been a slow, torturous process of drowning in the shallow depths of Nicaragua's pacific coastal waters.
Intermittent within this car saga was a series of attempts to continue our adventure "as usual." We visited Volcan Masaya, a low standing volcano with a massive crater emitting active fumes from the depths of the Earth. We checked out beautiful and colorful colonial Granada, on the shores of the immense Lago de Nicaragua. We even attempted to distract ourselves from our inescapable car hell by losing ourselves in San Juan del Sur's party haven. But attempting to maintain our normal explorer mentalities was akin to trying to nap on a plane taking a nose-dive into the ocean. It was all just a traveler's farce. Rewind the clock about two weeks and we'll find where this tragedy all began.
Attempt #1 to leave Managua: Remember El Transito? On our way out of town we encountered our first indication that our luck was thinning out. Our car, the Santa Maria, which had been starting quite precariously for a few days, would not start at all. Local mechanics came to the rescue, under the advisement of our good friend Terri Marlett, who determined we had a dead battery, caused by an electric failure far more menacing. They loaned us a boat battery that would get us to Nicaragua's capital, Managua, where we would visit another mechanic who could give it a more in-depth inspection. We never meant to do anything but just drive through this industrial city on our way to other waypoints.
Terri generously offered us a place to stay in the apartment above her husband's office complex in the middle of the city. We stayed there for a few nights, while we embarked on this car repair adventure that would remain ongoing for the next couple weeks. First stop: the largest black market in all of Central America.
The mechanic told us our alternator was the culprit. He quoted a replacement at $2100 USD. That's right – two thousand one hundred US DOLLARS. Okay, there was no way that was happening. And we also couldn't afford the refurbished alternative of $450.
Essential to explaining these car issues is a brief overview of how an alternator works, told by a trio of Americans who know next to nothing about the workings of a car. If the engine is the car's heart, the alternator is one of the other vital organs. It is used to charge the battery and to power the electrical system when the automobile is running. Without one that works at full capacity, the battery dies and the car won't make it more than a little ways. Because we couldn't afford an appropriate replacement, we opted to risk simply fixing the one we had. We had to get creative.
Into the ravenous heart of Central America's most bustling black market, where it is said you can find anything (we have no idea what the limits of "anything" is), we met up with a friend of a friend who led us to the car parts zone. But this exploration wasn't easy. We'd been told to carry nothing of value even in our pockets, as muggings and petty theft are not just frequent, but nearly expected for cheles (white people) like us. Through the tangled web of street stalls we maneuvered around carts selling refreshments and soda, betwixt and between vendors peddling all products imaginable, we snaked through the never-ending commercial maze that is El Mercado Oriental. Alas, at the one shop that sells and renovates car alternators, we handed ours over to get a critical $65 fix-up job.
This would not be our final visit to the alternator shop. We'd come back, not once, but two more times, to re-examine the failed band-aid job that stood no chance in curing the ailments that plagued our Santa Maria. In and out of that market we'd voyage, time and time again.
Attempt #2 to leave Managua: After our initial alternator patch-up job we thought we could freely depart Managua and head south down Nicaragua's tourist-infested west coast. Sadly, the only thing heading south was our luck.
We agreed we were in need of an oil change, not having done so since we first left New York City on April 1. During this routine maintenance, we were alerted of an oil leak in the car's underbelly pan where this indispensible substance is stored. After visiting a couple of mechanics around the city, we settled on working with a dude named Walter, who quoted us at a cool 4,500 Cordobas. That's about $170. But the job was far more fearsome than originally anticipated. The rust that has consumed the entirety of the car made it ten times more challenging to remove the oil pan for patchwork. What Walter believed would take 2 days ended up taking 4 full days of labor. The other mechanics at the shop declared this was the most difficult car they'd worked on in six years. We spent the nights waiting for the car to recover camping out in the mechanic's noisy lot, next to bustling city traffic. When we finally left and paid another $30 to cover the extra costs, the only thing awaiting us down the road was more problems.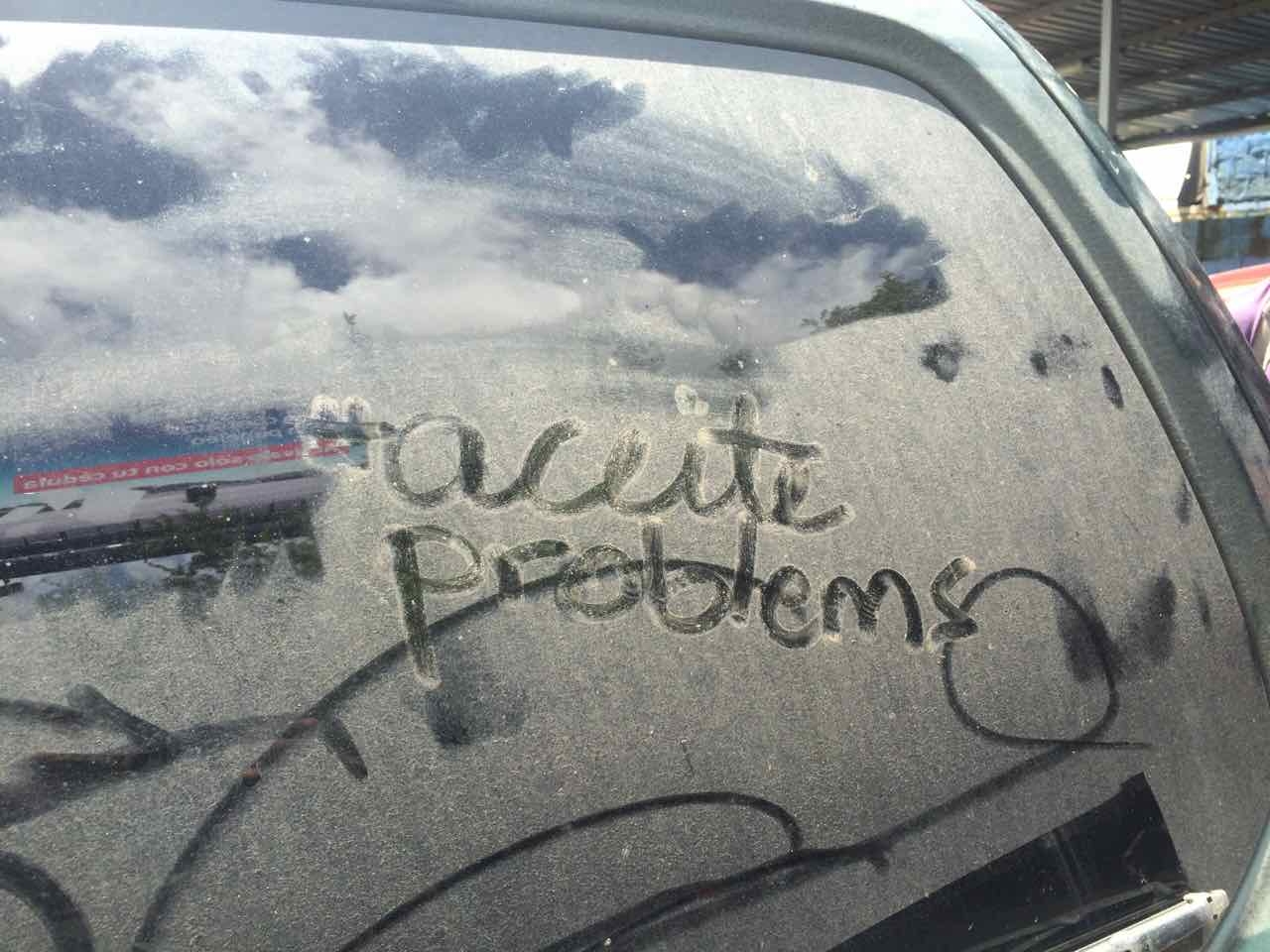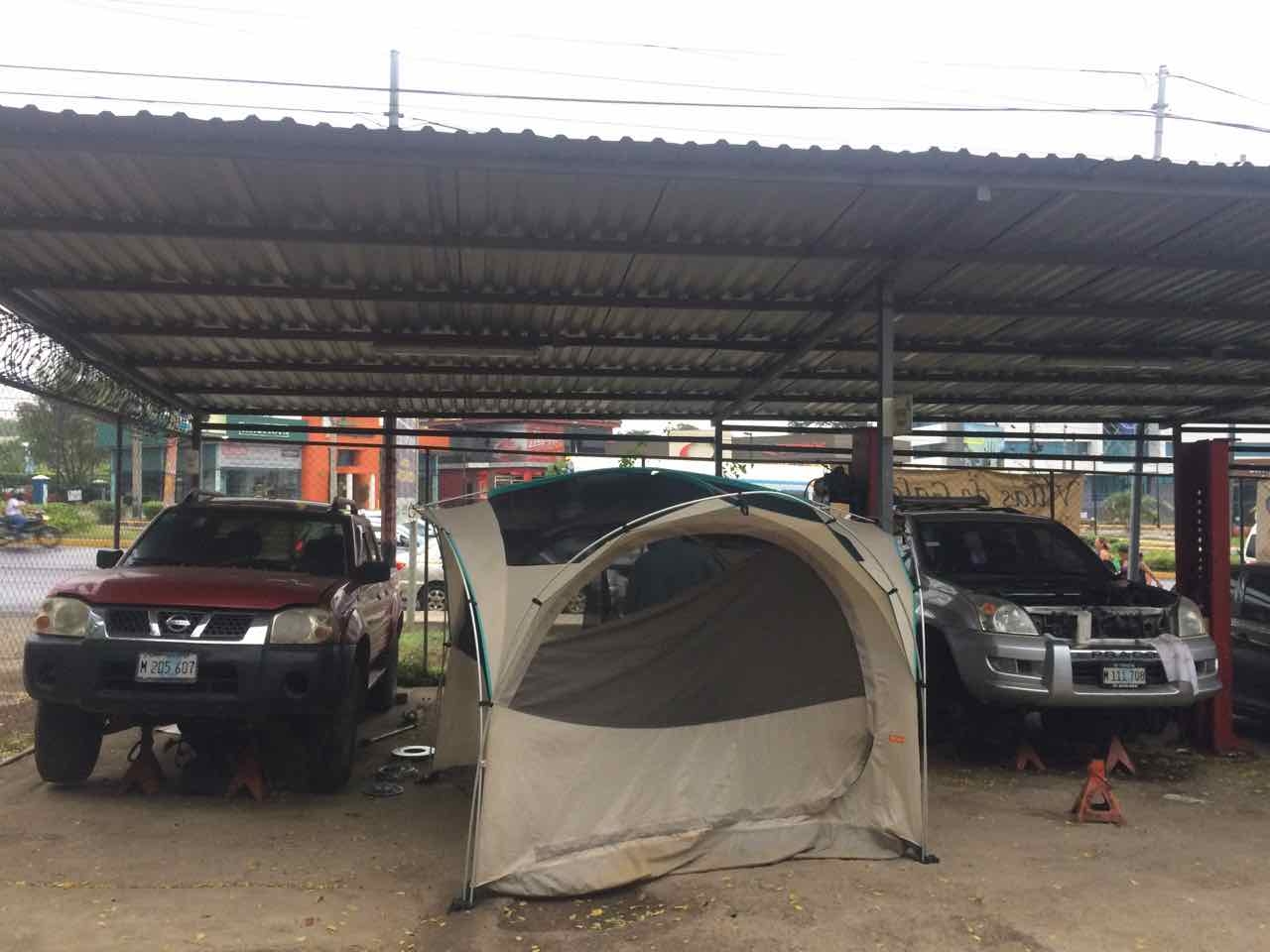 Attempt #3 to leave Managua: Leaving Walter's mechanic shop, we drove down the highway on the way to Volcan Masaya, expecting to continue our expedition through Nicaragua as planned. It was night by this point, but the drive was supposed to be no more than a half hour to a campsite within the national park at the volcano's foothills. Then, in a fit of pure frustration that quickly faded into fear, the car suddenly died in the middle of the highway. The radio failed, the A/C stopped working entirely, and the headlights faded out. The lights on the dashboard flashed uncontrollably until at last the car just stopped. So we jumped out of the dead car and hailed down help from anyone driving by. There we were, completely naked and exposed on the side of the dark road with buses and trucks whizzing by, hoping that whoever heeds our desperate pleas would be there to help us and not rob us. Thankfully, the man who pulled over and agreed to tow us had only positive intentions. Hilariously, about ten miles down the road back towards Managua his car broke down too. Our car problems are contagious, it seemed. A taxi took us the rest of the way.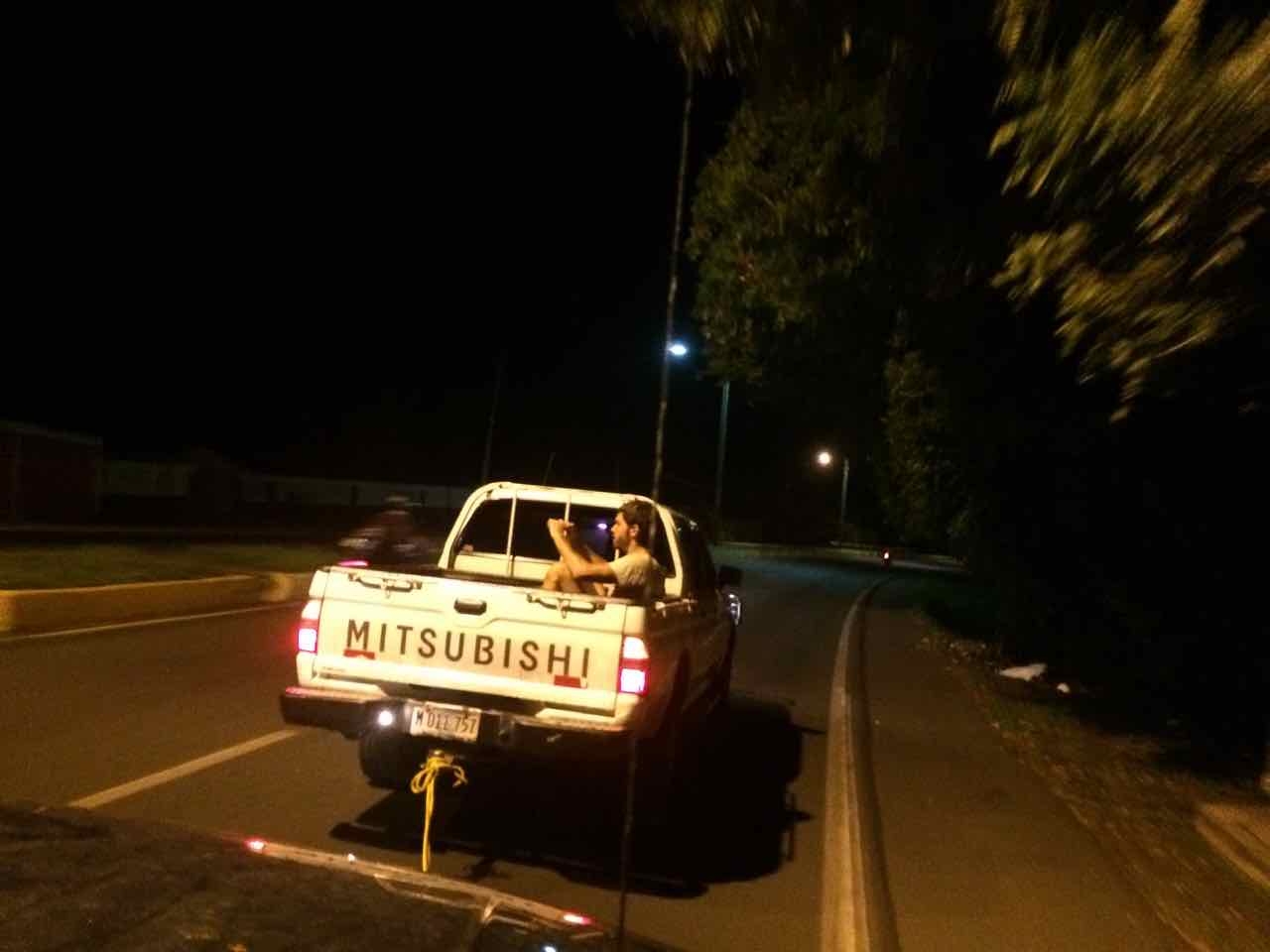 Turns out it was the alternator again. And so we went back to Walter's lot, where we set up the tent once again. The next day we trekked into the Black Market for our second futile round of alternator restoration.
Attempt #4 to leave Managua: After the next repair, the car came close to convincing us it was good to go. We drove it to Volcan Masaya, then to the city of Granada, and eventually all the way to San Juan del Sur. With a stroke of magic, our car decided to die this time right in front of the hostel where we'd stay for a couple of nights. We rendezvoused with a new mechanic, who called both our mechanic from Managua, Walter, and the alternator shop in the black market to get a good read on car's status. Then he removed the alternator itself, took it to a specialist in the nearby city of Rivas, and diagnosed that it was beyond repair. He suggested we go back to Managua. Again. So tomorrow we wake up at 4am and head back into the fire.