The following post details the Global Goulets' journey from May 29 – June 3:
Day 59 (continued): We sailed through Guatemala'a serene midday seas, proud and content from our previous night's successes at Mincho's. As badly as we wanted to accept their offer to stay one more night, we'd tightly packed our schedule, having already accepted another family's kind dinner invitation. Ever open to free meals, this was another rare opportunity for us to fill up our bellies at no costs to our depleted and weary wallets. Another full day of driving was nothing we weren't used to at this point in our journeys. Covering roads, for the most part nicely paved save for those near Guinealis we'd already painstakingly navigated, returning to Antigua's familiar periphery was a stress-free feat.
Where is this next mystery meal that is so important we had to depart from Mincho's earlier than hoped? At the home of the Antillon's, a family we met through the eldest daughter Joselyn, a minor Instagram celebrity, who hides her identity to the public under the cryptic social media handle @Soulayers. Alex messaged Joselyn a few months back when one of her photographs was featured by the official Instagram account. Seeing that she hails from Guatemala and knowing we'd eventually voyage through, Alex put two and two together and asked if she'd be willing to meet up with us when we made it to her country. After weeks of inconsequential anticipation, we finally met up with Joselyn, her twin brother Pablo and a few friends, during which we learned a bit more about the girl behind the semi-famous and fully professional photographs.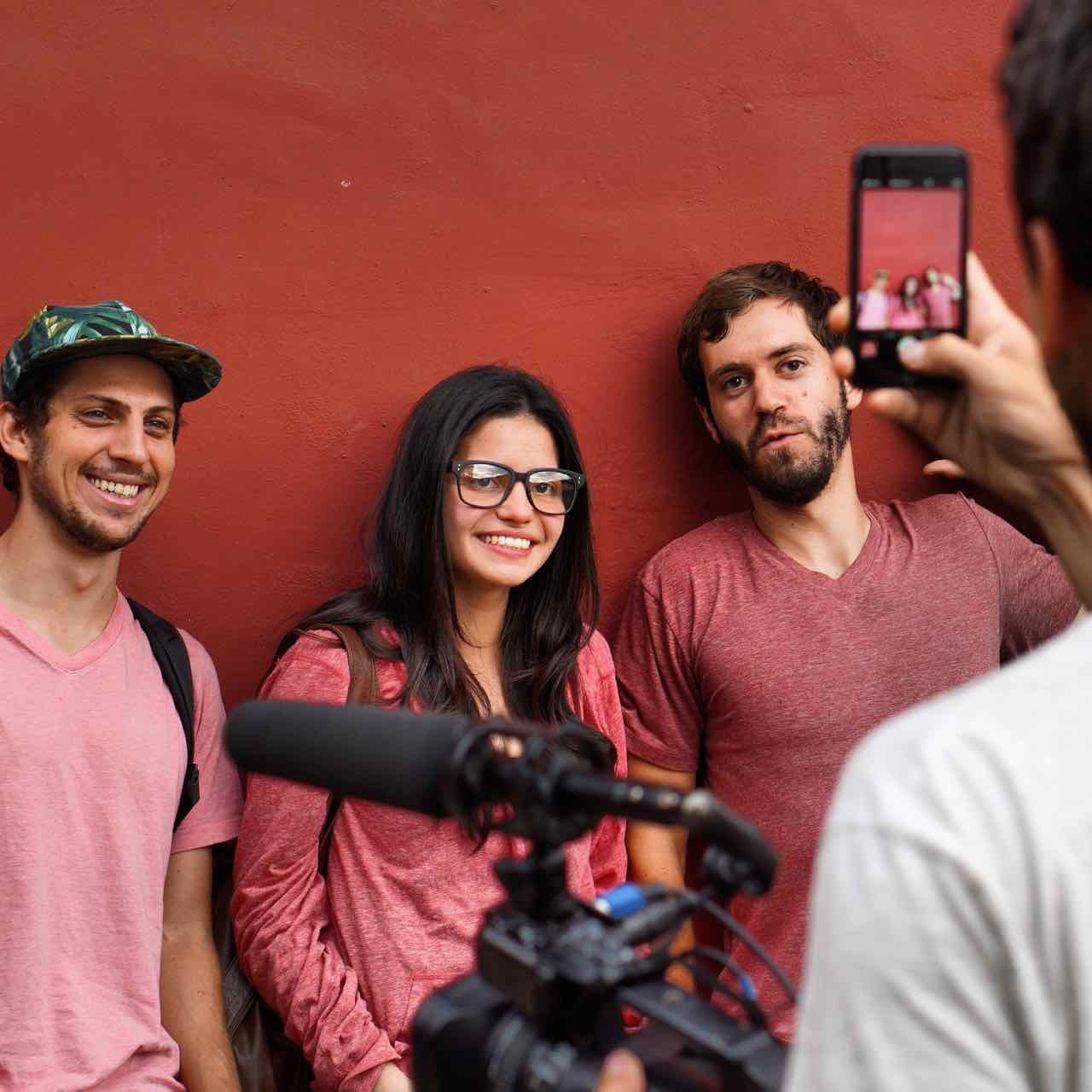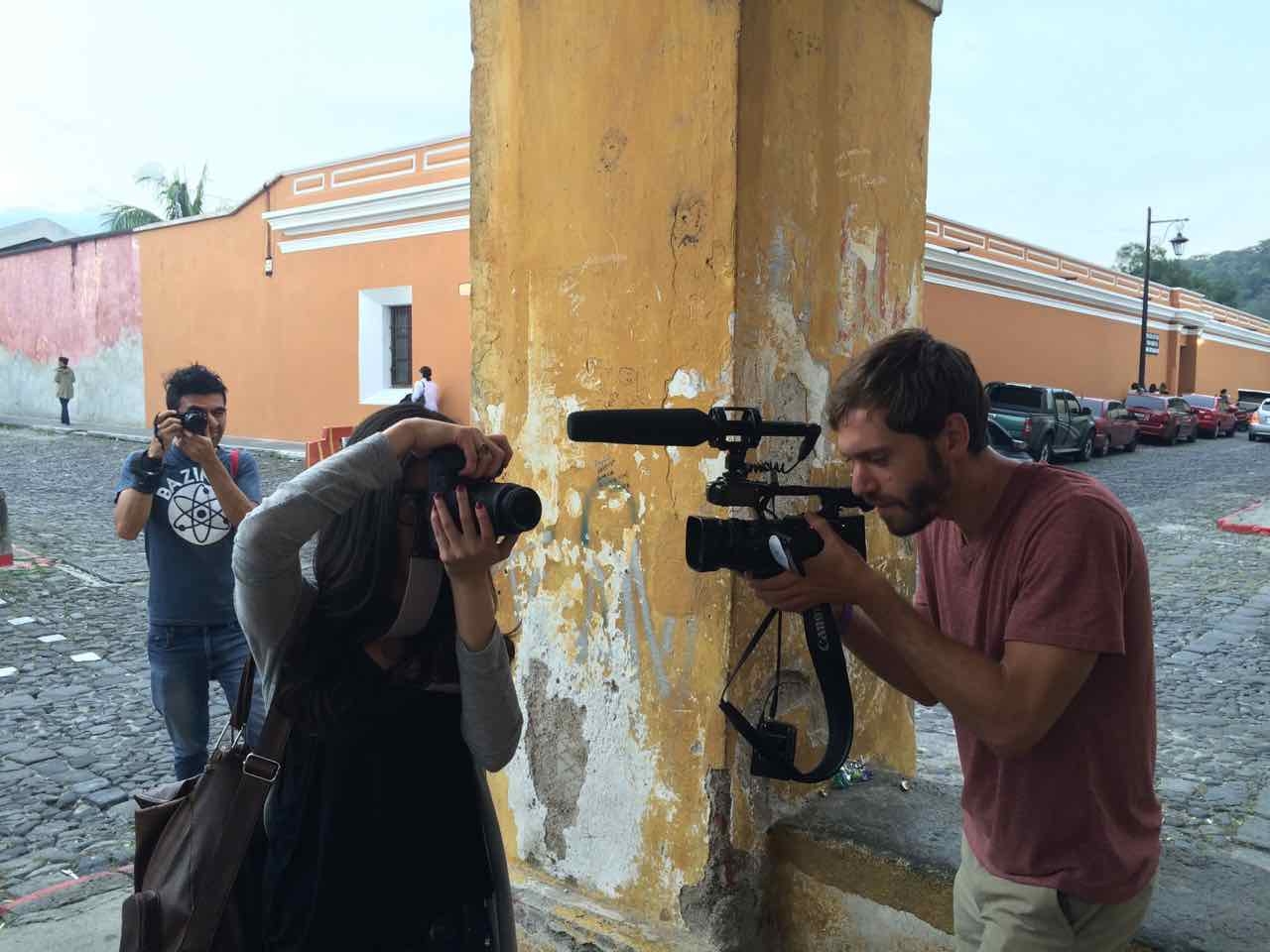 Our first meeting went so well that Joselyn's parents generously offered to host us for a family BBQ. We pulled into the gated community within which this family resides. Inside their beautifully furnished home mom, Glenda, and dad, Conrado, warmly welcomed us. The layout of their home stood closer on the cultural spectrum to what you might imagine of our own houses back in the NYC suburbs: colonial era themed artwork ordained the shelves and walls and the dining room table sat underneath a sturdy roof. We enjoyed unlimited carne asada and friendly conversation, testing the limits of our Spanish mastery built up through language classes the previous week.
Conrado's distinctly dad-like manning of the grille was a far cry from the circumstances from whence our previous Guatemalan meals had been concocted. We even ate corn in the fashion we are used to: right off the cob. The one saving grace maintaining the meal's Latin influence was the infinite use of corn tortillas. It goes without saying, but these tortillas were store bought, not slapped together right there in-house as were our tortillas from the night prior at Mincho's. We stayed late enough into the evening to sing a little "Feliz Cumpleanos" to the twins, who were reigning in their big twentieth birthday. One last thing before leaving – we told the family about the audio problems on our camera and Joselyn promised to reach out to their Uncle Juan, who makes his living working with professional video equipment just like ours. What luck!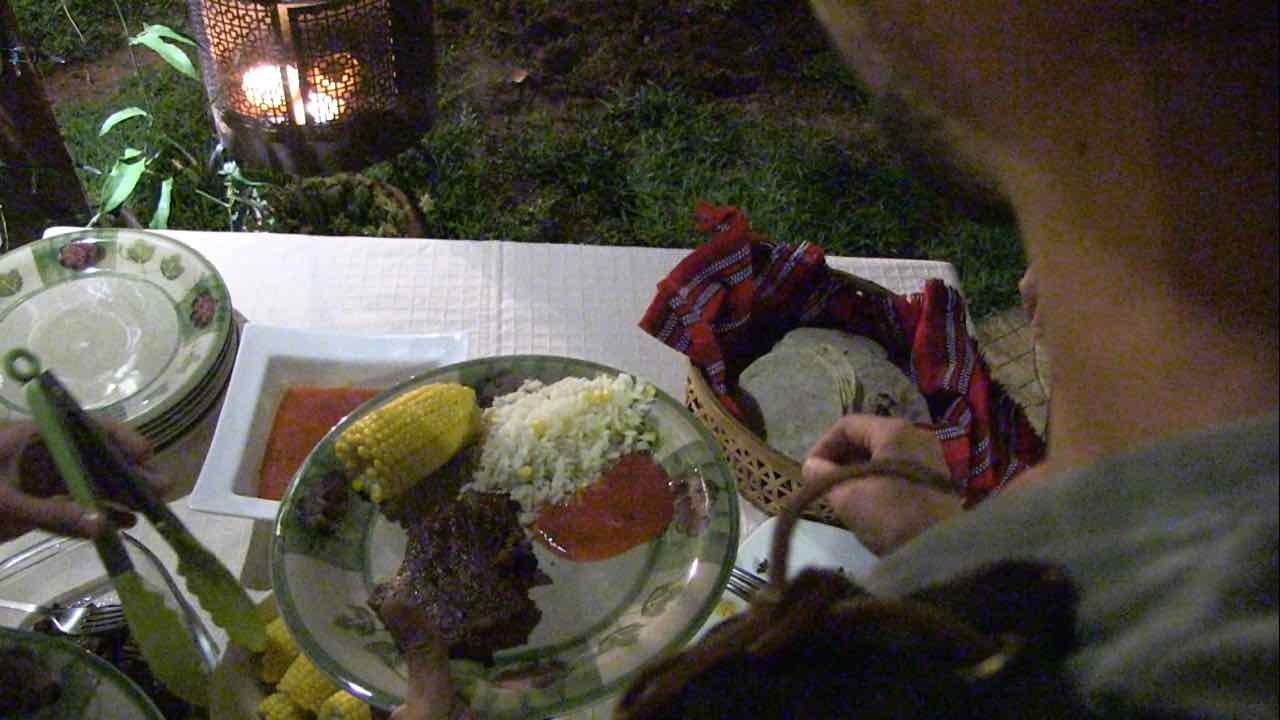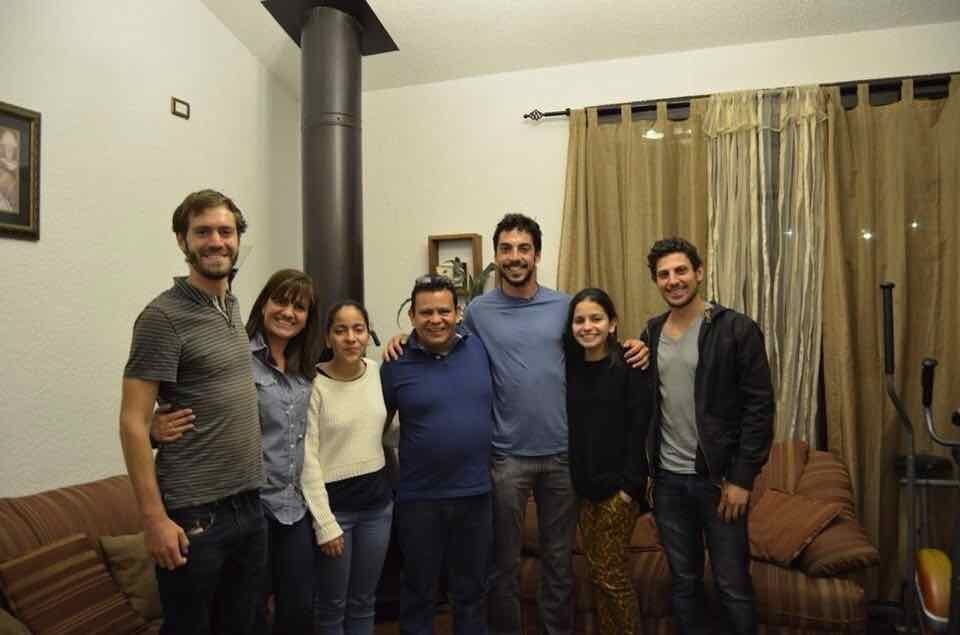 Day 60: We figured we'd maximize our Amazon order wait time with a quick expedition to the world famous Lake Atitlán. We were sure by Monday the camera equipment would arrive and then we'd be all ready and set to buckle up for the border to El Salvador.
Before earning the right to explore what Atitlán had to offer, we had to make it there unscathed. Unfortunately, fate had other plans. Descending the furiously steep mountainside adjacent to the lake, a new smell struck our nostrils. As the stench strengthened, we painfully recognized the brutal truth that our brakes were still broken. Right when we made it to leveled terrain, at the entrance to Atitlán's flagship lakeside town, Panajachel, smoke wafted from our front tires and billowed above the now cartoon-like Santa Maria. We leapt out of the car, camera in hand, and faithfully documented our compelling discontent.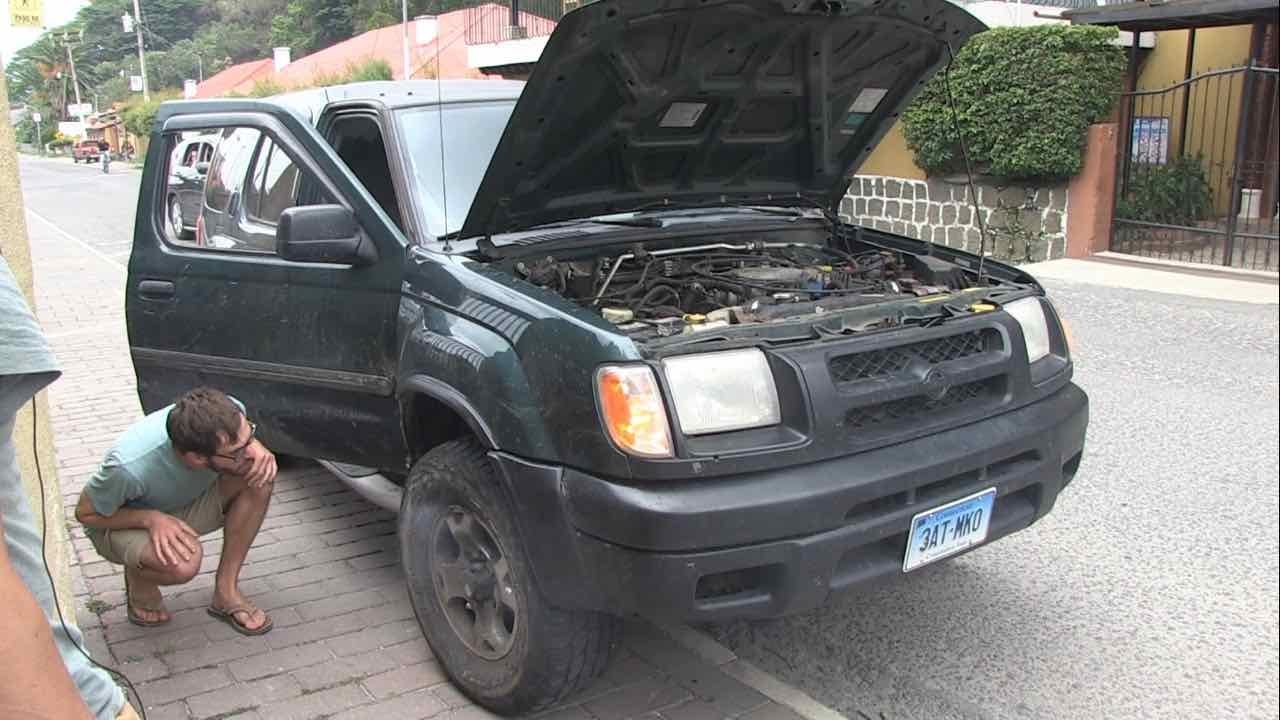 It was late in the day Saturday and we were lucky to find a mechanic near a shop who seemed to be waiting for work. Had we arrived an hour later, we'd have been out of luck until Monday. He rotated our tires a few times ("otra vez, empuje!" he shouted at Alex to push the brake peddle while he performed some unclear surgery behind each tire) and told us everything was good to go after about an hour.
With night coming on as fast as the closing curtain before a stage, we made the rushed decision to park our car there in Panajachel and take the public ferry across the lake to the traveler-friendly town of San Pedro. We were eager to meet some other travelers, have some drinks and unwind a bit. Consequently, we bit our bottom lips and paid the unaffordable 60 quetzales fee (~$9/ person) to stay at Zoola Hostel with every bit of an intention to kick back a few and charm up some Israeli girls. Instead, we met a kooky South African girl who took us to the pre-party that led to an intense all-night trance party. A combination of expensive drinks, general exhaustion and a sudden realization to prioritize filming prohibited us from embracing the all-nighter. We ended up getting back to our hostel dorm rather early with newfound plans to get up at daybreak and check out the highly heralded Chichi market.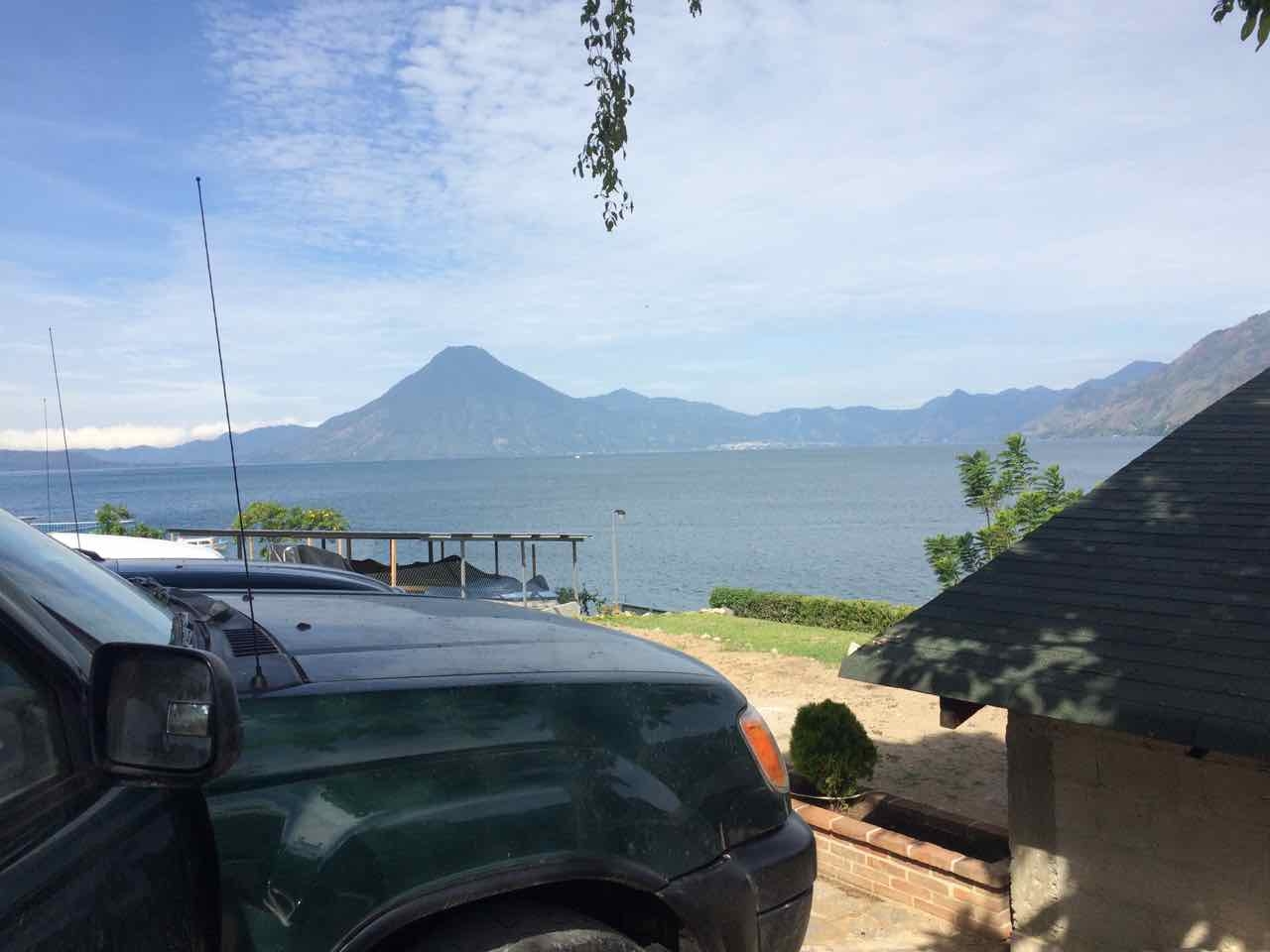 Day 61: Always make footage priority number one. Early we rose, but not early enough – none of us had remembered to set an alarm, falling into the common trap of "well, one of the other two will do it." We had a long journey ahead of us on the way to the market at Chichicastenango. We'd read that Guatemalans from all over the country, as well as a profundity of curious tourists, venture to this bustling Sunday bazaar. We insisted we'd set ourselves apart from those other parasitic tourists by traveling in the same fashion as your typical local: by chicken bus.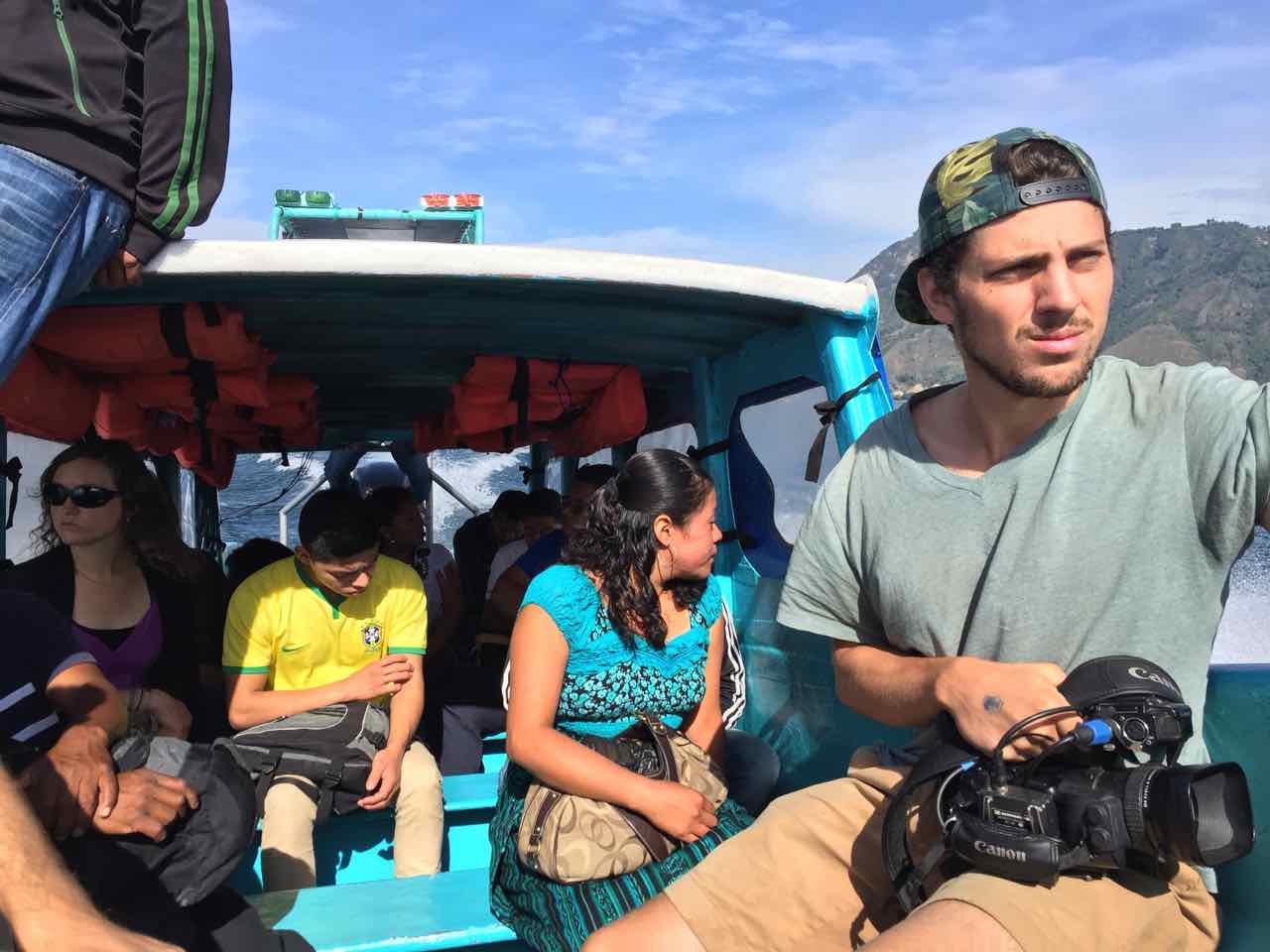 What's a chicken bus? A hand-me-down 80's era school bus from the States passed on south, where it is then lavishly decorated to both hide its depleted condition and showcase some local character. Inside, Guatemalans pay but a couple of quetzales (about a quarter) and pack in tightly like sardines, where they economically transport from one town to the next. In total we jumped on and off three separate chicken buses and landed in Chichi for the whopping price of 15 quetzales. Go us!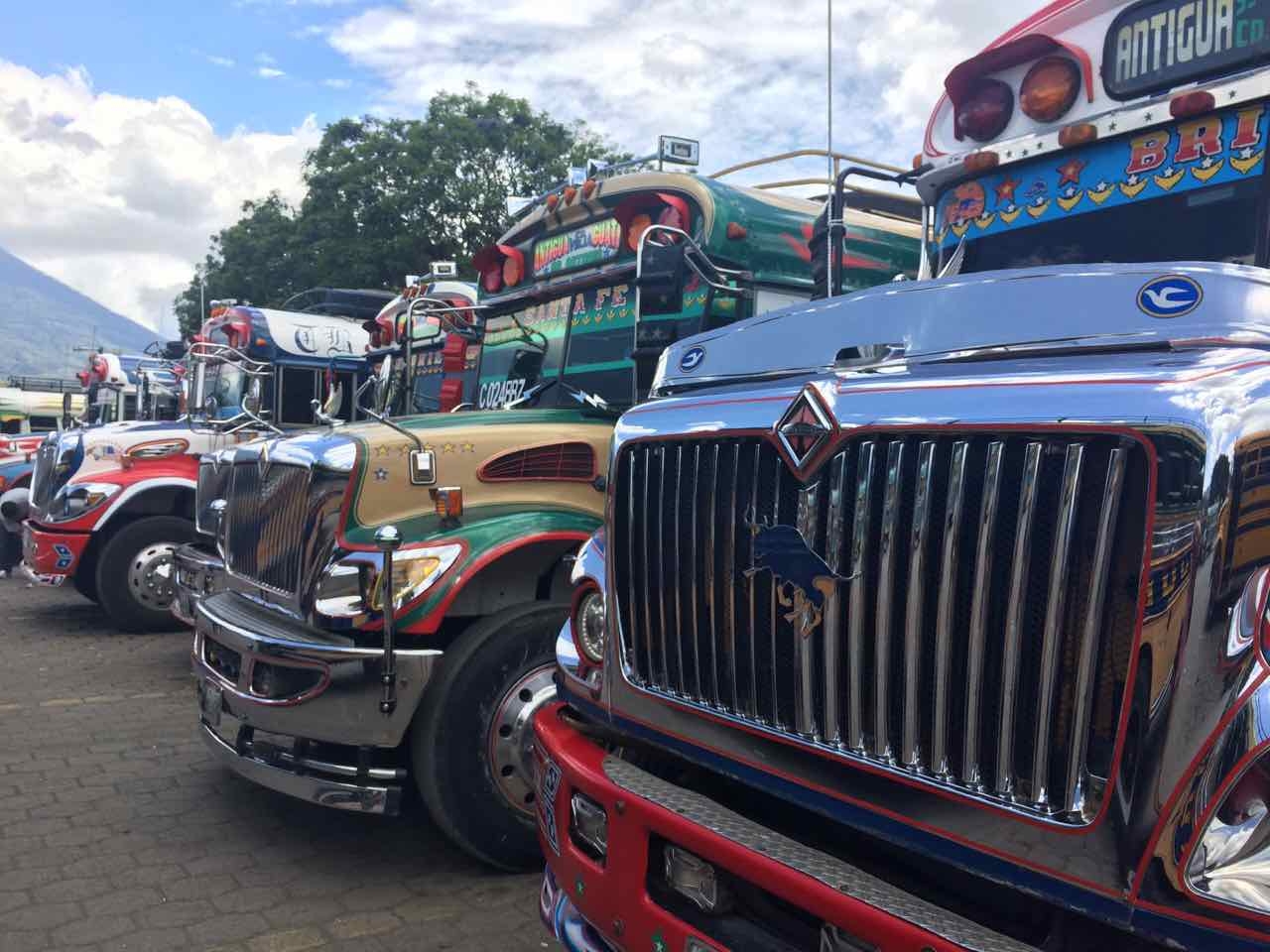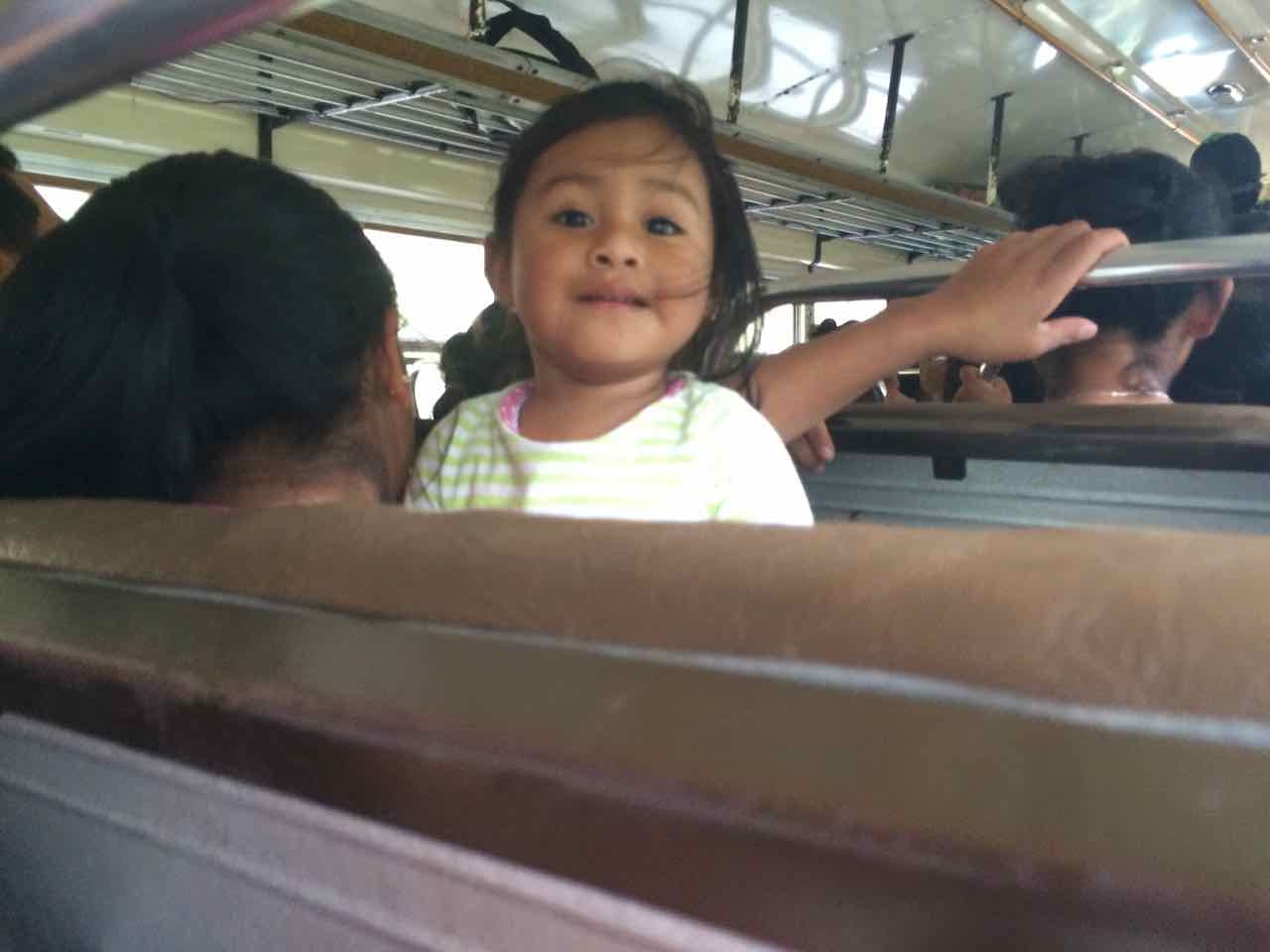 Chichi market was colorful, bustling and impossibly busy. Walking through the maze of shops, we were hollered at to come take a look at anything from scarves, to belts to baskets of all shapes, sizes and designs. Like other Westerners exploring the streets, we knew we stuck out like a sore thumb, especially toting the clunky Canon XF105. We never unearthed any footage too profound, but Brian got himself a long-awaited haircut! After a few hours, we'd had our fill of this place and caught a late afternoon chicken bus back towards Panajachel; once there, we again took the ferry to San Pedro for one more night.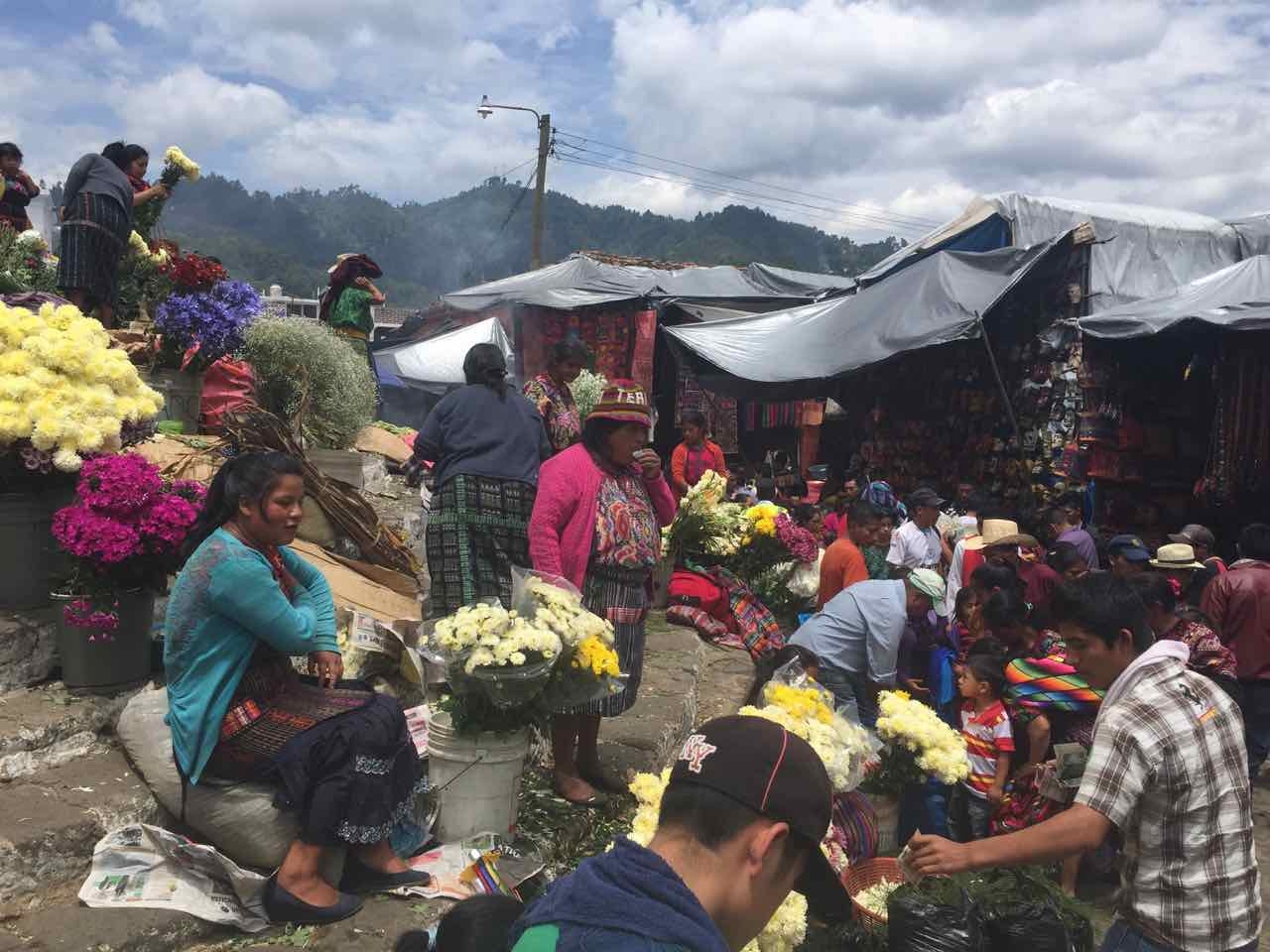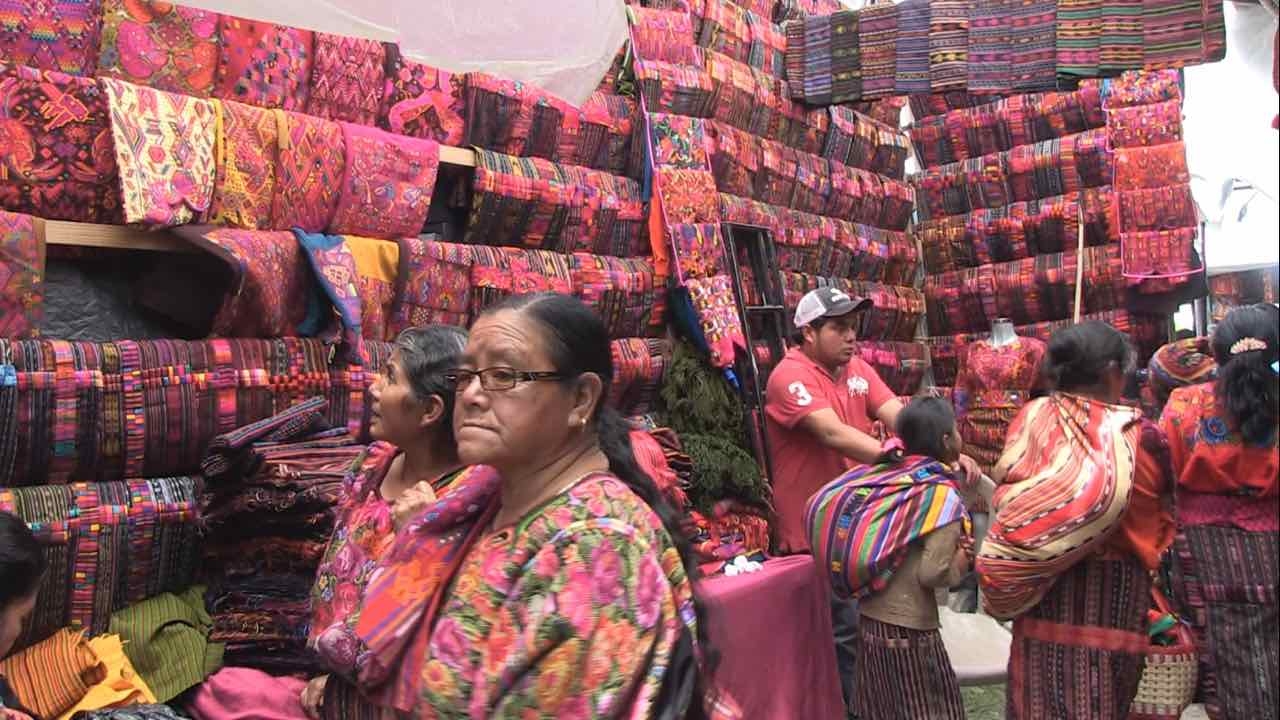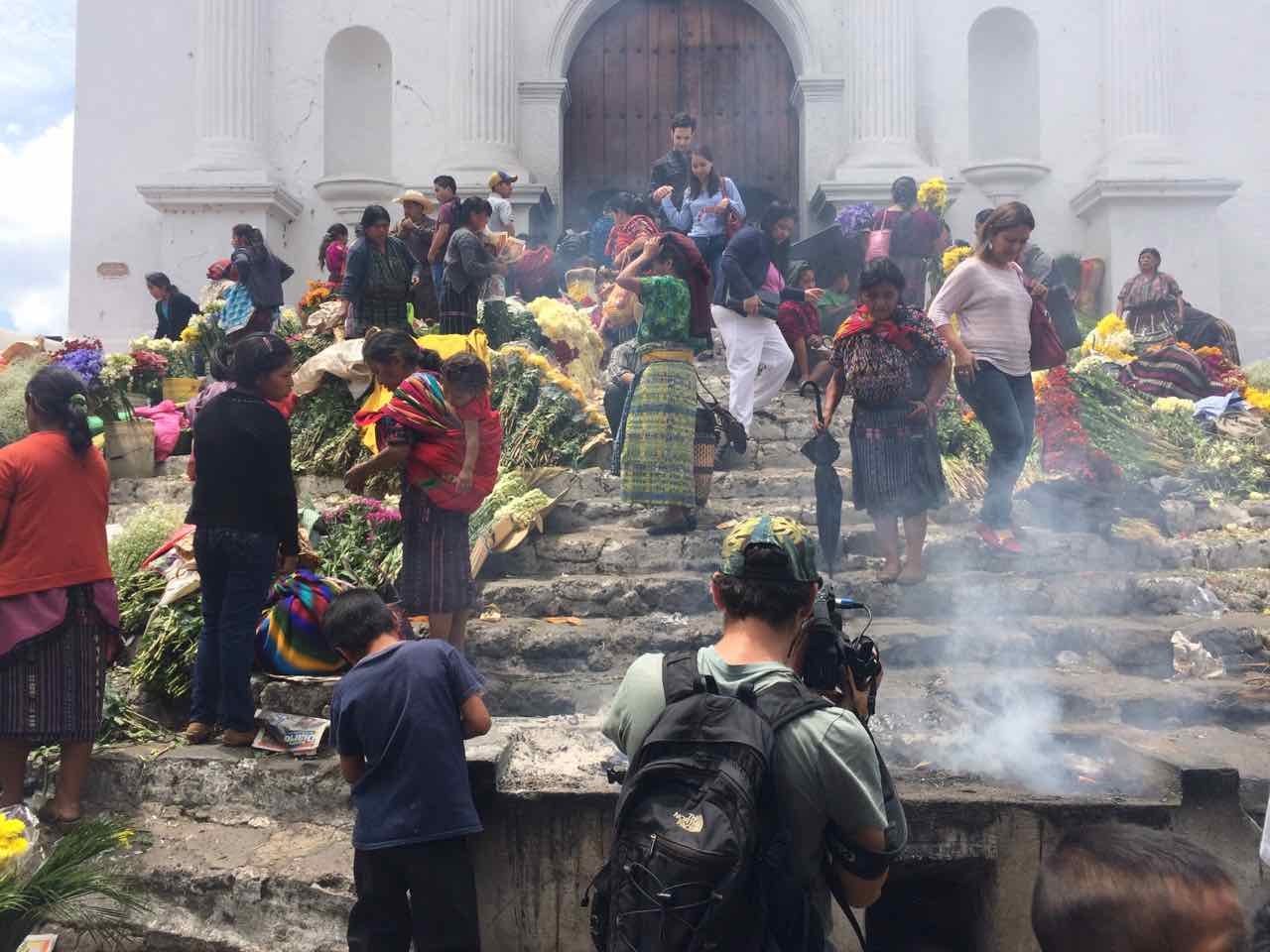 Day 62: A lazy Monday morning in San Pedro tugged at an imprudent desire to just take our time, jump on the ferry, and head back to Antigua to fetch our camera equipment. But crap – somebody told us about a glorious view of the entire lake and surrounding towns over at San Juan de la Laguna, the next town over. As badly as we just wanted to say, "forget it!", we recognized that without a pinnacle moment by the lake, there would be no appealing storyline from our stay there. Without a story arc, Lake Atitlán would have been nothing more than a pretty place where we pissed away our precious little monetary reserves. We did the hike, marveled at the lake's extraordinary natural beauty, and whispered to the camera, "it was perfect."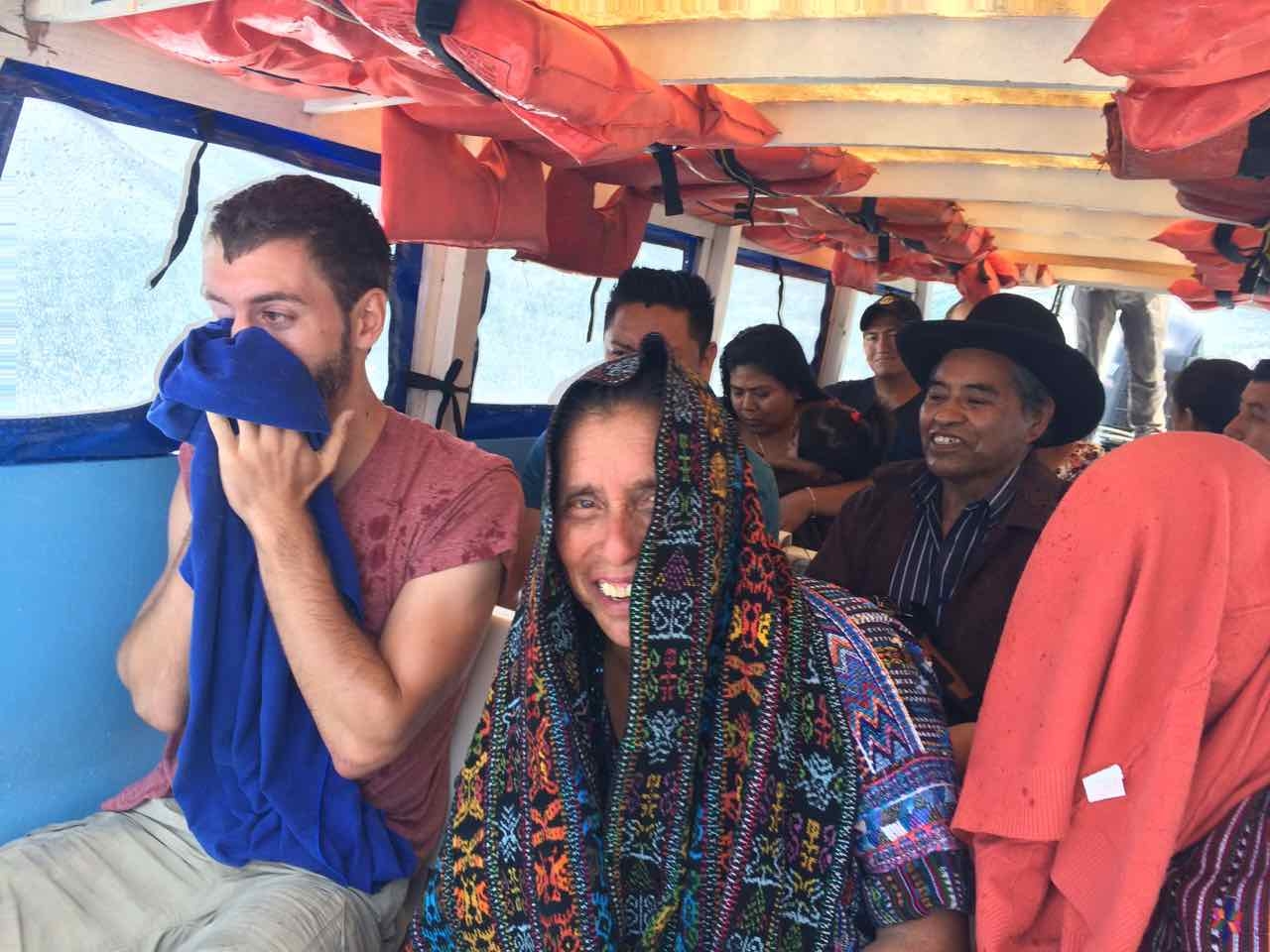 We began our return trip to Antigua with hopes that our Amazon order would be awaiting us. No dice. The dude at the shop who orchestrated our order broke the tough news that we'd now have to wait until probably Wednesday. "Customs are slow here," he admitted.
With this newfound vacuum of time we checked back in on Joselyn to see if Uncle Juan (who we now oddly nicknamed 'Uncle Tio') was around to take a peak at our damaged camera. He wasn't back from work quite yet and she insisted we enjoy some sandwiches her mom would soon make for us. In classic fashion we obliged. By the time Uncle Tio finally could inspect our camera, it was fairly late in the evening. He explained that this job might take a bit of time and we were better off leaving and returning in the morning.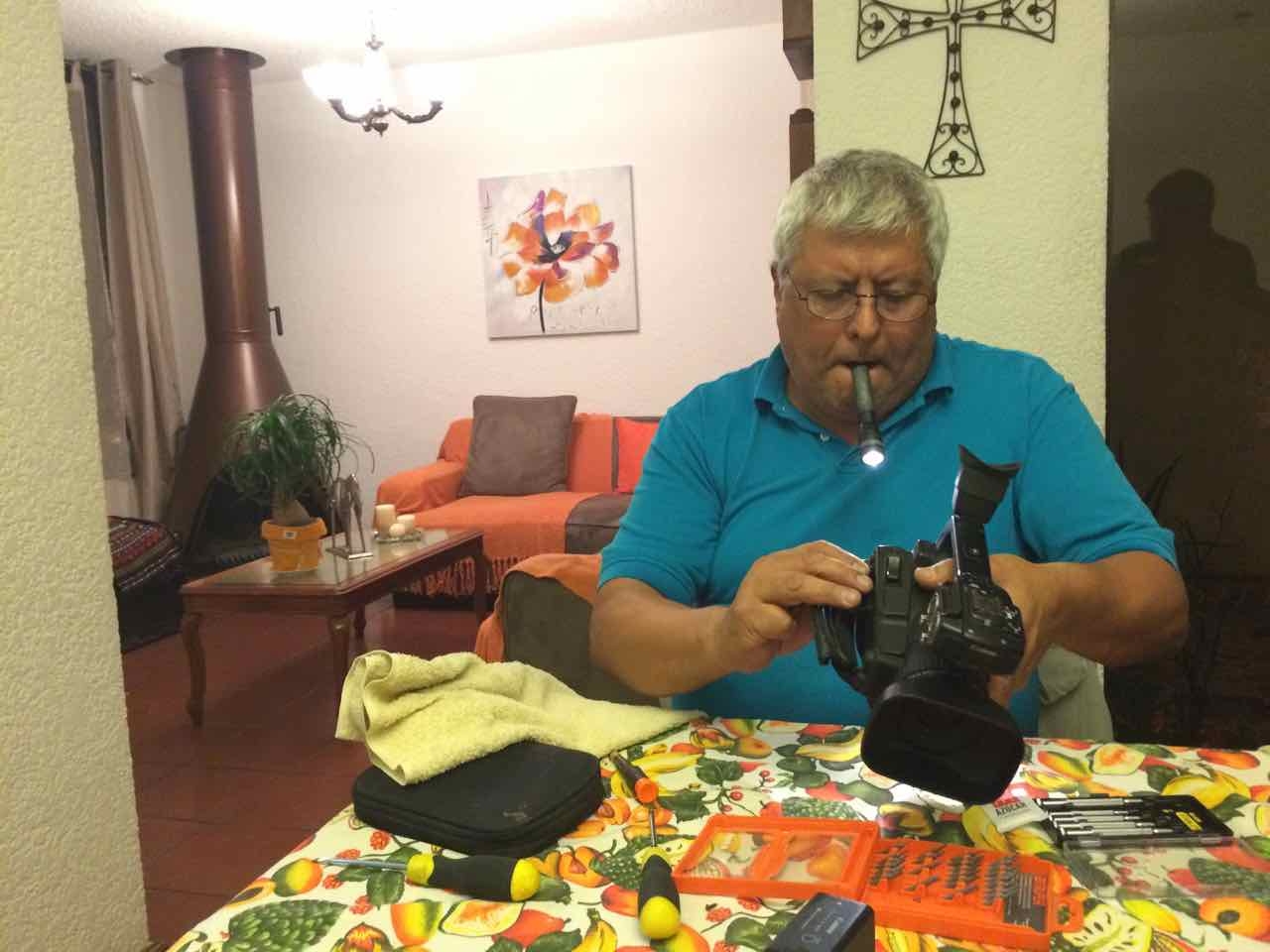 Without pre-arranged dormitory plans in place, we three looked at each other and started considering what our cheapest sleeping options were. Mumbling to one another, Joselyn interrupted. "Guys, you can stay at our house. Really, it's okay." After some typical American resistance to such a kind offer, we inevitably relented to this supreme gift of hospitality. With our tightening budget, we ought to be a little less defiant to such offers going forward. Damn you, odd manners of refusal with which we were raised!
Day 63 & 64: Little did we or the Antillon's know at the time, but their offer to house us for that one night quickly spiraled into three nights. For the next two mornings we'd enjoy an incredible spread of eggs, frijoles, tortillas and coffee and reassess the reality that our camera equipment was just not quite ready for us to leave Antigua. Uncle Tio had more to do and our Amazon order was still in transit. The longer we stayed with the Antillon's, the more we got to know them and the more like family they became. Glenda soon became nuestra madre Guatemalteca (our Guatemalan mother), Conrado our hilarious padre, and their three children nuestros hermanos menores (our younger siblings).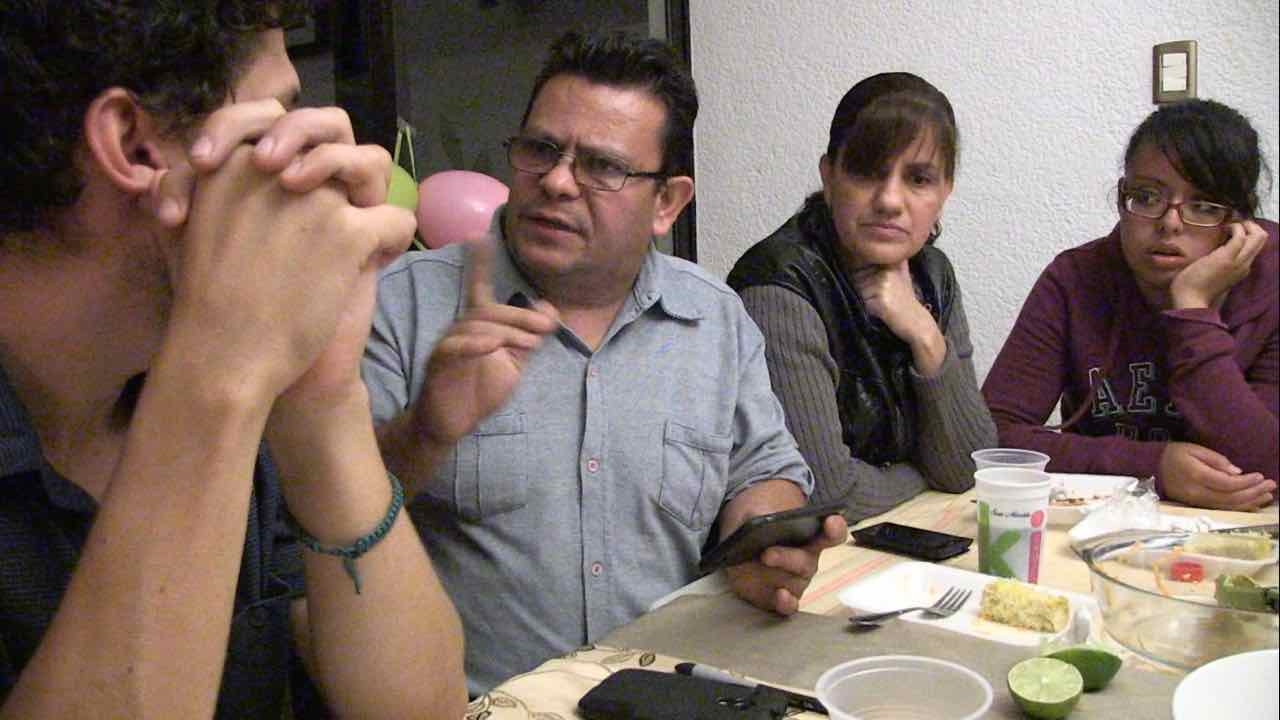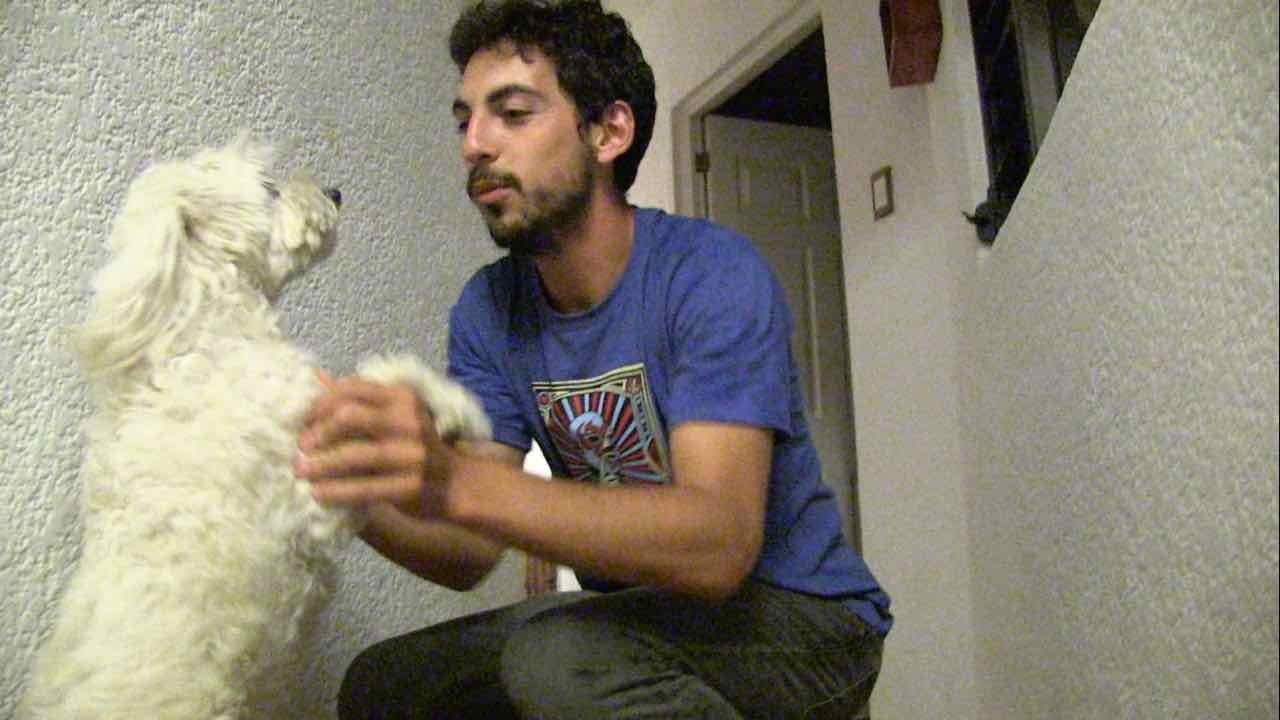 We wanted to thank them for their incredible kindness by buying them dinner on the final night of our stay, but they swatted that idea away like Dikembe Mutombo. Uncle Tio's wife had already decided she wanted to buy us pizza as part of a going away party. It just seemed so backwards to us that they were thanking us. Surely it should be the other way around! Even the youngest daughter Jime got into the action by making us some goodbye cupcakes. All we could do was buy them Nutella to replace what we had pillaged of there's. In the end, Uncle Tio not only fixed our camera, but provided us all sorts of new add-ons to make our filming process much more seamless. He even gave us a few suggestions for how to avoid damaging the equipment again going forward. We all shared a good laugh when we pathetically admitted there would be no stopping us from having equipment problems down the road. With one final family photo and a group "Goulet!" we showed our gratitude as best we could and planned out the next chapter of our journey into El Salvador.