The following post details the Global Goulets' journey from May 13 – 17:
Day 43 (continued): "A volcano! Look, it's a volcano!!!" we shouted in unison upon our arrival to Antigua. There were several of them. Monstrous chunks of Earth, which stood motionless at the horizon's periphery; a half dozen of them in all directions, these volcanoes seemed to protect the boundaries of the colonial masterpiece of a city into which we were about to arrive. Amazed by the mountainous structure, save for the flat peak from which the hallows of the Earth are known to rise, we marveled at each slightly different view we witnessed. As spectacular as it was from way down there, little did we know this was only the dawning of a memorable experience we will not soon forget.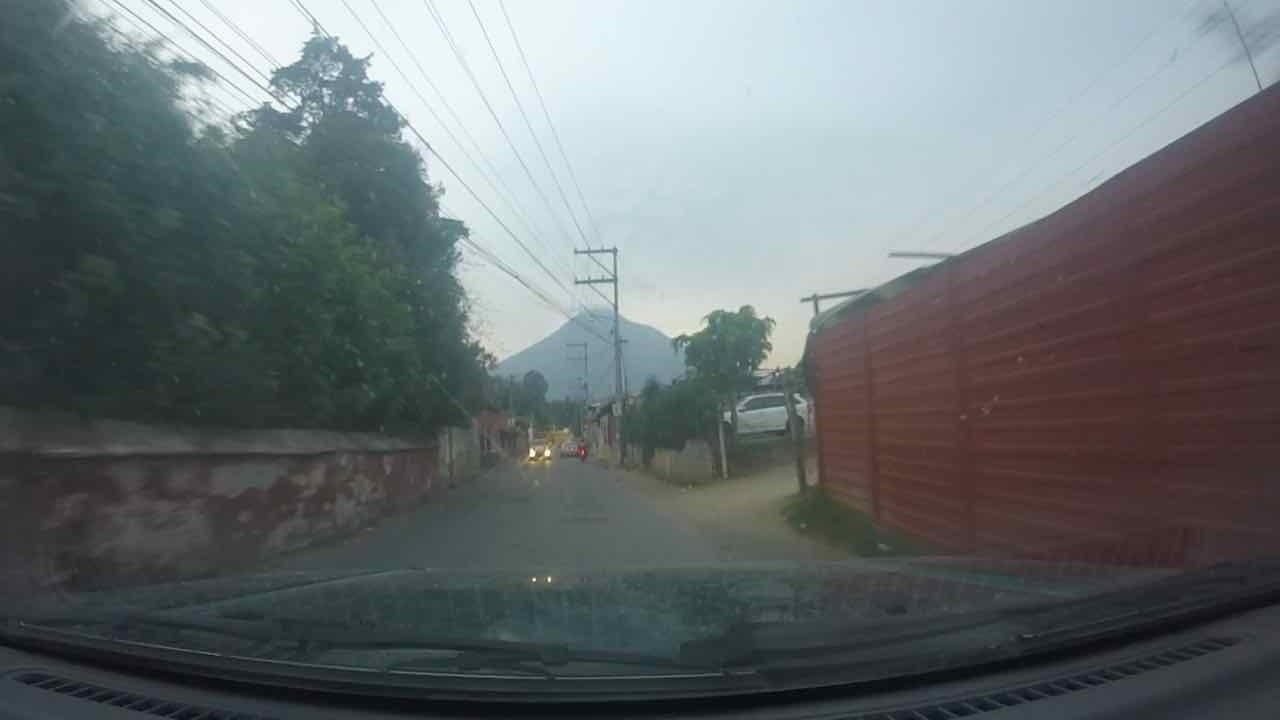 Day 44: The next day we decided to climb one of the volcanoes. Pretty much completely on a whim, we looked up and said, "I bet we could find a way to get up to one of those things." Let it be known, we'd done no research to speak of and knew nothing about what it takes to face such a task. Regardless, we wanted to hike one of them – actually, not just one of them, but whichever one was the biggest and toughest to climb. Be careful what you wish for…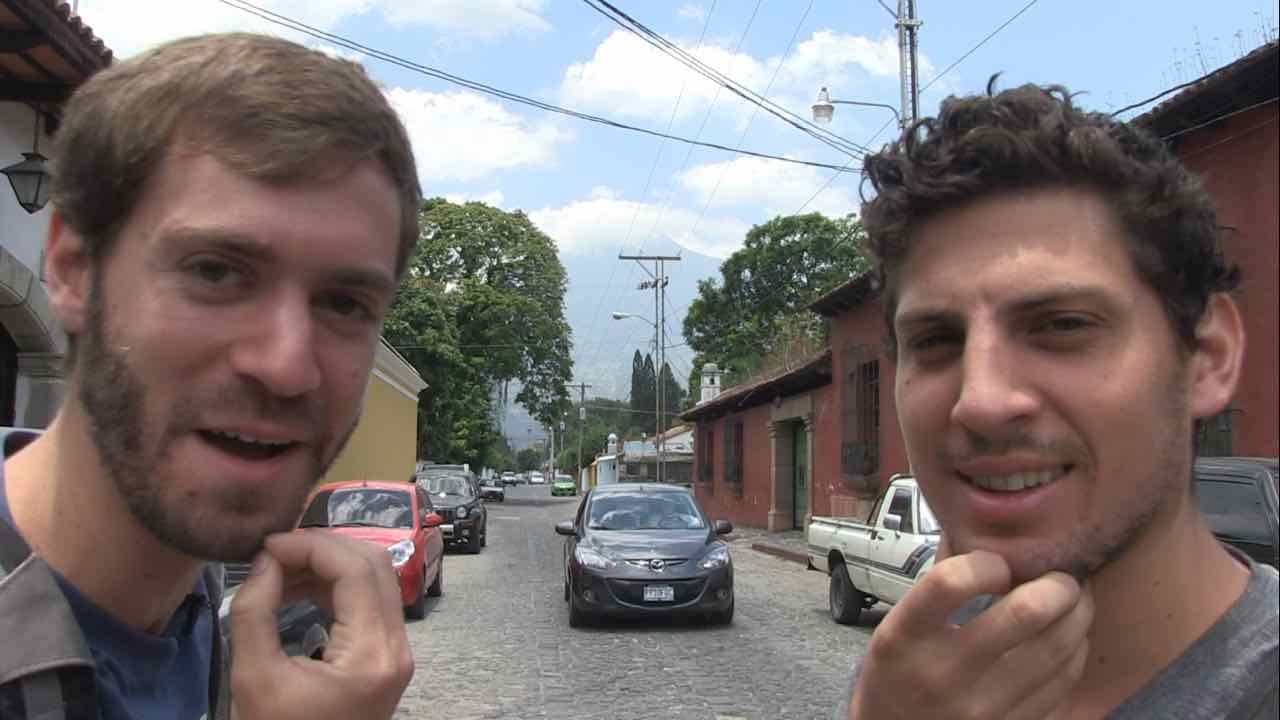 We connected with OX Adventures, which we agreed seemed like the appropriate team to help look after our under-exercised Goulet selves. When we got the rundown of our volcano options from the OX team leader Victor, he revealed that Volcan Acatenango was the mightiest beast of them all. "Ok then," we naively agreed. "That'll be the one we'll go after."
That wasn't all. Victor upped the anti on us even more. "Oh, there's also this thing we do called the 'Double Whammy' where, after a full day's hike to Acatenango's basecamp, you climb down and back up neighboring Volcan Fuego; Fuego is currently one of the world's most active volcanoes and I doubt you guys would want to do that because it adds another 4 hours of climbing on top of the 6 hours you'll already have under your belt, but it's up to you. Oh, and up at the top of Acatenango, which you'll hike to the next morning if your body allows, you can try the 'Crater Challenge' where you run the 675 meters around the rim of the volcano's crater. Again, with 40% less oxygen and after hours and hours of hiking, I don't think it's possible for you guys, but just wanted to throw it out there." He didn't know it at the time, but Victor had just sealed our fate in taking on the single most exhausting undertaking of our entire existence.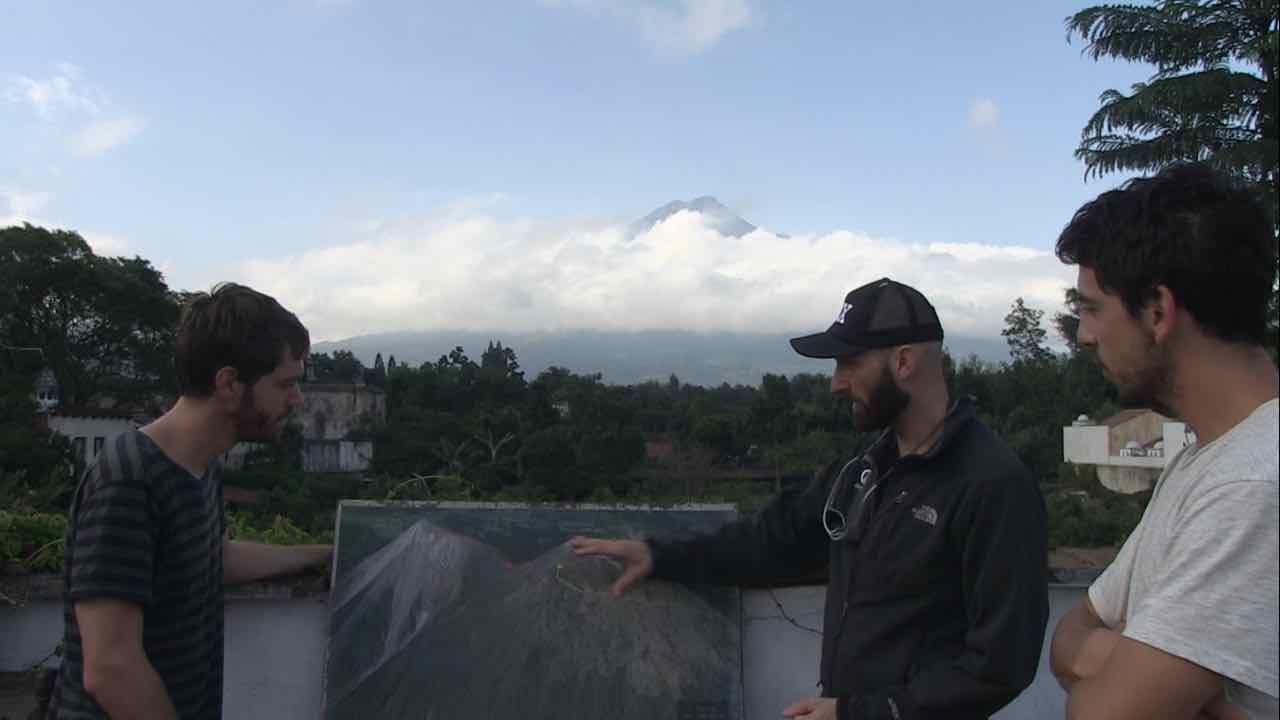 Day 45: On Acatenango Eve, we gathered with the other 15 sorry souls with whom we'd share this unforgettable ride. The group was made up of a mix of 20-somethings from around the world, from England to Australia, from Switzerland to Miami. All in good spirits before the journey's onset, we exchanged pleasantries, collected the necessary gear provided to us by OX, and went to bed nice and early to ensure a final decent night sleep in preparation of the voyage ahead.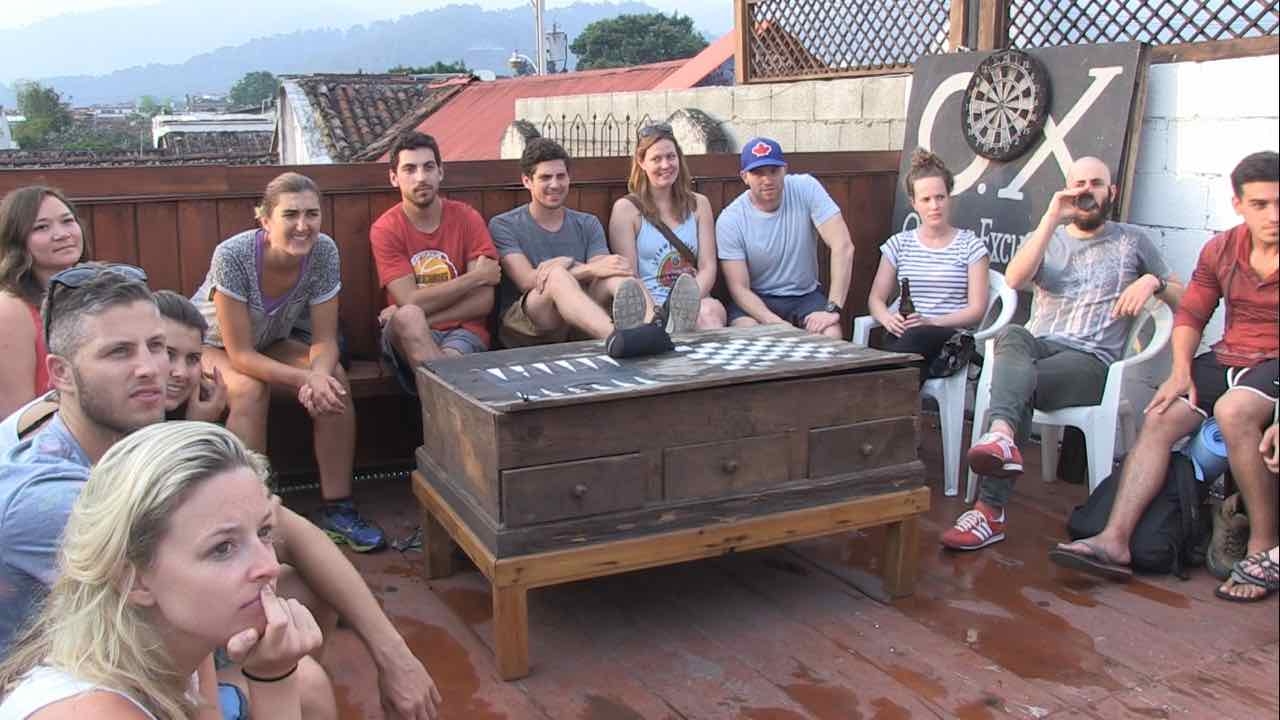 Day 46: The next 24 hours made up both the longest and shortest day of our young lives. The morning moved in slow motion. We packed our bags, got in a van, fed our ill-prepared bodies with egg sandwiches, and made the 1-hour drive to the foot of the monster.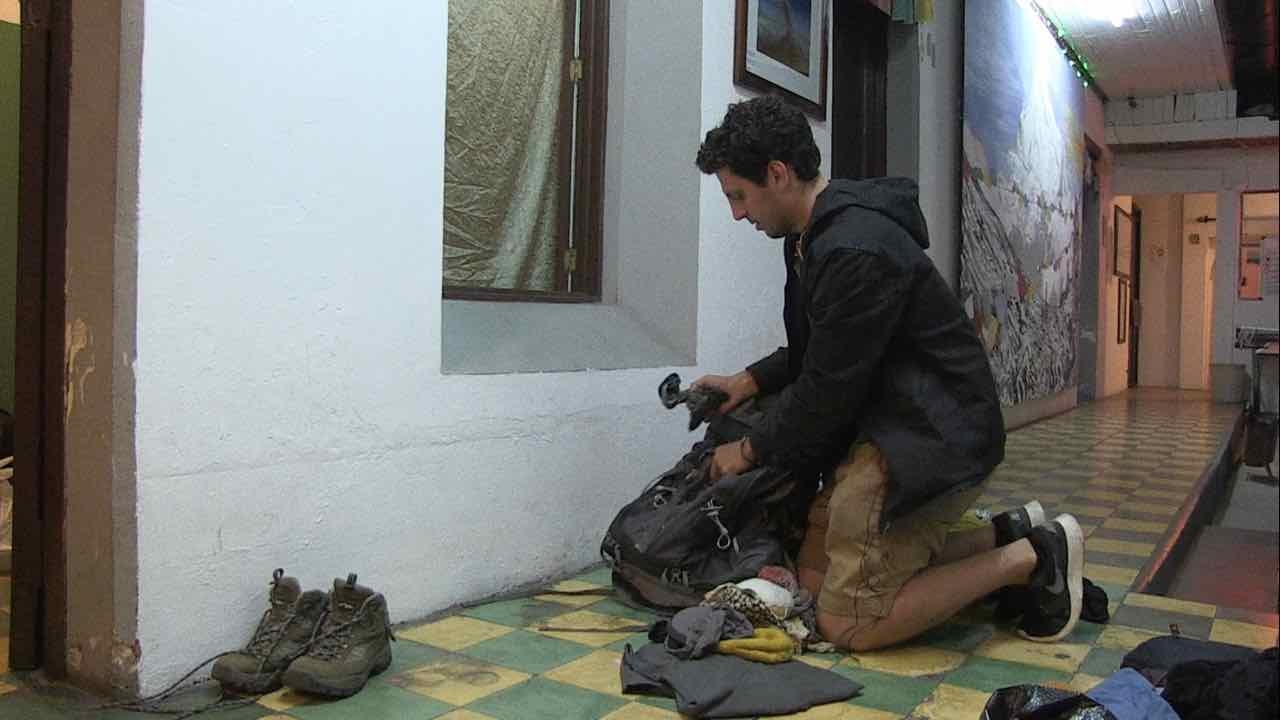 Already 8,000 feet above sea level, it is not uncommon to really feel the burn after just 20-minutes of hiking through Acatenango's first eco-zone, the farmlands. When we arrived at our first break, our lead guide David evaluated the group to make sure everyone was up for the task of taking on this unapologetic expedition. Your Goulets passed the test. And so, we moved onward and upward. The hours clocked forward, but not without serious toil. Into the luscious and lively cloud forest we trekked and as our bodies began to fatigue, small talk amongst the group dwindled to zero. There is no time to chat when all of one's energy must remain focused on something as seemingly simple as walking. Yet, this was no ordinary stroll. The brisk chill that had at first served as a cooling agent turned on us, transforming into another enemy of the elements. Breaks, though few and far between, were well earned and beautiful. Each of us toddled alone with our thoughts, using only our mind's ability to distract our body's woes as a pacifier for the arduousness of it all. Above all else, there was an unspeakable beauty accentuating the hike. Looking behind us, we could see all that we had accomplished in such a short amount of time. At each break another layer of clothing was added to mask the increasing cold. The worsening of the weather was nothing more than further indication that we were climbing higher and higher into the sky. At a certain point you drift into autopilot, a captive to your own imagination's impulses, as is a deep sleeper to his nightly dreams. Then suddenly, you look up. "Base camp, we've made it!" David cried with arms raised to the heavens. A wave of relief rushed to the aching shore that was our overworked bodies as 6 hours of endless climbing crashed down with one drop to the ground. Did I mention we'd filmed it all with our giant professional cameras?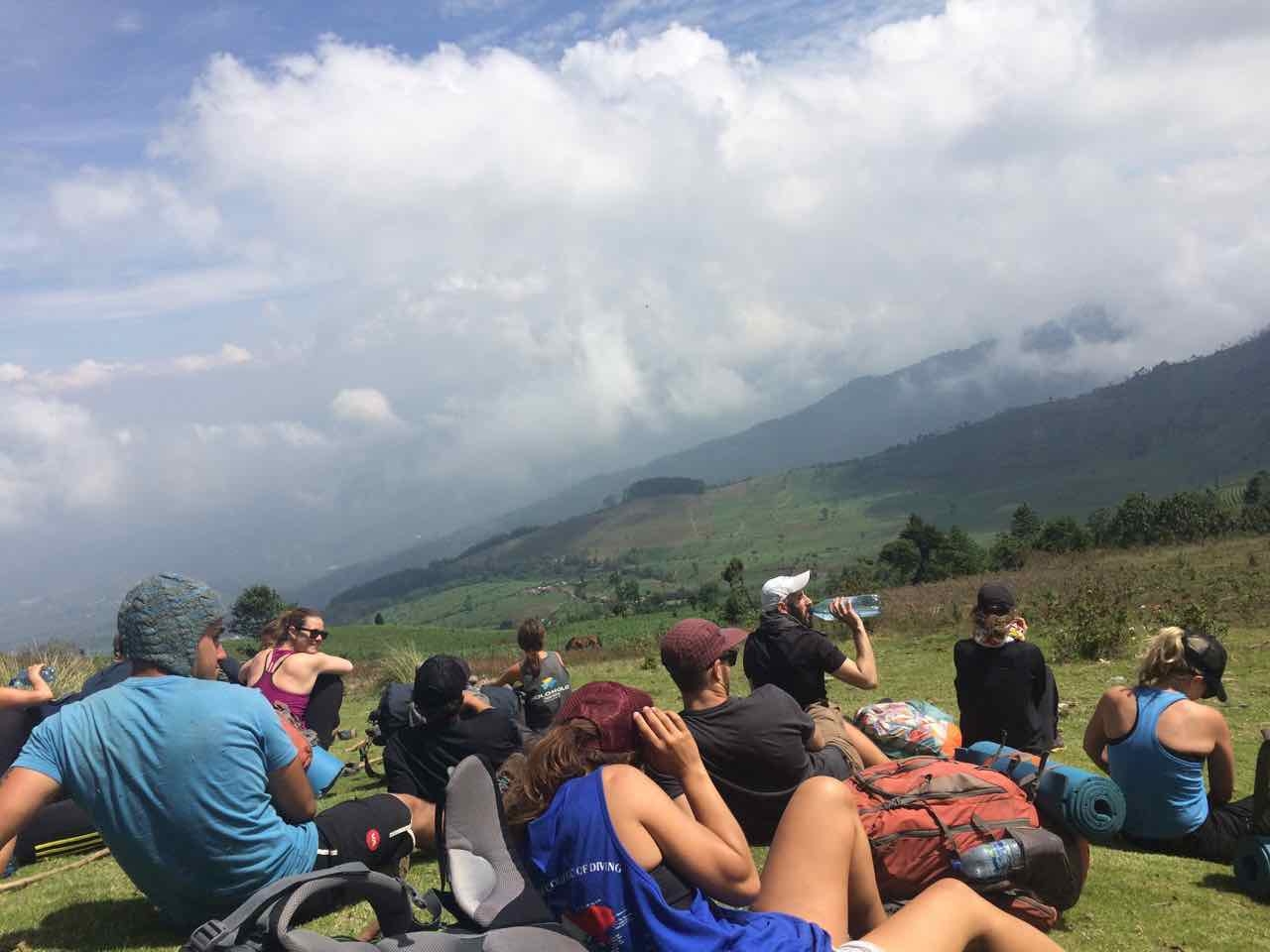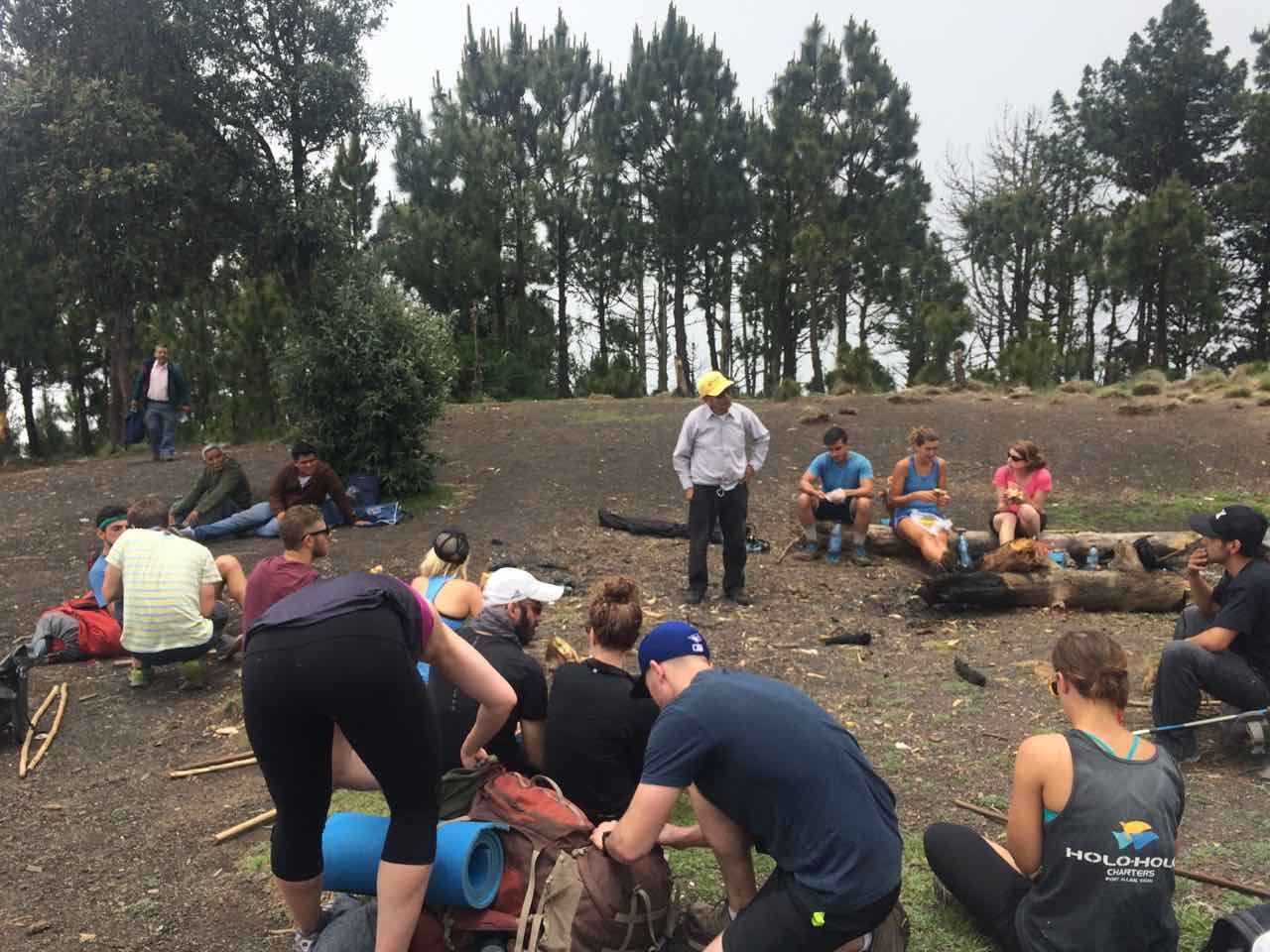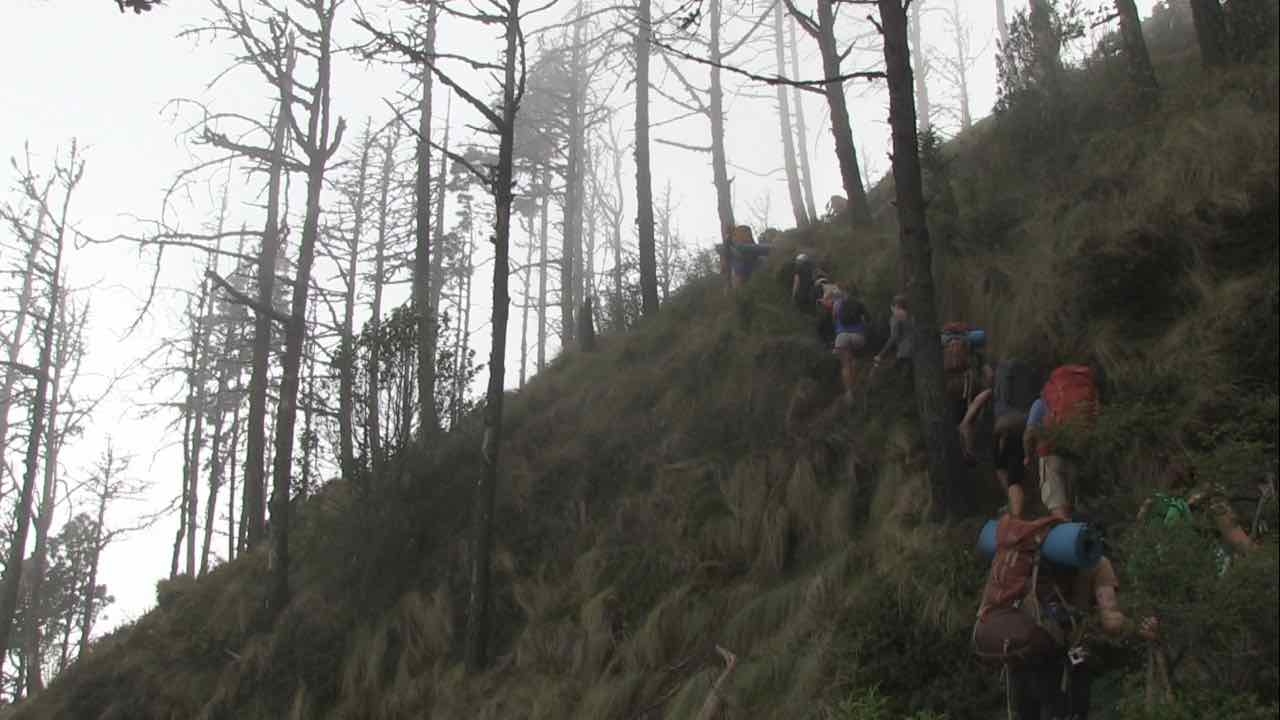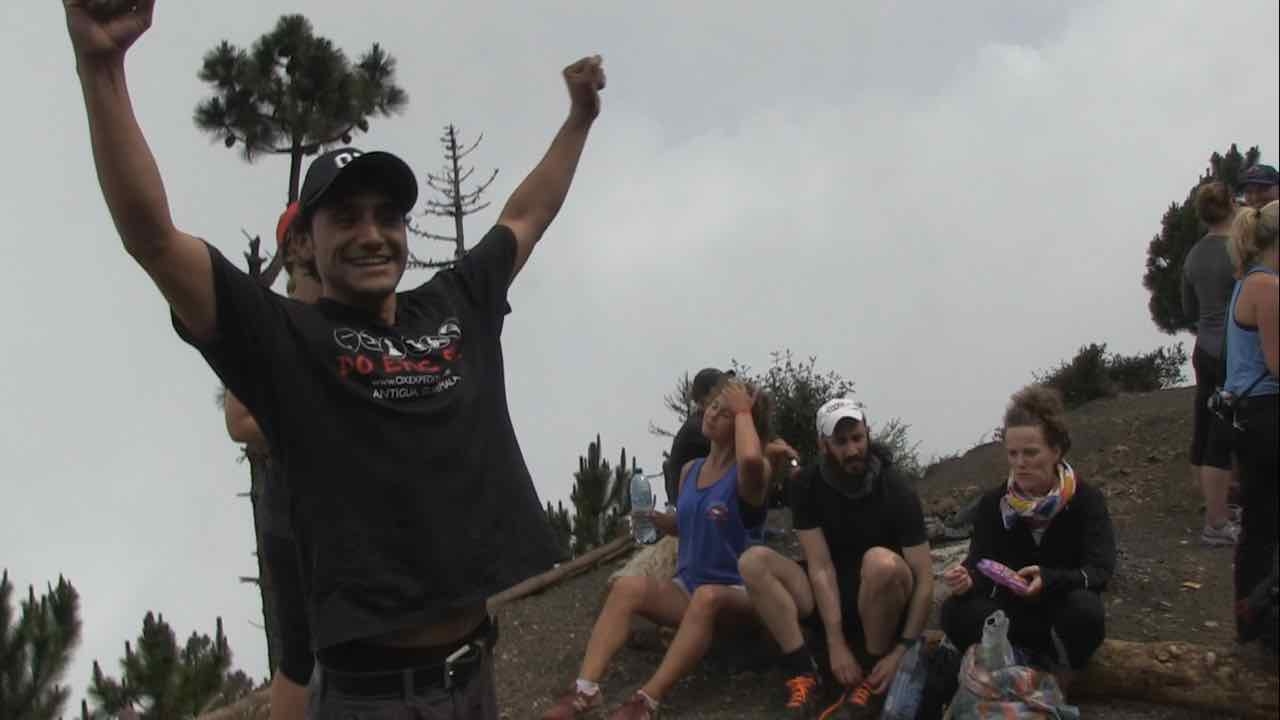 It was only 3pm when we'd made it to base camp and for the overwhelming majority of our group, this meant a conclusion to the hard day's work. 6 hours of trudging up a 4,000-foot steep incline is, after all, enough to make proud even the most hardcore of hikers. Then David made the announcement we Goulets had been waiting for. "If you're coming on the Fuego hike, we'll come together for a pre-trip meeting in about 20 minutes." My lord, we were going to do it, weren't we? The three of us looked at each other and not a word was spoken; we were in. David, on the other hand, wasn't so sure. "I'm sorry but you 3 can't come. 6 is too many and you have your camera equipment. I just don't think you can keep up." We forced a look of readiness and insisted he change his mind. And so he did.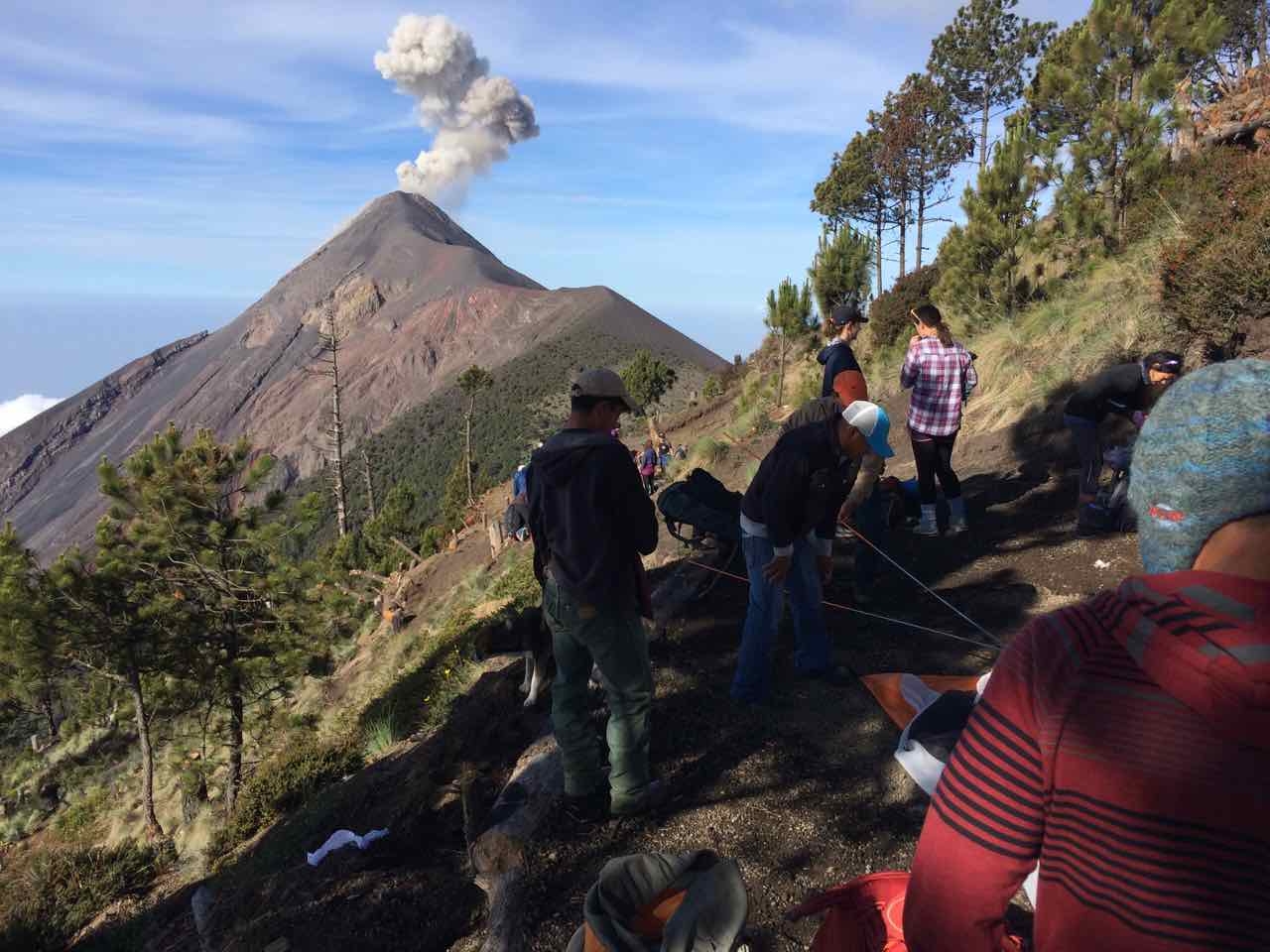 "What's the most challenging part?" we asked David at the pre-Fuego meeting. "Everything. Everything is a challenge," David replied with a sharp matter-of-fact certainty. We could only reply to such an ominous exchange with nervous laughter. At 4pm we set off, waving goodbye to our sedentary amigos who were beginning to settle in for an evening of well-deserved relaxation around a fire. The view of Fuego from basecamp is nothing to complain about in it's own right. When the clouds clear, it is not a question of if but how often you will see the beast erupt. But the unrelenting 6 of us, along with David, had other plans. We were on our way down a tumbling, shifting mountainside as the late afternoon air rolled alongside us. We knew each passing step down meant a return hike back up later on in the evening, but that was a concern for our future selves. When you undertake such a mission all you can allow yourself to worry about is the here and now. Any anxiety about the difficulty of the hike back up later, or the little sleep you will get that night, or the notoriously brutal ascent to the summit in the morning's pre-dawn hours and you are sure to go crazy. No, all that matters is that next step in front of you. And so we continued.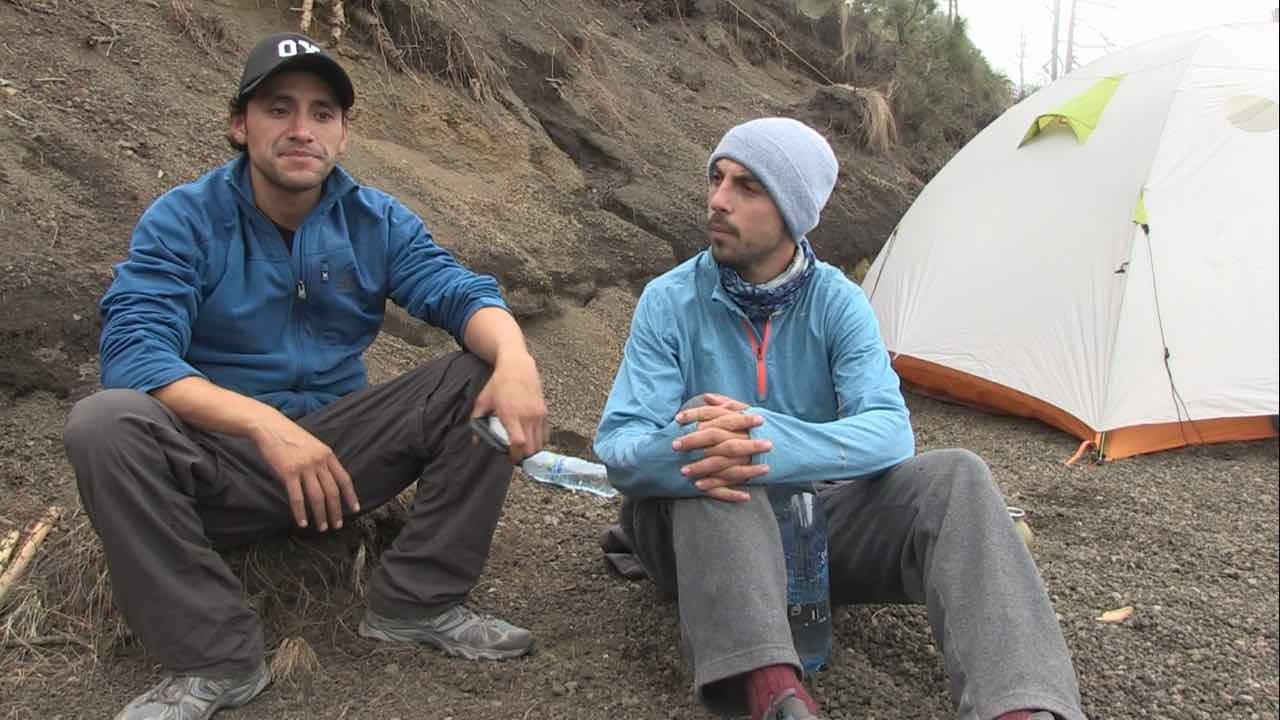 We arrived at the valley where the two monstrous volcanoes join. Looking up, Fuego's peak was entirely covered by rolling sets of wispy clouds, though the roars of his recurring eruptions were unmistakable. Maybe it was sheer exhaustion setting in, but those final 100 meters to the top of Fuego felt completely vertical. With no more ledge protecting us from the wind's wrath, we faced Fuego's cruelty head on. Each step higher required all of one's might. The clouds whirled in all directions without rhyme or reason, obstructing our view of even one another. Lowering our shoulders, were persevered. Alas on Fuego's knife ridge, a skinny 1-meter wide footpath betwixt sharp drops on either side, we tiptoed the final feet until our stopping point. David led us to a small nook with modest respite from the tormenting gusts. We collapsed, fully satisfied to hike no more. Once settled, our guide announced, "Welcome to Volcan Fuego, one of the most active volcanoes on Planet Earth."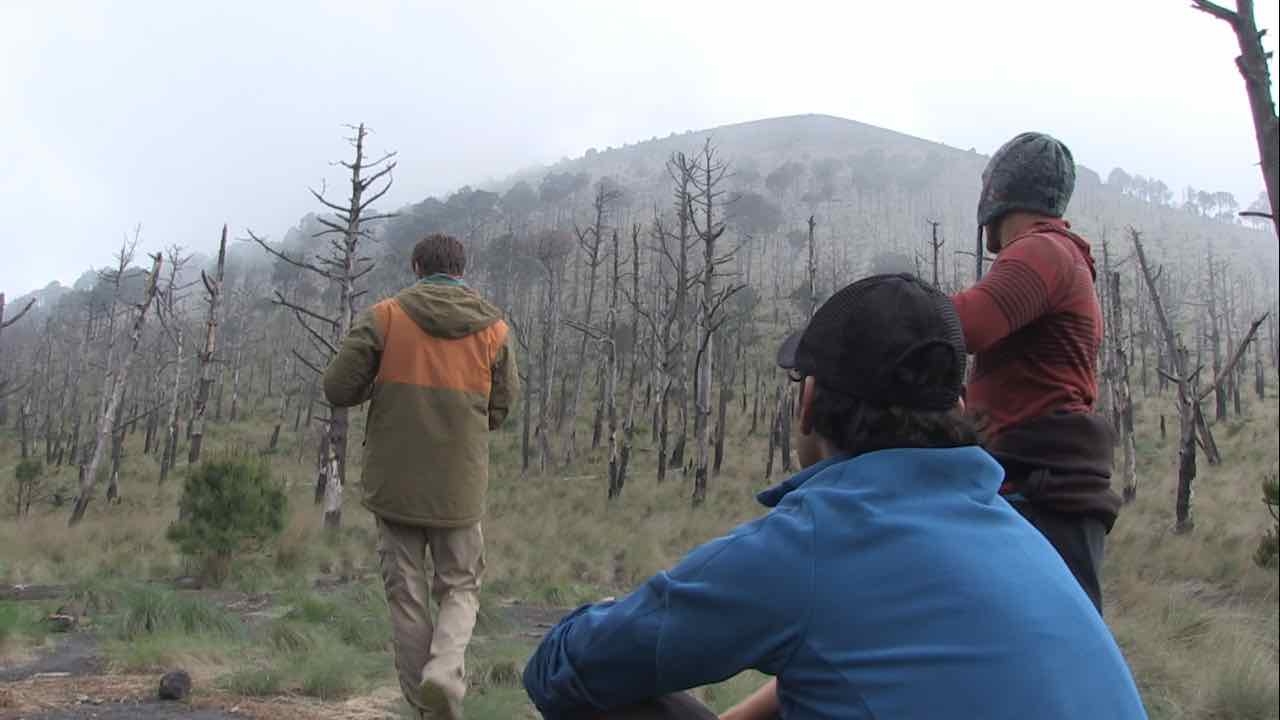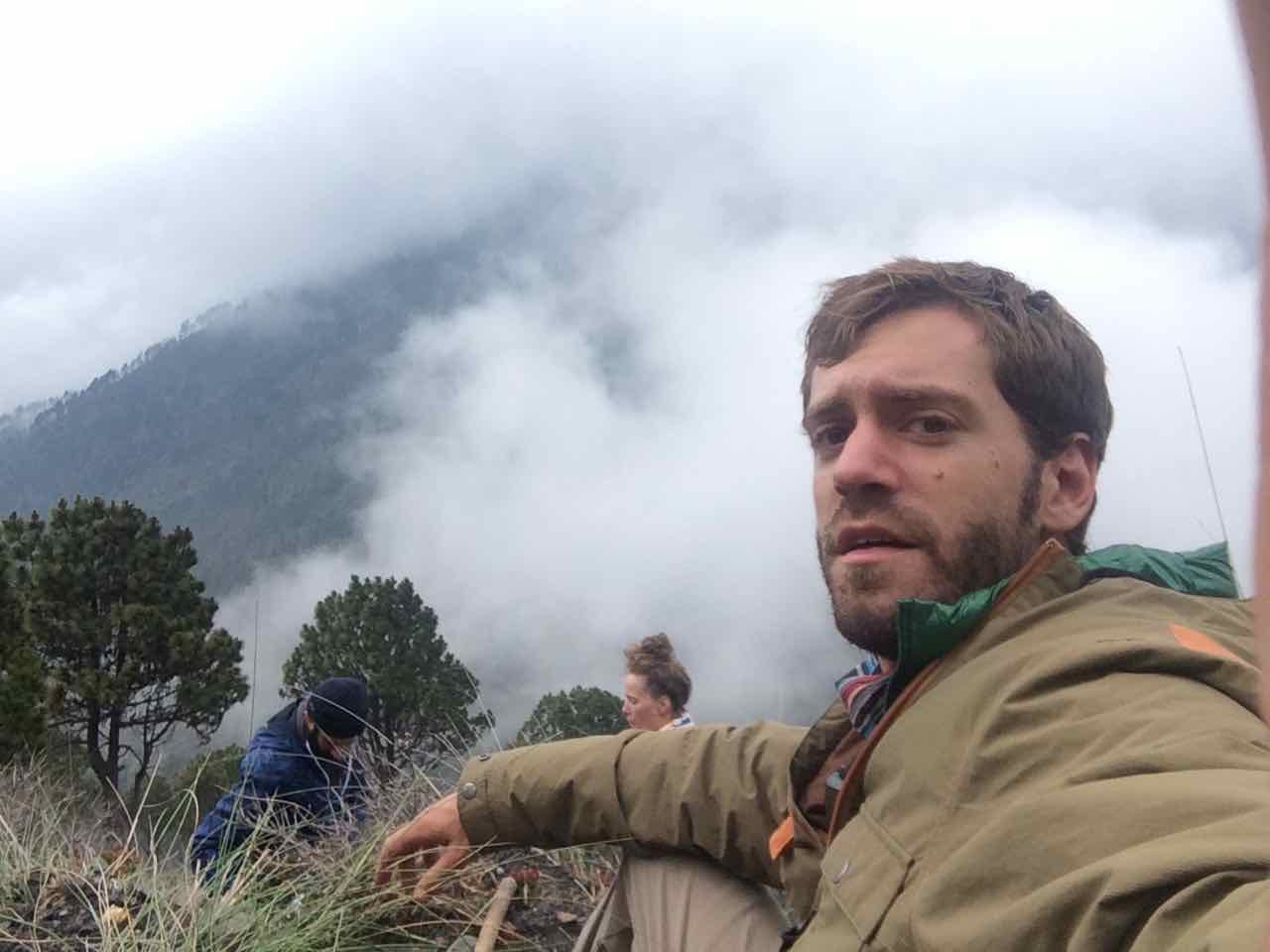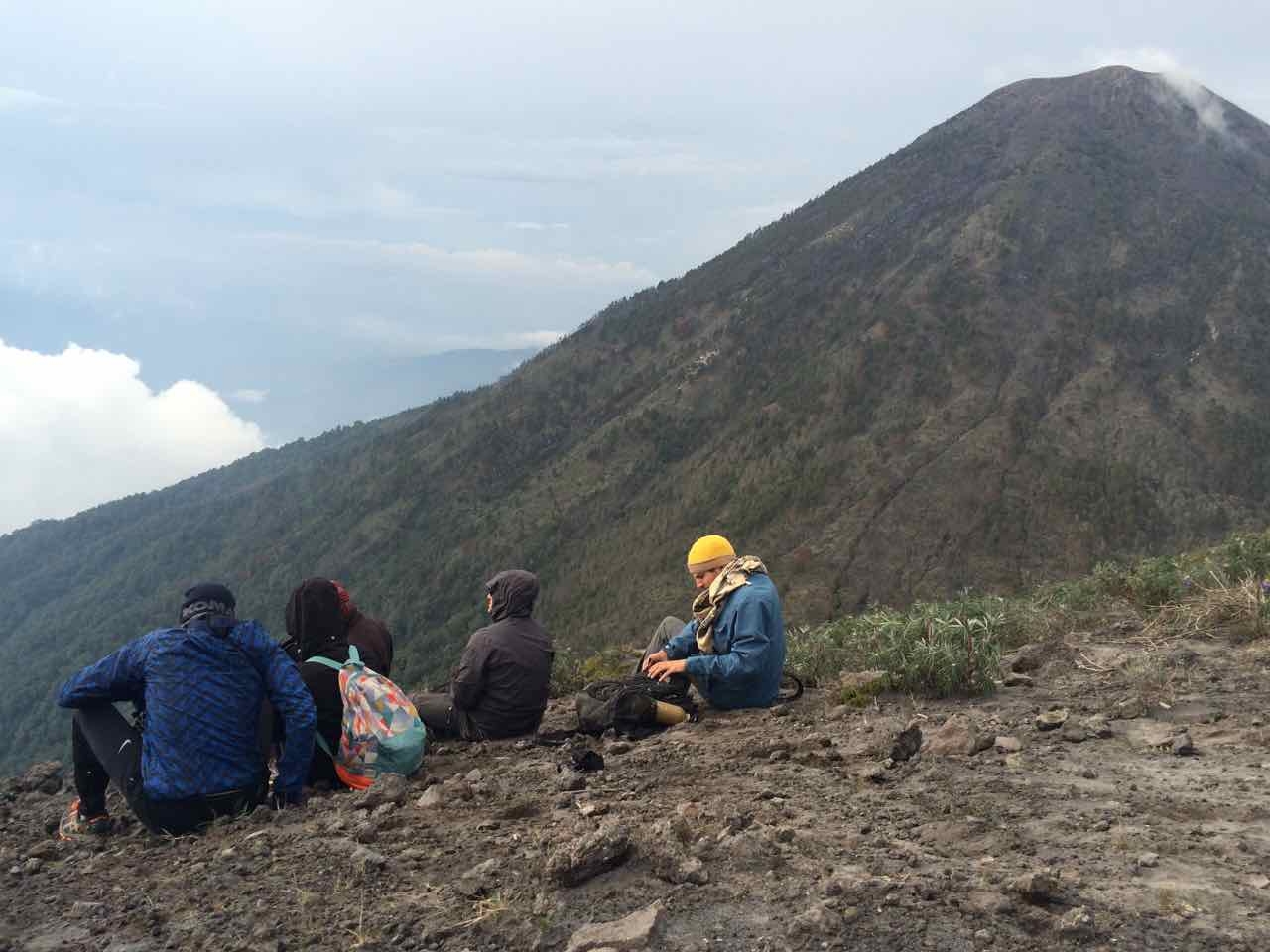 With a newfound sense of accomplishment, one point of frustration remained: we couldn't see anything. So close to Fuego's furious crater, we could hear him but still couldn't see. All of a sudden, David paused mid-sentence in a fit of exuberance. "It is clearing!! Ohh, look, look! The clouds are moving!!" All at once, those tar-heeled clouds relented. Dispersing in seconds, our surroundings transformed from whiteout to a sight none of us had ever before seen. To our right, the formidable Volcan Agua popped it's peak in the deep distance, reminding us that our current hike was just a small segment of the population of volcanoes that dominated the entire landscape near Antigua. On the left-hand side a sight fit for an airplane – layers of clouds below, with spotted remnants of the farms and villages underneath. Behind us we could see neighboring Acatenango, the goliath of a volcano awaiting our return. When we really squinted tightly we could make out the dot of a fire that marked our friends back at the campsite. Last but not least, there was Fuego. Standing closer than you could possibly imagine to an active volcano, we gawked in awe at his proximity to our own mortal bodies. We waited and waited for an eruption, but saw nothing save for a few clearings of the throat that busted from his gullet. After an hour of marveling, David announced it was time for our return hike to basecamp. And then, just as we began our retreat, a thunderous bellow blew from the base of Fuego's pits. We turned around, eyes and mouths equally agape, and took in the sight and sound of something you only read about in books.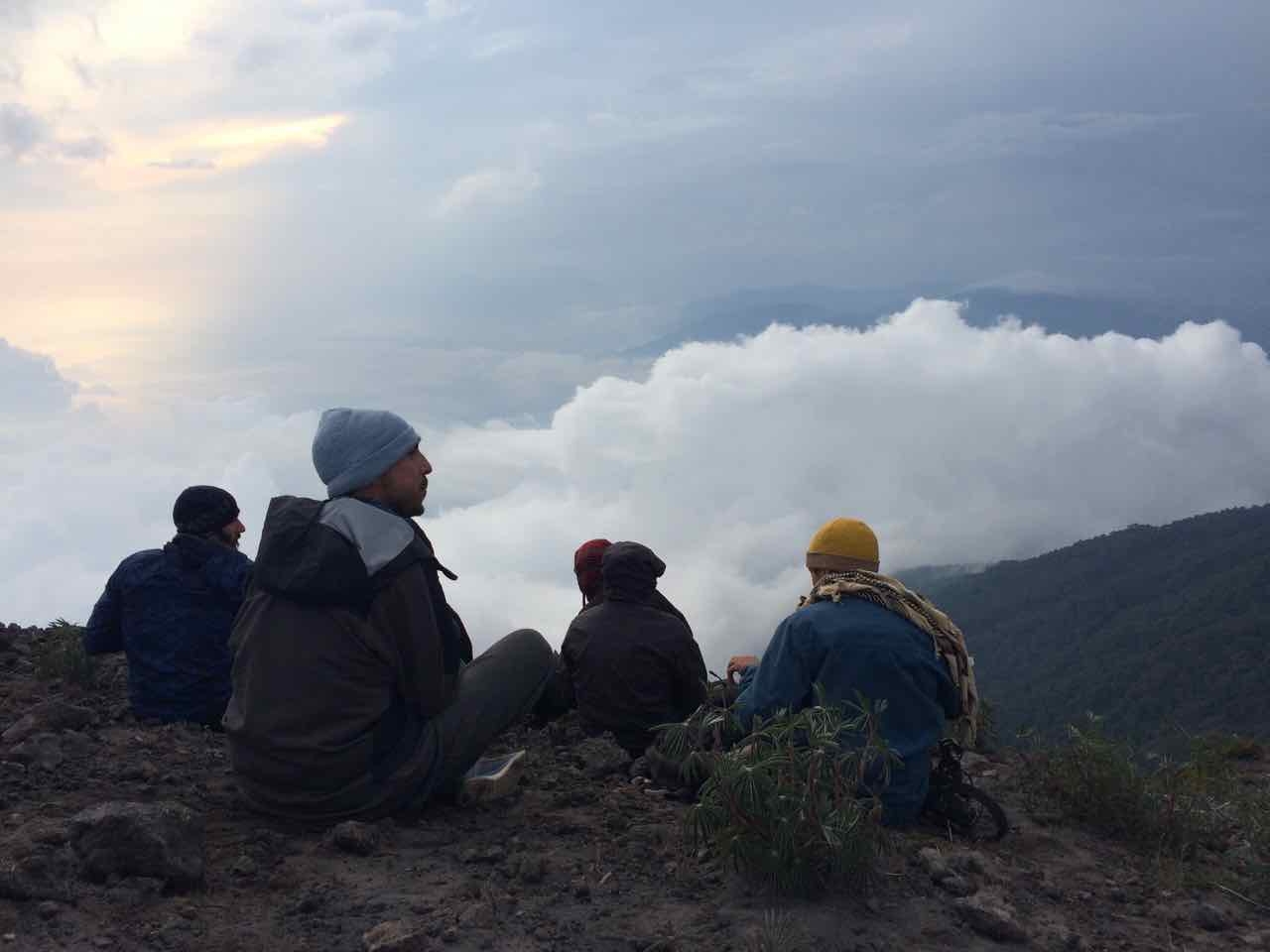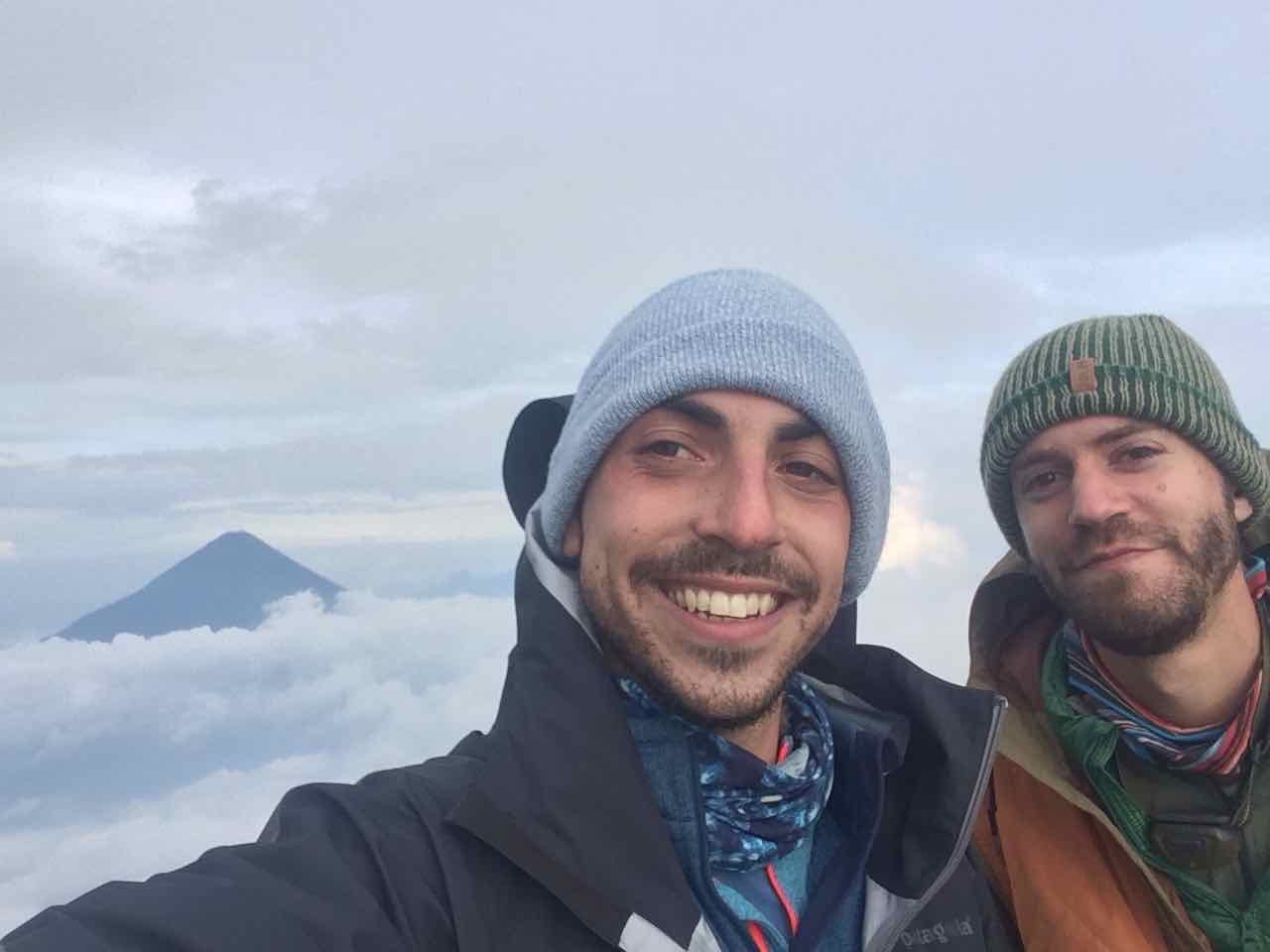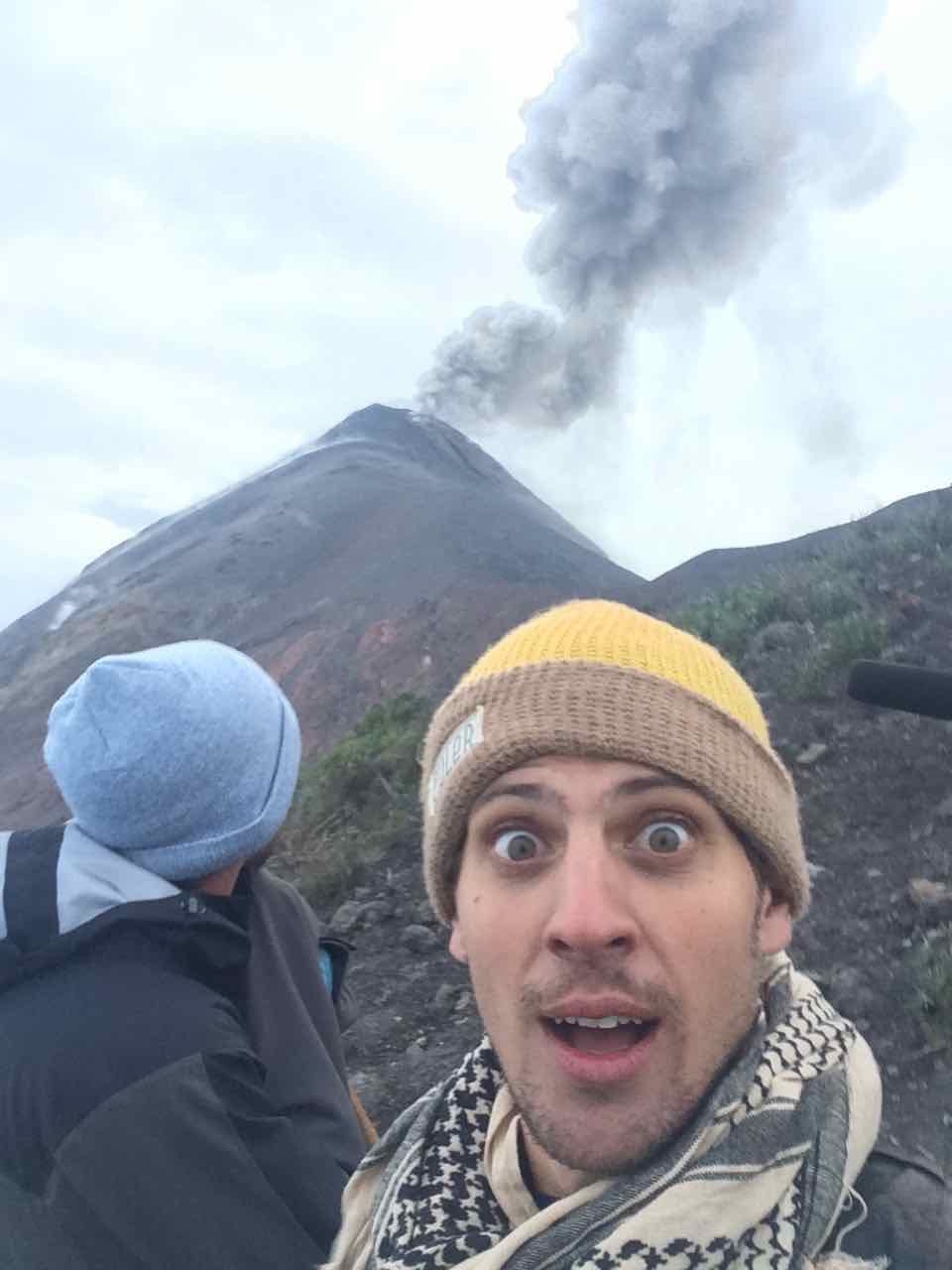 Part of the deal we'd made in exchange for the one-of-a-kind experience provided by Fuego was an absolutely bone-crunching hike back up Acatenango's spine to basecamp. With darkness fully in swing and headlights up and running, we faced a brand new enemy. We again channeled our inner fortitude to compensate for our bodies unwillingness to cooperate. Whispers of voices in the distance amplified at a snail's pace, until at last the campsite's welcoming blaze invited us back to safety. Our friend and soon-to-be official OX tour guide Natasha embraced her motherly side, graciously dumping pasta by the potful into bowls for us to replenish our desperately depleted bodies. Sitting by the campfire, we allowed ourselves to relax for the first time all day.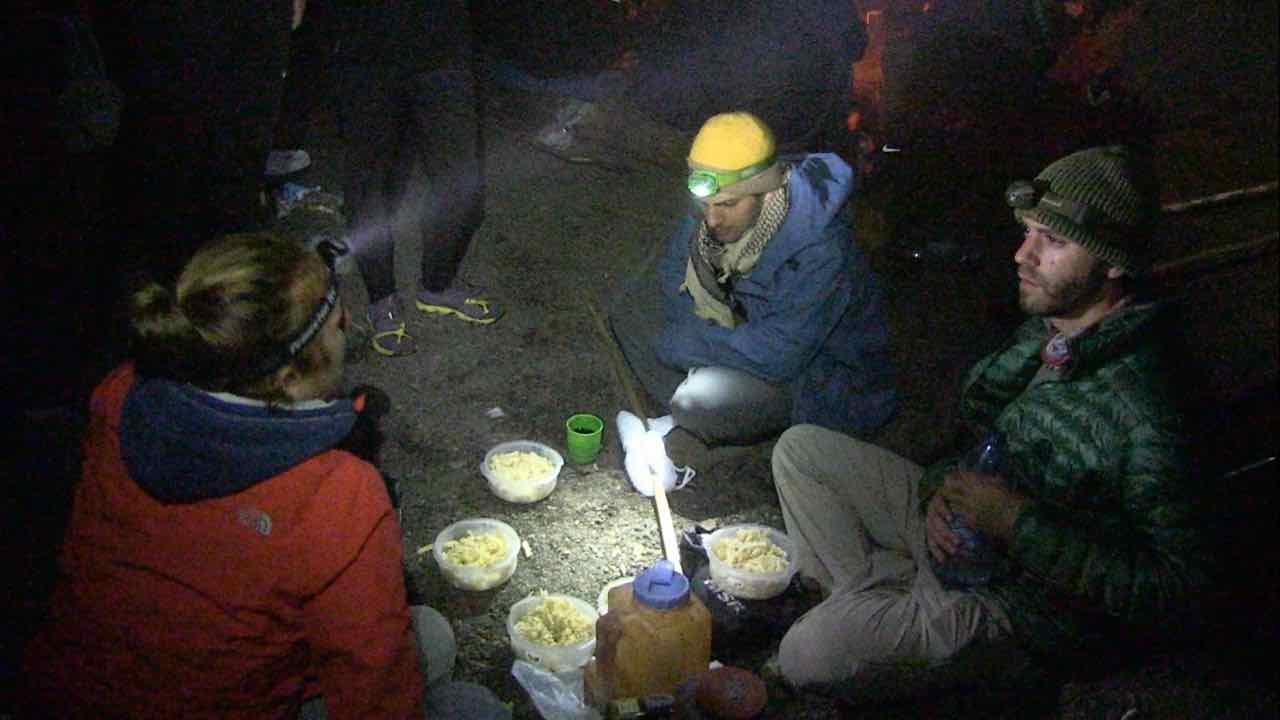 It was around 10pm when Eric succumbed to sleep, returning to the confines of our tent nearby. Brian and Alex refused to fall prey, insisting they would not rest until they'd caught sight of Fuego in action. You see, when darkness falls, Fuego's active state offers breathtaking lava displays. We're not just talking about measly smoke puffs or even small flakes of red, but full blown explosions of glowing red lava, like the cover of your 8th grade Earth Science textbook. Unfortunately, the climate would not cooperate. Consistent cloud cover stymied the view of Fuego from our campsite throughout the night.
Day 47: To add to the misfortune, a rainstorm set in during the new day's early hours, relegating all 3 of us Goulets to the seclusion of the inside of the tent. At around 1:30am, Brian and Alex no longer heard the tap of rain on the tent's tarp and ventured back to the fire, where the magnificent view of Fuego famously reigns true. Sleeping bags by their side, the boys sat near the campfire for warmth and waited for the clouds to finally disperse. Soon enough, the clouds parted and Fuego loomed in the distance, ready to reveal the lava show we'd all been waiting for. At 2am, as Brian and Alex set up the tripod in preparation of some Fuego action, the first Earth-shattering eruption ensued. The detonation was colossal enough to jar Eric awake, who unzipped the tent just in time to witness the crystal clear sight for which Brian and Alex had so faithfully awaited. Now all three of us stood by the camera, withstanding both pre-dawn's dark chill and sleep's agonizing pull in the name of capturing something extraordinary on camera.
The next hour was magical. Unpredictable shots of lustrous lava oozed up from Fuego's blowhole and flowed down its ever-changing mountainside. The footage was excellent. Each subsequent eruption forced us to delay sleep that much longer. All of a sudden it was 3am, meaning we only had 1 hour before departing basecamp for Acatenango's summit. It had been a solid 15 minutes since Fuego had offered up any activity, but Eric could stand it no more. "A few minutes of sleep is better than none at all," he admitted as he gingerly retreated back to the tent. Meanwhile, Brian and Alex were ready to give up too. As they set up a narration to the camera where they'd planned to call it quits, the volcano provided the surprise of the night. When Alex pressed play, it was as if he'd set off Fuego's grandest explosion yet, which struck between Alex and Brian, right in the center of the camera's frame. The two proudly and quite emotionally celebrated the profound moment to the camera's eye. From the tent, Eric peered out at the magnificence, though his exclusion from the footage meant he technically hadn't been there at all. Fully committed to sleeplessness, the only thing left to do was gear up for the final stretch to Acatenango's peak.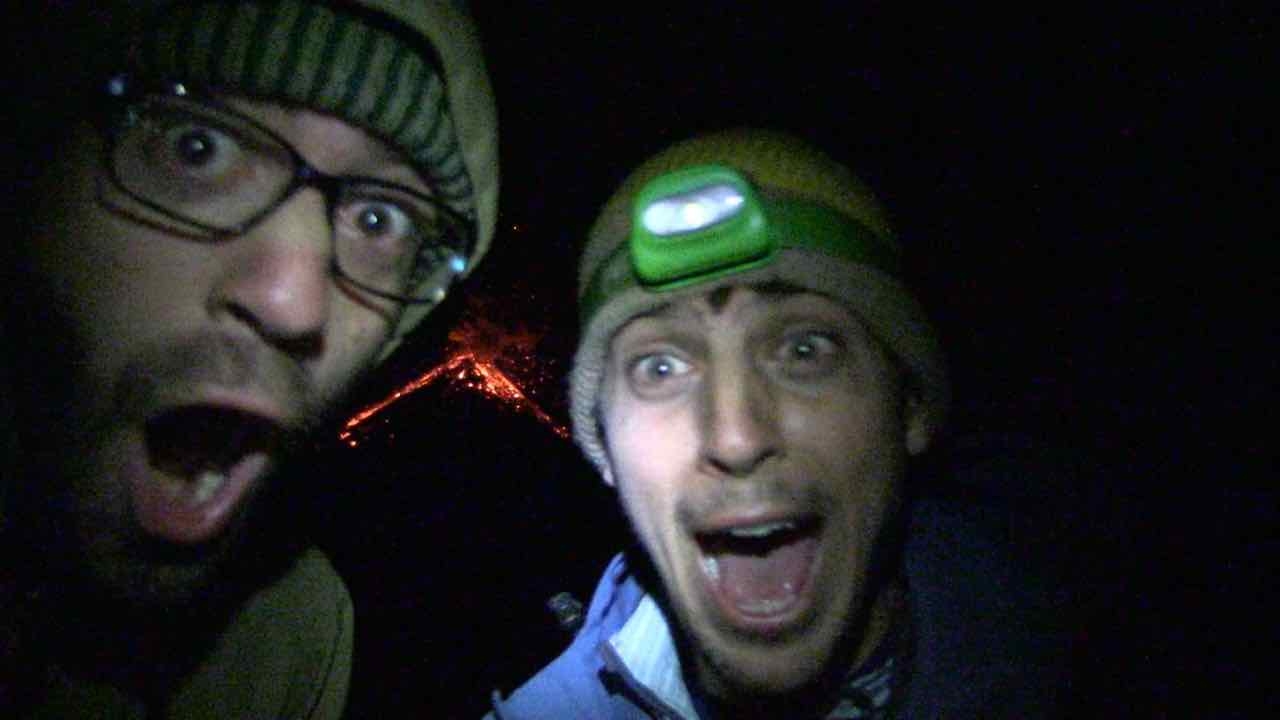 At ten minutes to 4am, Natasha rallied the entire group to begin the trek up. At the top of the hour we were off, with not a moment to spare, as long as we remained committed to seeing sunrise from the summit. Immediately upon the start of the climb, it felt as if we hadn't had a moment of rest at all. Dogs barking and limbs aching, there was no point in looking up. The illumination of our headlamps only feet in front of us acted as a reminder that each step was it's own isolated challenge. Slowly but surely, the blackened sky transitioned to an increasingly blue hue. Now well within the volcanic zone, the volatile ashy ground ensured that with each step we'd take, we'd slip back another half. Those final few feet to the top were the slowest, most grueling of them all. But it was all worth it.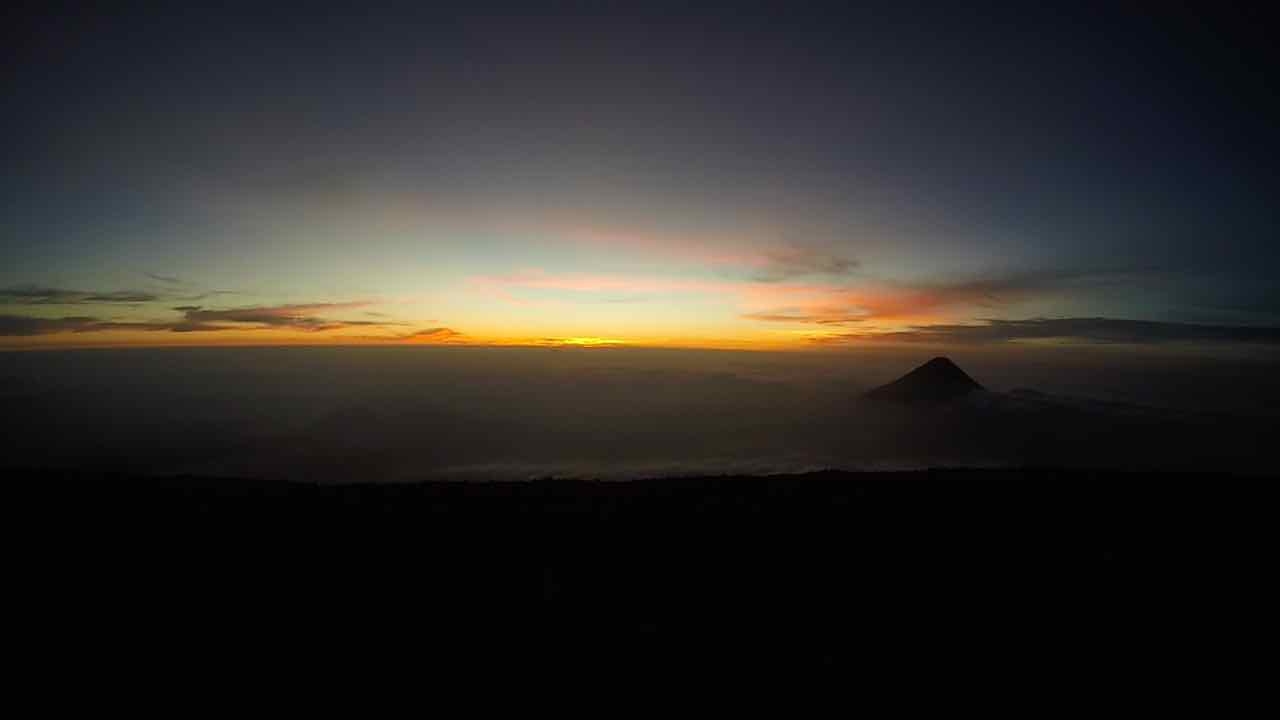 The top of the world. There was nothing above but unadulterated sky. Below and in all directions clouds flouted like marshmallows, while specks of towns comparably smaller than one's fingernail peaked about, along with even more volcanoes at horizon's edge. Before turning into your classic celeste blue, the sky contorted into brilliant shades of orange. It was cold as all hell, but even the sharp bite of the air couldn't stop us from enjoying the exhilaration of the moment. We stared in awe of where we were, then took some selfies, then stared some more. Inevitably the time came to descend. But first, something insane…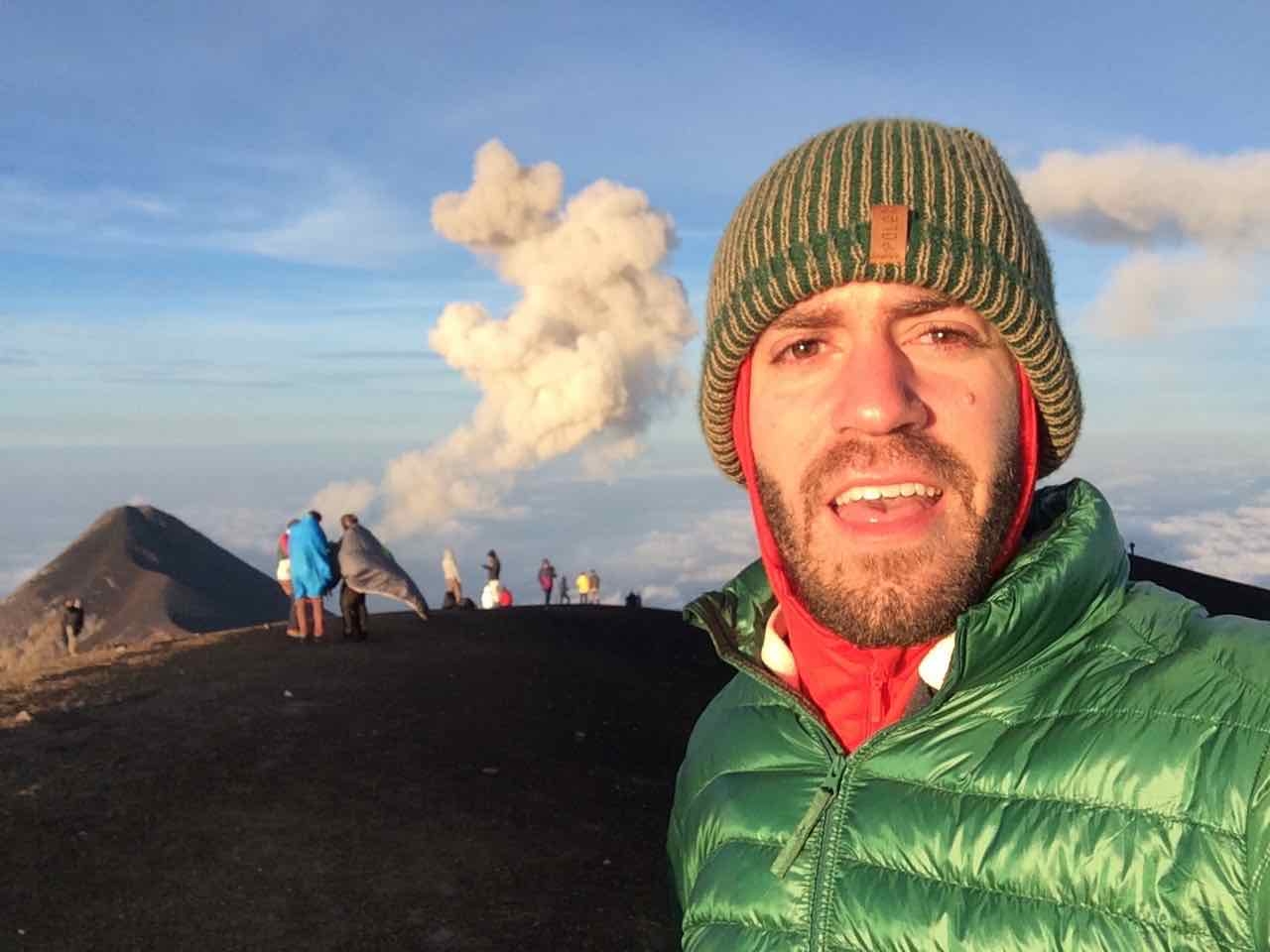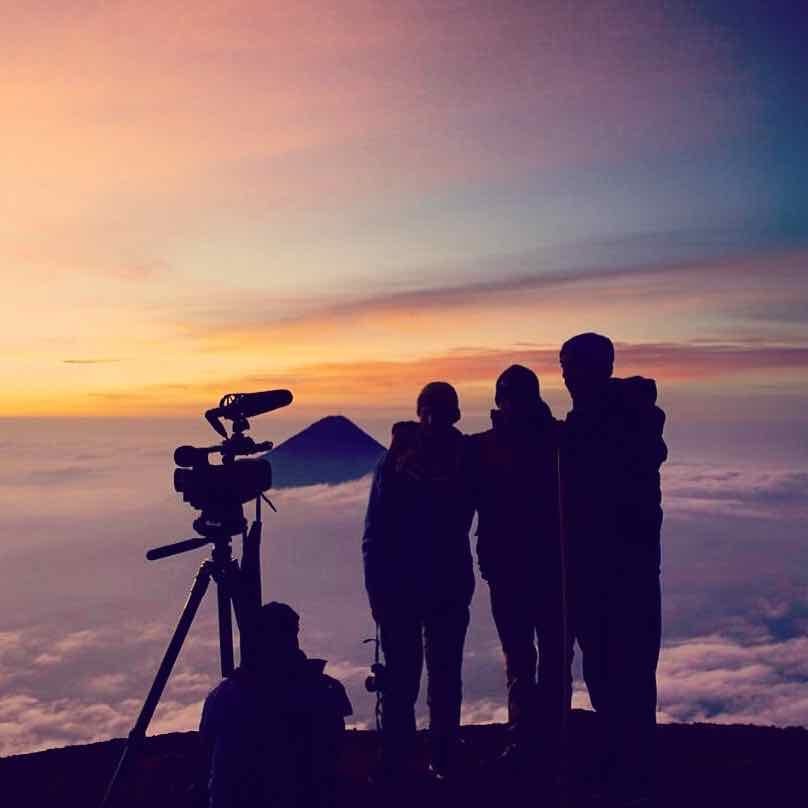 We'd hidden something beneath our many layers of clothes that had been waiting. We turned the camera away from sunrise and onto our shivering bodies. Alex announced, "Now we will do the Crater Challenge and run all the way around the circumference of Acatenango's rim. But that's not all, we're doing it in our ninja suits."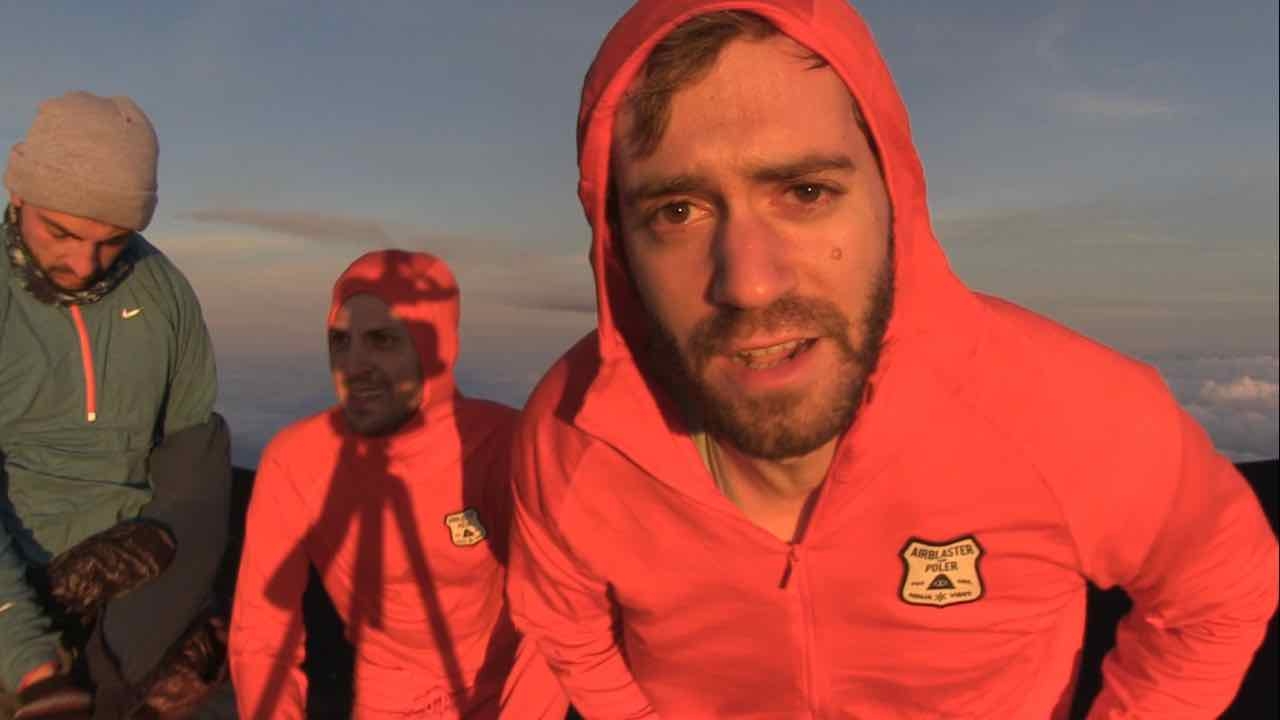 And with that stroke of the tongue, there was no turning back. Off went the layers of warmth, leaving us with only the protection of the red skin of the Goulet ninja. Naked we felt, bold we became. Natasha manning the timer and someone, we don't know exactly who, manning the camera. We each carried a handheld GoPro and the expectation was that someone would track us along the way with our camera, safely mounted on our tripod. Off we went.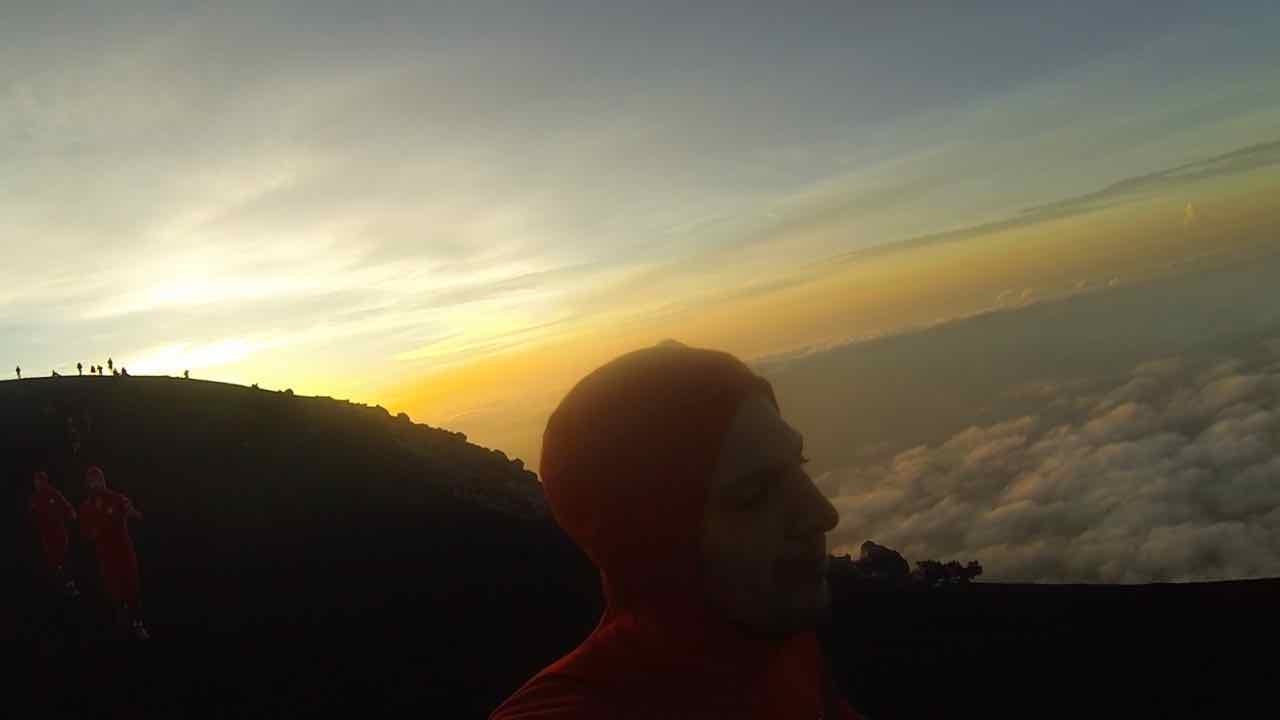 It was a painful, agonizing, nearly impossible 5 minutes. Alex in front, Brian behind and Eric in the back, we 3 Goulets journeyed around Acatenango's final frontier in a fashion in which we'd never imagined possible. Up and down the rim's hilly outline, taking in as much of the minimal oxygen as our lungs would allow. When we approached the finish line, they said the sun's early morning glimmer vibrated against our weary faces and against our bright ninja wear. As impossible as the Crater Challenge was, it was over. "And that's the last time I ever do the Crater Challenge," Brian declared.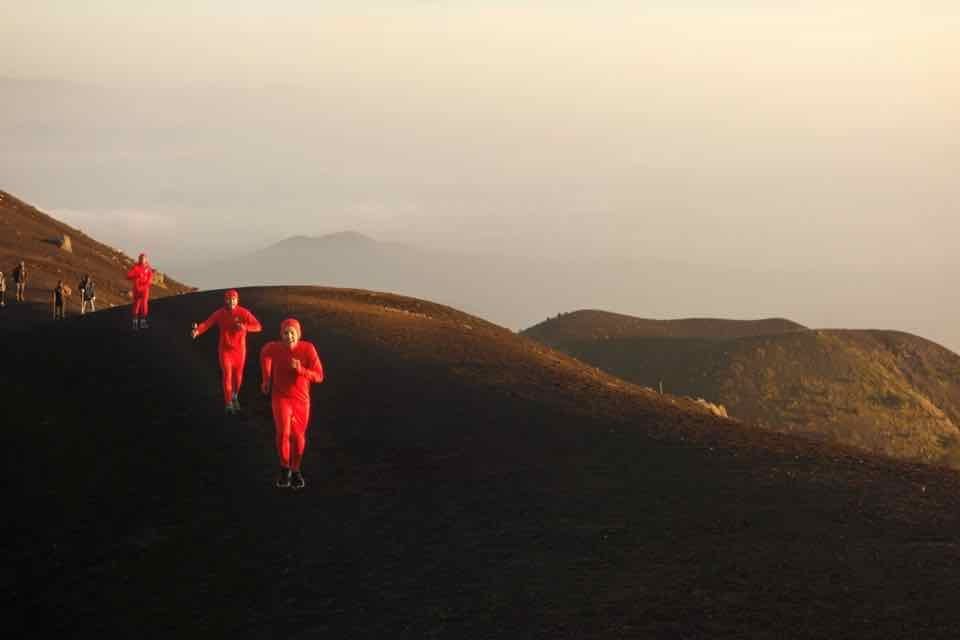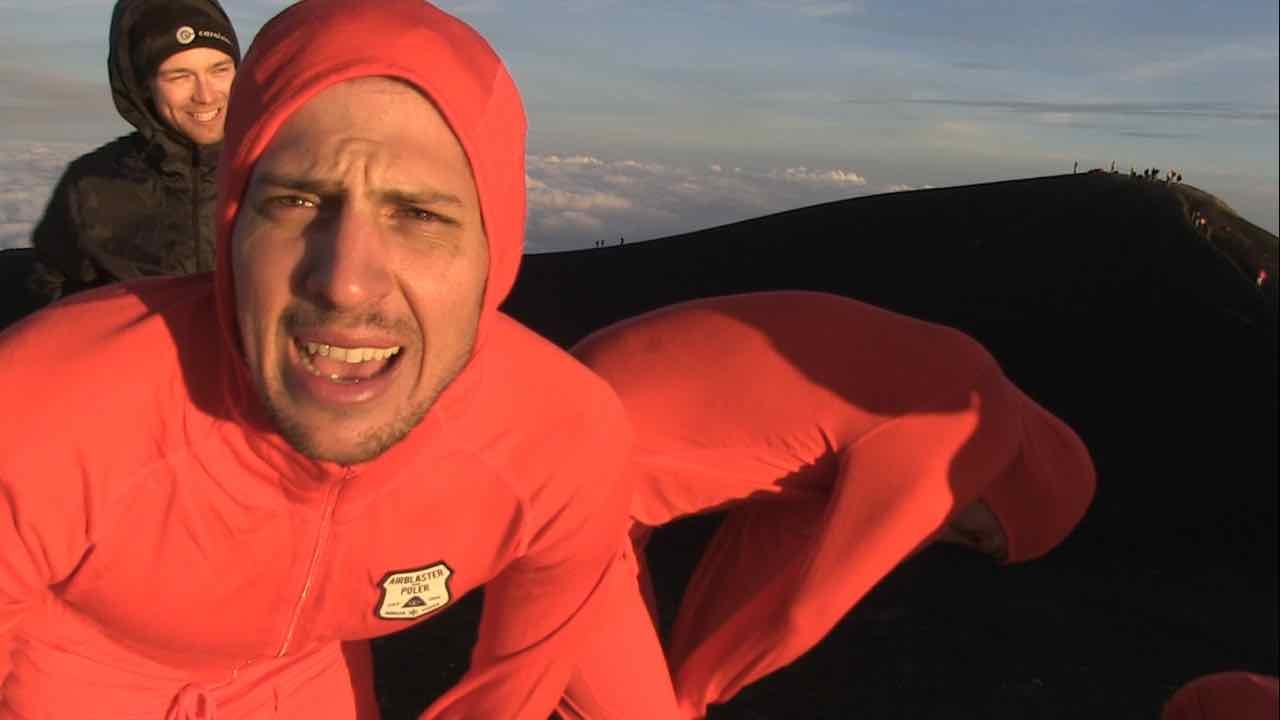 Not… so… fast. We slid back down the mountain in a fraction of the time it had taken to ascend. And when we got to the bottom, we figured it was for good. 'Never again' was still not sufficient for how we felt about that volcano. It was the most glorious day of our lives; all the while, we were sure it was a hike suited for a single summiting. But something went terribly wrong. And two days later, we found out why we'd have to do it all over again.