The following post details the Global Goulets' journey from April 21 – 22:
Day 21 – Ok, admittedly, this chapter of our journey begins on a Tuesday reserved as a café workday. Before dusk, we put away the laptops, fled from the warm comfort of wifi's bosom, and went on the prowl for footage worthy of our off-kilter tendencies. With that said, things just seemed a bit off the last few days. It'd felt like real spontaneous adventure, the seemingly bottomless well from which our thirsty goulet spirits sprouted, had dried up like California's reservoirs. Yet, it was not for lack of trying; after all, we'd literally driven hundreds of miles in the wrong direction to witness Charlie's enticing car show only a couple days before. But it just didn't seem all that fulfilling to us, at least not through the lens of our video cameras. So what were we doing wrong? Where was that goulet factor hiding?
We'd been missing the point. The best moments of rallying are never the ones you plan for or the ones you set your hopes upon, but those that are unprompted, unexpected, under-planned and utterly organic. And then, just like that, the next 24 hours happened…
It started when we pulled into a parking lot we'd learned about from an online source that supposedly accommodates overnight RVers. The men in charge kindly accepted our request to tent on site, as if this wasn't as odd of a request as we thought it'd be in our heads. Walking out of the lot with our camera, ready to film the town, the guys running the lot called us over. "Hola amigo!" Pablo invitingly thundered. He waved at us to dip into the dinner he'd clearly prepared for himself. Fresh avocados, chipotle peppers smothered in crushed red pepper salsa, and oaxacan cheese (you know, the one you told us to try when you heard we were going to Oaxaca) on top of tostados. He urged us to indulge without reservation. So we did. "Ohhh, que padre! Que delicioso!" we beamed. Pablo proudly promoted this act of kindness as representative of the people of Oaxaca. Though we nodded amiably, we'd only just begun our tour of hospitable Oaxaca. He handed Brian a Neapolitan ice cream and we three sauntered off to the Zocalo.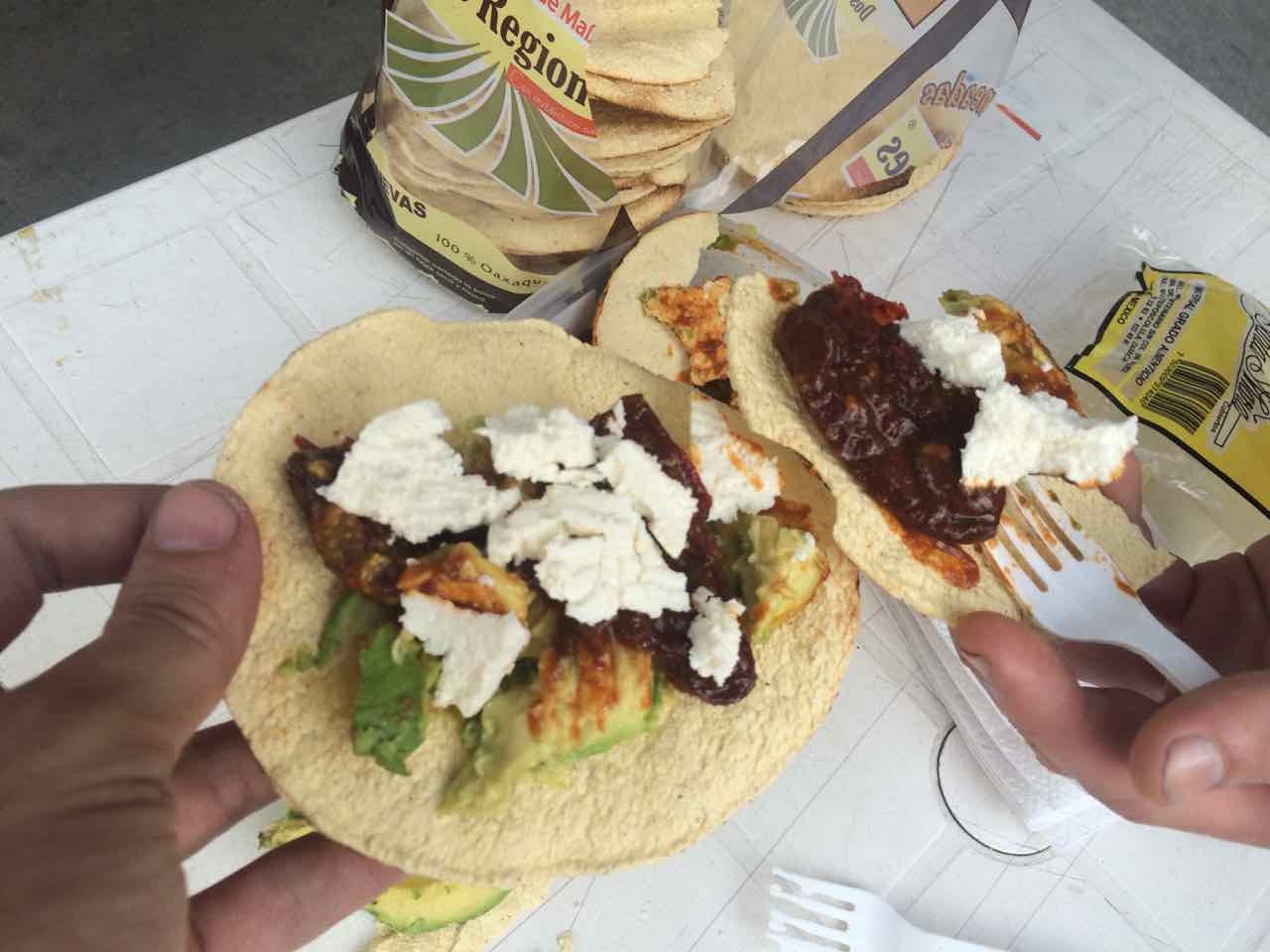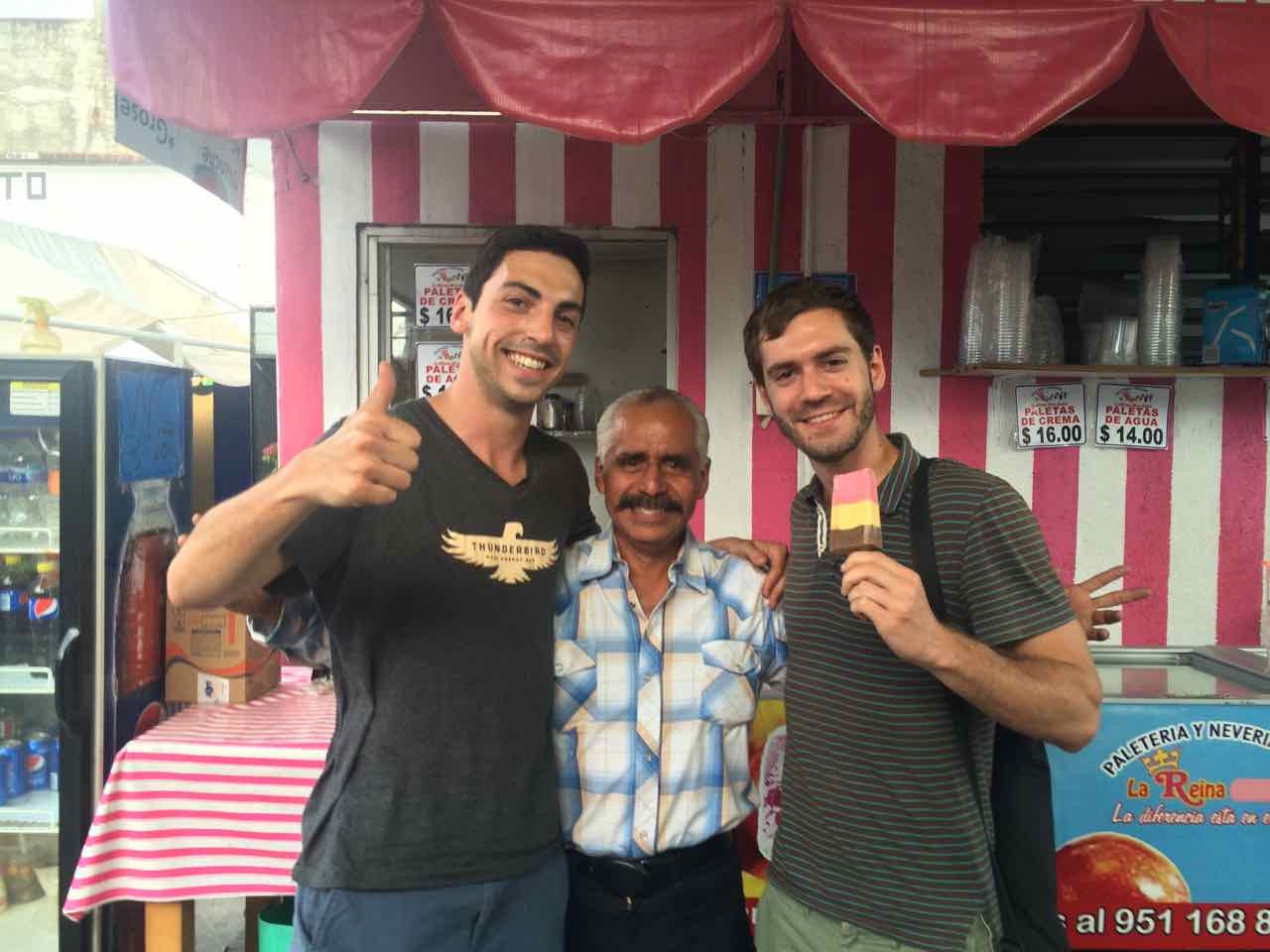 Once there, we enjoyed some cheap eats of tacos and quesadillas to complete our 3-dollar, 3-course dinner. From there, Eric got a tingly, eyes-closed, upright body massage from a chanting man dressed in traditional, Aztec-inspired attire. We strolled around the many enchanting booths that circumscribed the city center, which simultaneously aided in our digestion process. From a distance we suddenly spotted flashing lights from a perpendicular street. Walking towards it, we found nothing, but a brief spark of nearby wifi delivered an email to Eric's phone with messages from his old students that ignited a burst of sentimental nostalgia. With about an hour left until our 10 o'clock curfew (this was the time the gates of the parking lot were to close), we pressed on, following the nose of our camera. 'What else would make for good footage?' we pondered.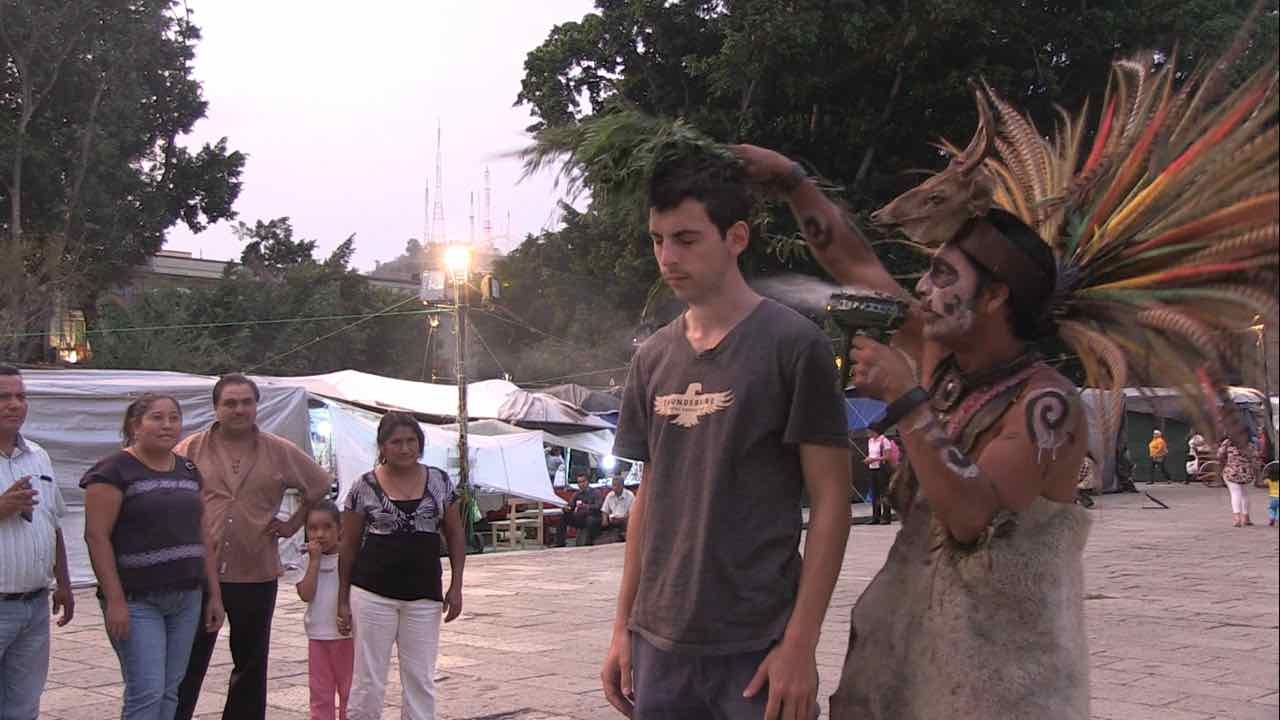 A circle of salsa dancers surrounded a square on an adjacent street. They were intermittently interwoven by men and women, all following the lead of a boisterous ponytailed man who seemed to be voicing instructions, in Spanish of course. Alex pointed the camera right at the crowd, while Brian's eyes lit up at the sight of a couple of girls standing with equal curiosity at the circle's outskirts. "C'mon Eric, let's go dance with them!"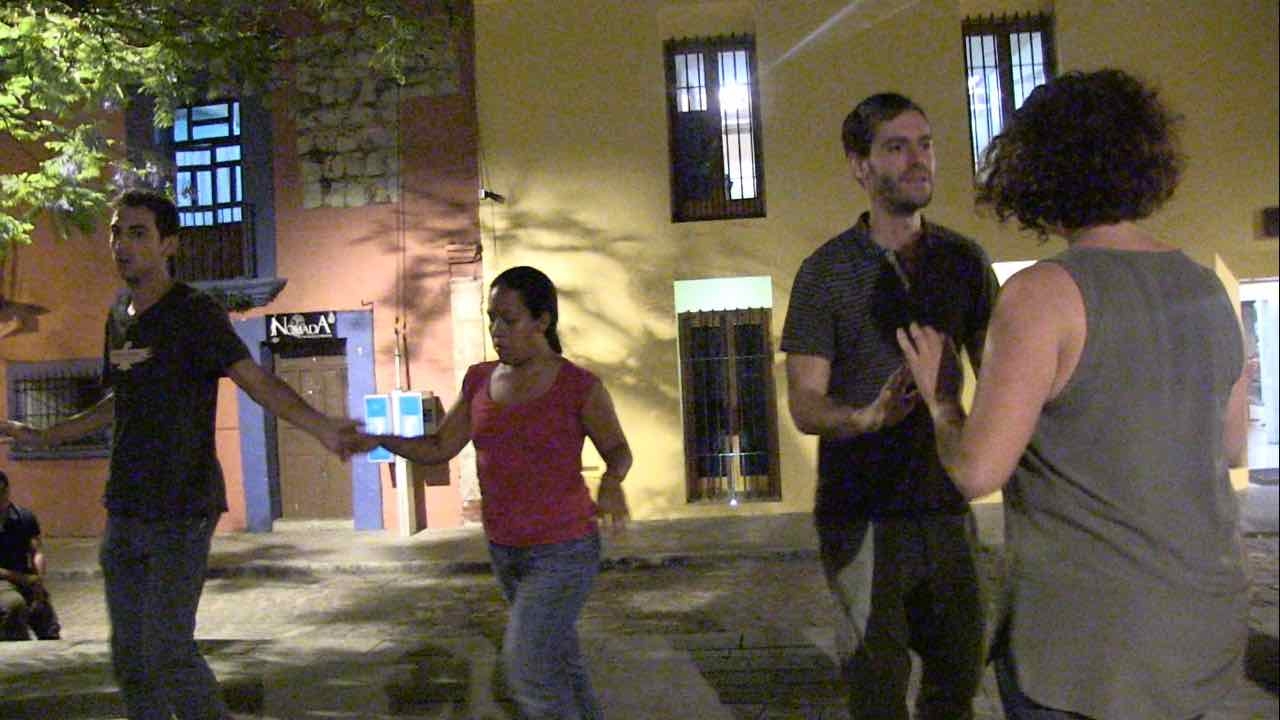 We each took a girl's hand, Alex filming it all as it developed, and the four of us joined the circle of dancers, keeping the number of hombres and mujeres perfectly even. Slowly, we learned the basic steps of the salsa dance with the help of the group leader ("Este es su primer clase, yo veo!") and from the rudimentary advice of the ladies with whom we danced ("uno, dos, tres… cinco, seis, siete!"). Of course, we screwed up time and again, particularly when it was time to switch partners, but the fun we had was unmatchable. "I even had an incredible time being cameraman!" Alex grinned.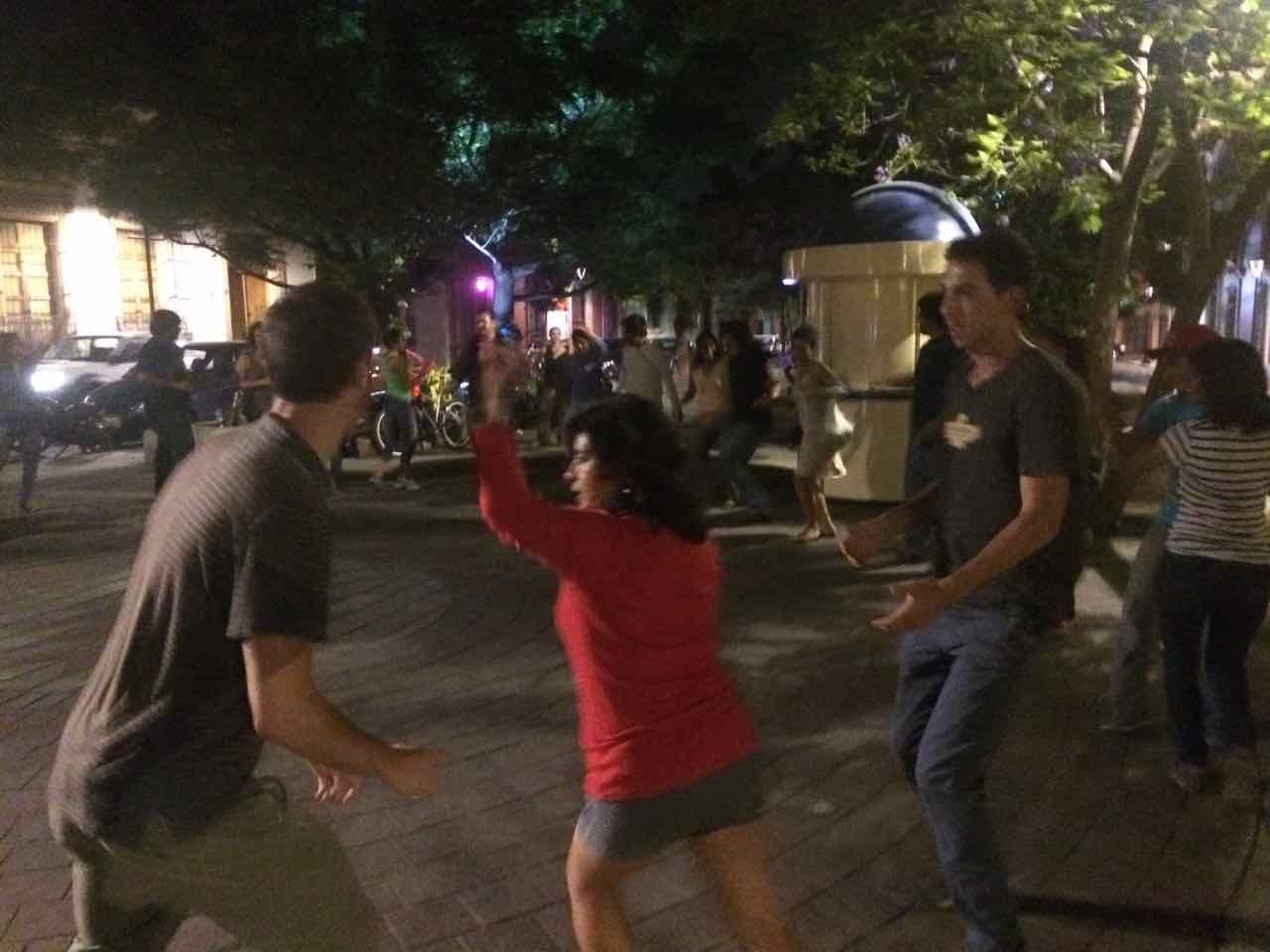 Day 22 – In the morning we went back to the café for a quick coffee and to iron out some plans for the day. Eric loosely set two sights for us to explore in the valles centrales, or small villages just outside of Oaxaca City. Ever accepting of the go-with-the-flow mindset intrinsic in the attitude of a goulet team member, Brian and Alex jumped on board.
Our first stop was Teotitlán del Valle, a village famous for its pre-Hispanic weaving tradition. Our guidebook informed us to drive past the outskirts of town, where groups of tourists get suckered into buying products commissioned by the firms running their tours. Rather, the play is to push all the way to the Mercado de Artesians, where neighborly families are known to demonstrate the processes with which they create the woven fabrics that they sell themselves. This was right up our ally. So, we drove up to said market, parked our car and moseyed into the action.
There really wasn't all that much going on. Not a single other tourist in sight. This was a good thing, we thought. 'The fewer the tourists, the better,' is a definitive goulet rule. We walked past a few set up stalls, seeking some place where we might be able to witness the entire method. Well, that was exactly what we found. We saw a sign that said "Vida Nueva Cooperativa." Seems alright enough to us! We walked up to a gate that appeared to be an entrance and knocked. A few seconds later an unassuming, petite, Zapotec lady opened the gate, smiled and invited us in. It was everything we hoped for. She walked us through a thorough yet concise and translatable description of the process of the weaving technique used in Teotitlán. Read more about this weaving technique and what's going on at Vida Nueva here.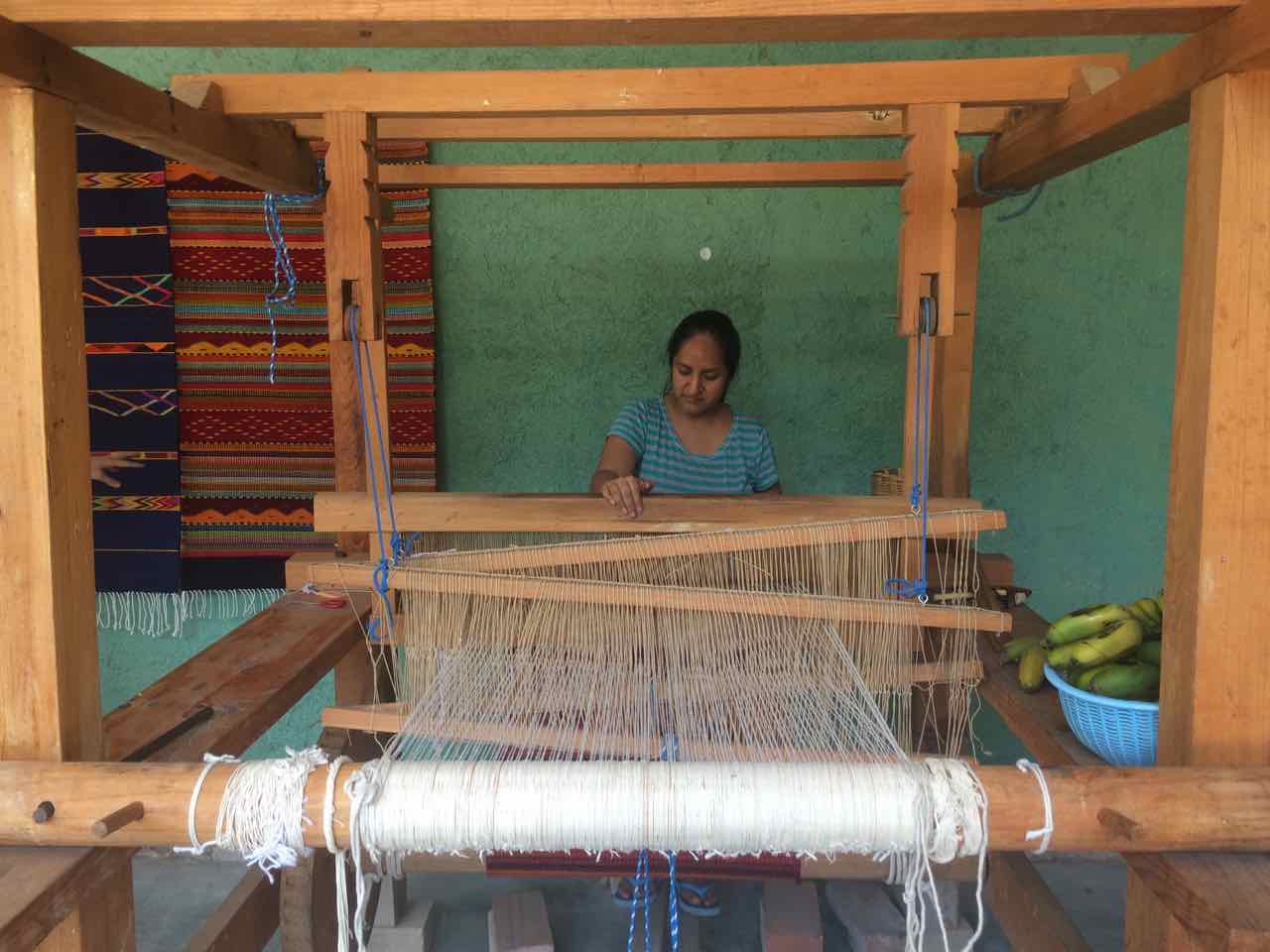 We gave ourselves a pat on the back for an efficient, yet captivating sequence of shots at the women's weaving collective. In and out in a half hour, we had plenty of day left. The next stop was to Matatlán, the mezcal capital of the world. This little town, another 30 kilometers east further outside of Oaxaca City, is world famous for producing fifty percent of Oaxaca's mezcal. Based on the advice of another blogger, we hoped to find Palenque Mal de Amor, where apparently a guy named Armando speaks English well and would happily give us a tour of his mezcal plant.
Like clockwork, we found Palenque Mal de Amor just beyond kilometer marker 46, it's hand painted sign peaking just behind the restaurant's façade. We walked up to a man standing at the bar and Eric, struggling in Spanish, tried to explain how we found the distillery on a blog online. Then man interrupted, "I speak English." "Oh! Are you Armando?" Eric quickly inquired. "Yes I am!" he countered.
Armando led us right through the mezcal production process behind the restaurant, from it's beginnings as an agave plant, right up until it's distillation into the actual alcohol. In fact, as we were there, his employee was busy at work, burning the aged agave product to extract its alcoholic compound. It was really cool to get the behind-the-scenes tour of how this fanciful liquor is created and even better to hear it all in the ease of English. Armando capped off the experience with a sampling of nine variations of mezcal, from youthful to aged, from a collection of different agave plants, and even ones made from smoked pollo and another from worms! Thankful to Armando, who never once asked us to pay him for his time, we decided to snag a bottle to purchase and again hit the road back to Oaxaca City.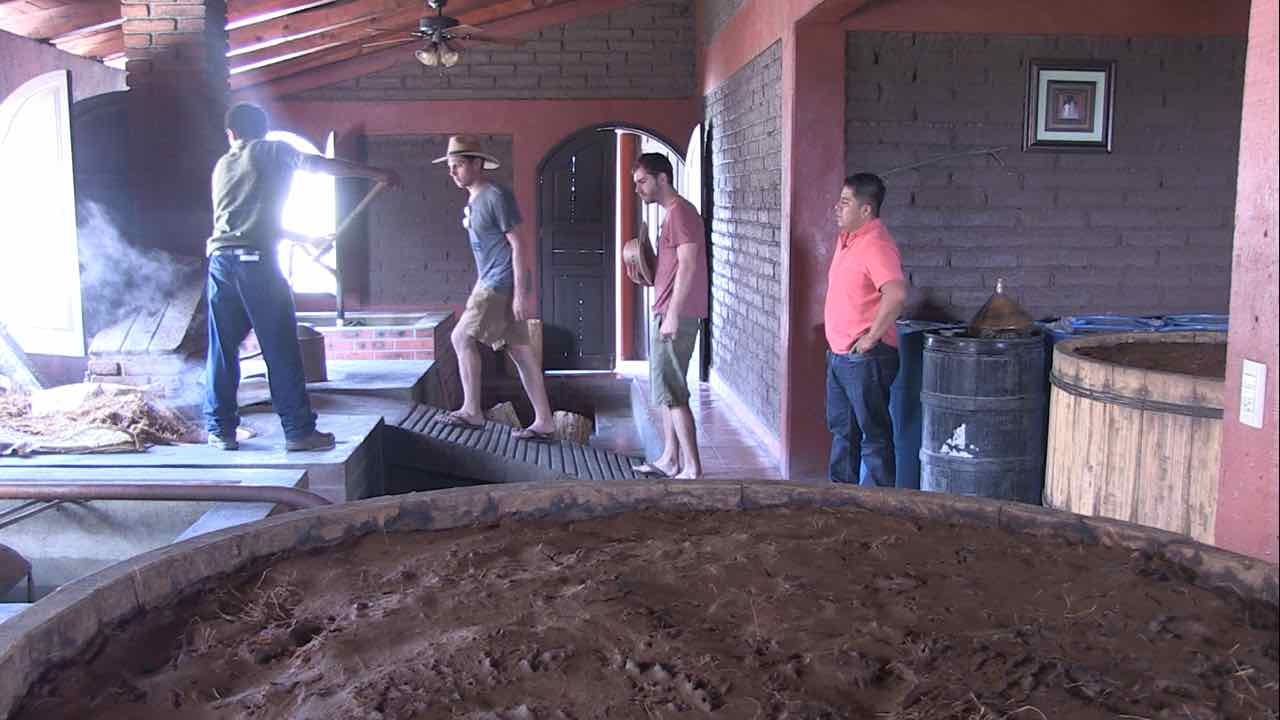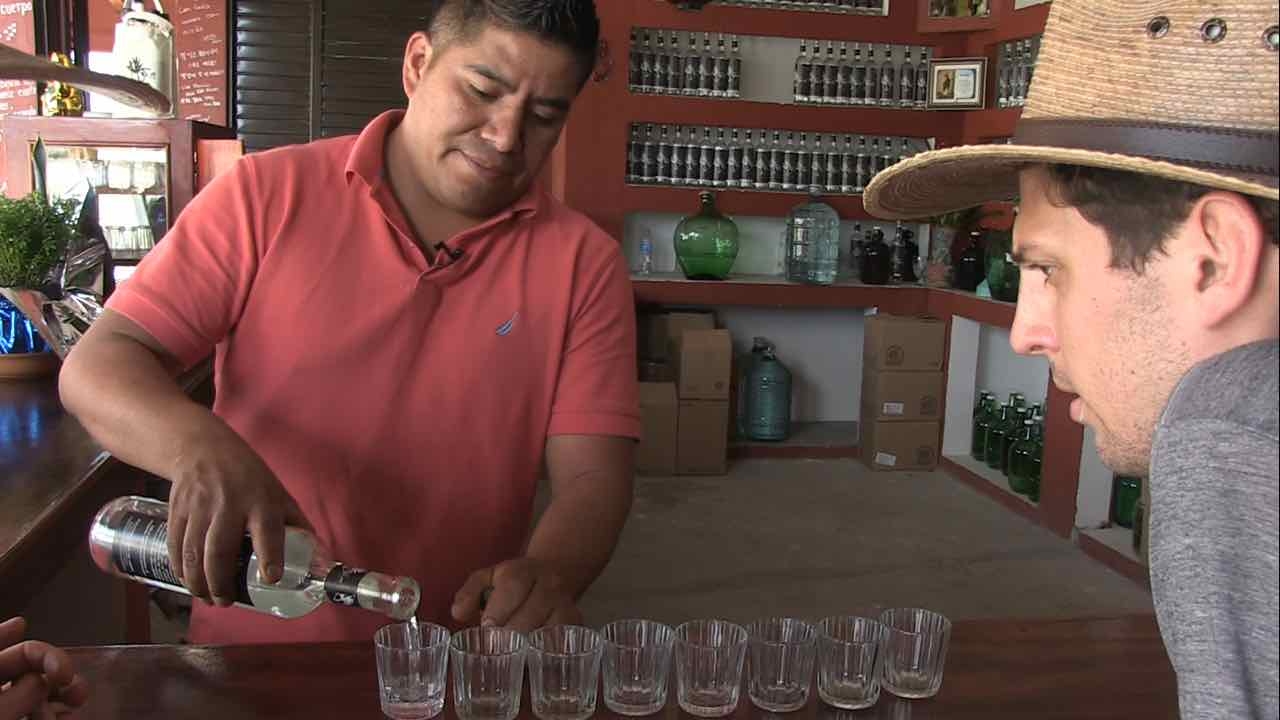 We were content with our day's footage. What more could we want than two locally enriching tours of the most culturally significant items in the valles centrales of Oaxaca? We even stopped at Árbol del Tule to briefly check out the world's thickest (and most boring) tree. We were done for the day, most definitely.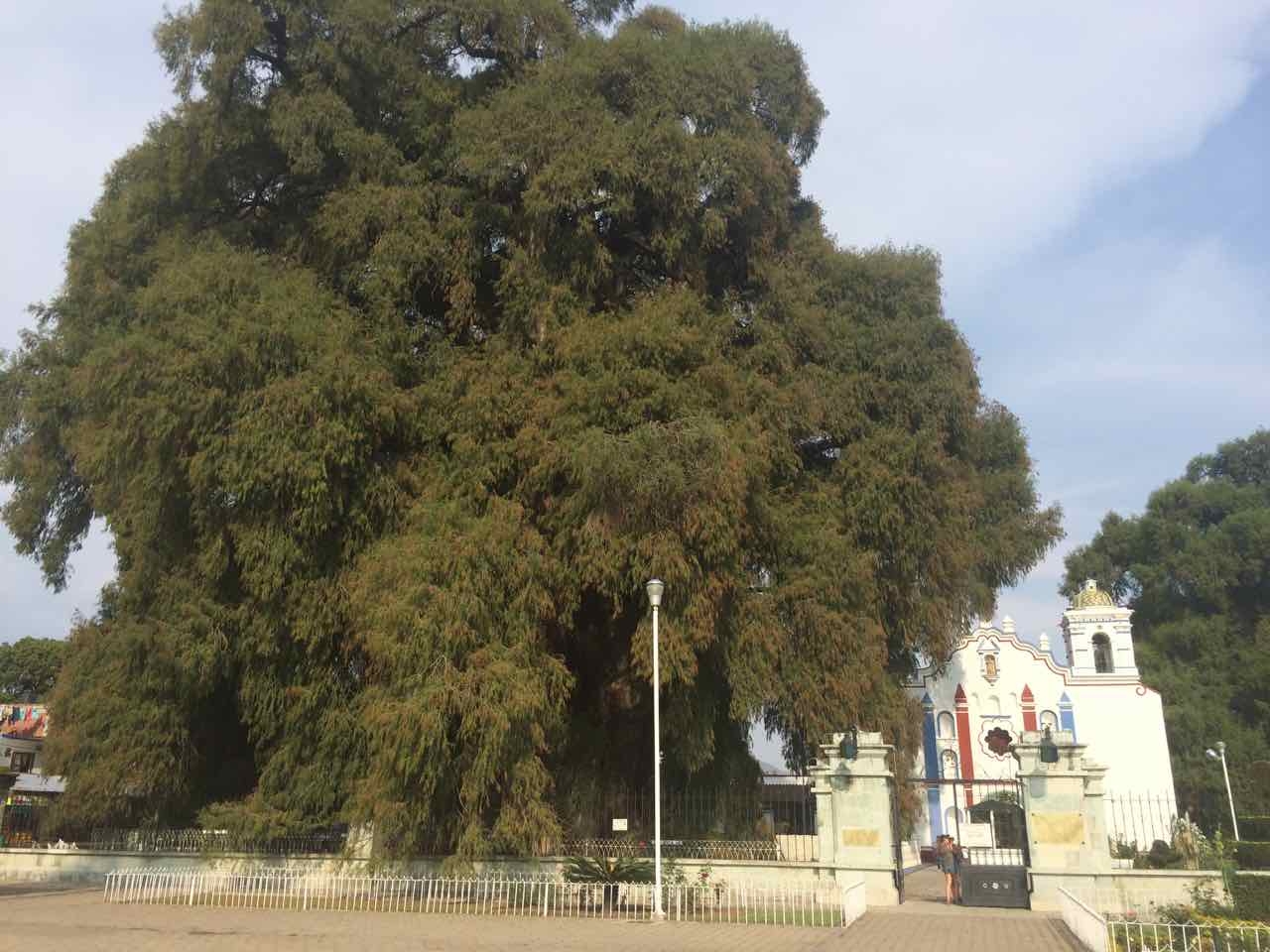 Wait, wait, wait, not so fast. Remember how we mentioned the greatest rally moments are the ones you just can't plan? As great a day as we'd had, it all went a little too well, a little too close to how you'd want to write it up. There's got to be more. Just before re-entering Oaxaca City itself, on the urban periphery, a policeman slowed us down, along with the rest of traffic, to make way for a orchestral band. A crowd had gathered next to the road and without hesitation, we asked and answered our favorite question. "Should we stop and see what's going on?" "Yes."
We joined the crowd. There were several decorated crosses, a series of men who spoke about the relevance of the occasion, more band beats, and then some thunderous, eardrum-debilitating firecrackers. When the smoke cleared from the firecrackers' crackling, an inviting little lady approached us with open arms. In Spanish (of course) she excitedly invited us to join the procession. "Come, walk to our church, and have dinner with us!"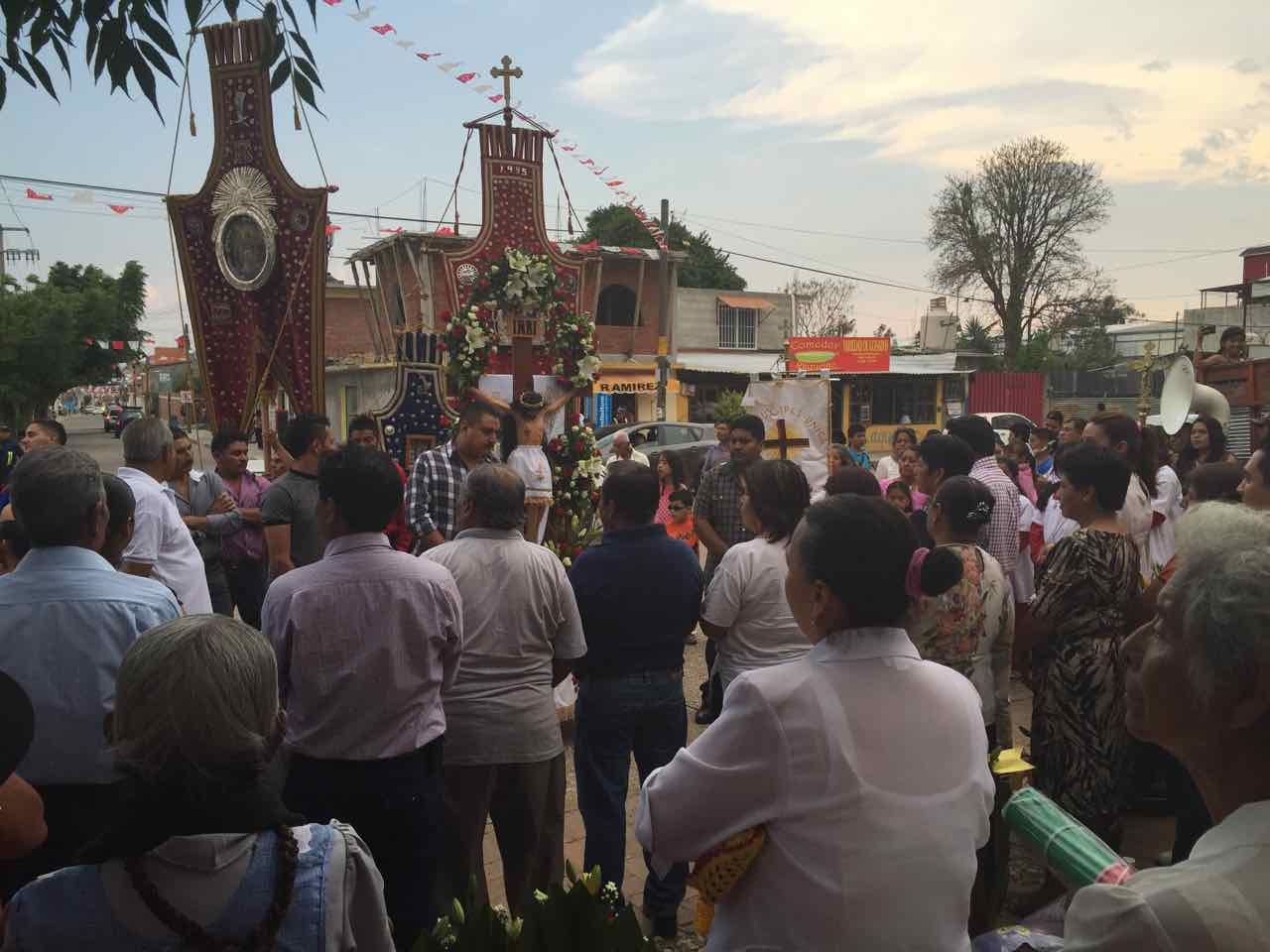 We unflinchingly took Margarita up on her offer, as we walked with the procession through the quaint little town of Santa Cruz. We learned that what we'd happened upon was no ordinary event, but the commencing ceremonies of a 9-day festival, which had some religious symbolism we couldn't sufficiently deduce. No matter, we hung out in the church's courtyard with the other non-pious locals and waited for mass to conclude. When at last it did, Margarita re-found us and walked us to the church's back patio, where massive rows of tables were arranged in preparation of a giant banquet. We dined with the locals and everyone was more than inviting. Not a soul gave us even a second look, except for the giggling little kids who dared one another to come up to us and say "hello!" or "welcome!" or whatever their favorite word was from English class.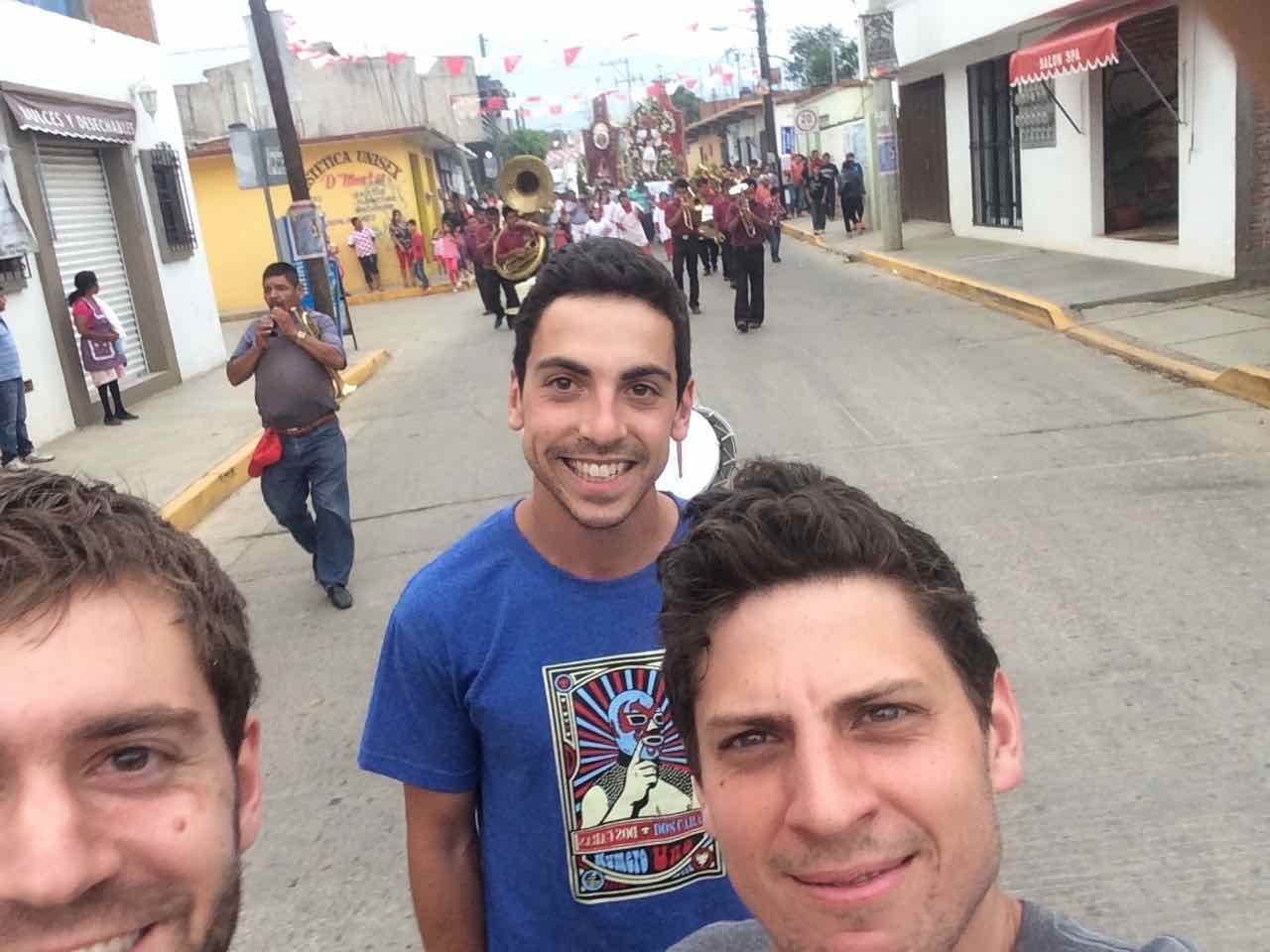 The night's fun came to a close under the rain of candy, which showered from the church's crown. Well, it was at first candy, until the second wave, a surprising but not impractical hail of kitchen supplies. We thanked Margarita and our other new friends and painstakingly turned down their offer to remain for the next 9 days of the celebration. We must push forth! This is a rally, for god's sakes!