Day 5. It was Thursday and your Global Goulets were now in what appeared to be a committed relationship with our friends, Breaking Khan, aka the other Eric Alex and Brida (Brian + Ida = Brida). We got an extremely late start to the day after a wifi pit stop transformed into a full blown multi-hour internet binge. The peak of this consumption was news from London that our vital car registration had arrived via Royal Mail! Goulet! We corresponded with Alex's friend in London to have it mailed to… Uhhh… Let's say Bucharest? Ok, Bucharest on Monday it is! Meaning we had 4 days in Romania to kill, as the registration was our ticket to admission through all future non-EU countries. This should get interesting…
But, what is the Mongol Rally without at least a few bumps and bruises along the way? Breaking Khan broke down unexpectedly in Budapest, which led to a 4-hour rest stop in this badass Central European Metropolis. By the time the Khan Mobile was back up and running, the sun was beginning to set and so did our goal of making it to Romania by bedtime. Instead, we pulled into a peaceful little Eastern Hungarian village, where a kindly non-English speaking gas attendant directed us to a campground nearby by drawing a map that most significantly resembled a game of hangman that he was about to lose. Surely he was a champion charades star during his youth behind the Iron Curtain. We quickly pitched our tents (record time – 1 hour!) and got some shut eye.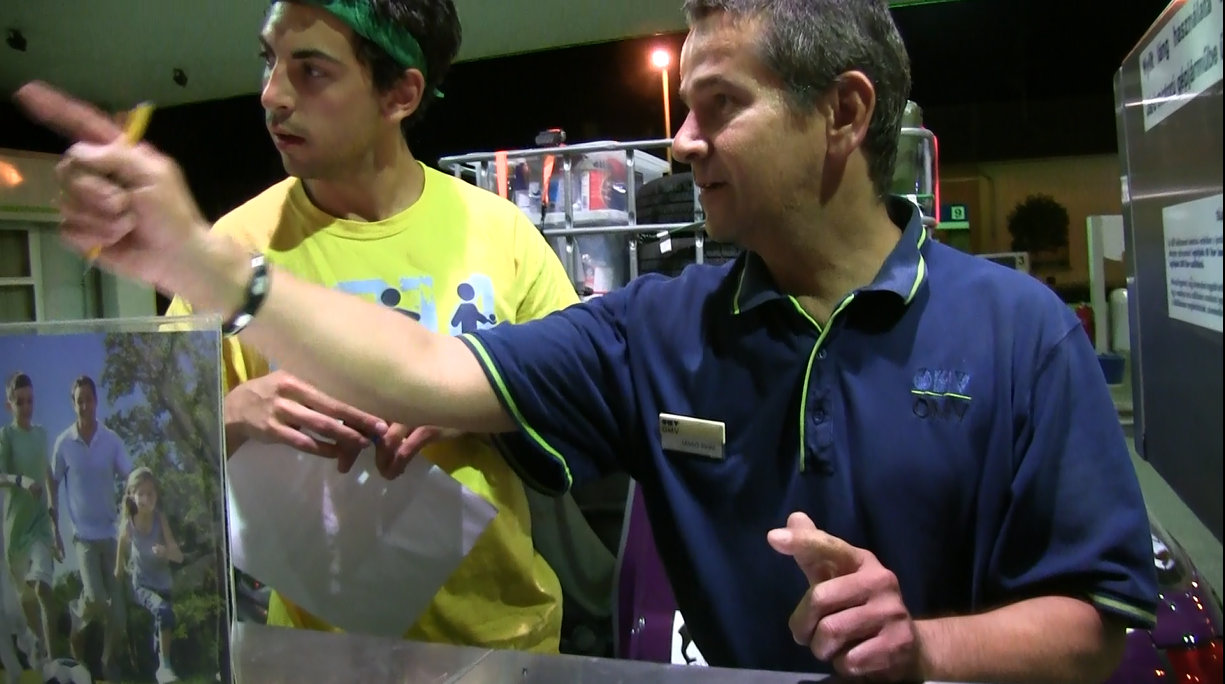 On Friday morning we entered into Romania, after evading the border guard's request for "original car papers!" (Remember, we still only had the faxed copy of our car registration.) Once there, we bought ourselves a Borat-esque CD from a man on the side of the street and began counting the number of hitchhikers and horse-drawn carriages that flooded the streets. A quick impromptu stop to hike up to a nameless mini castle on top of a steep hill alerted us of the beauty hidden within Romania.
By early evening another wifi break was all it took to convince the Khans not to hustle for Turkey and instead to party with us in Sibiu for the night. The next several hours consisted of a 10-dollar epic traditional Romanian feast, partying at a smokey nightclub where we learned that not all Romanians are either fat men with their bellies hanging out or tiny babushka ladies, as well as Brian's conversation with a chatty Romanian couple into the wee hours at our hostel.
We woke up late Saturday morning to the absence of the Khans, whose note on our windshield explained their persistence to speed on to Turkey.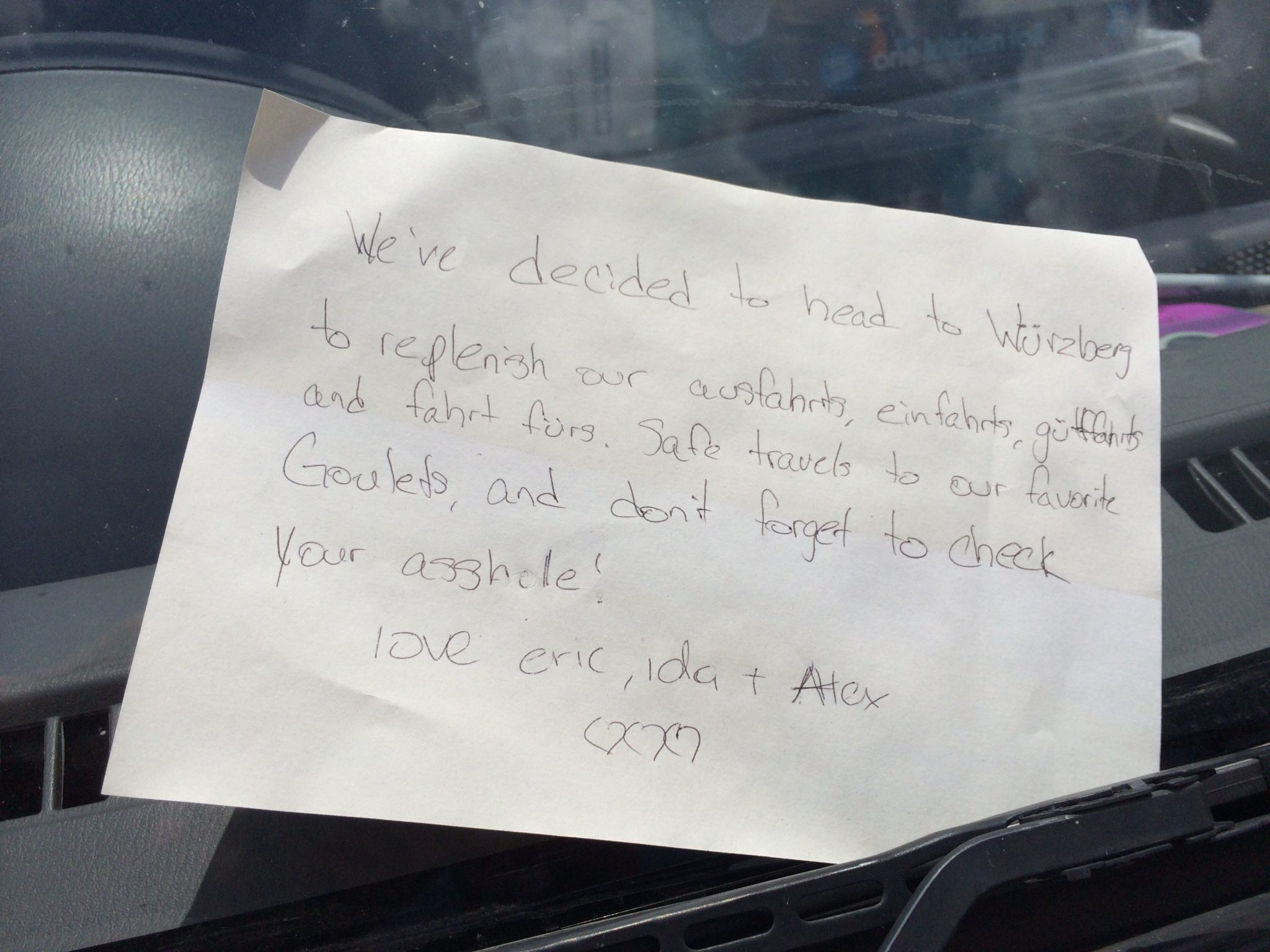 We, of course, could not leave this last European Union country without our car registration (currently en route from London), so we lazily set up the car (another 2 hours down the drain) and set sail for the mountains of transfa… no, trafagorean theorem, no trans-fa-garrison… Pshhh, oh whatever. Some cool mountains. We were a bit down on ourselves for not making much progress until like 4pm due to an abundance of technical difficulties, and just then, as we snaked up the Transwhatever mountains, we pulled over at a roadside honey stand. There, we met a jolly old booming Romanian honey-producing bee keeper and his many boxes of bees. Learning that his honey was homegrown from the nectar of the pines from the very mountains we were driving thru, we snatched up a jar, as well as a tiny bottle of some medicinal antioxidant supplement with rejuvenating qualities, and moved along, waving goodbye to the Bee Man. As we mixed our first concoction of honey and bee-medicine, the rain clouds parted as we entered a magical wonderland.
What transpired next is hard to justly articulate, but let's give it the ol' college try: Imagine yourself in a tiny purple car, a rattling metal cage above your head, and some magical honey warmly smiling from within your belly. You are driving up, up, up a forested windy road, unsure of what's around the next bend. Shadows leave an eery aura about your purple steed. Suddenly the trees give way, the sun shines proudly into your weary eyes, and from seemingly nowhere a vista of glorious mountaintops and deep green valleys emerges before you. As you summit, you become one with the being of the mountain. Herds of sheep adopt you as their purple misfit, little piglets nip at each others velvety ears, cows graze at their will, indulging in the organic diverse flaura of the Transfamama… Transiberia…. the beautiful mountains, and newborn foals follow in the footsteps of their magestic parents, soaking up one of the most amazing views Europe, nay, the entire world, has to offer.
Giddy with excitement at the vomit-inducingly beautiful landscape that otherwise only exists in Disney movies, we refused to leave and instead set up camp in the mountain's valley alongside friendly Romanian weekend campers. One lady even taught us to properly pronounce the name of the mountains with a phonemic Romanian language lesson: trans-fa-ga-ra-shan. Ah, transfagarashan! We speedily pitched our tent, enjoyed some authentic Tuica, made by our new Romanian friend Alin's father, and hit the hay at a reasonable hour.